Empty prison guard towers, unfilled firefighting and marijuana inspector positions among less-discussed budget cut proposals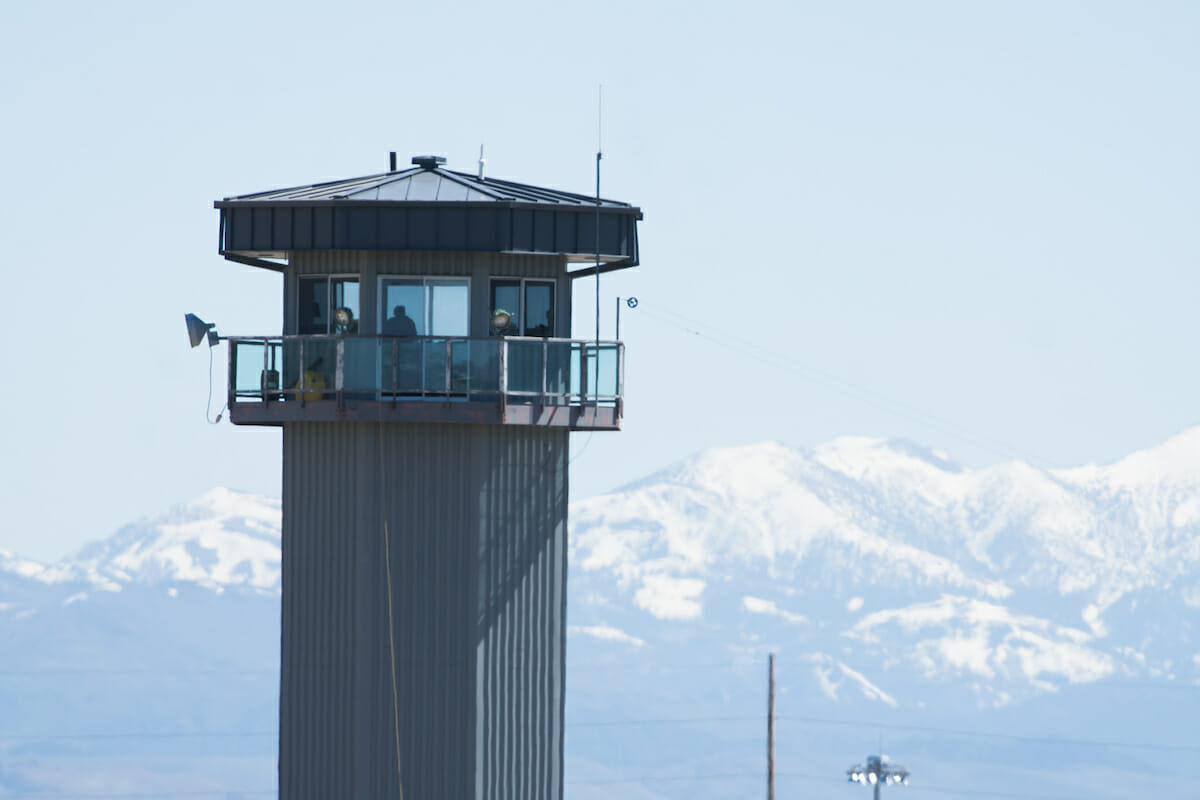 The $1.2 billion in cuts Gov. Steve Sisolak proposed to balance the state's 2021 fiscal year budget don't just involve massive reductions in health care, K-12 and college education spending.
They also include a plan to keep guard towers at three state prisons empty during the day, eliminate security budgets for visiting dignitaries and make significant cuts to wildland firefighting staffing and supplies.
Although many big-ticket budget items and agency budget cuts have been made public through presentations and a 40-page budget outline document released by the governor's office earlier this week, details on individual division budgets have not been widely discussed even as lawmakers converged on Carson City Wednesday to kick off a budget-cut focused special session.
But a document published late Wednesday by the Legislature and reviewed by The Nevada Independent gives a clearer picture of the breadth and scope of the more than $500 million proposed to be cut from state agency and division budgets. Lawmakers retain the ability to make changes to the plan.
Of note, the proposal includes a move by the Nevada Department of Corrections opting to close "perimeter observation towers" during daylight hours at three state prison facilities in Ely, Lovelock and Carson City. Combined, it's expected to save around $1.4 million and eliminate several dozen daytime shifts, replacing them with a smaller number of officers doing vehicle patrols around the perimeter.
The corrections department also plans to save $1.4 million by deferring the return of 100 inmates kept in out-of-state prisons. Nevada lawmakers passed a phased-in ban on the use of private prisons in the state, but it does not take effect until 2022.
Other casualties of the proposed cuts include set-aside funds in the budgets of the Department of Public Safety and Nevada Highway Patrol for dignitary protection, which includes peace officers assigned to protect the governor, his family, and visiting politicians or dignitaries. The Highway Patrol division plans to empty its dignitary protection budget account and will ask for contingency funds if the need arises, and DPS plans to ask for reimbursement through federal Coronavirus Relief Funds to pay for five positions.
The Capitol Police division plans to cut nearly half a million dollars from its budget, including holding two positions vacant and ending a security contract covering state offices in Las Vegas and Carson City.
The document also gives more details on position eliminations and layoffs proposed by the governor's office.
These include:
Six layoffs at the State Controller's office, which is also eliminating funding for the office's annual license for a debt collection system. Total cuts are more than $770,000.
Seven positions frozen in the Department of Administration through the Public Works Division. An initial version of the document indicated that the positions would be eliminated, but a spokeswoman for the department said that they were erroneously listed as being eliminated and instead will be kept frozen.
Twenty-three layoffs at the Department of Taxation, which also plans to close its Henderson office. The department's Marijuana Regulation Division will also keep 10 positions vacant, including auditors and inspectors, in a move that's expected to save $4.2 million. It also plans to cut public service announcement costs by $15,000.
One position eliminated at the Tahoe Regional Planning Agency dedicated to aquatic invasive species
Twenty-one positions eliminated at the Department of Parole and Probation, as part of a $10.1 million cut that will also affect the "Going Home Prepared" program that helps prisoners convicted of serious crimes and given long prison sentences get ready for their release. The cuts also include state aid for the costs of house arrest and other programs
In total, agencies reported 32 layoffs and 80 position eliminations, though not all divisions and departments reported expected position reductions in the same way. Sisolak previously announced that his office expected to limit layoffs to around 50 state employees, while keeping in place a statewide hiring freeze.
Some of the planned division cuts will have an outsized effect on the ability of state programs to function. A planned $413,000 cut to the state's new Department of Indigent Defense Services Public Defender office, which provides legal assistance to people who can't afford an attorney in rural areas, would leave the agency unable to conduct post-conviction relief efforts for its clients.
The agency is required under state law to perform those duties, and if the funds to do so are exhausted, a process exists in state law to backfill the funds.
Another major budget cut area will be in state programs that help fight wildfires. The planned cuts include a $524,000 reduction for the Division of Forestry — including holding 13 positions vacant, 11 of which are seasonal, as well as reductions in operating and equipment costs.
The division's fire suppression subdivision is also facing a $1.2 million cut, which reduces funding on replacement wildland firefighting equipment and other supplies. The division said the cuts would not compromise safety because it will use reserves for equipment purchases.
The proposal also calls for:
$3.1 million in reductions within the Secretary of State's office, including leaving positions vacant, cutting spending for a team implementing Automatic Voter Registration and reducing the costs of elections
$100,000 cut from Holocaust education
$735,000 cut from a $5 million budget for Graduate Medical Education, which supports residencies and doctor training programs
$2 million, or the entire 2021 budget, cut from the Workforce Innovations for a New Nevada account run by the Governor's Office of Economic Development. The program sought to fund training programs to prepare Nevadans to take jobs with innovative companies moving to the state.
Updated at 10:28 a.m. on Thursday, July 9, 2020, to reflect that the state Taxicab Authority will not be eliminating 15 positions as part of the proposed budget cuts. Those positions were eliminated during the 2019 legislative session. Updated again at 4:07 p.m. to change an error regarding positions within the Department of Administration being frozen, not eliminated.
The Nevada Independent is raising $200,000 by Dec. 31 to support coverage of the 2024 election.
Tax-deductible donations from readers like you fund this critical work.
If you give today,your donation will be matched dollar-for-dollar.
Give + Get Matched
Featured Videos