Sisolak's budget proposal closes $1.2 billion budget gap with revenue reductions, leaves door open to tax increases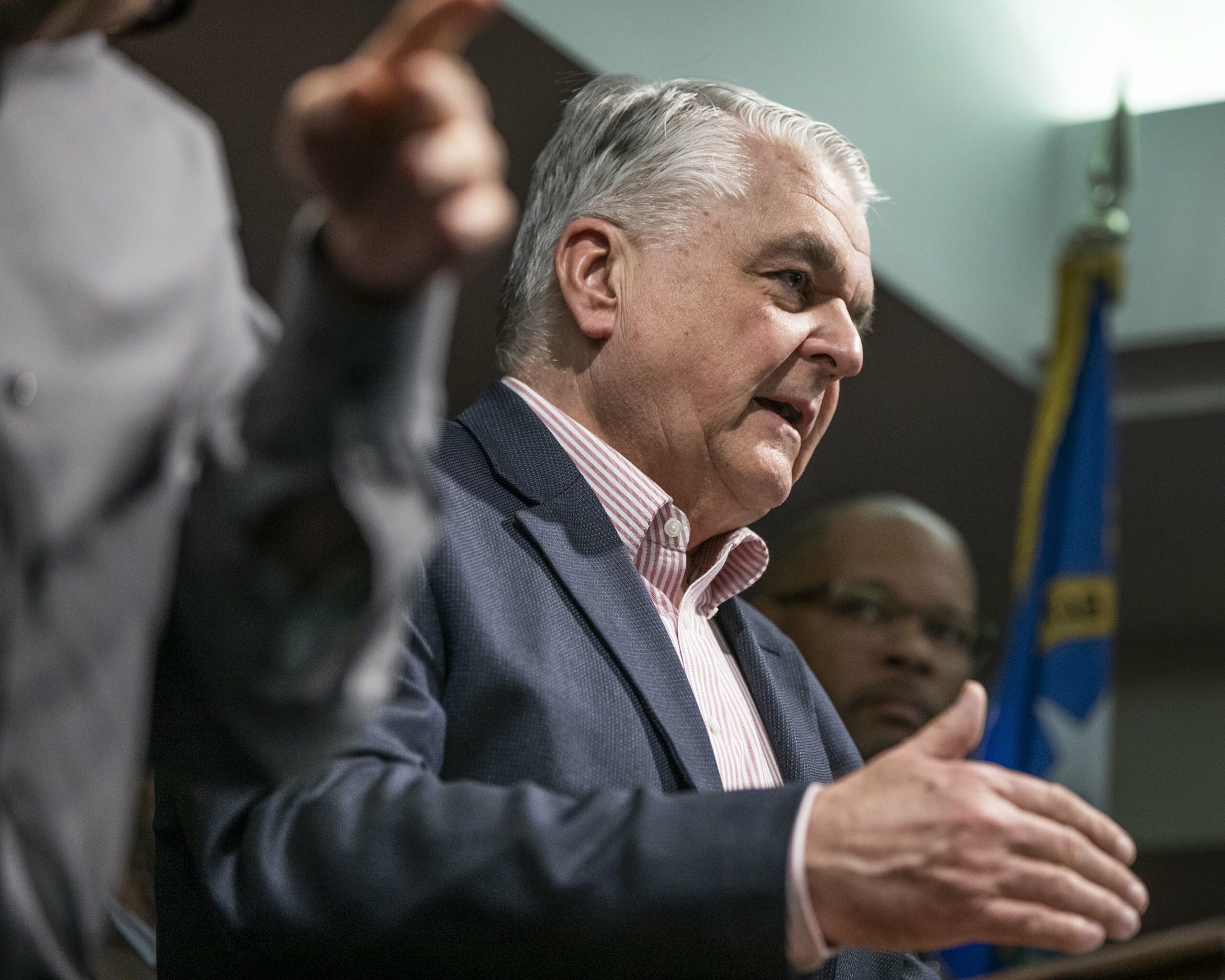 Gov. Steve Sisolak has released a proposal ahead of a special legislative session slated to begin Wednesday that would slash and shift hundreds of millions of dollars from agency budgets and other programs to close an estimated $1.2 billion shortfall caused by the ongoing coronavirus pandemic.
Sisolak is recommending cutting more than half a billion dollars from agency budgets, reducing one-time appropriations, reverting and transferring additional funds and furloughing state employees, among other measures, to close the budget gap — estimated to be nearly a quarter of the previously approved $4.5 billion budget. Though Sisolak does not recommend a tax increase in his proposal, he did signal his openness to changes to the state's existing tax structure should the Legislature find the two-thirds votes necessary to pass it.
"The difficult fiscal decisions for Fiscal Year 2021 now lay ahead of us," Sisolak said in a statement accompanying the release of the budget document. "My proposal preserves as much funding as possible for our most essential priorities: health, education and the state workforce, so they are able to continue providing the vital services on which Nevadans rely."
Specifically, Sisolak's plan calls for:
$549 million in reduction to state agency budgets
$24 million in the reduction of one-time appropriations
$26 million in reversions from the Interim Finance Committee's restricted contingency funds
$84 million in transfers from other state funds and accounts, including the Tax Bond Account, the Bond Interest and Redemption Account and the Healthy Nevada Fund
$10 million from a tax amnesty program
$54 million from an accelerated payment of the net proceeds of minerals taxes
$11 million from legal settlements through the attorney general's office
$24 million from redirecting the governmental services tax increase into the general fund
Additionally, state employees will be furloughed for 12 days a year, merit salary increases will be frozen and 700 vacant positions in the state government will be held vacant. An additional $190.6 million will be reduced from the Nevada System of Higher Education's budget.
Though the governor's plan will not affect the basic support per pupil schools receive from the state's Distributive School Account, it does call for $166 million in general fund reductions to K-12 education, including $10 million from the Nevada Department of Education, $156 million from K-12 categorical funding and other, smaller sums devoted to one-time appropriations for school gardens, mentorship programs and school safety improvements.
The proposed budget cuts will not, however, affect funding for the Zoom and Victory Schools programs, which support schools with a high percentage of English language learners and low-income areas, respectively. The Legislature previously appropriated $44.9 million to Zoom and $25 million to Victory Schools.
Among the cuts to categorical funding, Sisolak's plan proposes cutting $6 million from class size reductions, in addition to an estimated $12 million balanced forward from the previous fiscal year, $31 million from the Read by Grade 3 program, $70 million from the New Nevada Education Funding Plan (which gives schools an extra $1,200 to support certain low-achieving students), $4.5 million from teacher school supply reimbursement and $29 million from other programs.
The Department of Health and Human Services will face a total of $233 million in cuts under Sisolak's plan, including cuts to its Aging and Disability Services, Public and Behavioral Health and Medicaid divisions. Medicaid, alone, will see cuts to a host of services deemed "optional" by the federal Centers for Medicare and Medicaid Services, including tenancy support, neurotherapy, optometry, psychosocial rehabilitation, basic skills training and occupational therapy, among others.
Sisolak's budget proposal notes that though the services are considered optional, "many of them have positive impacts on quality of life for Nevada Medicaid recipients and their elimination may create unanticipated costs elsewhere in the program."
Additionally, several Medicaid services will be limited as part of the budget proposal, including dental services, physical therapy for adults, hospice and the implementation of a specialty pharmacy program.
The plan also proposes a 6 percent across the board Medicaid rate reduction, expected to save the state $52.9 million, with hospitals projected to be responsible for 42 percent of the savings. It also will cut several new, hard-fought Medicaid rate increases approved during the 2019 legislative session including a 2.5 percent increase for acute hospital services, a 25 percent increase for neonatal and pediatric intensive care services and a 3.3 percent increase for personal care services.
The budget proposal doesn't, however, recommend any changes to Medicaid eligibility, in part because the Families First Coronavirus Response Act barred states from terminating people from Medicaid before the pandemic ends if they want to take advantage of a 6.2 percentage point increase in the federal Medicaid matching rate.
Republican Sen. Ben Kieckhefer said he had concerns with the breadth of some of the identified cuts in several areas, including the Medicaid rate cuts, which he said would be "difficult for a lot of providers to swallow."
He also noted that expanded funding for a weighted funding formula was on the chopping block after years of discussion and planning, and he wanted to hear more details on the thought process behind the cuts and why the "Holy Grail" of per-student funding was not considered for cuts.
"Clearly, we need significantly more detail to vet these proposals. This is the governor's proposal to the Legislature, when we get into a special session then it's incumbent upon us to consider them," he said. "But there's a lot of human impact that needs to be evaluated as a part of that, and that's going to require time from the agencies presenting these ideas to us, as well as the people who are going to be feeling the impact."
The budget proposal notes that the state's fiscal condition could improve should the state be able to effectively slow the spread of the virus and keep businesses open. Additionally, the state could receive additional funding from Congress and the White House that would help shore up portions of the state's budget.
Should that happen, Sisolak said that he will begin restoring cuts made to the state's budget, starting with education, health care and public safety.
State lawmakers had previously signed off on a variety of agency cuts and transfers of reserve and one-time finding to fill an $812 million budget hole in the preceding fiscal year, which ended in June.
While the budget proposal notes the governor is not considering any new revenue streams at this time, it does keep the door open for the Legislature to consider making changes to existing revenue sources.
"Considering any new revenue streams would require substantial time to set up, administer, and implement, they are not viable as an immediate option to address this emergency situation," the proposal says. "The Governor determined that any options for increasing revenue should be limited to augmenting existing major revenue sources or augmenting multiple smaller existing revenue sources."
Sisolak had previously expressed some caution regarding raising taxes during a special session, telling the Las Vegas Chamber during a conference call that he didn't consider a tax increase to be the answer to fix the budget deficit.
Kieckhefer said he had not been approached by Democrats regarding a vote for a tax package, saying he was "always willing to talk about options that create a budget that reflects the needs and priorities of Nevadans," but thought "tax increases right now are going to be a really heavy lift considering the state of our economy."
"I expect this not to be a quick and easy special session," he said.
Should the Legislature find the two-thirds votes necessary to approve such a tax package, the budget proposal says Sisolak will be willing to consider it. Democrats, who control both chambers of the Legislature, currently hold a two-thirds majority in the Assembly and are one vote shy in the Senate.
Read the full budget proposal below:
The Nevada Independent is raising $200,000 by Dec. 31 to support coverage of the 2024 election.
Tax-deductible donations from readers like you fund this critical work.
If you give today,your donation will be matched dollar-for-dollar.
Give + Get Matched
Featured Videos