Las Vegas housekeepers lament end of daily room cleaning law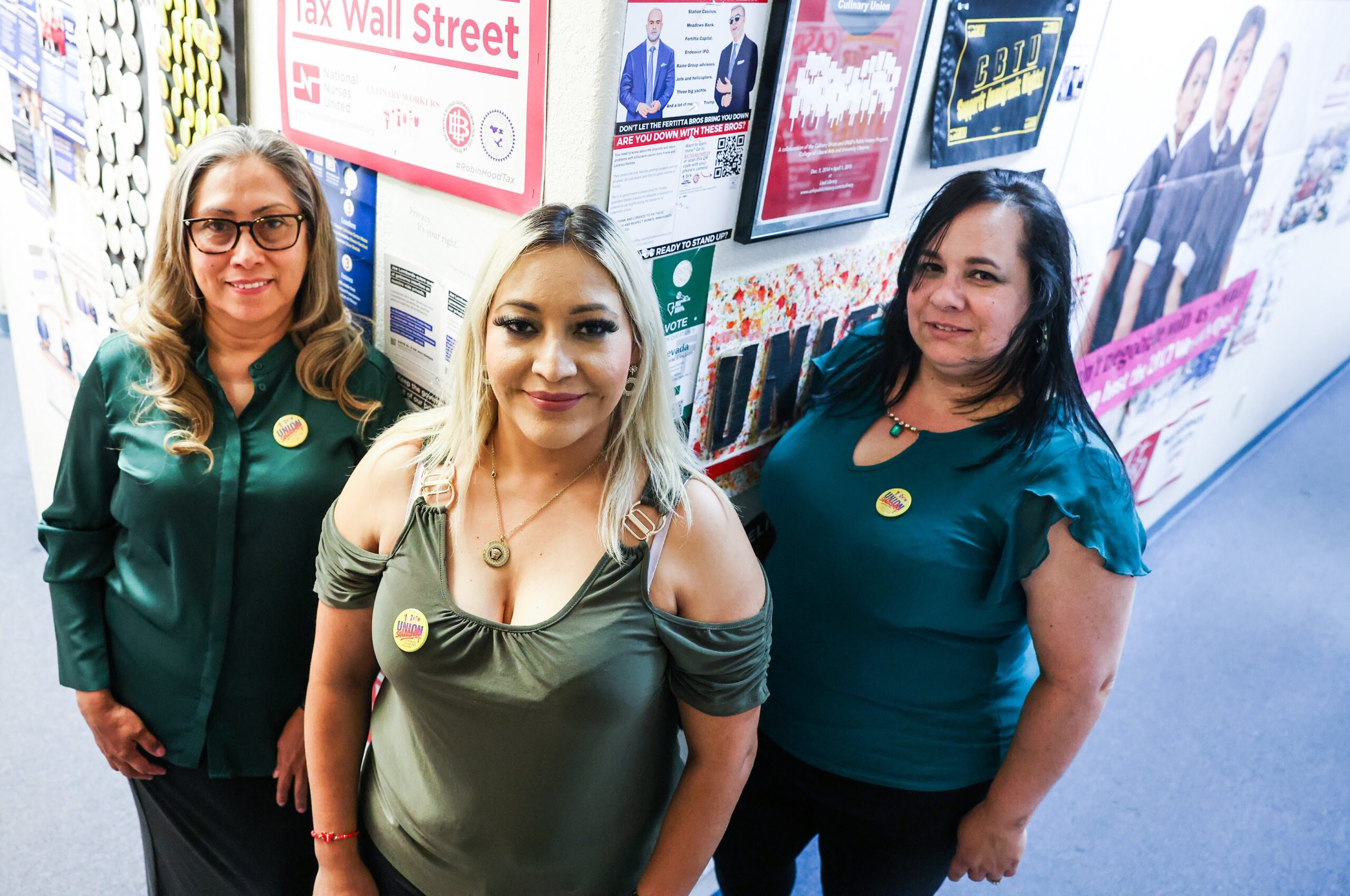 Guest room attendants say they will continue fighting for daily room cleaning to be the standard in Strip properties even after Gov. Joe Lombardo signed SB441 last week, dissolving a pandemic-imposed requirement to clean hotel rooms every day.
Before the pandemic, daily room cleaning was already a "standard practice," according to Culinary Workers Local 226 Secretary-Treasurer Ted Pappageorge. But when casino hotels closed during the pandemic and reopened 78 days later in June 2020, the focus gravitated toward only cleaning rooms at checkout, even for multi-day stays.
Lawmakers passed SB4 in a special legislative session that summer. The Culinary Union saw that bill, which called for daily cleaning of a long list of items in hotel rooms from door handles to light switches to linens, as a way to encourage casinos to adhere to stricter cleaning and safety regulations after a utility porter at Caesars Palace, Adolfo Fernandez, died from contracting COVID-19.
Xochitl Mendez, 55, a guest room attendant in a Strip property and member of the Culinary Union, told The Nevada Independent that when SB4 passed and daily room cleaning returned, she and her colleagues were relieved as their workload would ease. Mendez explained that not cleaning rooms every day allows trash, dust and soap buildup to accumulate, making cleanup at checkout more laborious.
"We were used to having a stable type of job … But the pandemic came to load us with work as industry workers. It was heavier, it was more difficult," Mendez said in Spanish. "There were even times when we even cried at how ugly those rooms were."
Mendez has been a guest room attendant for more than 20 years. She said that dirtier rooms require more effort and exhaust her to the point where she wonders how much longer she can do the job before her body gives out.
During the hearings on SB441 this legislative session, Culinary leadership was adamantly opposed to lifting the mandate for daily cleaning. The Nevada Resort Association and gaming industry representatives argued that the change doesn't mean guests can't get their room cleaned each day, but said cleaning practices shouldn't be required in state law.
Guest room attendants also have a 30-minute time limit to clean rooms after checkout, Mendez said, which makes cleaning rooms that haven't been cleaned in a couple of days a bigger challenge.
"Nobody is going to tell me what housekeeping is. I live it every day. That's why we know the importance of cleaning a room daily," Mendez said. "If you clean a house every day, a little here and there, it stays beautiful. But if you clean it once a month — or even once a week — there's a difference."
Barbara Perez, a Culinary Union member who has been a guest room attendant on the Strip for nearly nine years, said her property requires the guest room attendants to clean at least 16 rooms per shift. She shares Mendez's frustration that rooms seem to have gotten messier since the pandemic.
"Do you think that a room that hasn't been cleaned in five days can be cleaned in 30 minutes? Not to mention that you can find the room full of confetti, balloons, garbage, pills, everything," Perez said.
Guest room attendants also fear that SB441 will lead to job layoffs and reduced hours. Pappageorge has said that the union aims to codify daily hotel room cleaning during contract negotiations in the coming weeks at dozens of Strip and downtown resorts. The union represents some 60,000 non-gaming employees.
The five-year contracts the union has with each employer expire at the end of May. Pappageorge said in a statement last week that daily room cleaning would be a "strike issue" similar to wage increases, health care, benefits and workplace safety language.
For Perez, daily hotel room cleaning is also a safety issue. She said she and her colleagues had to deal with unhappy guests who were expecting their room to be cleaned daily but unknowingly did not opt-in to daily cleaning.
Union members have also argued that less cleaning means fewer housekeepers, leaving individuals spread out across a property and more vulnerable.
"We don't have any security, and even less when we're spread out and don't work side by side," Perez said. She recalled how a coworker was assaulted last year by a guest and no one was nearby to help her. Perez said her coworker was sent to the hospital to treat her injuries but has not been back to work since.
But Perez said it doesn't end there. She said daily hotel room cleaning also allows the employees to watch out for safety concerns such as firearms and illicit drugs.
Perez said she was disappointed to see hotel executives, some lawmakers and the governor supporting the law that the workers were pushing against.
"I wanted to tell them 'Go put my uniform on and you go clean the rooms so you can see what it's like,'" she said.
Elizabeth Renteria, 35, has been a guest room attendant for just five years after moving to Las Vegas from California. Renteria, a member of the Culinary Union, shared the disappointment that daily cleaning has been removed from state law but is optimistic about the contract negotiations and was grateful for the lawmakers that "had their backs" and voted against the bill.
Assembly members voted 33-9 to give the legislation its final approval. The no votes all came from Democrats, including Assemblymembers Natha Anderson (D-Reno), Venicia Considine (D-Las Vegas) and Bea Duran (D-Las Vegas), who has been a member of the Culinary Union for 21 years. Last month, the Senate approved the bill by an 18-3 vote, with Democratic Sens. Fabian Doñate (D-Las Vegas), Edgar Flores (D-Las Vegas) and James Ohrenschall (D-Las Vegas) opposing the measure.
"They stood up for us and they're gonna have our support for the next election … We're going to be there for them because we won't forget. That meant a lot for us," Renteria said. "We are not going to give up. Even if the law has passed, we are not going to give up. We are going to continue fighting even for the contract."
The Nevada Independent is raising $200,000 by Dec. 31 to support coverage of the 2024 election.
Tax-deductible donations from readers like you fund this critical work.
If you give today,your donation will be matched dollar-for-dollar.
Give + Get Matched
Featured Videos