Five bills implement the Nevada budget. Here's what's in them.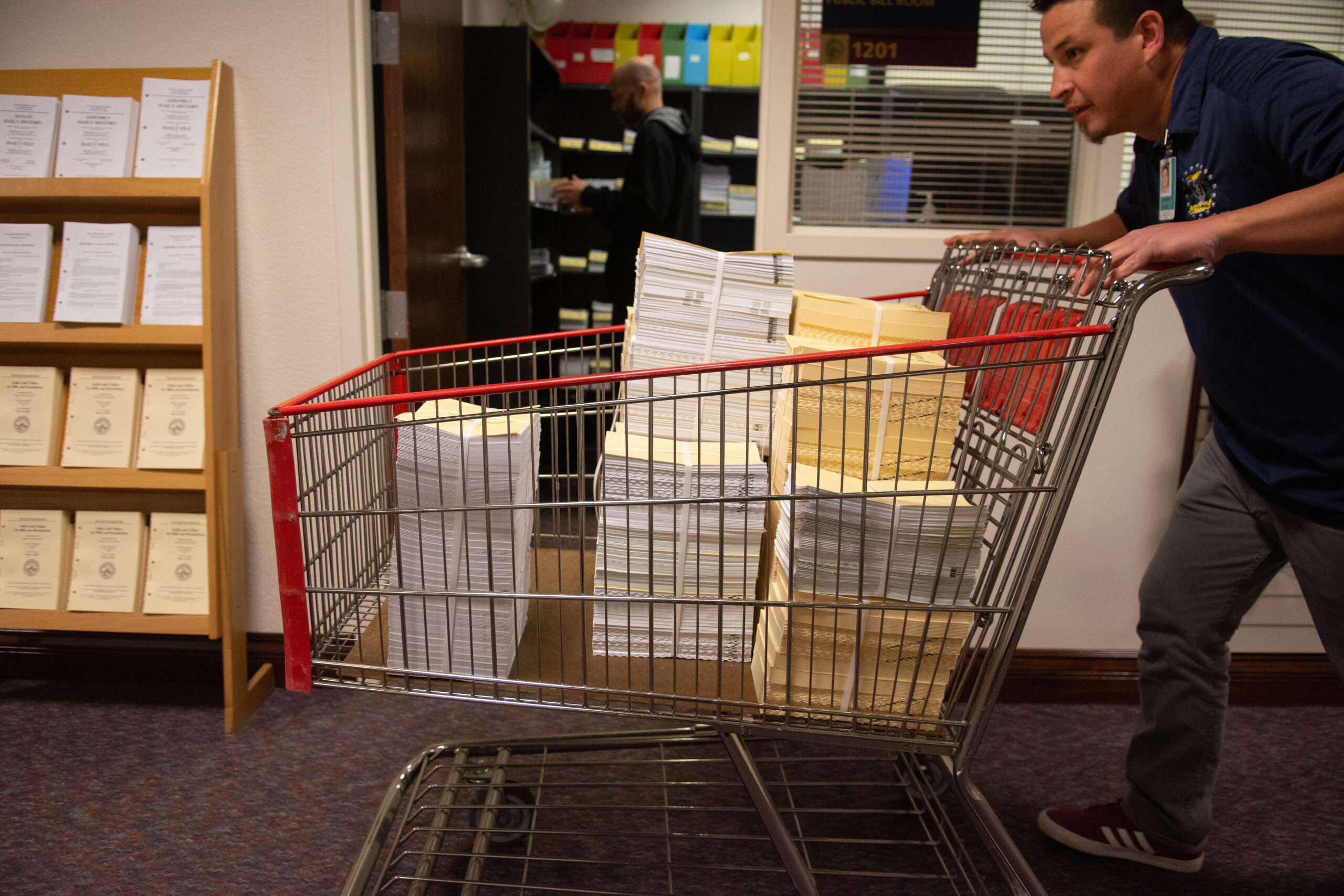 Lawmakers are wrapping up one of their biggest responsibilities of the 120-day legislative session by reviewing and passing five bills implementing the state budget.
The five measures are the culmination of months of vetting and adjustments of the governor's recommended two-year budget and allocate not only the $9.1 billion the state expects to bring in through tax revenue over the next two years, but guide spending of certain federal and fee funds.
Once drafted by legislative staff, the budget bills generally can't be amended if legislators plan to close down the session within 120 days. Here's a look at what's in the budget bills introduced this session and their status.
K-12 FUNDING (SB458)
STATUS: Passed 21-0 in Senate and 41-0 in Assembly.
Nevada lawmakers are constitutionally required to approve funding for K-12 education before other areas of the budget. The bill to do that includes:
Total public support at an average of $10,204 per pupil in the upcoming fiscal year and $10,290 in the following fiscal year. That amounts to a $115 per-pupil reduction from the levels the 2019 Legislature approved for the current fiscal year to the upcoming one.
Statewide base per-pupil funding of $6,980 for the first fiscal year of the upcoming biennium and $7,074 in the second fiscal year. Additional weighted funds will be calculated using the statewide base per-pupil funding amount, with the multipliers set at 0.24 for English learners, 0.03 for at-risk students and 0.12 for gifted and talented students. The Clark County School District, for instance, would receive $61.9 million of weighted funds for English learners, $45.4 million for at-risk students and $3.8 million for gifted students in the upcoming fiscal year.
The adjusted base per-pupil funding amounts — which take into account variation in local costs — in the 2021-2022 fiscal year range from $7,222 for the Washoe County School District to $33,746 for the Eureka County School District. The Clark County School District's adjusted base per-pupil funding is $7,264.
In total, the bill allocates more than $2.6 billion from the general fund to the Pupil-Centered Funding Plan: $1,396,939,483 in the first fiscal year and $1,223,780,931.
Apart from the general fund, there will be nearly $6.3 billion from outside the general fund going toward the Pupil-Centered Funding Plan. That includes $3,013,387,160 in the first fiscal year and $3,239,583,349 in the second.
The bill also includes a variety of expenditures outside that formula, such as funds to support a scholarship program for prospective teachers, nearly $8 million for the Jobs for America's Graduates Program and $50 million for an Education Stabilization Account for reserves.
The state projects 484,892 students will enroll in K-12 schools in the coming school year.
APPROPRIATIONS BILL (AB494)
STATUS: Passed 33-6 in Assembly.
This bill appropriates several billion dollars from the general fund and Highway Fund to many projects, programs and government divisions, including:
$2.03 billion for Nevada Medicaid
$73.2 for the UNLV School of Medicine and $66.6 million for the UNR School of Medicine
$39.2 million from the Highway Fund for the DMV's IT system redesign (an additional $13.6 million may be appropriated from the Highway Fund for the system redesign to make up for shortfalls from the now-struck down $1 technology fee, if neither AB488, nor AB491, are passed by the Legislature this session)
$25.7 million for assessments and accountability within the Department of Education
$41.4 million for the Office of Early Learning and Development
$20.3 million for capacity building initiatives at the Nevada System of Higher Education
$11.4 million for the Autism Treatment and Assistance Program
$8.8 million for the need-based Silver State Opportunity Grant Program
$8.5 million from the Governor's Finance Office to support graduate medical education
$3.9 million for problem gambling
$4.8 million for family planning
$2.1 million for the Department of Indigent Defense Services
$1.6 million to the secretary of state's office for Help America Vote Act election reforms
$1.3 million for the replacement of the parole division's Offender Tracking Information System
$469,000 for the Office of New Americans
$200,000 to contract scientists in support of the Nevada Climate Initiative
CAPITAL IMPROVEMENT PROJECTS BILL (AB492)
STATUS: Passed Assembly 34-7.
This bill authorizes $413.1 million in projects, including:
$89.6 million for capital improvements in the Department of Corrections, including $43.4 million for upgrades at the Northern Nevada Correctional Center in Carson City
$75 million to launch the state infrastructure bank
$44 million for resource conservation and preservation programs
$36.8 million for an engineering building at the University of Nevada Las Vegas
$27.1 million for deferred maintenance projects in the Department of Health and Human Services
$26 million for an addition to the Nevada National Guard's Washoe County Training Center
$15 million for deferred maintenance projects in the Nevada System of Higher Education
$14.9 million for five DMV projects and one public safety project, including $6.3 million to help fund the construction of a new DMV facility on North Decatur in Las Vegas
$9.4 million for the statewide energy efficiency program
$6 million for roofing projects statewide
$4.9 million for a remodel of the Grant Sawyer State Office Building in Las Vegas
$4.9 million for an exterior renovation of the State Capitol building and annex building
AUTHORIZATION BILL (SB459)
STATUS: Passed Senate 18-3. Passed Assembly 35-5.
This bill reflects expenditures that are authorized by the Legislature but derive from funds other than the state general fund or Highway Fund, and includes federal money passing through the state and entities funded by fees.
$9 billion for Nevada's Medicaid and Check Up programs
$5.6 billion for COVID-19 relief programs through the governor's office
$1 billion for the Public Employees Benefits Program
$154.1 million for the Cannabis Compliance Board
$52.7 million for the Central Repository for Nevada Records of Criminal History
$36.3 million for the Silver State Health Insurance Exchange administration
$80 million for unemployment insurance and $151.3 million for workforce development through the Department of Employment, Training and Rehabilitation
$30.5 million for the Temporary Assistance for Needy Families (TANF) program
$24.7 million for the Division of State Parks
$17.9 million for the UNR School of Medicine and $12.8 million for the UNLV School of Medicine
$15.6 million for Southern Nevada Adult Mental Health Services and $8.8 million for Northern Nevada Adult Mental Health Services
$11.4 million for the secretary of state's office to implement the Help America Vote Act
$7.5 million for the Autism Treatment Assistance Program
STATE WORKER PAY BILL (AB493)
STATUS: Passed Assembly 25-16.
The measure dubbed the "State Worker Pay Bill" includes provisions setting maximum pay rates for positions within the state and granting all state employees at least a 1 percent cost-of-living adjustment in the 2023 fiscal year.
It also contains the first-ever implementation of state worker collective bargaining agreements. Some members of bargaining units are given longevity bonuses for long periods of continuous state service.
One point of contention was the bill's provision that employees represented by collective bargaining units will generally receive a 3 percent cost of living adjustment — more than those not represented by a union. Republicans who voted against the bill described that as unfair to people who aren't supportive of the union.
"Cost of living adjustment is meant to rise in parity with inflation; increasing state employee union member's COLA at a higher rate than non-union members is disingenuous and political retaliation for not agreeing with their progressive political activism," said Assembly Republican Leader Robin Titus (R-Wellington).
Assembly Ways and Means Chairwoman Maggie Carlton (D-Las Vegas), however, said she was happy that the pay bill now reflects negotiations between employees and the state. She said there were still some "freeloaders" in the state who will get the higher pay rate even though they haven't contributed to the union, because their class of worker is represented by a bargaining unit.
"We have to recognize that we are a 'right to work' state. So those people do still get those benefits, even if they don't pay their dues," she said on the Assembly floor.
Correction: This story has been updated at 11:00 a.m. on Friday, May 28 to clarify that part of the funds appropriated by AB494 for the DMV's IT system redesign are contingent upon certain actions during the 81st legislative session.
The Nevada Independent is raising $200,000 by Dec. 31 to support coverage of the 2024 election.
Tax-deductible donations from readers like you fund this critical work.
If you give today,your donation will be matched dollar-for-dollar.
Give + Get Matched
Featured Videos