In legislative debut, sweeping criminal justice reform bill hits headwinds from prosecutors, police, cities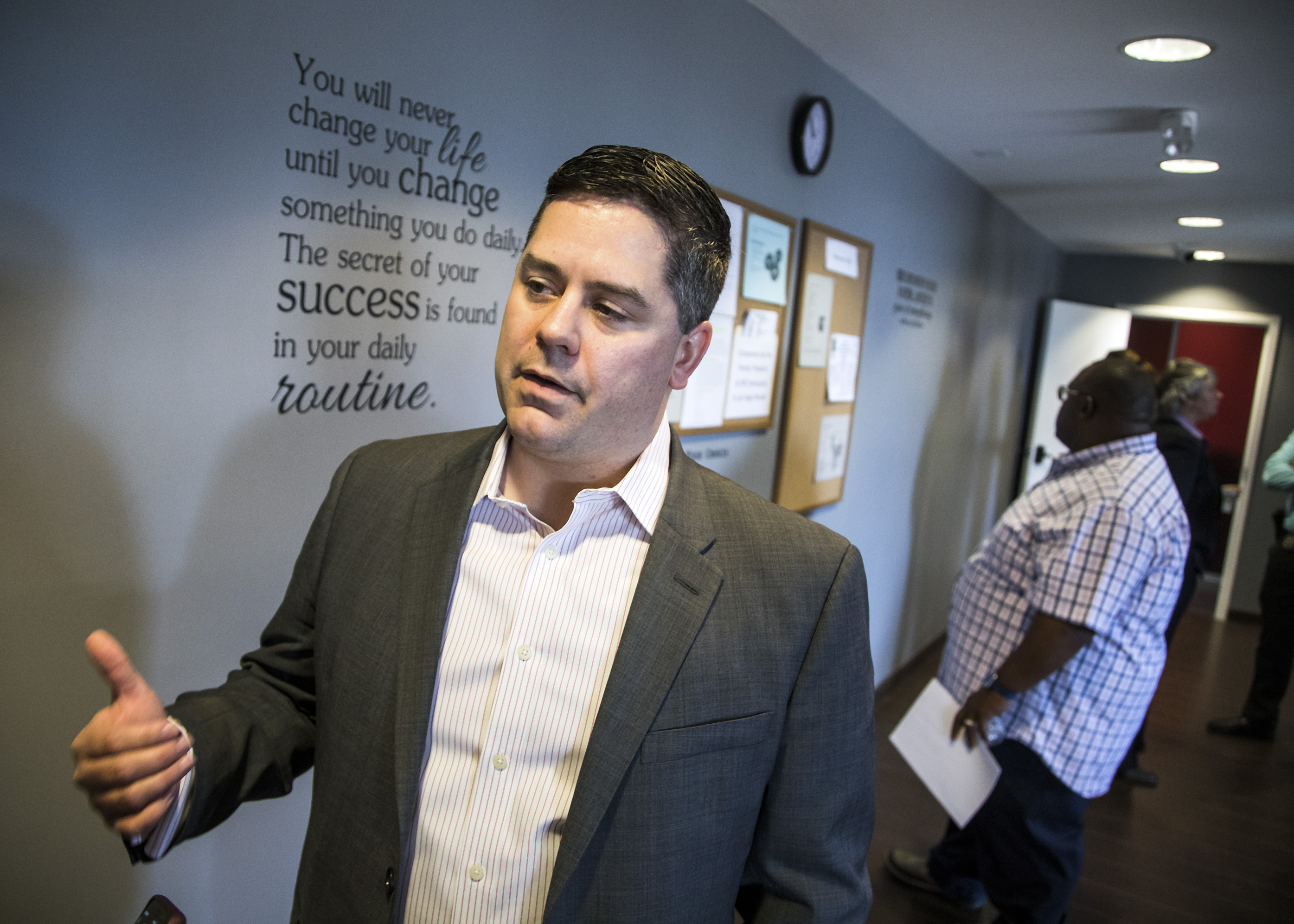 More than two decades after the last major overhaul of criminal sentencing in Nevada, lawmakers armed with data from a monthslong research project are taking up what the bill sponsor calls "probably the single most important and transformative criminal justice bill in the history of this building."
Their 136-page bill — which proponents say could save the state $640 million in prison costs over a decade — calls for everything from reducing penalties for certain kinds of burglaries to lowering barriers for offenders to enroll in drug or mental health treatment-focused programs as an alternative to incarceration.
It enshrines six months of analysis and 25 recommendations developed after Department of Justice officials, at state leaders' request, designated Nevada a Justice Reinvestment Initiative state and offered up the services of a team of data and policy analysts.
"In Nevada, the criminal justice system has too often not been a system of corrections, so much as a system of incarceration without doing much meaningful to correct the drivers of criminal behavior," Democratic Assemblyman Steve Yeager told the Assembly Judiciary Committee that he chairs at a four-hour hearing for AB236 on Friday. "The approach has more often been to warehouse an offender. Out of sight, out of mind. Nevada taxpayers deserve better. They deserve much better."
But the bill has hit a wall of opposition from prosecutors and law enforcement, who warn of aging pedophiles walking free, tourist-repelling levels of property crime and impunity for drug traffickers who are fueling the opioid crisis.
"Simply stated, criminal justice reform should not sacrifice public safety," cautioned Douglas County District Attorney Mark Jackson. "To do so would erode the public's confidence in law enforcement, and law abiding citizens would lose faith in the criminal justice system."
Researchers with the Crime and Justice Institute helped develop the recommendations after combing through data from Nevada's prisons and sifting through case files in the back rooms of courthouses. They told members of the Advisory Commission on Administration of Justice during the interim that several factors are driving up Nevada's prison population while other states are seeing declines.
About two thirds of people behind bars are there for crimes not committed against another person, and the number of women and people with mental illness in prison has risen sharply. The length of sentences has also been creeping up in recent years — something critics say comes because lawmakers decide piecemeal each session to raise penalties for certain crimes but haven't stepped back to examine the big picture.
"We have … really undergone a creep of our ongoing enhancement of penalties," said Lisa Rasmussen of Nevada Attorneys for Criminal Justice, "making things more severe to the point where Nevada has become an outlier in many of the areas that this bill addresses."
Nevada Supreme Court Justice James Hardesty said the data analysis has identified the trends in the system, laying a firm foundation for policy changes that never gained traction in past sessions.
"One of the recurring problems that has existed in the 12 years that I've been associated with the advisory commission is the inability ... to generate meaningful, substantive data that it provides direction and analysis of where we are in our criminal justice system," he said.
Still, opponents took issue with a number of the particulars:
Jackson questioned the bill's requirement that parole officers use escalating punishments, rather than revoking their parole, when people make "technical" parole violations — actions that don't rise to the level of a gross misdemeanor or felony. He suggested someone might drive under the influence of cocaine, beat his wife and steal up to $1,000 from a store before the activity would rise beyond a misdemeanor and trigger a parole revocation.

Las Vegas Metro Police lobbyist Chuck Callaway said he was concerned about reducing the crime of auto burglary from a felony to a gross misdemeanor. "When you go to town halls, you have a First Tuesday event and you get citizens into a room, one of the things they constantly are concerned about is burglaries and auto burglaries in their neighborhood," he said. "This is a serious thing for quality of life and the neighborhoods and our communities. And I don't believe that reducing that crime down is appropriate."

Washoe County District Attorney Chris Hicks balked at a provision that would allow offenders who are older than 60 to be paroled after serving the first 10 years of their sentence. He said he feared an aging child rapist would be free under such a law. "And this does not require any demonstration of a medical need," he said. "These provisions are allowing the parole board ... to nullify a judge's sentence and to release violent and dangerous offenders."

Christopher Lalli of the Clark County District Attorney's Office raised concerns over a provision that raised the quantity of drugs police need to find to charge someone for drug trafficking. The bill also requires evidence that the drugs were meant to be sold before such a charge can be levied. "This legislation does a disservice to the opioid crisis here in Nevada," he said.
Yeager pushed back on some of the critics, arguing that the bill expands judicial discretion and that would likely avert the doomsday scenarios described by prosecutors.
"Some of the examples cited by the opposition are troubling because they reflect distrust, I guess, or a lack of confidence in the discretion that would be exercised either by the parole board or by judges," he said. "I would submit that it's highly unlikely that a judge is going to divert someone with the kind of charges that you heard about and ignore the opportunity of victims to participate in those [criminal proceedings]."
Yeager invited opponents to work with him on the bill in coming weeks, adding that the legislation is "midway" through the process and "a tremendous amount of work remains to be done here at the Legislature." He pointed to an amendment he already submitted that removes a provision that would have loosened the law on ex-felons possessing a firearm.
"I'm willing to take any suggestion, but it has to be a suggestion that acknowledges we have a problem, and it can't just be no," he said.
Democrats, who control the Legislature, think the recommendations out of the interim committee still have a good chance of remaining mostly intact.
"I still feel very optimistic about it," said Democratic Assemblyman Howard Watts. "I think there is a strong appetite in our committee to make substantial reform."
Hicks, a Republican, said the heavily Democratic makeup of the Legislature was "troubling" for his cause but added that he was hopeful that the members would take prosecutors' points of view into account.
"There's several of those that we agree with," he said of the 25 recommendations that came out  of the interim committee. "It's just that dramatic decrease in sanctions for serious crimes that, to us, will equal disaster for public safety."
The Nevada Independent is raising $200,000 by Dec. 31 to support coverage of the 2024 election.
Tax-deductible donations from readers like you fund this critical work.
If you give today,your donation will be matched dollar-for-dollar.
Give + Get Matched
Featured Videos