Indy Fact Check: Sandoval's State of the State address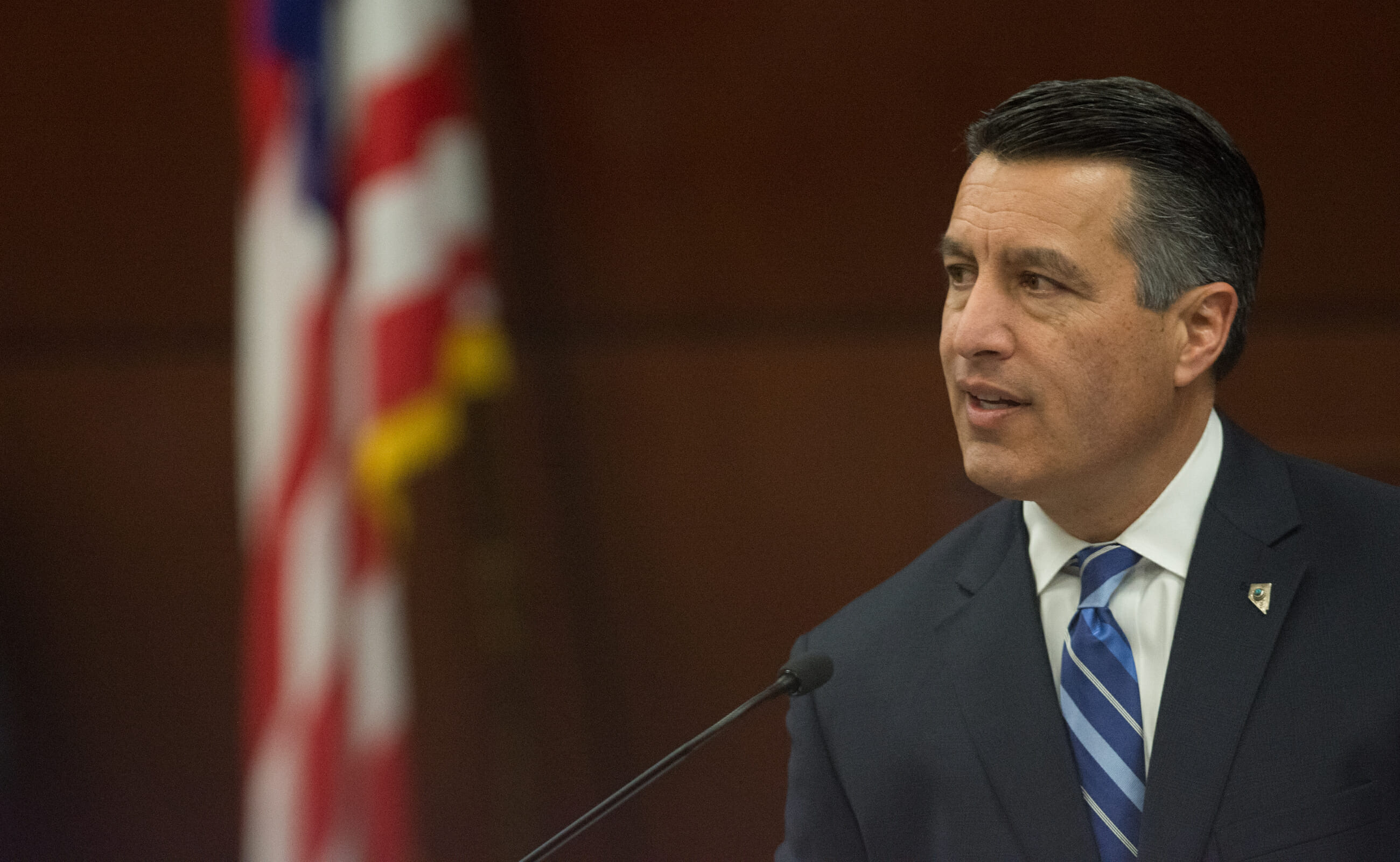 During his final State of the State address, Nevada Gov. Brian Sandoval rattled off a list of statistics to show how Nevada had "experienced an unprecedented rebound" thanks to "extreme sacrifice, combined with the sheer force of our tenacity."
Nevada's economy has certainly come a long way since Sandoval first took office in 2011, and most indicators show the state on a more stable path entering the final two years of the Republican governor's term. But has the recovery hit all parts of Nevada, and is the state better off than it was before the recession?
The Nevada Independent looks into whether the facts support Sandoval's rosy picture of the "New Nevada."
"The unemployment rate has fallen to 5.1 percent, with Nevada's economy adding more than 198,000 jobs between 2011 and 2016."
The state ended 2016 with a 5.1 percent unemployment rate, the Nevada Department of Employment, Training and Rehabilitation (DETR) reported Tuesday. Data from the U.S. Bureau of Labor Statistics pegged that number at 5.2 percent as of November 2016. That's way down from 13.7 percent, where the unemployment rate was at during its highest point post-recession in the fall of 2010. Sandoval took office in the spring of 2011. But Nevada's unemployment rate has been better — its historical low was 3.7 percent in January 1999.
The overall jobless rate, though, is only one metric. Nevada and New Mexico are tied for the second highest U-6 employment rate, which provides a broader picture of unemployment by including the unemployed, the underemployed, and those not looking for work because they are discouraged. That number has been on a downward trend since 2011, but was 12.5 percent in Nevada for the third quarter of 2016, according to an analysis by the Las Vegas-based economic consulting firm RCG Economics.
As far as job creation goes, the low-point of employment in Nevada was in September 2010, not at the beginning of 2011 when Sandoval took office. Almost 195,000 jobs have been created in Nevada between that 2010 trough and the end of 2016, according to payroll employment estimates. Since Sandoval took office in January 2011, the state has created almost 185,000 jobs, according to the same employment estimates.
"We have closed the books on six straight years of job growth in Nevada."
Employment numbers reached a low point in April 2010, with only 1,171,003 Nevadans employed, according to the U.S. Bureau of Labor Statistics. They've been on a mostly steady upward trajectory since then, save for a barely discernible dip in mid-2016. But year-over-year job growth has remained steady, and the latest employment data from November pegs the number of employed Nevadans at 1,351,079.
"Wages are up, home values have risen, and more people have health insurance than ever before."
Wages are indeed up in Nevada:  The median hourly wage in Nevada was $16.20 as of May 2015, according to the U.S. Bureau of Labor Statistics. That's up seven cents from 2014 and $2.90 from a decade prior. But there's a lot of variation within those numbers. Office and administrative support professionals, the largest occupation in the state, make about $15.70 an hour, while the highest-paid workers in the state, pediatricians, make $88.65 an hour.
And Nevada has also lagged behind other states in recovering personal income through the post-recession time period. A Pew Charitable Trust analysis found that personal income growth — which includes wages, investments and government benefits — grew only 0.1 percent in Nevada between 2007 and 2015, ranking dead last among all 50 states.
Household wage data also paints a different picture. The median household income in 2015 was $51,847, down by about $5,000 from a 2007 pre-recession height of $57,114, according to U.S. Census data.
Other economic indicators related to income are not pointing upward. State enrollment in the Supplemental Nutrition Assistance Program (food stamp) program, available for individuals or families up to 130 percent of the poverty level ($11,880 for an individual, or $24,300 for a family of four), has skyrocketed 641 percent since 2000, including a 120 percent increase since 2009.
Home values
The median home value in Nevada is currently $228,000, according to the real estate database company Zillow. Home prices have been on an upward climb from the market's low point in 2012, when median home prices were about $122,000. But housing values aren't back to where they were when the housing market peaked in 2006, at about $301,000.
Health insurance
The uninsured rate in Nevada dropped by 46 percent between when the Affordable Care Act was enacted in 2010 and 2015, according to the U.S. Department of Health and Human Services. Before the law was enacted, Nevada ranked second in the nation in the number of uninsured, 22.6 percent in 2010. Now, it ranks seventh, with 12.3 percent of Nevadans still living without health insurance.
"By 2025, roughly 60 percent of all jobs in Nevada will require some form of post-secondary degree or other credential. Today, only 30 percent of Nevadans between the ages of 25 and 34 have completed some level of post-secondary education."
It's true that Nevada has one of the lowest levels of educational attainment in the U.S. The U.S. Census Bureau's American Community Survey from 2012 found that just 30 percent of Nevadans ages 25 to 34 have an associate degree or higher — the lowest of any state in the country.
Nevada fares a little better on some other metrics. It's not at rock-bottom in terms of how many people ages 25 to 34 have at least a bachelor's degree -- New Mexico and Mississippi are worse.
The governor's office points to research from Georgetown University projecting that by 2020, 62 percent of all jobs in Nevada will require some sort of post-secondary education. Groups trying to match those demands include the Lumina Foundation, which has a Goal 2025 initiative aimed ensuring 60 percent of Americans have post-secondary credentials by the year 2025.
It's not clear if there's new Nevada-specific projection for workforce needs for 2025, which is the date Sandoval used in his speech.
"Nevada is enjoying record visitor volume, higher hotel occupancy rates, and casinos across the state reported a combined positive net income for the first time since 2008."
This is on point. Tourism officials say Las Vegas hit a record 42.9 million visitors in 2016, inching past the old record it set in 2015 of 42.3 million visitors. Numbers today are higher than they were at the pre-recession peak of nearly 40 million.
Vegas is also filling more of its rooms. It's had roughly 149,000 rooms since 2009, but was filling about 82 percent of those in 2009 and filled 88 percent of them in 2015.
While the bulk of tourism happens in the Las Vegas area, it's also growing in the state overall. An estimated 56 million visitors came to Nevada in the 12 months ending Sept. 30, 2016, according to data compiled by the Nevada Division of Tourism. That's up from 54 million in the same period last year and 54 million in that period in 2007 just before the recession.
The 273 Nevada casinos that have at least $1 million in gaming revenue each year turned a combined profit of $979 million in the fiscal year that ended June 30, 2016. Their total revenue was $25 billion, according to the Nevada Gaming Control Board's latest abstract.
It was the first time that Nevada casinos overall made a profit since the fiscal year that ended in mid-2008. At their worst point -- the fiscal year that ended in mid-2009 -- the state's casinos posted a net loss of nearly $6.8 billion.
"Tragically, we lose one Nevadan every day to opioid overdose — a mother, father, son, daughter, grandparent or close friend."
Sandoval may have slightly understated the number of deaths caused by opioid overdoses — the Las Vegas Review-Journal reported that the state had 382 drug overdose-related deaths in 2015.
That's a figure that's actually decreased in recent years, from a high of 531 in 2011. Sandoval held a three-day Prescription Drug Abuse Summit last year, and chaired a National Governor's Association subgroup dedicated to combatting prescription drug abuse.
But the data used by the state may not be reliable, because different coroners in different counties may classify deaths by drug overdose differently.
"If Nevada were a country, it would be the fourth largest gold producer in the world."
Sandoval is right:  Nevada alone produces more than the fifth-largest gold producer in the world, Canada. Nevada produced 166.1 out of the 200 metric tons of gold produced by the United States in 2015, according to the Nevada Mining Association. The top three gold-producing countries in 2015 were China (490 metric tons), Australia (300 metric tons) and Russia (242 metric tons). The United States comes in at fourth, with Canada clocking in at 150 metric tons.
"We are home to the only lithium mine in the U.S., and the 2nd largest lithium deposit in North America is located in Humboldt County."
Silver Peak, located in Esmeralda County, is the only commercially active lithium mine in the United States, according to the U.S. Geological Survey. The mine is owned by the Louisiana-based Albemarle Corporation. However, the Kings Valley deposit in Humboldt County, run by Lithium Americas, is Nevada's largest. It's also believed to be the second-largest lithium deposit in North America and the fifth-largest in the world, based on the company's analysis of the mine. (USGS considers domestic lithium production numbers proprietary information and does not publish them.) The Whabouchi mine in Quebec is considered the second richest and largest lithium deposit in the world.
So, based on publicly available information, Sandoval's statement appears to be correct, but the scarcity of publicly available information on mines in the U.S. besides what companies themselves provide makes it hard to independently verify. We've seen nothing to suggest Sandoval's claim is inaccurate, however.
"Most of you know that one of my top infrastructure priorities has been Project Neon in Las Vegas, the largest public works venture in Nevada history."
Project Neon, the effort to widen and improve Interstate 15 at the so-called "Spaghetti Bowl" interchange with U.S. Highway, is the largest public works project undertaken by a state agency at an expected cost of $900 million. But the largest public works venture in Nevada to-date was McCarran International Airport's $2.4 billion Terminal 3 expansion, completed in 2012. State officials note that the project was spearheaded by Clark County and funded by airport revenue (a combination of gate fees, concessions and airport gambling revenue), while Project Neon is a state project funded by state tax dollars.
But what about the Hoover Dam? Both projects were more pricey than the state's most famous public works project, which cost $49 million to build in 1936 dollars or about $846 million in today's dollars, according to the U.S. Bureau of Labor Statistics Consumer Price Index calculator.
"Through the efforts of the policy committee and gaming regulators, I am proud to report that Nevada is the first and only state to allow wagers on eSports."
Chris Grove, a gambling industry analyst with the Online Poker Report, said the governor is correct to say Nevada's the only state with sportsbook-style eSports wagering. Other international jurisdictions allow this kind of real-money betting on video game tournaments, although no other states do.
Sandoval restarted the Gaming Policy Committee last year to address issues including internet gambling, and the group directed state regulators in November to develop rules allowing Esports wagering in the state, according to the Las Vegas Review-Journal.
Bookmaker William Hill announced shortly after that they were partnering with the Downtown Grand casino in Las Vegas for a League of Legends video game tournament that featured wagering.
Some Daily Fantasy Sports sites such as DraftKings allow people to bet real money in fantasy Esports, although not on real video game tournaments, Grove said.
If you listened to Gov. Sandoval's speech or read the transcript here on TNI and noted other items of interest that bear looking into, let us know by contacting editor Jon Ralston at [email protected].
The Nevada Independent is raising $200,000 by Dec. 31 to support coverage of the 2024 election.
Tax-deductible donations from readers like you fund this critical work.
If you give today,your donation will be matched dollar-for-dollar.
Give + Get Matched
Featured Videos