Judge hints that redistricting commission ballot question can move forward after edits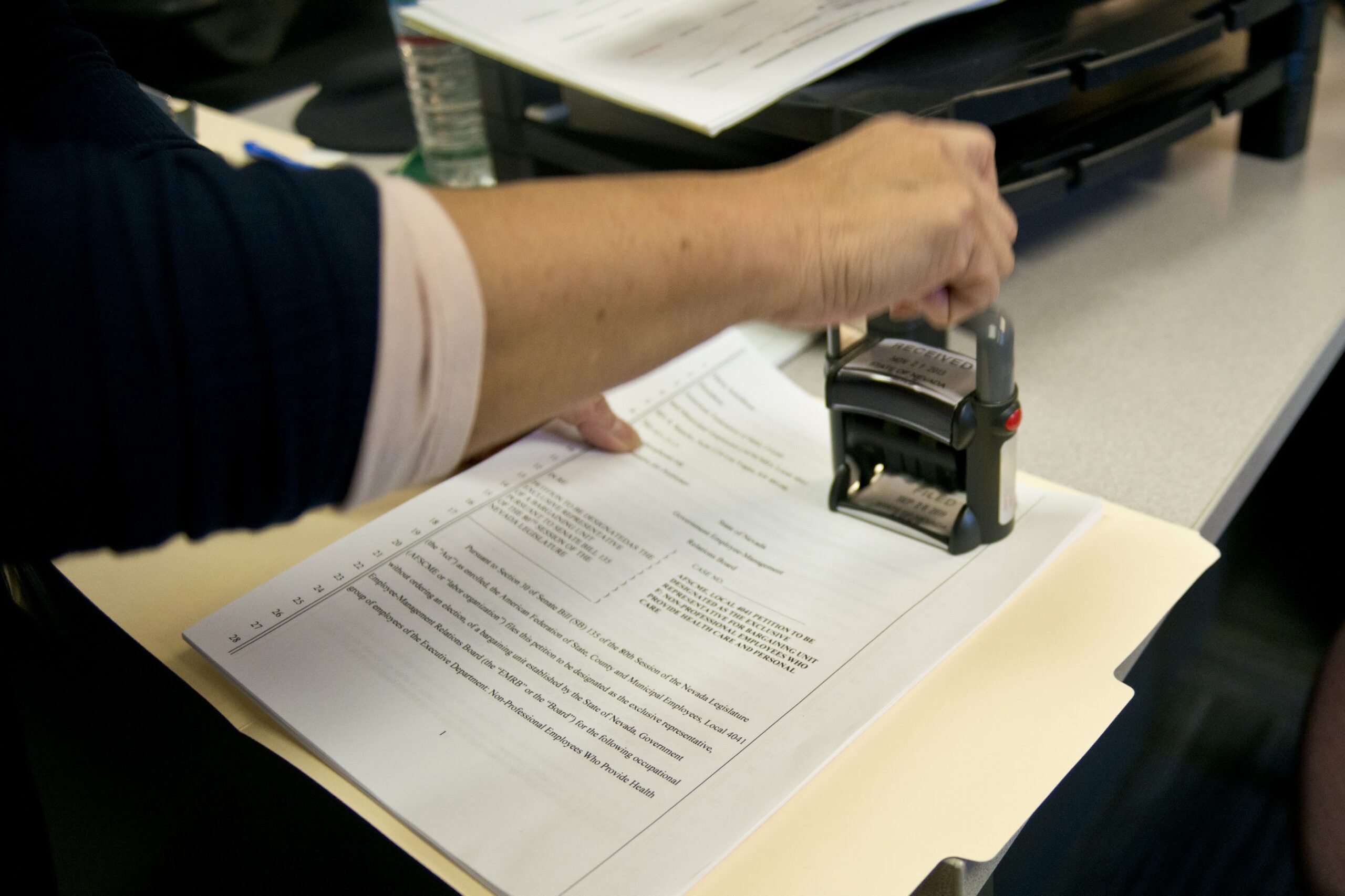 A Carson City judge signaled he would allow a proposed redistricting ballot question to move forward if backers were to use a watered-down description when gathering signatures that didn't call map-drawers "independent" or assert they would make "fair and competitive" voting districts.
Carson City District Court Judge James Russell did not issue a ruling on Monday after nearly an hour of oral arguments. But he said he was inclined to issue an order allowing the proposed constitutional amendment — which is being challenged in court by a Las Vegas pastor with ties to Democrats — to proceed if proponents changed a 200-word summary of the measure known as the "description of effect."
The measure would create a seven-member "Independent Redistricting Commission," with four members appointed by legislative leaders of both parties in the Assembly and Senate. The remaining three members — who must not be members of a major political party for at least four years beforehand — would be chosen by the first four appointed members, and would face restrictions on past employment or candidacy for an elected office to prevent politically connected people such as lobbyists from joining.
The ballot question would change the status quo, which is that the Legislature draws electoral maps every 10 years after the census. In Nevada, Democrats have a firm hold on the Legislature, and Democrats including Gov. Steve Sisolak have criticized the proposed policy change.
The proposed constitutional amendment is part of a nationwide campaign by the national League of Women Voters following the U.S. Supreme Court's decision earlier this year to close the door on federal challenges to partisan gerrymandering — the practice of drawing districts with an overwhelming voter registration advantage to minimize competitive elections. Proponents say taking the redistricting task away from lawmakers would reduce partisanship.
Russell, who was deeply involved in legal fights over the 2011 redistricting process, told attorneys that with a few minor corrections, he was inclined to select one of the five amended descriptions that Fair Maps Nevada, the group backing the ballot question, provided. He asked attorneys to write up proposed orders within the next 10 days that he might eventually issue himself.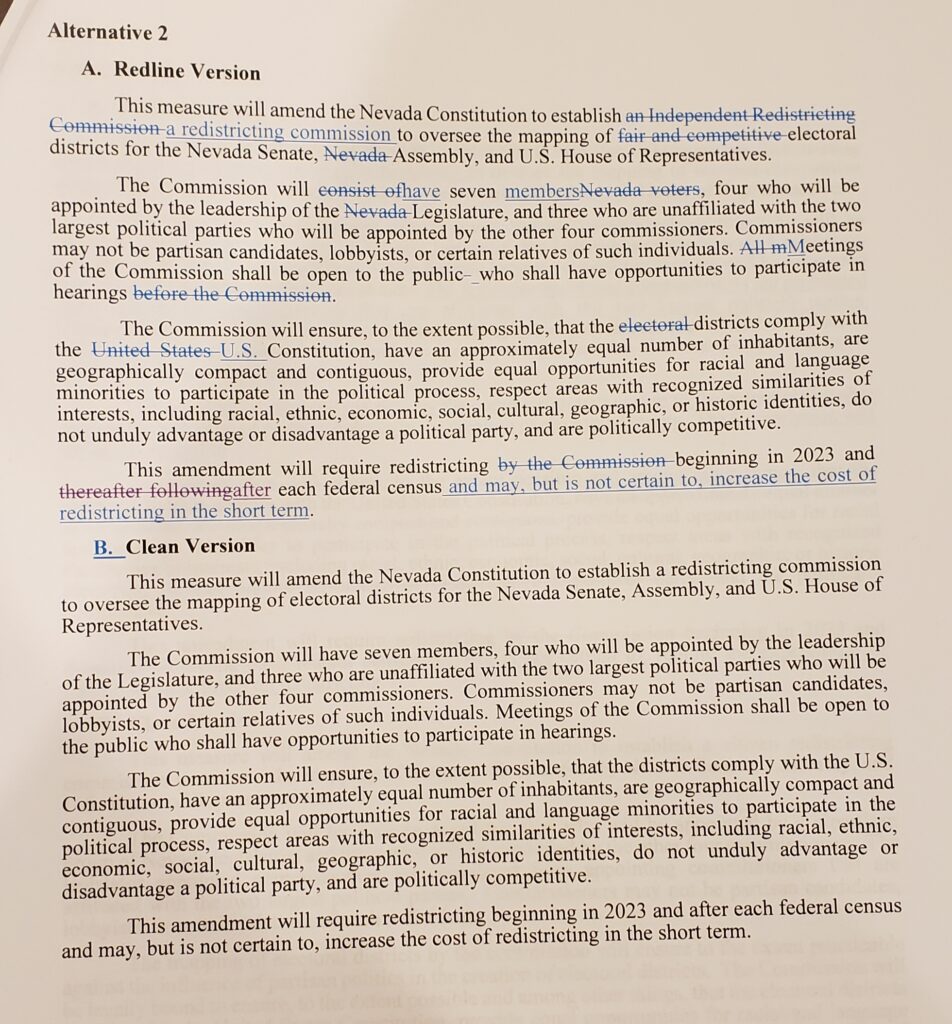 If upheld and barring any further litigation, the hinted-at ruling will allow backers of the proposed constitutional amendment — including the League of Women Voters of Nevada, the Brennan Center for Justice and an anti-corruption nonprofit called RepresentUs — to begin immediately collecting the signatures needed to qualify the measure for the 2020 ballot. The measure would need to pass a statewide vote in both 2020 and 2022 to take effect.
Lawyers acknowledged the hearing was on the technical question of whether the summary language was an accurate description of what the proposal would do, rather than a debate about whether a redistricting commission was good policy. But policy questions crept in, too.
Adam Hosmer-Henner, an attorney defending the petition, said the "acid test" of whether the opposition was simply trying to delay or obstruct the ballot question or whether they had legitimate concerns about the language was whether they would agree to any modifying language.
Kevin Benson, a lawyer opposing the proposed ballot measure, told Russell that none of the proposed alternative language was good enough for him. But he added that he was ethically restricted from working against his client by helping petition defenders find a way for their ballot question to move forward.
Benson raised the concern that the new commission might force a re-do of redistricting in 2023 just two years after the Legislature completed the task in 2021. He urged that voters be warned of the costs of that process in the summary.
But Hosmer-Henner said the looming possibility that someone would redraw lawmakers' maps two years later would give the Legislature an incentive to create fair maps free of gerrymandering on the first go-around. And he said preventing gerrymandering is an important-enough goal that it demands a prompt re-do if there are problems.
"If they believe it is of such importance to our democracy to do this process now, if it requires a mid-year, mid-cycle, redistricting for the next decade, is a small price, if any additional price to pay, to ensure that the voters' rights are protected," he said.
Benson also pushed back on the word "independent" in the description of effect, saying that only politically connected people would join the group because politicians make the appointments, and that inherently injects legislative influence into the process.
Hosmer-Henner, however, noted that the judicial branch is still considered "independent" even though politicians in the U.S. Senate and the president play a role in nominating its members.
Lawsuits like this one challenging a ballot question's "description of effect" have in the past helped sink several proposed initiatives, including one to repeal the state's "Commerce Tax" on business gross revenue and another that sought to ban "sanctuary cities" in the state.
Qualifying a constitutional initiative petition requires proponents to gather signatures from at least 10 percent of voters who cast a ballot in the preceding election, including in all four of the state's congressional districts. Based on voter turnout in the 2018 election, a total of 97,598 signatures must be gathered (a minimum of 24,400 from each congressional district) in order for the initiative to qualify for the 2020 ballot.
Nevada law requires any constitutional amendment to be passed by voters in two subsequent elections, meaning the soonest the amendment and new commission could get to work would be in 2023 — two years after the state Legislature is scheduled to approve new electoral maps following results of the 2020 federal Census.
According to the National Conference of State Legislatures, about 21 states have established some form of a non-partisan or bipartisan redistricting commission, though only eight are given the primary responsibility of drawing new congressional districts (others are advisory or are backups if state lawmakers cannot agree on new district boundaries). But at least five additional states — Colorado, Michigan, Utah, Missouri and Ohio — will begin using redistricting commissions following the 2020 Census.
The state's last redistricting process was in 2011, when the Democrat-controlled state Legislature passed two versions of new district maps that were subsequently vetoed by then-Gov. Brian Sandoval, a Republican.
With no new maps in place by the time the Legislature concluded, the redistricting process then fell to the courts (including Russell), who appointed a three-member committee to draw new map boundaries that were ultimately approved by the court in October 2011. Although the new district maps were praised at the time, a 2017 Associated Press analysis found that the Assembly districts were drawn to give more of a boost to Democrats than any other lower chamber of a state legislature in the country.
Featured Videos
Comment Policy (updated 4/20/2021): Please keep your comments civil. We reserve the right to delete comments or ban users who engage in personal attacks, use an excess of profanity, make verifiably false statements or are otherwise nasty. Comments that contain links must be approved by admin.