Update: Committee passes 50% renewable production bill, NV Energy suggests tweaks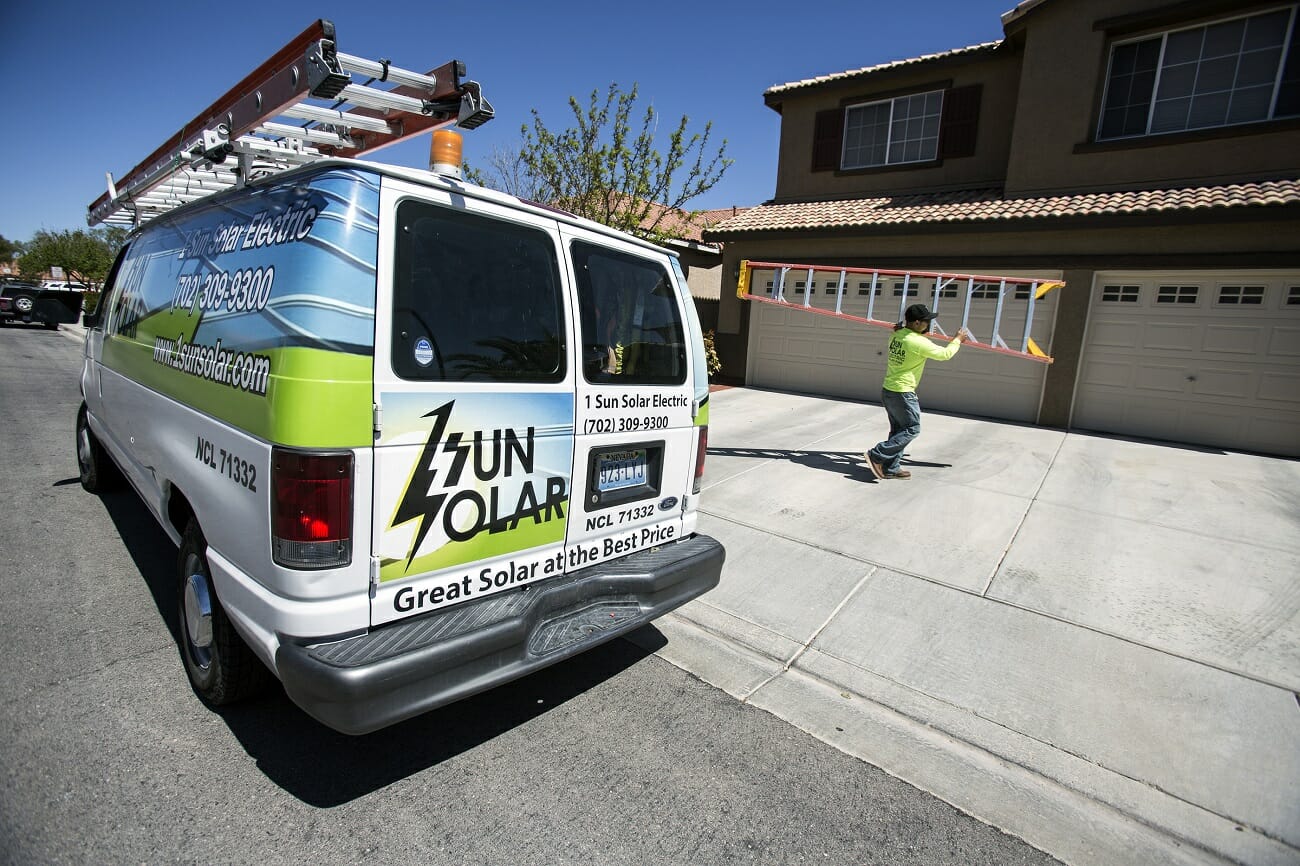 Members of the Assembly Committee on Commerce and Labor voted 11-3 on Wednesday to approve a bill requiring the state to raise its minimum renewable energy production standard to 50 percent by 2030.
Two Republican Assembly members — Jill Tolles and Al Kramer — joined Democrats on the committee in supporting the measure. Kramer said he was concerned with possibly requiring NV Energy to start building more generation assets with a pending deregulation measure on the ballot in 2018, but supported the concept and wanted to get it out of committee.
Tolles said she had received almost unanimously positive feedback on the bill, and was excited at the possibility of increasing renewable energy production in the state.
And while they didn't testify during the vote and have remained officially neutral on the measure, NV Energy officials presented legislators on Wednesday with a number of suggestions and proposed amendments to the bill.
Namely, the utility said it was worried that raising the renewable standard would require significant ramping up of renewable generation when the company may be required to soon divest itself of assets based on the outcome of the 2018 deregulation ballot question.
"AB206 does not address how Nevada would comprehensively plan for resource additions if the incumbent utility is no longer responsible for planning for resource adequacy," the report said.
The report also notes that either itself or other operators, if the deregulation ballot question passes, would need to add 1,925 new megawatts of renewable energy to meet the RPS goal by 2030, excluding credit multipliers.
The report suggests several changes to the amended version of the bill approved on Wednesday, including the following:
Reinstating a mandated study determining the viability of reaching 80 percent RPS compliance by 2040.

Remove language requiring energy be either built in the Nevada balancing area or directly connected to it.

Require three-year rolling averages for RPS compliance, which the utility says will address the "lumpiness" associated with ramping up renewable energy generation.

Require that if energy storage systems are in any way paid as part of an incentive program provided by the utility, the energy credits needed to meet RPS compliance go to the utility itself.

Allow all customers, not just large "704B" customers who left the utility and purchase power on the open market, to use energy efficiency programs for RPS compliance.

Deletes language prohibiting new geothermal energy generators from counting "station credits" --- energy consumed on-sight — for RPS compliance

Clarifies that energy storage is to be measured by the amount of energy transmitted back to the grid, and requires the customer to be responsible for measuring the credits.

Creates a new section allowing NV Energy to create an optional program where customers can purchase energy from a renewable generator either owned or under contract with the utility.
ORIGINAL STORY:
With plans to give more weight to energy storage and geothermal energy, state lawmakers are set to start moving on an ambitious measure mandating Nevada substantially raise its renewable energy production and usage.
Democratic Assemblyman Chris Brooks' AB206, which requires the state to raise its Renewable Portfolio Standard to 50 percent by 2030 (with a goal of 80 percent by 2040) is finally scheduled for a full committee vote Wednesday in the Assembly Commerce and Labor committee.
The scheduled vote comes after heavy lobbying on the bill, which has become one the most publicized measures of the session, with at least one pro-renewable group running television ads and other running social media and email campaigns to support the legislation. Opponents, including several major casinos, have argued that mandating an increase in renewable goals wouldn't mesh well with a pending ballot initiative that would require the state move to a retail energy market by 2023.
The state's current RPS goal is 25 percent by 2025.
Brooks plans to introduce a new amendment to the bill on Wednesday that would slow the "ramp-up" time for utilities to meet the RPS standard, while creating and extending credits that increase the value for meeting renewable standards in the areas of energy storage, geothermal energy and energy efficiency. The Nevada Independent obtained a copy of the amendment ahead of the hearing, which makes several changes but keeps in the place the lofty percentage goals of renewable energy production.
But unlike another major energy proposal — reinstating favorable net metering charges for rooftop solar customers —  Brooks' bill doesn't appear to have the support of legislative Republicans.
Assembly Republican Leader Paul Anderson said he and his caucus members would likely oppose the measure — despite his personal support of using an RPS standard to incentivize renewable energy growth — due to unanswered questions and concerns about the possible impact of Question 3.
"RPS has an effect of devaluing current assets for NV Energy, and if we have to sell at a rebate, essentially, that money comes back to us as ratepayers to pay those off," he said. "I think frankly it wouldn't change a thing in the state if we just waited until that vote was taken and took this up in 2019."
Notably, the amendment doubles the amount of RPS credits for use of energy storage systems for providers, as long as they can prove to the state's Public Utilities Commission that the stored energy falls under the definition of renewable energy in state law.
Several states including California, Montana and Kansas include energy storage as part of their RPS calculations, but it's unclear if any other state includes a multiplier credit for storage systems. Brooks said he wanted to avoid running into similar problems that California is currently facing, where that state's investments in solar energy means it has to sell excess solar at cheap rates during times of peak production, which don't line up with peak demand times.
"We are in the midst of a revolution on energy storage right now, and there's never been an incentive to store energy," he said. "There's just never been a reason to do it that made any sense because dispatchable thermal energy was the cheapest way to do it."
Providers who use energy storage systems to meet their RPS standards would have use of such systems capped at no more than 10 percent to meet their renewable generation goals.
The amendment also modifies the ramp up to a 50 percent portfolio standard through the following minimums:
24 percent for 2018 and 2019

28 percent by 2020 and 2021

32 percent by 2022 and 2023

36 percent by 2024 and 2025

40 percent by 2026 and 2027

46 percent by 2028 and 2029
The amended bill also creates a 1.5 credit multiplier for geothermal energy, but only applies to systems that come into operation starting in 2018. It would also remove the ability of new geothermal generators to use "station credits," or on-site use of electricity to meet renewable standards.
And while the original bill would have required all so-called 704B providers (a reference to the provision in state law allowing large energy customers including Switch, MGM and Wynn Resorts to "leave" the state's electric grid and purchase power on the open market) to meet renewable standards, the amendment allows for some exemptions.
The amendment would exempt companies that filed to exit the grid before July 1, 2012 from following renewable standards, and allow for customers that left the grid between that date and the effective date of the act (July 1, 2017) to continue using energy efficiency credits to meet compliance goals through 2024.
The Nevada Independent obtained a copy of the amendment ahead of the hearing, which makes the following changes to the bill:
Removes a requirement that the governor's office of energy study how to achieve the 80 percent RPS goal by 2040, and update the state's comprehensive energy plan every two years.

Begin applying RPS standards to entities that are currently exempted in state law from having to follow the requirements, including rural electric cooperatives and state agencies. The requirements would only apply to energy generated or sold above a 1 million megawatt-hours threshold, which Brooks said currently isn't being met anywhere in the state. These providers would also need to submit annual reports to the governor's office of energy starting in 2020 showing compliance with the renewable standards.

Sets additional restrictions on renewable energy generated out-of-state and transmitted for use in Nevada. The amended definition requires the out-of-state energy to have a first point of interconnection with the Nevada balancing authority — the entity charged with keeping a real time balance between

energy supply and demand

and run by

NV Energy

— or with distribution facilities designed to serve users in the area covered by a Nevada balancing authority. It also allows for the generation of out-of-state renewable electricity that is dynamically scheduled —

time-varying energy transfers

—  into a Nevada balancing area or that is scheduled into a balancing area without being substituted for electricity generated by another source.

Removes an optional renewable energy pricing program from the denominator of retail sales used to determine a utility's renewable portfolio standard obligation. Currently, NV Energy offers a "

NRG tariff

" that allows customers to pay slightly more on their power bills in return for a guarantee that the electricity powering their home comes from renewable sources. Brooks said he wants to remove the tariff from the renewable standard calculation because customers retain the energy credit, not the utility, which could disincentivize sales.
Brooks credited the input of several opponents to the bill for suggesting changes, including the energy storage component, that he says improved the measure.
"I think once they figured out that 'no' wasn't necessarily going to be a winning strategy, that they came back with some suggestions and they were smart suggestions and they were suggestions that will make this bill better," he said.

Disclosure: MGM Resorts International has donated to The Nevada Independent. You can see a full list of donors here.
IndyFest is proudly sponsored by:
Comment Policy (updated 4/20/2021): Please keep your comments civil. We reserve the right to delete comments or ban users who engage in personal attacks, use an excess of profanity, make verifiably false statements or are otherwise nasty. Comments that contain links must be approved by admin.