Lawmakers chafe at proposal to redistribute carryover dollars among schools as salve to proposed budget cuts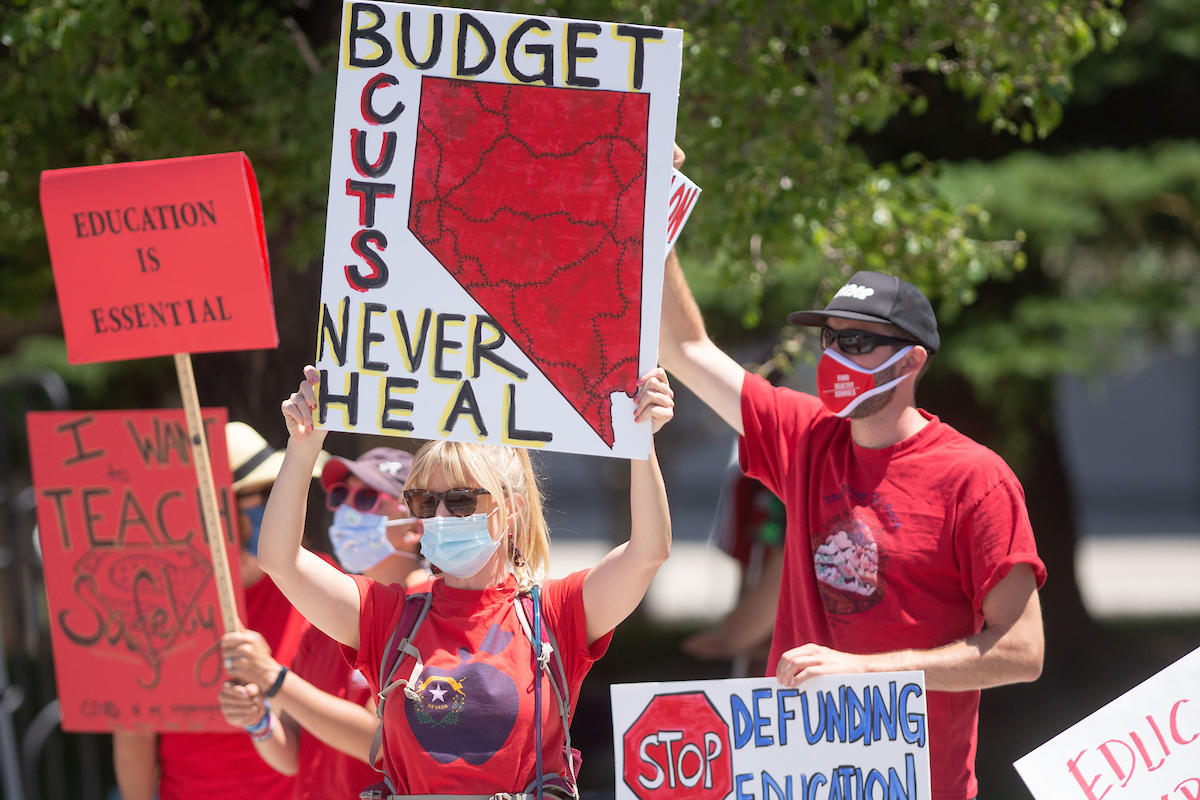 Members of the Assembly during a Saturday hearing excoriated a bill that proposes allowing the Clark County School District to take back carryover dollars from schools and redistribute them among those that stand to be hit hardest by the budget cuts under consideration by the Legislature.
John Vellardita, executive director of the Clark County Education Association, pitched the legislation, AB2, as a way for lawmakers to ease some of the burden on Clark County's neediest schools should the Legislature cut funding from two categorical programs. Lawmakers are considering slashing $31 million in literacy specialists from Read by Grade 3 and $70 million from SB178, which gave certain schools an extra $1,200 per child to support low-achieving students, in an effort to close the state's $1.2 billion budget gap.
Vellardita argued that the legislation would serve to level the playing field among Clark County schools, citing a figure that 81 percent of schools that receive either Read by Grade 3 or SB178 funds will not have "any significant carryover dollars" that would let them restore cuts to those two programs. By contrast, he said that 61 schools in affluent areas collectively draw down $12 million in carryover dollars.
"We have 61 schools in the Clark County School District, very affluent schools, these are the suburb schools, they're going to have 17 percent of these carryover dollars," Vellardita said. "They don't have one kid for SB178. They don't have one kid for Read by 3. They'll have their money but it won't be used for the most neediest."
During the hearing, Vellardita presented an amendment to the bill that would require the dollars flow to schools that "have lost funding resulting in service and program deductions," though he added that lawmakers could be more specific to SB178 and Read by Grade 3 should they so choose.
The better solution, Vellardita said, would be for lawmakers to raise revenue, something the Clark County Education Association has pushed for since before the special session, and eliminating the proposed cuts entirely. Absent that, he suggested that AB2 was a good option for lawmakers to lessen the harm of the proposed cuts to the 195,000 students served by the programs.
"We'd love to see revenue introduced so that we're not looking at these kind of changes, and if that happens, we would say don't pass bills like this," Vellardita said. "But given where we're at today, that's not the case."
But lawmakers, during the hearing, raised concerns that the legislation could actually exacerbate inequalities in schools and didn't broadly address the issues with cuts to K-12 statewide.
Democratic Assemblywoman Maggie Carlton lambasted the legislation as a "scheme" that would "take care of Clark County kids and leave kids in 16 other counties behind."
"Mr. Vellardita is here advocating for 195,000 students, but last year we had almost 487,000 students in this state, and when we enter the capital, yes, we do represent our districts, but we also take care of every kid in this state," Carlton said. "If we can't come up with a comprehensive solution to address everything in this state, then I don't think it would be fair to the kids in the other 16 counties."
Democratic Assemblywoman Selena Torres, a Clark County School District teacher, said that there are a significant number of Title I schools, or those with a high percentage of children from low-income families, with carryover funds. She suggested those schools may have those dollars because they are only able to hire less experienced teachers and therefore save money on salaries.
"Additionally, they are planning their budget knowing that they're going to be able to use those over the next year," Torres said. "So our principals the last fiscal year planned their budget assuming that, if there's cuts, I want to make sure we have some pot of money that I can go into, like a savings account."
Republican Assemblyman Glen Leavitt noted the difficult financial straits many schools are likely to find themselves in during the coming school year.
"How do we reconcile that? How do we say we're going to take your surplus funds that you were planning on using for any disparities that came from budget cuts, and if you don't have these particular programs that we've designed, or that we've laid out, you are going to get none of that money back?" Leavitt said.
Additionally, both lawmakers and members of the public cast some doubt on the numbers Vellardita presented in the hearing and asked to see his calculations and the carryover breakdown by school. Education advocate Sylvia Lazos, testifying in opposition to the legislation, said that she believed the number of schools receiving SB178 funding with no carryover dollars was more like 50 percent, not 81 percent.
"I'm not quibbling here. The point I'm making is that we don't have the data," Lazos said. "We really don't have the time to review, at the very least. Let's make sure that we have the data and the time to review."
How the bill actually made it to the special session was another question that surfaced in the hearing with Vellardita repeatedly noting that AB2 wasn't the Clark County Education Association's bill. Gov. Steve Sisolak included the concept in his proclamation calling for the session, which outlines the topics that the Legislature may take up, and Assembly Speaker Jason Frierson said it was proposed by the Clark County School District, which didn't present the bill.
District Superintendent Jesus Jara, testifying remotely in neutral on the bill, said the district had initially requested the concept be included in the call for a special session but had tried to back out a few hours before the actual proclamation was issued.
His testimony apparently irked Frierson, who told lawmakers lawmakers before wrapping up the Assembly's business for the day that he wanted to make it "abundantly" clear that the district had indeed requested the bill, only to ask for it to be withdrawn two hours before the special session proclamation was published, which he said was "too late."
"You don't get to light a firecracker and then run just before it goes off," Frierson said. "I don't believe that there's going to be any reason to really belabor AB2, but I want to make it very clear who initiated this request, and I think it's unfortunate to respond in a public comment form as opposed to taking responsibility."
Frierson, in an interview Saturday evening, said even though the district "had a change of heart" about the bill after proposing it, the Assembly still wanted to hear the measure because the Clark County Education Association was interested in supporting it with an amendment. He said nothing is off the table but noted the significant concerns about the proposal.
"I don't think that today's hearing would suggest there's a lot of appetite for AB2," he said. "There certainly was more concern than support."
Many teachers and school administrators called into public comment opposing the bill, largely on the grounds that it would undo years of work on school organization teams, or SOTs, a key component of the Clark County School District's reorganization effort.
Ben Day, principal of Andrew J. Mitchell elementary school in Boulder City, said his SOT initially planned to use the carryover funds for a special project but that the continued uncertainty over education funding and potential cuts meant the reserves went to help plug gaps in the school's budget. Cutting into reserve funds, he said, would be even more damaging.
"I'll tell you right now, I have a teacher listening to this session and listening to this call right now, who is on absolute pins and needles, knowing that she will not be staying with our school if we don't get to keep our carryover funds," he said.
Machelle Rasmussen, an ESL teacher at Global Community High School, said carryover funds help individual schools make budget decisions unique to their own needs. At her high school, the school has used funds in the past to pay for weekend tutoring and to have more time with a social worker who otherwise would have to serve several other schools.
"It's ridiculous to say that carryover funds should be protected and write it into law, and then try to take it away a few years later," she said. "This is a slippery slope, and it sets a bad precedent for the future."
Michelle Rindels contributed to this report.
The Nevada Independent is raising $200,000 by Dec. 31 to support coverage of the 2024 election.
Tax-deductible donations from readers like you fund this critical work.
If you give today,your donation will be matched dollar-for-dollar.
Give + Get Matched
Featured Videos