Lombardo, Democrats strike deal to avoid budget crisis, advance education bills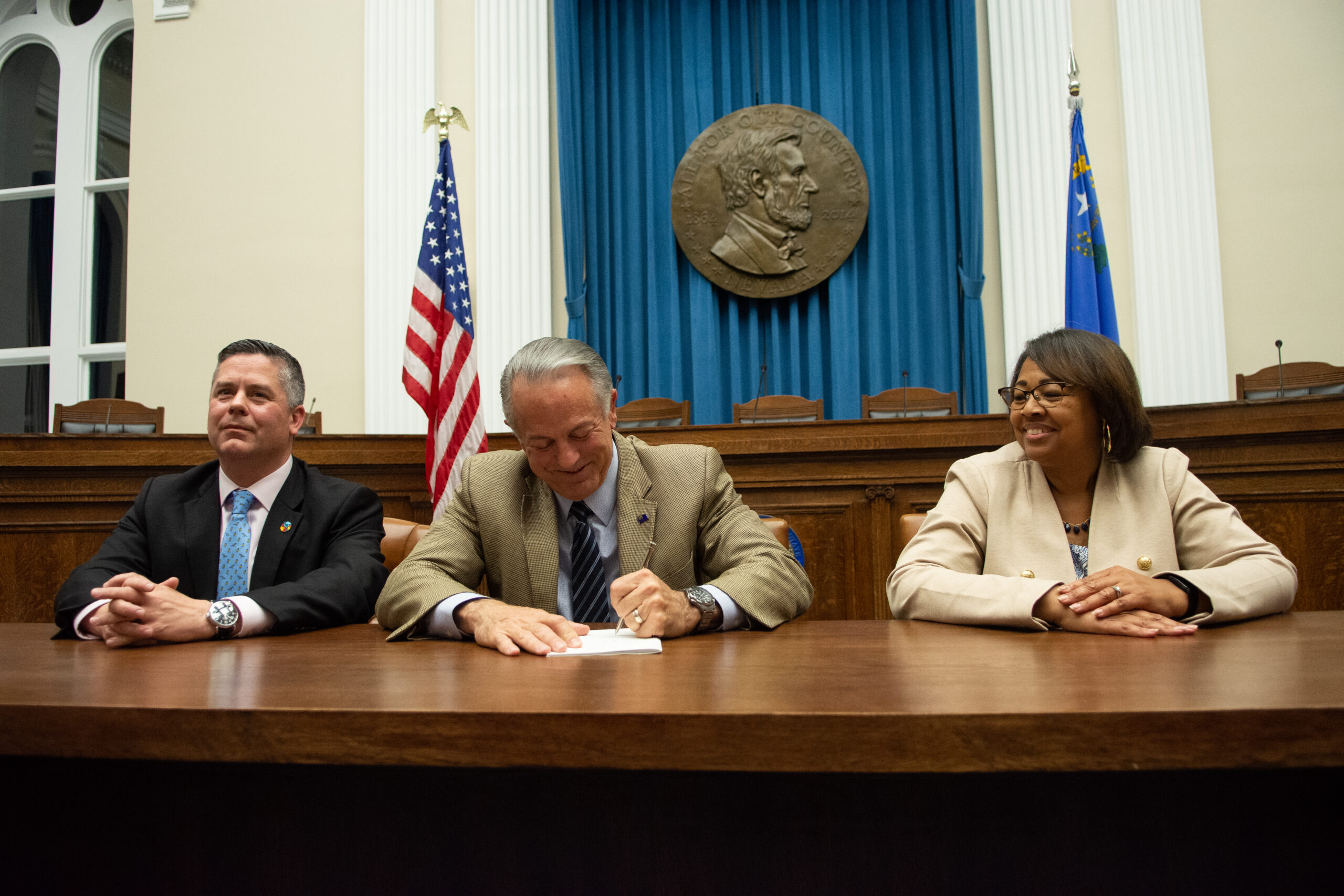 Democratic legislative leaders reached a deal with Republican Gov. Joe Lombardo that will avert a budget crisis, as Lombardo signed two major budget bills and a pair of high-profile school safety measures late Wednesday night.
The bill signings follow days of heated negotiations after Lombardo threatened multiple times to veto the state's budget bills as his legislative priorities remained stalled. Meanwhile, Democratic leaders said last week they would be unable to advance several high-profile policy bills, including a proposed stadium deal for the Oakland A's, without a finalized budget.
The two budget measures include SB503, the K-12 education funding bill, which distributes more than $11.2 billion to the state's K-12 funding formula in a historic $2 billion increase to education spending, and SB504, which primarily authorizes the spending of billions of dollars in federal funds, including a record $10.8 billion for Nevada Medicaid.
Lombardo was required to act on those two bills by the end of Wednesday. Without his signature or veto, they would have automatically become law.
At a press conference following the bill signing, Lombardo repeated an earlier statement that his school safety measure was a "hill to die for."
"I think it's that important to the people of Nevada, to the parents of Nevada, to the kids of Nevada and for your governor, myself, for the success of our education system moving forward" he said.
Sources close to Democratic legislative leadership indicated that key to the deal Wednesday night was a compromise on a pair of school discipline bills — one backed by Democrats and another sponsored by Lombardo's office. Both bills substantially overhaul the state's restorative justice law and make it easier for teachers and administrators to suspend or expel disruptive or violent students under certain circumstances.
Under the new compromise, both bills were passed out of the Senate late Wednesday in 20-1 votes, with amendments concurred in the Assembly and quickly transmitted to Lombardo for signature. Though both bills were amended, new provisions added to Democrat-sponsored AB285 reflect Lombardo's demands for more stringent suspension and expulsion requirements for students who committed battery against school staff with intent to cause bodily harm.
The bill signings come just five days before the Legislature adjourns sine die, the constitutionally mandated end of the 120-day legislative session on June 5.
"Our first obligation as legislators is to fund our public schools, and that is exactly what Legislative Democrats have worked to accomplish this session," Senate Majority Leader Nicole Cannizzaro (D-Las Vegas) said in a statement.
Separately on Wednesday, Assembly Democrats advanced a major Lombardo education omnibus bill, AB400, adding a substantial amendment to the bill and kicking the measure to the full Assembly floor Thursday for "additional discussions," according to Assembly Speaker Steve Yeager (D-Las Vegas), who added that the latest amendment was not final iteration of the bill.
"I think the conversations with the governor's office and the Senate Majority Leader have been productive, we're going to continue to have those conversations throughout the next 12 to 24 hours and see if we can get this to a place that works for everybody," Yeager said during a committee meeting on the floor of the Assembly.
Notably, that amendment includes the removal of key school choice proposals, including the vast expansion of the state's Opportunity Scholarship program and the creation of a new Office of School Choice. However, the bill still includes provisions reinstating the state's Read by Grade 3 program, as well as $140 million in funding for early childhood literacy programs.
It was not immediately clear if the governor would sign two more budget bills, AB520 (the Appropriations Act) and AB522 (the state employee pay bill), which he must act on by Thursday. Speaking to reporters outside the Capitol, Lombardo's Chief of Staff Ben Kieckhefer said just after midnight Wednesday night that the governor is prepared to veto those bills if there is not more progress on his priorities.
"I'm not going to draw lines in the sand about what gets us to the place we need to be, and certainly not going to do that with the press if I haven't been able to do it yet with the people I'm negotiating with," Kieckhefer siad. "But we'll play it by ear tomorrow, see what we get."
A fifth and final budget bill, AB521, has been stuck in the Senate since last week.
That bill (the Capital Improvement Program) is the only major budget bill to require a two-thirds majority to pass because it renews a statewide property tax. Collectively, the five budget bills fund the state government from July 2023 to June 2025.
Though Democrats hold a supermajority (28 of 42 seats) in the Assembly, and could easily override a potential Lombardo veto, Democrats in the Senate would need the support of one Republican to reverse any veto as they hold 13 of 21 seats in the Senate, one seat short of a supermajority.
How we got here
SB504, also called the Authorizations Act, passed with unanimous approval in the Senate and Assembly, while the education funding bill moved forward on a party-line vote in both chambers, with Republicans voicing concerns about the potential for the state to dive off a "fiscal cliff" by budgeting one-time money for ongoing expenses.
Ahead of the vote on the K-12 education bill, Sen. Heidi Seevers Gansert (R-Reno) praised the $2 billion investment in education but warned about the dangers presented by using one-shot funds, calling the budget "not structurally sound."
The unanimous legislative support for the Authorizations Act — a bill that largely does not touch money from the state's general fund, which Lombardo and lawmakers have greater latitude to spend — renews hope that the Legislature will get all of its business done on time. Lombardo's Chief of Staff Ben Kieckhefer told The Nevada Independent in an interview Wednesday morning that he was "cautiously optimistic" about avoiding a special session stemming from budget vetoes.
Earlier this month, Democrats had sought to pressure Lombardo's office into abandoning his bill, AB330, ahead of a key bill deadline and instead amend his favored provisions into their bill, AB285, sponsored by Assemblywoman Angie Taylor (D-Reno). Days later, Lombardo threatened to veto AB285 without "significant" changes.
But after the governor initially threatened to veto the Democrat-backed budget if his priorities, including school safety, were not addressed, legislative leaders granted the bill a retroactive waiver to keep it alive before passing both measures out on Wednesday.
The education funding bill has for weeks been at the center of disputes between leading Democrats, minority Republicans and Lombardo's office, even as politicians from both parties have sought to take credit for a record $2 billion increase, a bump of 26 percent in per-pupil funding.
That increase, itself fueled by record tax revenues, was boosted even further by legislative Democrats in a committee vote earlier this month. That maneuver diverted $291 million in excess money in the Education Stabilization Account, an education-specific rainy day fund, back to the overall funding formula, known as the Pupil-Centered Funding Plan.
While Democrats cheered a move to boost spending beyond levels recommended by Lombardo, Republicans — and Lombardo's office — complained that the move sidestepped a plan by the governor's office to use the one-time money, a surplus from the ongoing budget period, as seed funding for new early childhood literacy and teacher pipeline budget accounts.
Now core to the debate between the two parties is what, precisely, counts as "one-time money."
At a press conference last week, Cannizzaro countered that the stabilization account money functioned as any other state revenue, even if it originated from the stabilization account.
"This is not a fiscal cliff," Cannizzaro said at the time. "This is not 'one-time money' that is not going to help our students. This is revenue to the state of Nevada that flows to the Pupil-Centered Funding Plan to help to support an increase in per-pupil funding. Period."
But speaking to The Nevada Independent on Wednesday, Kieckhefer argued that any money above what was already budgeted is by nature "cash on hand."
"Programming that $291 million into the Pupil-Centered Funding Plan is an expense above what was otherwise what our revenues are anticipated to generate," Kieckhefer said. "So it is one time."
Update — June 1, 2023 at 12:54 a.m.: This story was updated to include comments from Gov. Joe Lombardo and others after he signed the bills Wednesday night.
The Nevada Independent is raising $200,000 by Dec. 31 to support coverage of the 2024 election.
Tax-deductible donations from readers like you fund this critical work.
If you give today,your donation will be matched dollar-for-dollar.
Give + Get Matched
Featured Videos