Major clean energy bill expanding transmission capacity, electric vehicle charging finally introduced in Legislature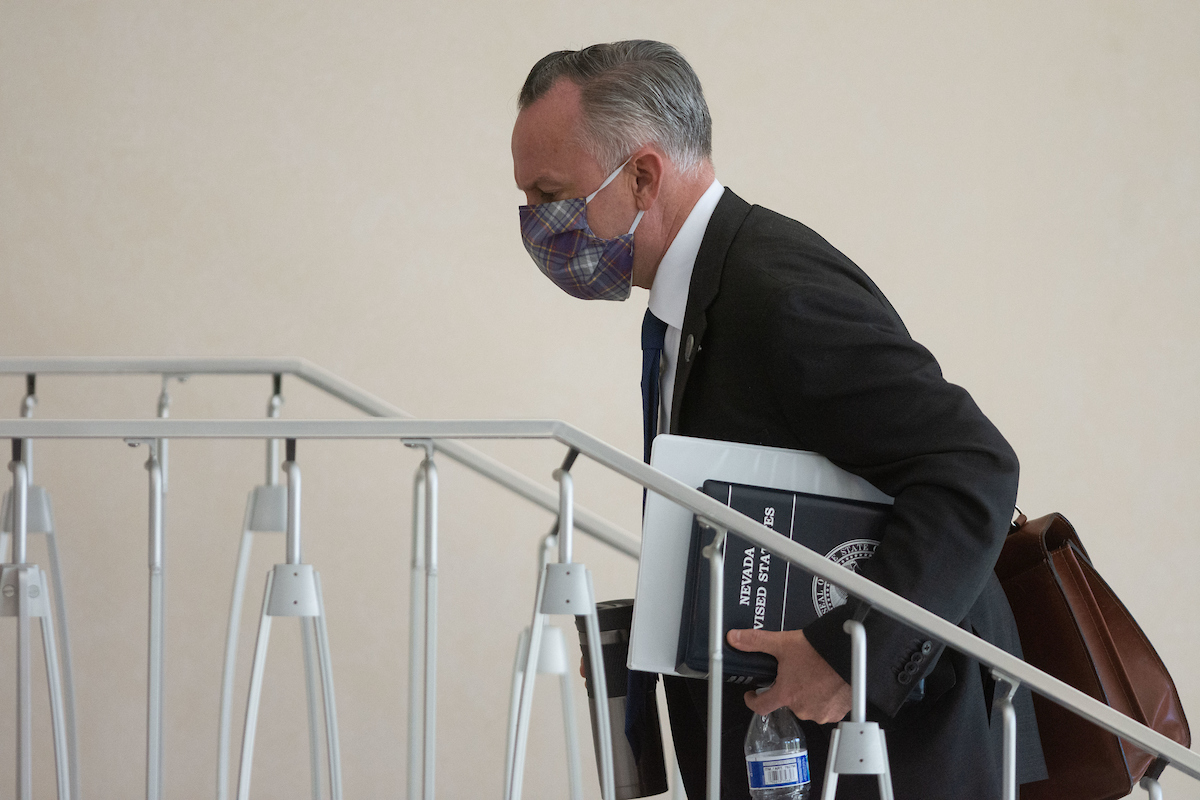 With less than three weeks left in the legislative session, state lawmakers are introducing a major, complex energy bill aimed at ramping up electric transmission capacity and electric vehicle charging infrastructure as part of the effort to move Nevada to near zero carbon emissions by 2050.
The bill, SB448, was introduced Thursday in the state Senate by Sen. Chris Brooks (D-Las Vegas), with the tacit support of Gov. Steve Sisolak and other major energy players who held a planned roundtable panel Thursday afternoon largely focused on cheerleading for provisions in the bill.
The legislation marks the latest effort by Brooks and Democratic lawmakers to further prime the pump for Nevada's clean energy economy while moving the state away from carbon-heavy fuel sources and industries — following up on efforts in 2019 to boost the state's Renewable Portfolio Standard to 50 percent by 2030, and setting a net zero carbon emissions target by 2050.
"The reason I ran for office is so that I could fight climate change and I could create economic opportunities for the state of Nevada," Brooks said during the roundtable event. "This new energy economy that we have the opportunity to be at the forefront of, in the entire United States, is one of the best ways to take care of both of those things."
Beyond the two themes of transmission and electrification of transportation, the bill makes a host of other energy policy related changes, including expansion of tax credit programs to energy storage facilities, allowing multi-family or commercial buildings to use the state's rooftop solar net metering program and reopening a 2013 economic development rate rider program aimed at giving new large businesses a discount on energy costs.
While many facets of the bill are likely to attract some level of support from clean energy advocates, it also could face criticism for its late introduction date and heavy-handed way of fulfilling politically powerful NV Energy's wish to build out transmission capacity — all but ordering the state Public Utilities Commission to revisit an earlier decision that only partially granted the utility's planned "Greenlink Nevada" transmission line upgrade.
Several clean energy groups — including Western Resource Advocates, National Resource Defense Council and the Southwest Energy Efficiency Project — and northern and southern Nevada chapters of the International Brotherhood of Electrical Workers issued statements supporting the bill soon after it was introduced on Thursday.
Brooks — who in a previous interview attributed the delay in the bill's introduction to backlogs in legislative drafting — said the key to unlocking further development of expanded renewable resources and meeting the state's lofty zero-carbon goals lies in expanding transmission capacity.
He estimated that the state was looking at billions of dollars' worth of private clean energy investment in areas not currently served by transmission lines, and said the clock was ticking before federal investment tax credits ran out and made potential projects less desirable.
"For them to be able to do that, they need to have transmission built," he said. "And if we don't start immediately on transmission, then we will lose the opportunity to attract that investment into our state."
Transmission
The proposed legislation will undoubtedly boost the state's primary electric utility, NV Energy, which has over the last 18 months focused on expanding the company's transmission capacity within the state.
The utility released initial plans for a $2 billion transmission upgrade dubbed "Greenlink Nevada" in July 2020, aimed at upgrading existing power lines between Ely and Western Nevada (centered in Yerington), and a new line between Las Vegas and Yerington. That plan would create a kind of transmission triangle, expanding on the current 235-mile, 500 megawatt "One Nevada Transmission Line" and better linking the northern and southern parts of the state.
In March, the state Public Utilities Commission granted partial approval to the "Greenlink" plan — giving the NV Energy the authority to begin permitting and construction of the "Greenlink West" line linking Reno to Yerington to Las Vegas, but only approving permitting and not construction of the other section of line, Greenlink North — in part citing concerns expressed by PUC staff and large casino resorts that the project would drive up customer costs without sufficient benefit.
Brooks said the commission's order was correct based on the information in front of them, but that state lawmakers needed to clearly indicate that expanding transmission capacity in the state is a priority.
"It's not the PUC's job to encourage economic development in the state of Nevada, it's the PUC's job to keep the lights on," he said. "And so the argument that we need transmission, so that we can become a regional hub for transmission in the West, and so that we can attract economic activity to our state, is not necessarily the regulator's job to figure out if that's a priority."
The legislation will require NV Energy by September 2021 to file an amendment to its most recently filed Integrated Resource Plan outlining a construction plan for high-voltage transmission infrastructure to be placed into service no later than 2029. Language in the bill prohibits the utility from including any other transmission project as part of the plan and requires any proposed construction to increase transmission import into Northern Nevada by no less than 800 megawatts — all but naming the portion of the Greenlink plan not approved by the PUC in March.
Asked about a filing made by the utility last month indicating likely cost increases for customers after approval of the Greenlink project, Brooks and NV Energy CEO Doug Cannon said the analysis did not take into account the potential benefits and cost-savings associated with opening the state up to new markets.
"I would say to the skeptics, and maybe to those who are concerned with that, that the data doesn't necessarily support that," Brooks said. "Yes, you have to invest in these infrastructure projects, but the benefits economic, environmental, and cost of electricity far outweigh that initial cost."
The bill also creates a Regional Transmission Coordination Task Force, a group of 18 energy industry-adjacent members tasked with helping the governor and Legislature determine the steps needed to join a Western states regional transmission organization — an entity that coordinates, controls and monitors a multi-state electric grid. The legislation requires Nevada to join a regional transmission organization (RTO) by 2030, with options for the PUC to delay or waive the requirement.
Electric vehicle infrastructure build-out
Beyond transmission, the bill also aims to spur greater adoption of electric vehicles throughout the state through a $100 million spending plan with strong focuses on underserved communities.
Under the legislation, NV Energy would need to file a plan to "accelerate transportation electrification" by September 2021, identifying plans to invest $100 million in specific electric vehicle infrastructure build-out programs over the next two years. Those would include:
An Interstate Corridor Charging Depot Program focused on expanding and supplementing the Nevada Electric Highway project that has brought electric vehicle charging stations to rural communities throughout the state
An Urban Charging Depot Program aimed at increasing access to charging stations in metropolitan areas for customers unable to charge vehicles at home, and also serving the needs of "tourists, delivery services and businesses that require access to public charging for fleet electrification"
A Public Agency Electric Vehicle Charging Program to serve the needs of, and lower barriers for, electrification of state, local and federal government agency fleets
A Transit, School Bus and Transportation Electrification Custom Program aimed at serving the needs of transit agencies, metropolitan planning organizations, the Department of Transportation, public school districts and some nongovernmental commercial customers who agree to electrify significant portions of their fleets
An Outdoor Recreation and Tourism Program aimed at addressing charging station infrastructure needs for the tourism and outdoor recreation economies in the state.
The legislation requires that 40 percent of program expenditures over the five programs be dedicated to, or made for the benefit of, historically underserved communities — a definition that includes Census tracts where 20 percent of households are not proficient in English or qualify under a federal Housing and Urban Development definition. It also includes schools where 75 percent of students are eligible for free or reduced-price lunch, or qualified tribal land under a state definition.
Another 20 percent of the funding must be earmarked for the Outdoor Recreation and Tourism program.
The legislation also would require NV Energy to include a comprehensive transportation electrification plan in future filings before the PUC, which could include a wider range of programs and incentives than what's called for in the initial plan.
Tenant solar
The bill also would amend existing law to allow for a concept called "tenant solar" — allowing owners of apartments, multi-family dwellings or commercial buildings to tap into the state's net metering program for rooftop solar. A similar concept was sponsored by Brooks in the 2019 Legislature but died without a hearing.
The bill allows for net metering at those types of buildings under certain circumstances, including a requirement that the rooftop solar system be located on premises and only delivered to residents or the building itself, that individual units don't have separate meters measuring electric use and that persons or commercial entities in the building are not charged based on volumetric use of electricity.
Energy storage and rate riders
The proposed legislation also expands an existing Renewable Energy Tax Abatement Program — which grants partial sales and use tax and property tax abatements to qualified renewable energy power plants — to also include energy storage facilities.
The Governor's Office of Energy administers the tax abatement program, and as of December 2020 had awarded abatements to 57 projects located in Nevada. To qualify for the abatement, projects have to meet minimum investment benchmarks and pay certain wages on construction.
The bill also would re-open qualifications for the state's Economic Development Rate Rider program, established by the Legislature in 2013 to give large businesses new to the state discounts on electric prices over a range of years.
The original version of the program set aside 50 megawatts of capacity for applicable businesses to take advantage of, but the program closed to new participants at the end of 2017 with about half of the capacity unclaimed. The bill would set a new deadline at the end of 2024 for businesses to apply for remaining capacity left in the program.
Updated at 4:17 p.m. to include comments from Brooks and others at a roundtable hosted after this story was initially published.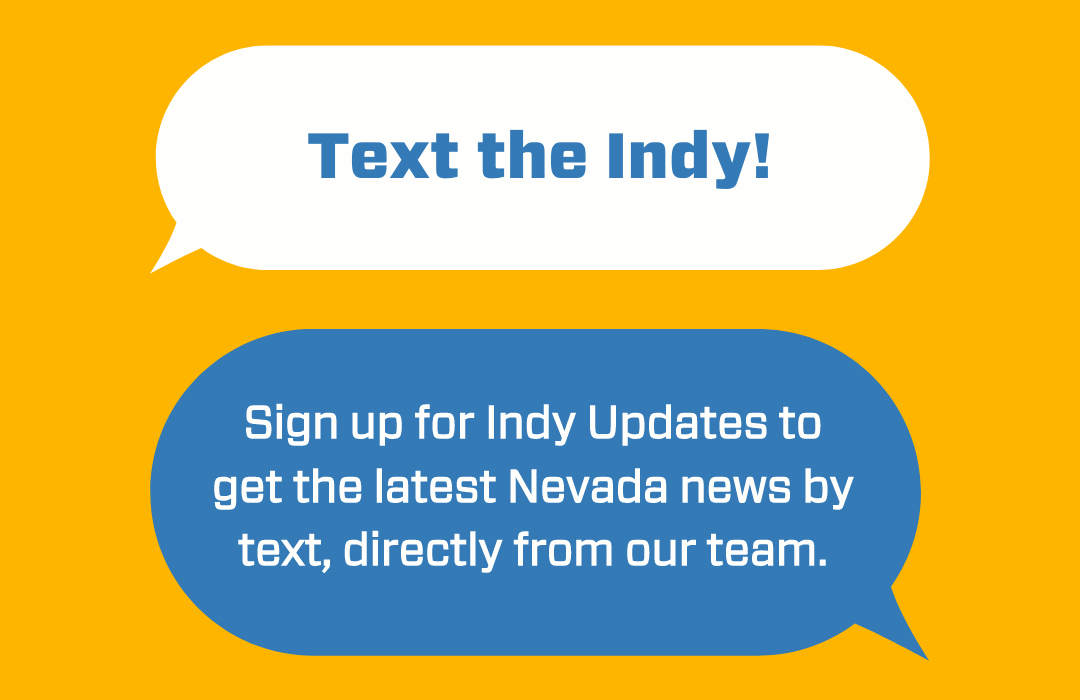 Featured Videos
Comment Policy (updated 4/20/2021): Please keep your comments civil. We reserve the right to delete comments or ban users who engage in personal attacks, use an excess of profanity, make verifiably false statements or are otherwise nasty. Comments that contain links must be approved by admin.