Nevada senator's job at UNR is latest test of unresolved separation of powers question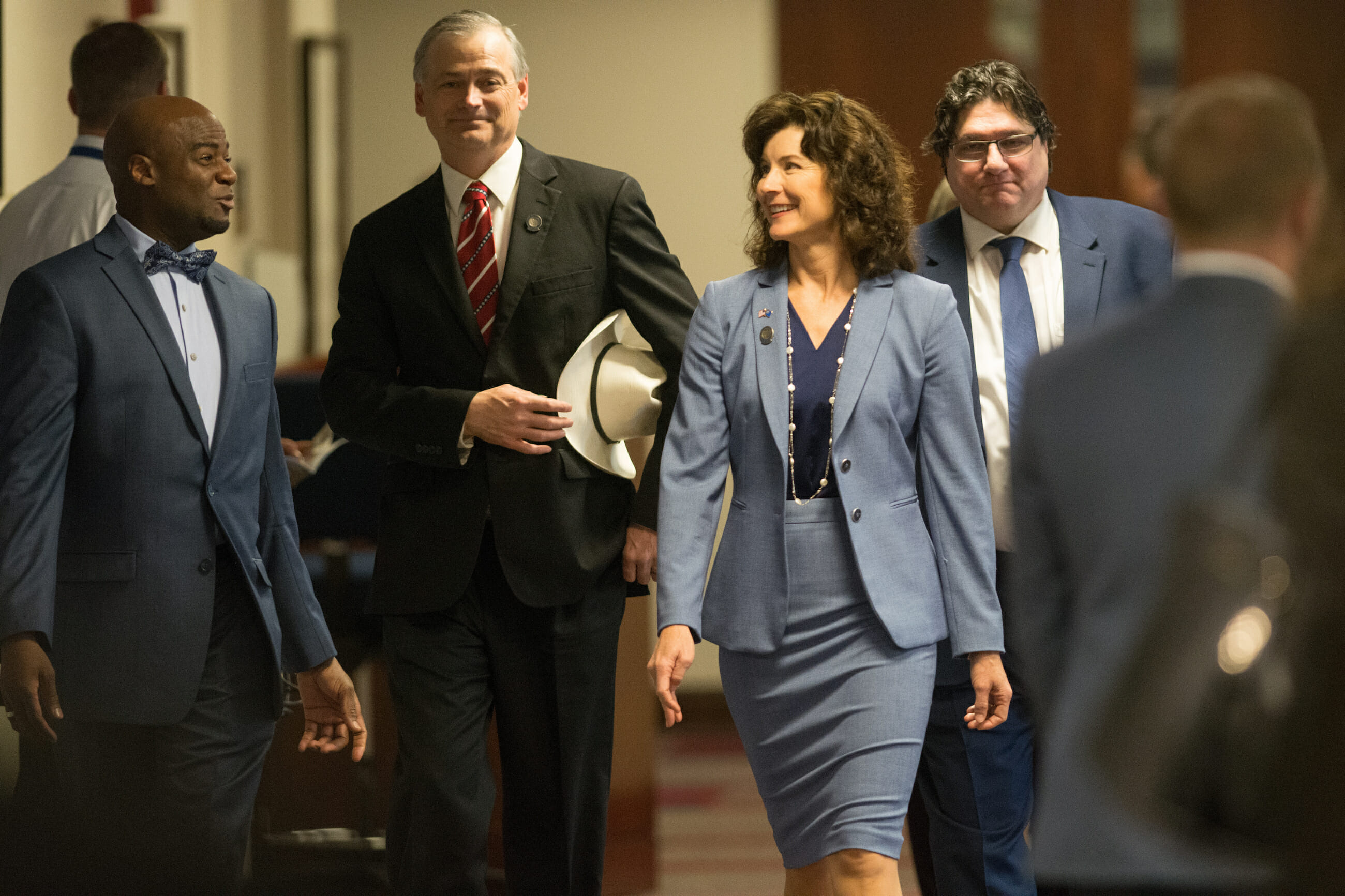 As a state senator, Heidi Gansert will get to vote on whether university employees get a 2 percent pay increase and whether the state contributes to an $83 million engineering building on the campus of the University of Nevada, Reno. When the session's over, she's expected to resume her job at that same UNR, where she makes $179,000 a year as executive director of external relations and works closely with economic development agencies.
As a part-time citizen Legislature full of people who have to maintain a regular job aside from lawmaking, Nevada's Senate and Assembly are rife with potential conflicts of interest. But libertarian think tank Nevada Policy Research Institute (NPRI) discerns more than the garden variety conflict between Gansert's jobs — they see a direct conflict with the Nevada Constitution's provisions to keep government branches separate and preserve the core democratic principle of checks and balances.
The group sued Gansert in February on behalf of a plaintiff named Doug French who wants her UNR job, according to the complaint. Gansert is taking an unpaid leave from the role during the legislative session.
It's not the first time that NPRI has sued a lawmaker over having jobs simultaneously in the legislative and executive branches — the group took the same approach in 2011 when it sued Democratic state Sen. Mo Denis on behalf of a plaintiff who purportedly wanted his IT job at the Nevada Public Utilities Commission.
Denis resigned his job and took one elsewhere not because of the suit, he said, but because he'd had the offer in the works for months. The court declared the case moot and never ruled on whether a job fixing computers within an executive branch agency prompts a separation of powers conflict.
Some observers are rooting for Gansert to stay in her UNR job if only to force the courts to decide a sticky legal question that has the attorney general's office and the Legislative Counsel Bureau (LCB) on opposite sides: Does the Constitution bar all or just some executive branch employees from serving in the Legislature? And do the duties of executive branch employees determine whether the separation of powers doctrine applies?
The trouble with a citizen legislature
Gansert joined UNR in 2012 as a special assistant to the president for external affairs, one month after ending her tenure as Gov. Brian Sandoval's chief of staff. Before that, she served in the state Assembly representing District 25 from 2004 to 2008.
Gansert focuses on economic development and outreach for the university. For example, if the local economic development authority is looking to bring a new company to town, she might give the company a tour of the campus and set up meetings with faculty members to talk about how the university's educational programs line up with their workforce needs, she said.
In 2016, she ran a competitive race for state Senate in a key district swing district Republicans needed to capture to maintain the majority. The well-connected Gansert won against Democratic political newcomer Devon Reese, although her party lost the majority after losing competitive races in Southern Nevada.
Gansert formally requested a 20 percent reduction in her $179,000 base salary during the campaign season, and started an unpaid leave of absence that will last the four months of the session.
NPRI says the position was created especially for Gansert, wasn't open to other applicants and never came with a public job description, but that plaintiff Douglas French wants it and could probably fill it if Gansert wasn't occupying it. French, who wrote articles on economic policy for NPRI from 2003 to 2008, is a consultant/home builder, former bank vice president and board member of the Ludwig von Mises Institute of Canada, a libertarian think tank, according to his LinkedIn. He holds a bachelor's degree in Economics and Finance from Washburn University in Kansas and a master's in economics from UNLV.
French's lawsuit alleges that Gansert is violating the Constitution by holding the executive branch position while serving as a legislator, which harms French as he is "earnestly seeking and is qualified for" Gansert's post.
As a libertarian think tank, NPRI promotes the ideas of limited government, individual liberty and free markets. The group frequently criticizes what it sees as government largesse that is overburdening taxpayers and hampering economic growth.
The lawsuit speaks to NPRI's longstanding concern that public employees who serve in the state Legislature are able to make decisions that unduly benefit themselves in their day jobs. That concern extends from state-level university employees such as Gansert down to local-level elementary school teachers and firefighters who are empowered to make decisions about the Public Employees Retirement System from which they'll draw pensions, for example.
"If you take a look at a couple of the newspaper articles that came out at the time that Ms. Gansert announced she was running for Senate they say, 'Oh this is great, what a windfall for higher education,'" said NPRI attorney Joseph Becker, who is representing French. "We don't really want people serving in two branches for that reason."
A column by Ray Hagar in September 2015 suggested exactly that with its headline, "Gansert election would be windfall for higher ed."
Gansert is far from the only public employee among her peers in the Legislature, which is host to four Clark County School District teachers and administrators, three university instructors, a firefighter-paramedic and three Clark County government attorneys. In total, at least 16 of the state's 63 legislators reported receiving at least some of their income from a public entity in 2016, and another six are still on the public dime collecting pension payments from Nevada's Public Employees' Retirement System.
Gansert's defenders point to the benefits of having a citizen Legislature that includes representatives from a broad cross-section of professions.
"Many of our legislators come from diverse backgrounds and industries, and Heidi has been re-elected by the people to serve our great state," Republican Sen. Joe Hardy said in a statement. "She is knowledgeable about much more than higher education and provides immense value to her constituents."
Even Democratic Senate Majority Leader Aaron Ford came to her defense, saying NPRI's suit was an attack on lawmakers' livelihoods.
"She is doing outreach work for one of our fine public universities, and she should be commended and encouraged in that work," Ford said.
But while the bulk of the public employees in the Legislature work for local governments and are a step removed from state government, Becker said Gansert's case is "much clearer" because "when you take a look at the organizational chart of the state of Nevada … it's clear she's working in the executive branch."
He argued that public employees making decisions about the taxpayer money that supports them is more serious than the conflict that might arise if, say, a private rancher was weighing in on ranching policy.
"Certainly legislators can and have recused themselves from voting on certain things but again, the problem there is government being in the business of redistribution," Becker said. "That's a problem that's going to be really difficult to address."
Gansert's supporters interpret the Constitution as preventing the highest ranking public officials — such as the governor or other powerful heads of departments — from simultaneously holding a legislative office. But they believe the executive authority tapers off after that and wouldn't exclude low-level public employees or even an employee with a title like Gansert's.
"The Constitution says a legislator cannot perform functions 'appertaining' to the executive branch of government," said Bradley Schrager, who represented Denis in his separation of powers lawsuit and is counsel to the state Democratic Party. "There is nothing inherently executive about being a computer technician or doing external relations for a state university."
Observers say the case will probably hinge on the actual duties Gansert performs and how much "executive" authority she's found to wield.
The foundations of democracy
The crux of the issue lies in Article III, Section 1 of the Nevada Constitution, which is modeled after a similar provision in the California Constitution: "The powers of the Government of the State of Nevada shall be divided into three separate departments,—the Legislative,—the Executive and the Judicial; and no persons charged with the exercise of powers properly belonging to one of these departments shall exercise any functions, appertaining to either of the others, except in the cases expressly directed or permitted in this Constitution."
The separation of powers principle is fundamental not only to Nevada's Constitution but to the U.S. Constitution, where the framers contemplated the policy as a safeguard against tyranny. James Madison, writing in Federalist No. 47, criticized the three branches of government under the British Constitution as "by no means totally separate and distinct from each other" He envisioned a different system for the United States where the branches act as checks and balances on one another.
"When the legislative and executive powers are united in the same person or body … there can be no liberty, because apprehensions may arise lest the same monarch or senate should enact tyrannical laws to execute them in a tyrannical manner," Madison wrote, quoting French lawyer and philosopher Montesquieu. "Were the power of judging joined with the legislative, the life and liberty of the subject would be exposed to arbitrary control, for the judge would then be the legislator. Were it joined to the executive power, the judge might behave with all the violence of an oppressor. ''
In short, Madison argued that any blurring of the boundaries between powers explicitly assigned to each of the three branches of government opens the door to tyranny and oppression.
So then who are the members of the three branches? The legislative branches and the judicial branches are perhaps the most clear, made up of judges, lawmakers and their respective staffs.
The governor and the state's five other constitutional officers are clearly members of the executive branch — but what about the tens of thousands of employees working for Nevada's various stage agencies, its colleges, its public schools, its fire departments and its local governments?
It's a question that has never been settled by the Nevada Supreme Court.
The closest it got was in 2004 by then-Secretary of State Dean Heller, who asked the court to find that executive branch employees serving in the Legislature violates the state's separation of powers clause and direct the Legislature to enforce the provision. It declined to do so, primarily because asking the court to decide who is qualified to serve in the Legislature — a prerogative reserved for the legislative branch — would also violate the separation of powers clause.
"By asking us to declare that dual service violates separation of powers, the Secretary urges our own violation of separation of powers," the court's opinion states. "We necessarily decline this invitation."
But the court left the door open for the kind of suit that NPRI has filed against Gansert, which approaches the situation from the opposite direction and goes after her executive branch job, not her legislative job. The opinion says courts could rule on whether legislators can keep their "executive branch employee" day jobs if an appropriate suit was brought forward.
But what exactly does it mean to be employed by the executive branch?
A clash of opinions
Then-Attorney General Brian Sandoval wrote an opinion in 2004 mapping out some of the nuances of how the separation of powers principle has been applied in Nevada in an attempt to answer the question that Heller would later raise in a lawsuit.
Sandoval concluded that the separation of powers clause doesn't prohibit local government employees, such as teachers and firefighters, from serving in the Legislature. In the absence of Nevada case law, he referred to a California court's interpretation of a similar provision in its Constitution, which found that the framers didn't consider local government employees to be members of the state's executive branch.
He also dismissed a 1955 opinion issued by then-Nevada Attorney General Harvey Dickerson, which found that a maintenance man at the Hawthorne Elementary School District No. 7 was ineligible to serve in the Assembly because he was "exercising a function appertaining to the executive branch." Sandoval noted the opinion "failed to rely upon any legal authority" and "can only be attributed to the personal opinion" of Dickerson.
But the document outlines a sharp difference of opinion between the attorney general's office and the Legislative Counsel Bureau, which provides legal advice to legislators, over whether state employees are members of the executive branch and should be banned from keeping their posts while serving in the Legislature.
Sandoval held in the 2004 opinion that the Constitution bars "any employee" from serving in the executive branch while serving as a legislator, while LCB sees shades of gray in the separation of powers clause, concluding that legislators cannot simultaneously hold a job as a "public officer" but can hold one as a "public employee."
In a 2002 opinion to Assemblyman Lynn Hettrick, the bureau advised that a chemist who works for the Nevada State Department of Agriculture would be allowed to keep his public employment while serving as a legislator because "most employees of the DOA do not exercise any of the sovereign functions of the state" and rather "simply implement the policies made by higher-ranking state officials."
LCB's opinion relied on a 1953 case brought by the attorney general to remove then-state Sen. John Murray from his post as director of the drivers' license division. The Supreme Court threw the suit out because the attorney general had sought to remove Murray from "public office" and the court found that the director position did not qualify as such an office.
The Supreme Court held in that case that public offices are distinguishable from other forms of public employment in that office holders are vested with some portion of the sovereign powers of government. In the case of the executive branch, that's the power to execute and enforce the law.
But, as Sandoval noted in his opinion, the court's move hinged on how the suit was brought forward but never analyzed the deeper issue of whether Murray's dual employment violated the separation of powers clause. Sandoval also called the LCB's distinction between public officers and employees "simply irrelevant."
In its opinion, LCB also pointed to something called the "common law doctrine of incompatibility" — the idea that someone can hold more than one position in government as long as the two aren't legally at odds  — to show that the job responsibilities of being a chemist and a legislator aren't in conflict. Sandoval disagreed with LCB on that point as well, noting that "there is no relevant or legal authority in Nevada that supports or even recognizes" the common law doctrine.
Because neither the attorney general's nor LCB's opinions are binding, the fundamental difference of opinion can ultimately only be resolved by the Supreme Court.
Next steps
Justices never ruled whether Sen. Denis' job fixing computers for state utility regulators would lead to the kind of tyranny and oppression the framers of the Constitution most feared. The case was rendered moot when Denis left his state job to run IT for a construction company.
"The only way I could enact policy is I could take the server down," Denis said. "I also did the video conferencing."
But Gansert said she has no plans to leave her job at UNR, meaning hers could help decide the issue that has bedeviled the state's top attorneys for more than a half century.
"At this time I'm not planning on changing anything and, again, I've been very transparent during the campaign and also now that I'm serving," Gansert said.
While Gansert and others have called NPRI's complaint "meritless," Becker said it raises questions that should bother everyone. What good is having a Constitution, he asks, if its provisions are fudged or ignored?
"The Constitution should be enforced," he said. "You don't have to be a conservative or liberal or libertarian to believe that the rule of law should be followed."
Republican Sen. Heidi Gansert is pictured Feb. 6, 2017. Photo by David Calvert.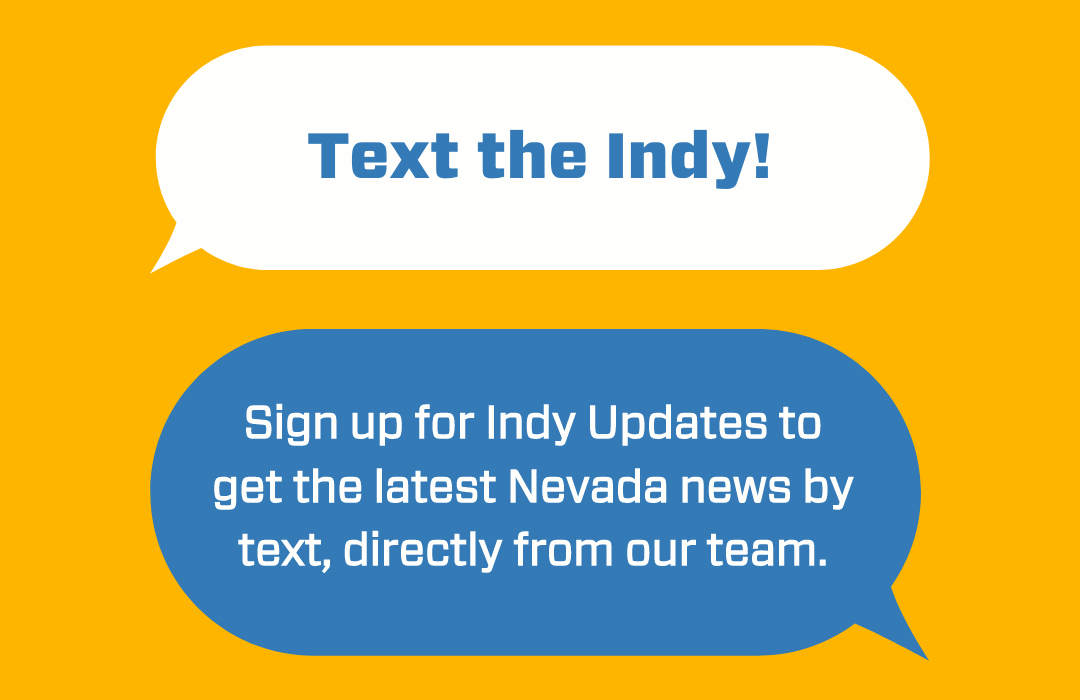 Featured Videos
Comment Policy (updated 4/20/2021): Please keep your comments civil. We reserve the right to delete comments or ban users who engage in personal attacks, use an excess of profanity, make verifiably false statements or are otherwise nasty. Comments that contain links must be approved by admin.