New analysis shows math doesn't add up for Sisolak's promised teacher raises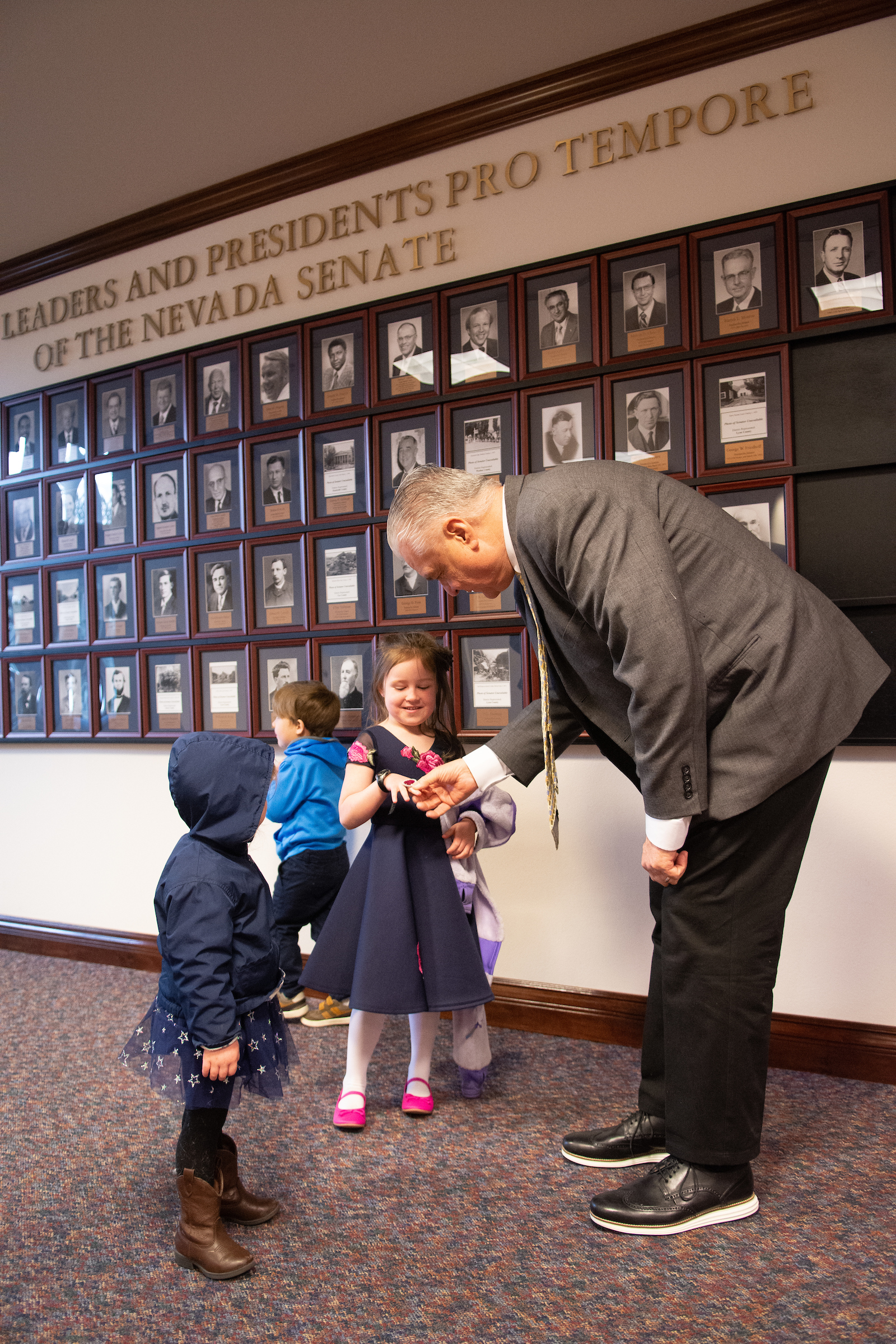 Gov. Steve Sisolak's recommended budget is about $107 million short of providing school districts enough money to pull off both the 3 percent cost of living raise and the 2 percent merit pay increase he promised teachers at the outset of his term, according to a new analysis released by the nonpartisan Guinn Center for Policy Priorities.
The shortfall — combined with Sisolak's intention not to raise taxes this session — is shaping up to be one of the biggest unresolved challenges of the 2019 legislative session and is forcing districts to grapple with tough questions: Should they award the raises as promised? Or should they forego them to avoid potential budget cuts, which could see educators lose their jobs or face even larger class sizes?
The prospect of a teacher pay bump "I think raised the expectations on the part of a lot of people," said Kenny Retzl, author of the analysis and the education policy director at the Guinn Center. "Our main takeaway is that while education funding again has increased year-over-year, when you take into account the rise in student enrollment, that increase just isn't as big as people would've thought."
The Guinn Center's analysis helps explain why, in spite of the perks featured in Sisolak's education budget, Clark County Superintendent Jesus Jara announced earlier this month that the district could not afford salary increases and would not include them in its tentative budget. The district now says it needs lawmakers to allocate $120 million in additional money — $60 million for the 3 percent cost of living raises, $40 million for the 2 percent roll-ups that reflect upward movement on the salary scale, and $10-$20 million for anticipated increases in health care expenses.
"While our employees deserve higher pay, the district cannot make decisions that would hurt the staff or students we want to better support such as laying off employees, cutting programs for students or increasing class sizes in the name of giving raises," the district said in a statement.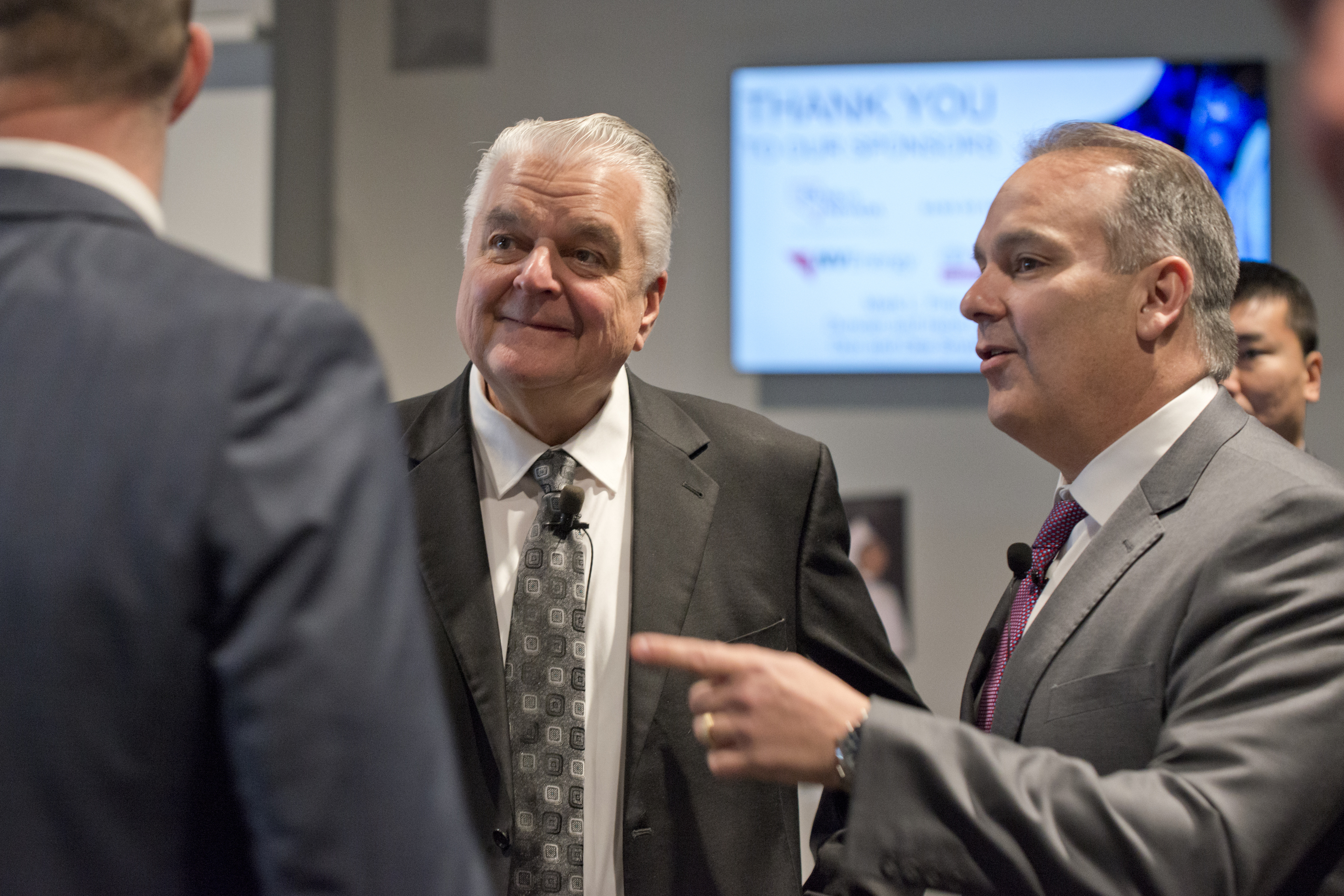 The nonpartisan think tank's brief shows that total funding to the Distributive School Account (DSA) — the state's main funding pot for education — is expected to rise by 2.9 percent, or $84.6 million, in the coming school year compared with the current school year. But with statewide school enrollment projected to rise 1.9 percent year-over-year, that increase is effectively watered down to just 1 percent.
The budget commits $78.9 million — or 93.2 percent of the additional funds — to the raises alone in the first year, the analysis shows, leaving little for inflation in operating costs including maintenance and health care.
The Guinn Center estimates that without the 3 percent cost-of-living adjustment (COLA), school districts actually are receiving an average of $100 less per pupil next school year compared with the current year in Sisolak's budget. That means districts need to reduce spending from current levels to make room for the raises.
"This creates a difficult choice for school districts: provide employees with COLA increases (and potentially reduce their budget) or use the budgeted COLA to fund regular operations," the report says.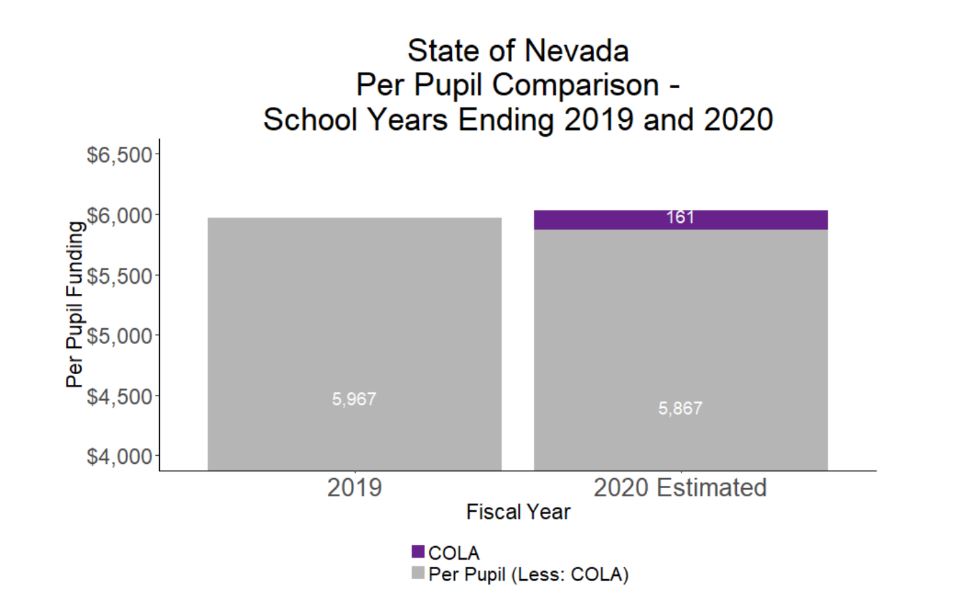 This school year, the state guarantees $5,967 per pupil, and in Sisolak's budget for next school year, the state guarantees a lower amount — $5,867 per pupil — plus $161 to carry out the 3 percent raise, for a total of $6,028 per pupil.
But the Guinn Center projects the state needs $6,247 per pupil to carry out both of the raises. Statewide, that amounts to $107 million.
It's unclear whether Clark County teachers will wind up seeing extra money in their pockets next year. School Board President Lola Brooks said the district has been "closely working" with the governor's office and legislative leaders to find a solution — in other words, more money.
Unlike years past, Brooks said the nation's fifth-largest school district has done a better job explaining its financial reality to the public. Of the $55 million more the district expects to receive in fiscal year 2020, all of it and more has been spoken for before accounting for the raises.
"We have clearly articulated our need for more funding," she said.
Among the costs, the district plans to use $48 million to fully fund school budgets, $17 million to cover increased special education costs, $9 million more for PERS retirement contributions and $7 million to cover inflation on supplies and services. It's gaining about $22 million as it reverses one-time additions made in the current school year and $2 million in additional class-size reduction funding.
To date, the Legislature has taken no major steps on legislation that would raise new revenue, and it won't be clear until Wednesday's Economic Forum whether updated forecasts will bring additional money the Legislature did not expect. But even if lawmakers and the governor's office can scrounge up millions more to provide raises, it won't alleviate other school funding concerns such as repairing aging buildings or constructing new ones.
"We could still come out in a positive manner, but we definitely are not going to get the funding levels that the districts in the state and students deserve," Brooks said. "That's going to be a long-term solution."
Asked for comment about the situation, Sisolak's office issued a statement saying "the governor's office continues to work with stakeholders and the legislature to explore all options for funding public education."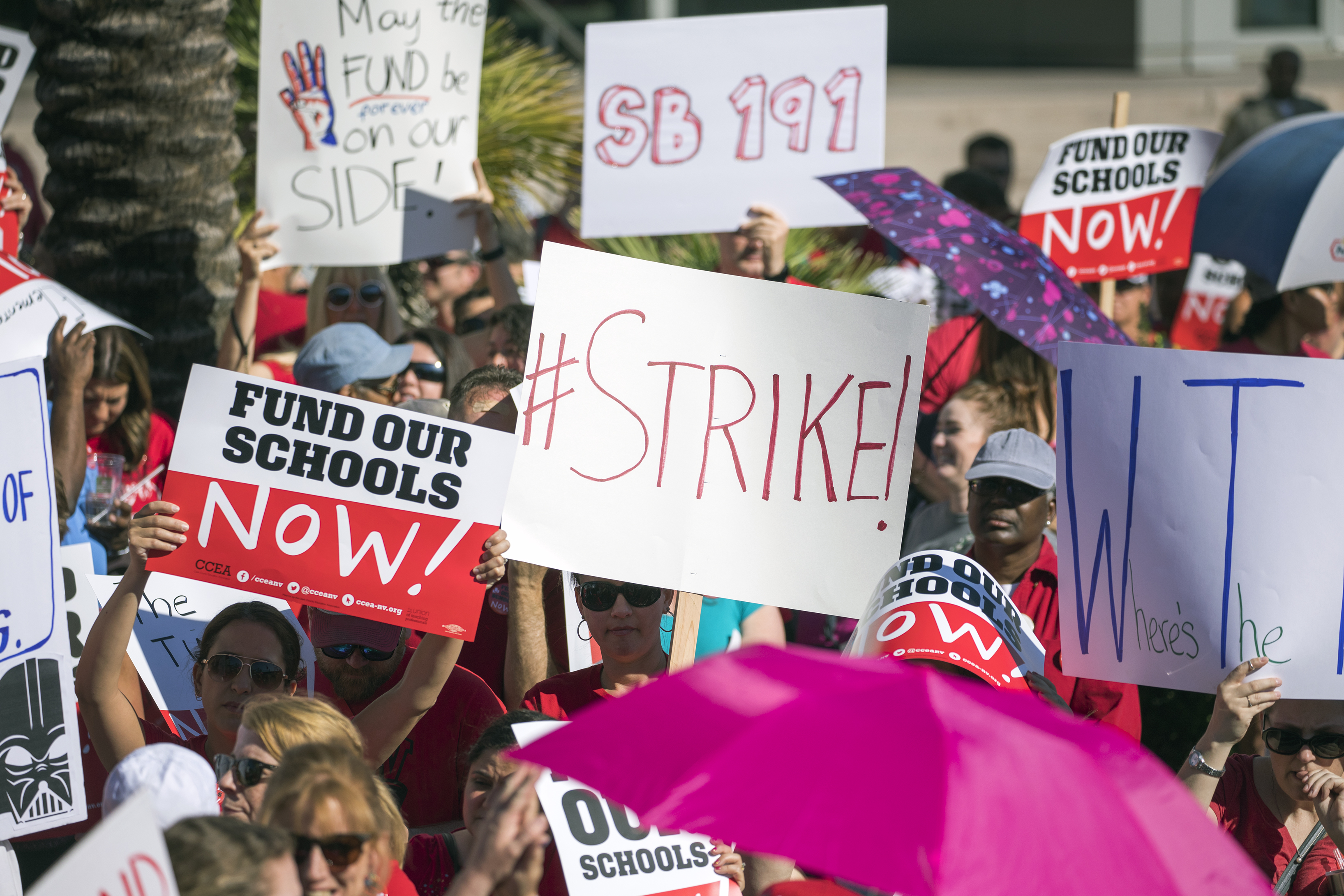 Threats of a strike
Several thousand educators, parents and students attended a rally Saturday in downtown Las Vegas aimed at urging lawmakers into action. The Clark County Education Association, which backed Sisolak for governor, organized the event.
If the promised raises don't come through, John Vellardita, executive director of CCEA, said "all hell will break loose." But the union boss stopped short of expressing any lost confidence in Sisolak.
"We're now entering the end game," he said of the 35 remaining days of the legislative session. "Am I optimistic that promises made are going to be promises kept? I'm cautiously optimistic because I believe in this governor and I believe in his word. I believe leadership is going to try to find its way; however, I do know Nevada politics."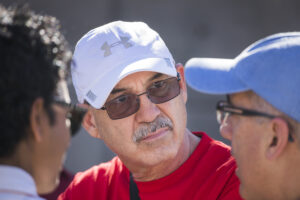 Behind the scenes, education stakeholders, legislators and the governor are having some very "frank" conversations about the funding situation, Vellardita said. But one homemade poster at the education rally Saturday hinted at what could come next: "#STRIKE!"
Asked about the possibility of teachers walking off the job, Vellardita acknowledged there are ongoing internal discussions but denied anything being set in stone. He did not disclose any projected timetable; the last day of school for Clark County students is May 23.
"It's on the table," he said.
Rumors of a possible strike, however, prevented trustees from being able to attend the rally. Brooks said the school district's legal team advised board members to avoid the rally because their presence could imply support for a strike, which technically is forbidden by Nevada law.
Their absence, she said, doesn't mean they don't support teacher pay increases. Brooks said the board wants to see staff compensated fairly and more money flowing into the district's coffers that could address multiple other concerns.
"We would hope it wouldn't have to come down to a strike because there are people working on finding a resolution," she said.
Updated at 7:30 p.m. to add comment from Gov. Steve Sisolak's office.
Guinn Center 2019-2020 Per Pupil Report by Michelle Rindels on Scribd
Guinn Center Per-Pupil Funding Report by Michelle Rindels on Scribd
The Nevada Independent is raising $200,000 by Dec. 31 to support coverage of the 2024 election.
Tax-deductible donations from readers like you fund this critical work.
If you give today,your donation will be matched dollar-for-dollar.
Give + Get Matched
Featured Videos