About 100 people attended the "Red for Ed" rally at Grant Sawyer State Building on Monday, Feb. 18, 2019. (Jeff Scheid/The Nevada Independent)
'Red for Ed' rallies draw attention to school funding as lawmakers weigh changes
February 19th, 2019 - 2:00am
Teacher Brian Rippet waved a chemistry book in the air Monday morning.
The nearly 20-year-old textbook is older than most students at Whittell High School in Douglas County, where Rippet teaches. It doesn't contain 10 percent of the world's known chemical elements, he said, because scientists have discovered new ones in the last two decades. The acknowledgment drew gasps from the crowd gathered outside the Grant Sawyer building in downtown Las Vegas.
"When kids understand that science is a dynamic process and something that we discover and is ever-changing, they are inspired to succeed," said Rippet, who is vice president of the Nevada State Education Association. "So we are demanding that our legislators step up and fund our schools."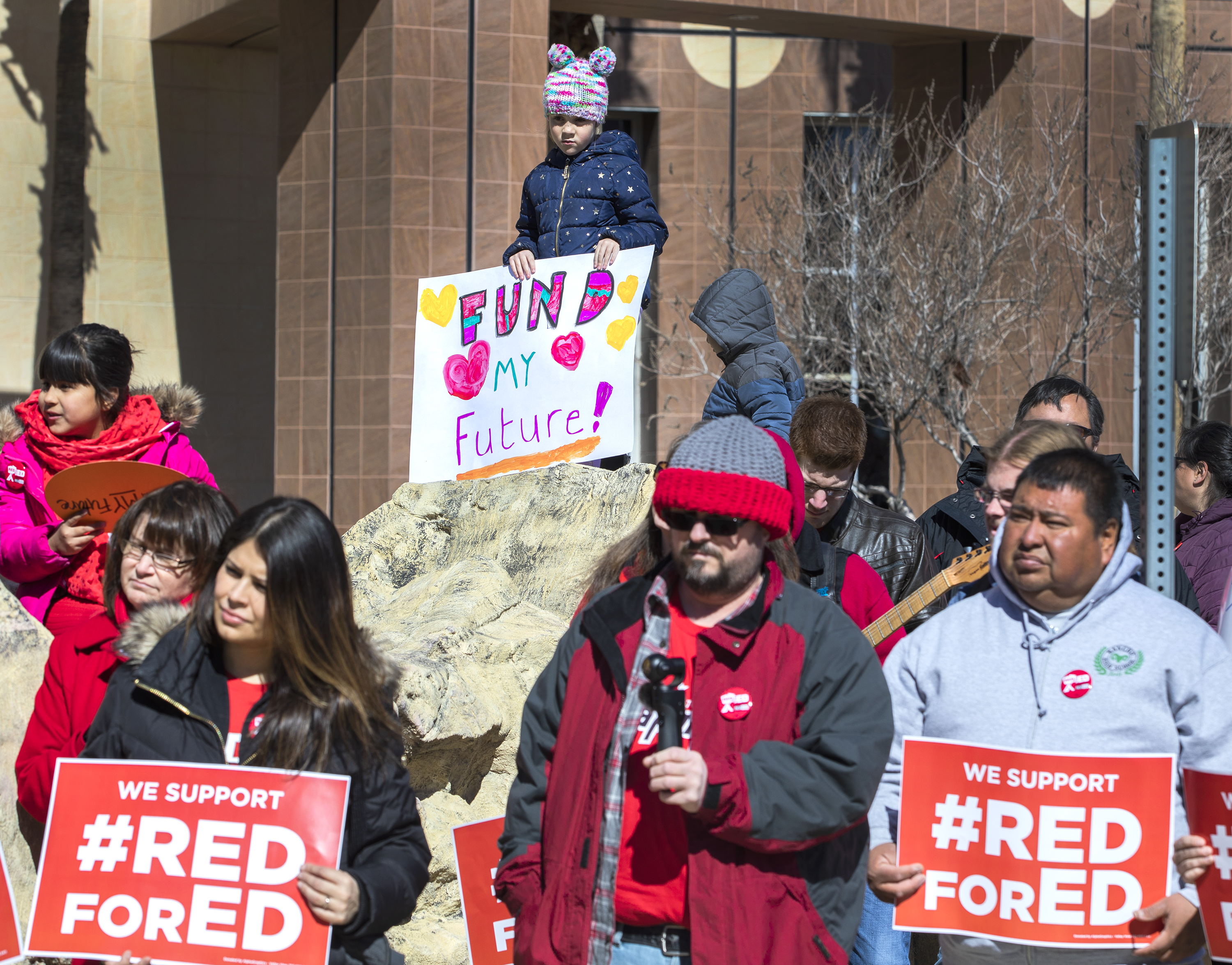 Rippet's plea isn't necessarily new or unique. Educators have been lamenting Nevada's K-12 funding system for years, pointing to aging textbooks, outdated technology and large class sizes as evidence of underfunded schools. They ramped up that message again on President's Day with simultaneous "Red for Ed" rallies in Las Vegas and Carson City — continuing a national movement that has seen educators and community members don red in other cities as they lobby for public education.
Dozens of teachers, parents and education advocates braved chilly weather Monday to call for a new funding formula that would replace the 1967 version. The request has been at the forefront of education policy discussions the last few legislative cycles, but a revamped formula hasn't fully emerged. The question now: Will a Democratic-controlled Legislature and a Democratic governor heed their calls this year?
"I'm asking as a parent for them to do that now," said Rebecca Garcia, a mother of three students in the Clark County School District. "We don't need another study. We don't need to ask whether or not we have enough money. We know the answer to that question."
Education Week's Quality Counts 2018 report issued Nevada a D- for school finance after assessing indicators for spending and equity. In January, the publication released the first installment of its 2019 report, which looks at students' chances for success in each state based on factors such as pre-kindergarten enrollment and postsecondary education attainment. Nevada received a C- in that index and placed 50th among states and the District of Columbia.
Jennifer Steele, a fourth-grade teacher at Doris French Elementary School in Las Vegas, described the reality of those lackluster education rankings. Her class has 28 students, many of whom are transient and enter school under grade level. A first-grade class in her school, though, has 26 students — 10 more than the targeted student-to-teacher ratio for that grade level.
Her school also lost money this year after its star rating increased.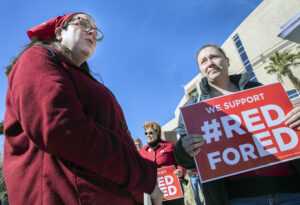 "We're just shifting from one place to another," she said. "The whole district needs to be financially provided for."
Her friend and fellow teacher, Alexis Salt, nodded in agreement. Salt teaches at Indian Springs High School, but on Monday, she dressed in red as a parent. Her sixth-grade daughter attends Leavitt Middle School in northwest Las Vegas, where her science class has nearly 40 students.
Salt worries what will happen next year now that Leavitt Middle School is one of 55 buildings losing Title I funding.
"What is that going to look like?" she said. "How many more kids can we cram in there?"
A handful of lawmakers — some sporting red shirts and ties — joined the rally in Carson City outside the Legislature. Seven-some hours south, former Clark County Commissioner Chris Giunchigliani attended a rally in Las Vegas, as did U.S. Rep. Susie Lee.
The congresswoman, who sits on the House Committee on Education and Labor, said she ran for political office to help improve Nevada's public schools. Lee served as the founding director of After School All-Stars, which provides youth programming in at-risk neighborhoods, and has been a board member for Communities in Schools of Nevada.
She urged educators to keep up the hard work.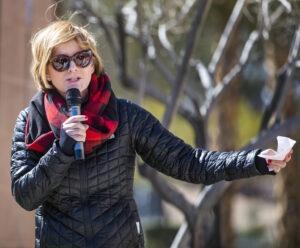 "This is not easy work. It's not, and it's tiring and it's frustrating and sometimes, quite honestly, it's discouraging," she said. "But you cannot give up because these young people — our children — are our future and they deserve every fight we can give them."
As the legislative session progresses, Rippet said he hopes education advocates and lawmakers make changes that benefit all Nevada students — not just those in particular regions or districts. His Northern Nevada school has 100 students, who he said deserve the same academic opportunities as teens in larger schools.
"We need to all work together and stay on the same page and not allow ourselves to be divided," he said.
Gov. Steve Sisolak's proposed budget would boost state K-12 funding by $156 million in the next biennium. That includes an increase to the basic per-pupil funding from $5,897 to $6,052 in the first year of the biennium and $6,116 in the second. But those dollar figures still fall short of what some studies have suggested the per-pupil amount should be in Nevada.
Comment Policy (updated 10/4/19): Please keep your comments civil. We reserve the right to delete comments or ban users who engage in personal attacks, use an excess of profanity, make verifiably false statements or are otherwise nasty.