Republican Assembly leader to resign, take top state economic development job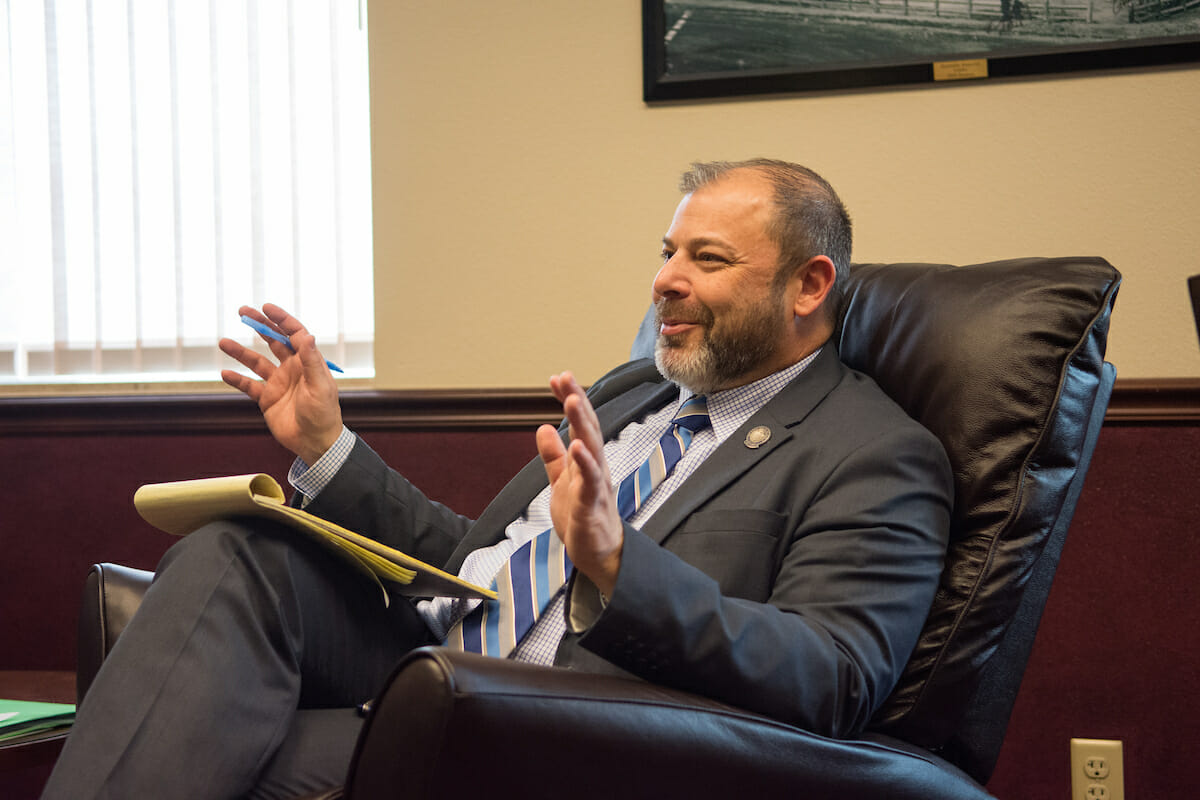 Republican Assembly Leader Paul Anderson announced Thursday morning that he will resign his seat Friday to take a job with Nevada's economic development agency.
Sources told The Nevada Independent Wednesday that the three-term assemblyman is stepping down from both his leadership role and his Las Vegas-area seat as a prelude to taking over for its chief, Steve Hill, who is expected to take over the reins at the Las Vegas Convention and Visitors Authority. A replacement leader is set to be elected at a caucus meeting Thursday.
In a statement, Anderson called serving in the Assembly the "honor of my life," despite the "hard votes, hard days and hard losses" during his time in the Legislature. He thanked his fellow Assembly members, Republican and Democrat, for working with him over the last five years and the caucus for choosing him as leader.
"Every day that I walked through the doors of the legislative building, I have been in awe of the opportunities presented to citizen-legislators and the ability we have to make our communities better places to live, work, and raise families," Anderson said in a statement.
Anderson will temporarily serve below Hill, who's executive director at the Governor's Office of Economic Development, before officially taking Hill's position at a later date.
"Paul is an accomplished businessman, a proven leader, and widely respected," Hill said. "He will play a vital role in continuing to move Nevada's economy forward and we are very fortunate to have him join GOED."
Hill, who served as chair of an economic development policy committee during Sandoval's transition into office and has been the agency's head since it was created in 2011, is expected to take a top leadership role with the Las Vegas tourism agency.
"The LVCVA is an exceptional organization and has played a central role in the success of Las Vegas," Hill said.  "I am both honored and excited that [president and CEO Rossi Ralenkotter] would consider me for a position with the LVCVA.  I look forward to meeting with members of the board to discuss their vision for the organization and how I might play a role."
LVCVA board member and Clark County Commissioner Larry Brown said the board has been working on a succession plan for the agency including the creation of two executive positions. Sources say Ralenkotter will remain as CEO, while Hill will serve as president, although the authority was more measured in a statement.
"The LVCVA has been very transparent in its search for a qualified President. This search has been ongoing for the better part of two years, as this person will play a vital role in the succession plan for the organization and work alongside Rossi in the years to come," said LVCVA spokesman Jeremy Handel. "We have conducted an extensive nationwide search and certainly Steve Hill is one of the most qualified candidates, but out of respect for our board of directors and their process to complete their due diligence, we will not be making further comment."
Reached Thursday, Brown said that he imagined Hill would take a position as Ralenkotter's "right-hand," similar to the role played by Ralenkotter himself to former LVCVA president and chief executive Manny Cortez.
"Just from his reputation, I think he'd be an ideal fit for the management team," he said.
Anderson has held a top post within the Assembly Republican caucus since 2014, serving as the Assembly majority leader with Speaker John Hambrick in 2014 and officially elected as minority leader for the 2017 session. Anderson was the presumptive speaker after the 2014 election but, after internal power struggles within the caucus and a firestorm of criticism over two Republican Assembly members initially elected to leadership posts, was chosen as majority leader instead.
Anderson's replacement will be Assemblyman Jim Wheeler, one of two deputy minority floor leaders. The Minden lawmaker has a PAC that has been organizing caucus events including a recent town hall, and Senate Minority Leader Michael Roberson said in a speech at Attorney General Adam Laxalt's Basque Fry fundraiser in August that "we need to make sure Jim Wheeler has a Republican Assembly."
At a press conference Thursday evening, Wheeler declined to name any specific seats the caucus would pursue during the 2018 elections, but said he and the caucus would primarily target swing districts throughout southern Nevada.
"I know it's a long time between 2018 elections, but I'm confident, and my caucus is confident, and that's even more important, that we're going to build our numbers in Carson City over the next year and in the next session," he said.  "We're going to have a larger caucus, we're going to be more unified and we're going to be ready to lead on Day 1."
Pahrump Assemblyman James Oscarson, the other deputy minority floor leader, said he was also "very interested" in maintaining a leadership position "but that's for the caucus to decide." Wheeler said Thursday that Oscarson would maintain his leadership role, and also take over a fundraising PAC previously run by Anderson to support Republican Assembly candidates.
He was also enthusiastic about the prospective career moves for Anderson and Hill.
"I think it will continue to move the state forward in a big way. Paul gets economic development, Steve of course gets economic development," he said, noting that the two have worked together for several sessions. "I think that just makes us a more solid team."
As majority leader, Anderson played an instrumental role shepherding Gov. Brian Sandoval's $1.1 billion tax package and education initiatives through the Assembly. Moderate GOP legislators joined Democrats to pass the bill despite months of attempts to block the legislation by a cohort of no-new-tax Republicans within the caucus.
Anderson fundraised and campaigned during the 2016 election through his Growth and Opportunity PAC to defend members of his caucus who had voted for the tax increase, a goal at which he was mostly successful on the primary level. Some Republican Assembly members still ultimately lost their seats in the general election, having been swept to victory in swing districts during the red wave of the previous election.
During the 2017 session, Anderson worked extensively to reach a deal with Assembly Democrats on funding the stalled Education Savings Accounts program. A compromise seemed nigh until members of the Senate Democratic caucus balked at the Republicans' ask, sending it to its grave in the waning days of the legislative session.
The Governor's Office of Economic Development, created during the 2011 legislative session, is responsible for recruiting and attracting new businesses to Nevada, bolstering existing businesses and building up workforce development programs. The agency played a key role in helping lure electric carmaker Tesla to northern Nevada to build a lithium-ion battery plant at the Tahoe-Reno Industrial Center.
GOED has hashed out other major deals to attract companies to Nevada, including an incentive package to lure carmaker Faraday Future to the state and to bring the Raiders to Las Vegas through a stadium partially financed by hotel tax dollars. It leads international trade missions and crafts tax abatement packages for companies that seek to expand or relocate in Nevada.
A former IT business owner, Anderson has helped guide major economic development deals through the Assembly and worked closely on the state budget as a member of the Ways and Means Committee and its chair in 2015. He sat on the Ways and Means, Taxation and Commerce and Labor committees during the 2017 session.
Before taking over GOED, Hill was senior vice president in charge of Nevada and Arizona operations for CalPortland, a concrete, sand and gravel supplier.
IndyFest is proudly sponsored by:
Comment Policy (updated 4/20/2021): Please keep your comments civil. We reserve the right to delete comments or ban users who engage in personal attacks, use an excess of profanity, make verifiably false statements or are otherwise nasty. Comments that contain links must be approved by admin.