Sandoval vetoes "motor voter" petition, sending it to 2018 ballot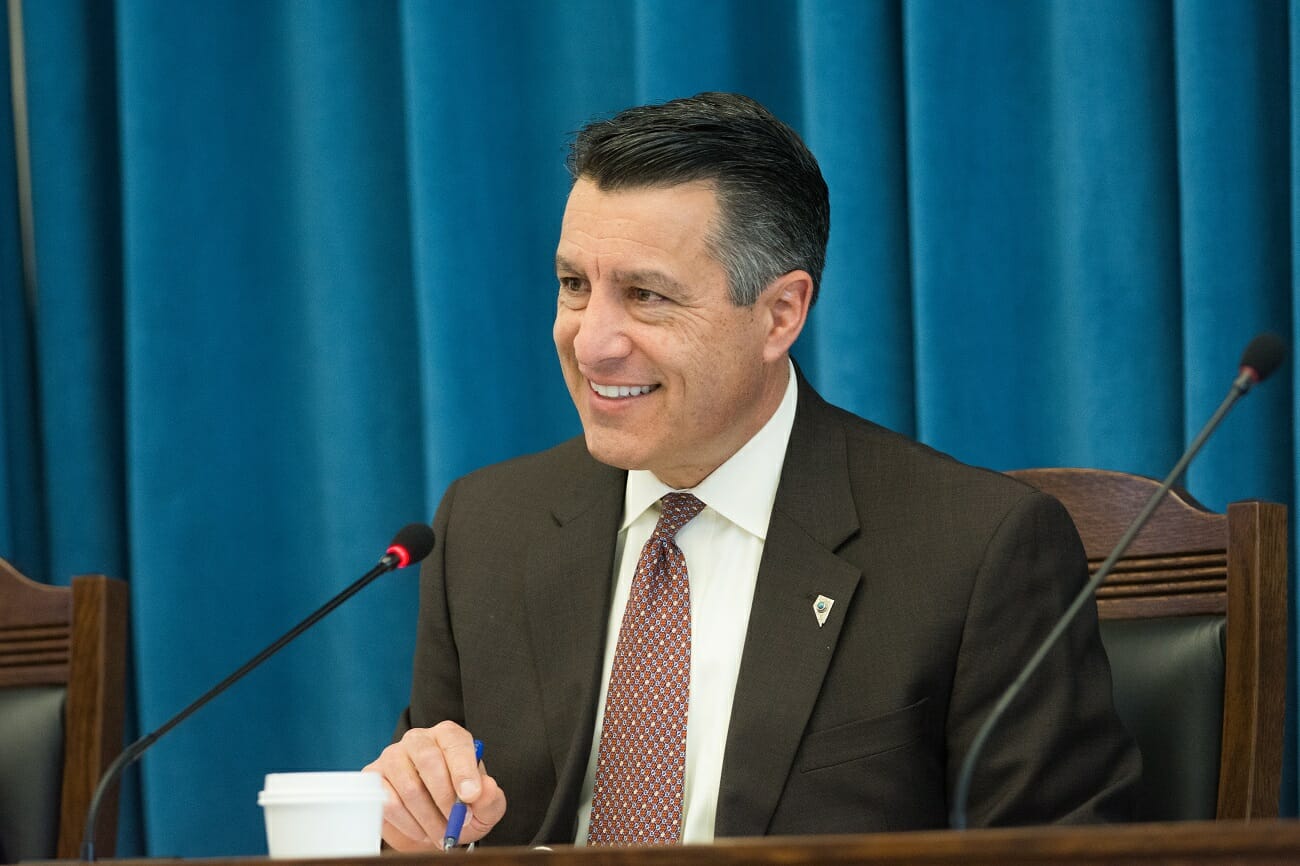 Republican Gov. Brian Sandoval vetoed a Democrat-backed "motor voter" initiative petition Tuesday, sending the measure that would require automatic voter registration when people apply for driver's licenses or identification cards unless they opt out to the 2018 ballot.
If approved by voters, the initiative petition would change the state's current opt-in voter registration process at the Department of Motor Vehicles to an opt-out system, which proponents say is a minor change that would clean up the state's voter rolls and cut down on the need for third-party voter registrations but opponents worry will allow non-citizens to register to vote. The measure passed both the Assembly and Senate on party line votes in February and March, respectively.
In a three-page veto message, Sandoval said the current DMV process adequately addressed voter registration and that the petition "upsets that balance" and would be "increasing the possibility of improper registration."
The veto is Sandoval's first of the session.
The measure would require the DMV to communicate with the secretary of state's office to transmit any necessary information to either add someone to the voter rolls or update their information when the individual applies for a driver's license or identification card. The DMV would be required to notify the applicants that they will be automatically registered to vote unless they affirmatively decline or opt out of the program in writing.
The measure was sent to the Legislature after the Washington D.C.-based voter advocacy organization iVote — started by Jeremy Bird, who led President Barack Obama's voter turnout campaign  — collected more than 125,000 signatures last year, more than double the number required. Under the initiative petition process, the legislation can be enacted by the Legislature and signed into law by the governor without ever reaching a vote of the people, but Sandoval's veto will send it to the ballot box in 2018 where it has another chance at becoming law, which the governor said would be preferable process.
"The decision to mandate compulsory application for voter registration by the government is better left with the public, who will be subject to its requirements," Sandoval said in his veto message.
Speaker Jason Frierson reacted to the veto by saying, "Nevadans agree that we need to have a voting system that protects the fundamental right of every eligible voter— Democrat, Republican, non-partisan or otherwise. Voting is a right, not a privilege and we should make it easy for Nevadans to hold their own government accountable.  While I'm disappointed by the governor's decision to veto IP1, I look forward to the people having the final say in 2018."
The Nevada measure was modeled after an Oregon law, the first of its kind in the nation, that added more than 225,000 residents to the state's voter rolls last year after it went into effect in January 2016.
Democrats said the legislation would protect an individual's fundamental voting rights and ensure that people aren't penalized by an outdated voter registration system. However, Republicans suggested that the petition's opt-out mechanism forces people to participate in the electoral process when they may have a particular reason for wanting to abstain and could allow non-citizens to register to vote.
During a floor speech on the petition, Republican Sen. Ben Kieckhefer said that of the 21,676 green card holders in Nevada with driver's licenses and identification cards, more than 100 have filled out the voter registration form though they are not eligible to vote. He said that Nevada should be doing all it can to "strengthen the integrity" of its voting system.
In response, Democratic Senate Majority Leader Aaron Ford said that those concerns "have been adequately debunked" and that the petition an opportunity to make voting easier for citizens. A handful of veterans also testified in support of the measure during committee hearings on the legislation, pointing to the difficulties that active duty military members and veterans face in maintaining the voter registration status while relocating within the United States or deploying overseas.
A bill nearly identical in language to IP1, SB327, was introduced on Monday, sponsored by Ford and Democratic Assemblyman Nelson Araujo. Araujo framed the legislation as a backstop measure that Democrats have at their disposal in the event that they need it for whatever reason.
Earlier Tuesday, Ford said he would "reserve judgment" on what Democrats would do if the governor vetoed IP1. "Obviously we'll continue to have conversations with the governor on the issue based on what he does today, and make determinations after that," Ford said.
Riley Snyder and Michelle Rindels contributed to this report.
IP1 VETO by Riley Snyder on Scribd
IndyFest is proudly sponsored by:
Comment Policy (updated 4/20/2021): Please keep your comments civil. We reserve the right to delete comments or ban users who engage in personal attacks, use an excess of profanity, make verifiably false statements or are otherwise nasty. Comments that contain links must be approved by admin.