Senate advances redistricting bill; Democrats promise minor tweaks in amendment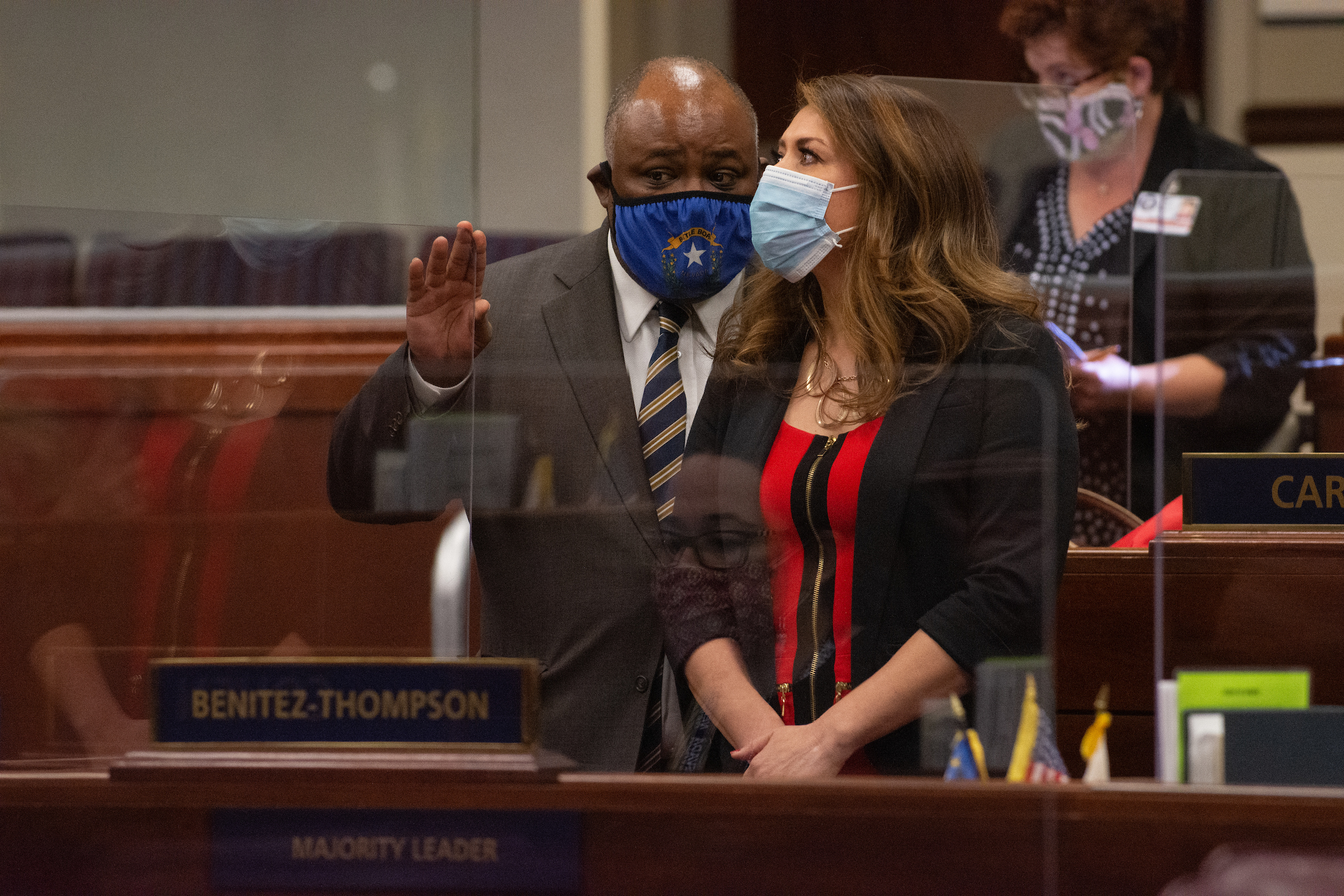 State senators voted on party lines on Sunday to pass Democrat-backed congressional and legislative maps, in spite of criticism from Republicans that they were certain to be amended in the Assembly in ways that were only described in broad terms.
The Senate voted 12-9 for SB1, the primary bill carrying out the redistricting process. All Republicans voted against the measure, which makes three of the state's congressional districts lean toward Democrats. Senate Majority Leader Nicole Cannizzaro (D-Las Vegas) defended the arrangement.
In a floor speech, she touted the maps' creation of more districts that are majority non-white, and said they are "both fair and legal and I think do accurately reflect the Nevada that I was born and raised in, the Nevada that I I love so deeply, and our growing diversity."
In a press release sent Sunday afternoon, Democratic legislative leaders said they planned to put forth an amendment in the Assembly addressing some, but not all of the issues raised during Saturday's hearing. Notably absent from the list of changes were responses to requests from community members to avoid splitting the heavily Latino community that's now part of Las Vegas' Congressional District 1, and to ensure at least one district had a higher rate of Latinos than the 35 percent proposed for that district going forward.
Issues that will be addressed in a forthcoming amendment include adjusting proposed congressional districts to reflect the last known address of roughly 1,000 inmates, following pressure from advocates including the ACLU of Nevada and the Nevadans Count Coalition to avoid a possible lawsuit over non-compliance with the state's anti "prison gerrymandering law."
Prior to the reallocation, which was announced on Saturday morning, the state was only able to connect 6,275 out of 12,214 inmate records — or about half of all state inmates — to their last known address, rather than being counted as residents of where they are incarcerated. The updated totals required changes to congressional districts, which must include essentially equal populations.
Democratic legislative leaders also said the amendment will include changes requested by tribal communities, including moving the Walker River Paiute Reservation entirely into Congressional District 4, and ensuring the boundaries of the Reno-Sparks Indian Colony are encompassed in Assembly District 32.
They also indicated that they would move all parts of the Sun Valley neighborhood in Washoe County inside Assembly District 27, and agreed to modify the boundaries of several rural districts — moving all of Lander County into Assembly District 32, and parts of Eureka and Elko counties (including the city of Carlin) into Assembly District 33 — a move requested by several rural representatives.
However, the release made no mention of changing the racial demographic makeup of any of the three congressional districts located in Clark County, potentially deflating the hopes of some minority group activists asking for a district with a majority Hispanic population.
Asked whether he agreed with the need for a more heavily Latino district, Assembly Speaker Jason Frierson (D-Las Vegas) said, "I believe that we need to reflect our state's population and that's what we're going to do."
Annette Magnus of Battle Born Progress said it was important that lawmakers respect the requests of community members who, during a Saturday hearing, asked not to be grouped with suburban areas that have a very different demographic profile.
"If members of the Latino community, groups who represent the Latino community, leaders within the Latino community, are asking to be kept together in this process of redistricting, as a white person, it is not up to me to make that decision for them," she said in an interview. "My job is to listen to the communities of color and if they're giving me feedback, that they want to be kept together. I believe that should be respected."
Republicans argued that their proposed maps would be a better reflection of the state's diversity, and cried foul about voting on a bill without first seeing how it would be amended in the other chamber.
"We are now being told that we have to vote on maps to find out what ultimately will be in them. This is a dangerous path," said Sen. Keith Pickard (R-Henderson) in a speech on the Senate floor. "We know that the maps as drawn disenfranchised minorities throughout Nevada. We know the process that created them, and we are now being asked to trust that same process."
Sen. Heidi Seevers Gansert (R-Reno) criticized the maps for splitting up certain communities of interest in Washoe County — including separating the UNR campus from a neighborhood where many students live — and also for making swing districts less competitive.
Her district is an example — it has a one-point Democratic registration advantage now, but would have a 6.7 percentage point Democratic advantage under the proposal. She argued that after earning the trust of those voters through bipartisanship, the district would be unwinnable for Republicans in the future, and silence the voice of nonpartisans and moderate voters.
"The majority maps were created with a clear intent to secure these artificial super majorities of both legislative houses for the next decade," she said. "They employ raw political engineering to draw lines to predetermine the outcome of future elections and to send a message to voters that their vote does not count."
Legislators also moved quickly to vote out AB1, the bill setting boundaries for 12 Board of Regents districts and pushing back filing deadlines for judicial candidates for the 2022 election cycle.
Members of both the Assembly and Senate voted unanimously to approve the bill. It now heads to Gov. Steve Sisolak for final approval.
Featured Videos
Comment Policy (updated 4/20/2021): Please keep your comments civil. We reserve the right to delete comments or ban users who engage in personal attacks, use an excess of profanity, make verifiably false statements or are otherwise nasty. Comments that contain links must be approved by admin.