Stacked old newspapers pile. Photo via iStock.com.
Senate hears bill on public records as proponents requested, but amendment not ready, many critics remain
A bill to put more teeth in Nevada's public records law has come up for another hearing as proponents hoped, but it still drew a long line of government agencies in opposition and changes to the bill have not been presented with only six days left in the session.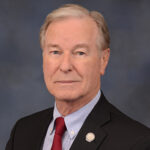 The Senate Finance Committee held a hearing Wednesday on SB287, a bill from Democratic Sen. David Parks. Among other things, the measure calls for fines if government agencies fail to comply with the public records law and require that agencies work with a requestor to narrow their petition if the government agency thinks it will be too onerous.
"Even though a state law requires that all public records and books, except those specifically exempted as confidential by law, must be open for inspection and copying, many governmental entities find that it's not to in their best interest to provide all these documents," Parks said.
The committee met in part to address numerous fiscal notes on the bill, such as one from the Clark County School District that estimated the bill would cost it nearly $1 million every biennium and require four additional staff members including people to redact police body camera video and an attorney.
"I don't know to what extent these are all valid numbers. For the most part, there seem to be very large amounts that have been submitted," Parks said. "Most agencies have public information officers … and if you have a PIO in your agency there seems to be every reason that you should be able to accommodate a request for public records."
Representatives from the Nevada Press Association and the ACLU of Nevada testified in favor, but a parade of lobbyists representing cities and governmental agencies lined up to testify against the original bill, which prescribed fines of up to $250,000 for noncompliance. Their complaints ranged from concerns that people could abuse the process because they know the government would be fined for violating the law to concerns that it could invade resident privacy and assertions that the existing process is working just fine.
"We have seen the original bill that ended up in your committee because of dramatic both technical flaws and enforceability issues," said city of Reno lobbyist Dylan Shaver. "In addition to the costs associated with this, we are told that there was an amendment coming, but it is one that has been drafted without our input and that frankly, we have yet to see."
Parks promised an amendment would be coming soon, but time is ticking — there are six days for the measure to get a committee vote, a Senate vote and move through the entire Assembly.
"We will work as fast as we can and we will try to involve as many individuals into the process of preparing the amended bill and present it in time for a work session," he said.
Comment Policy (updated 3/21/19): We welcome reader comments on our stories. However, in keeping with our general policy of transparency, accuracy and accountability, we do not accept comments from anonymous accounts. Anonymous accounts are those without a valid first and last name. Any such comments will be deleted, and anonymous users will be blocked from commenting further. We also will block commenters who use offensive language, engage in personal attacks or state things that are verifiably false.
get our morning newsletter, The Daily Indy
The Nevada Independent en Espanol cordially invites you and a guest to attend our
First Annual Mixer & Fundraiser
Thursday, October 10, 2019 5 to 7 p.m.
Firefly Tapas Kitchen & Bar 3824 Paradise Rd Las Vegas, NV 89119
RSVP by October 6
events-es@thenvindy.com
Food & drinks will be provided
INDYMATTERS PODCAST
CAFECITO CON LUZ Y MICHELLE
@TheNVIndy ON TWITTER