Senate majority leader scuttles Monday hearing on controversial immigration bill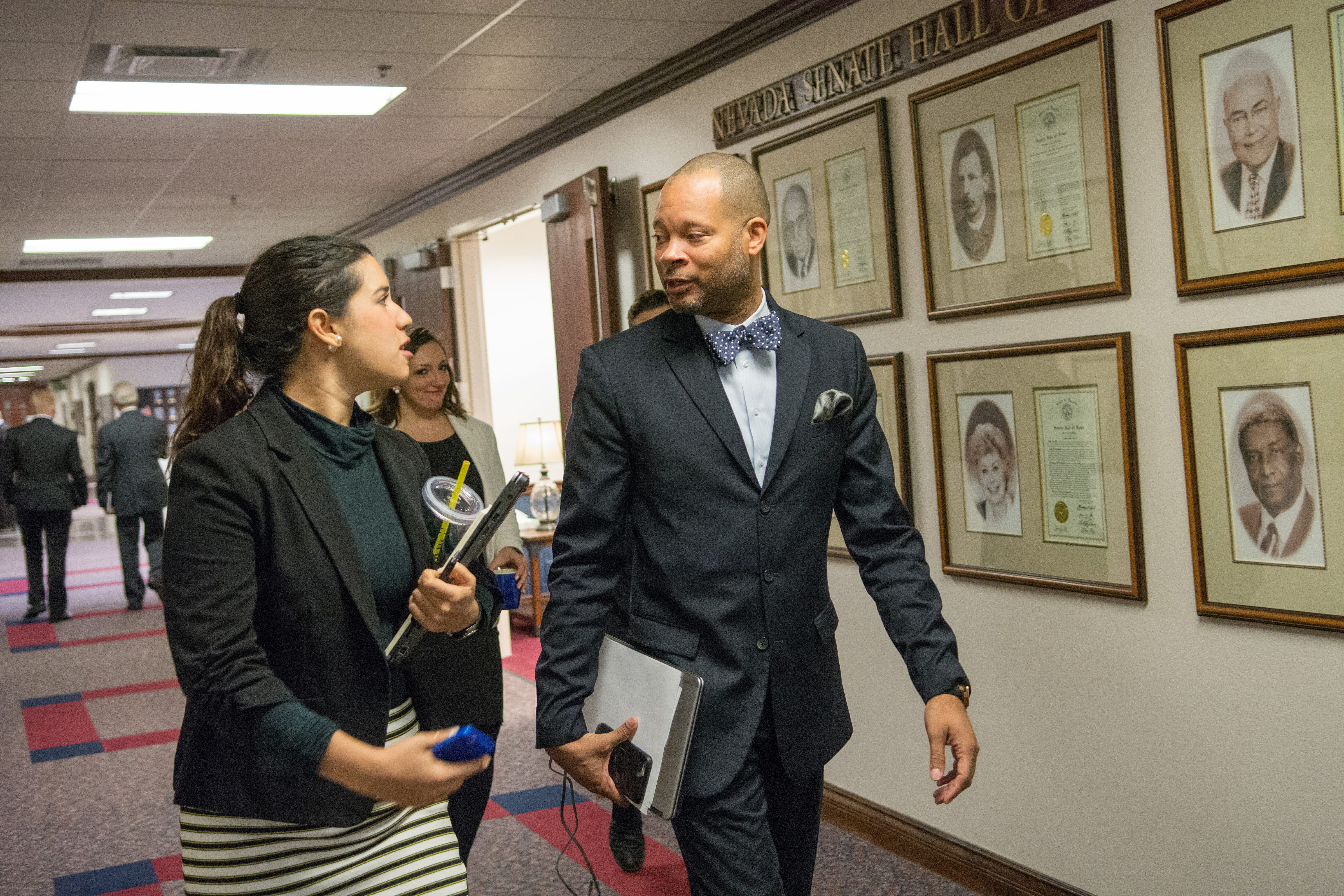 A hearing on a controversial immigration bill scheduled for Monday in the Senate Judiciary Committee was quietly taken off the agenda Friday afternoon at the direction of Senate Majority Leader Aaron Ford, who said he felt the bill wasn't ready for a hearing.
"After continuing discussions on this issue over the last few days, Senator Ford felt that there needed to be more conversations with the interested parties before the bill was ready for a hearing," caucus spokesman Peter Koltak said late Friday via email. Those sentiments stand in contrast to those offered by the bill's sponsor, Sen. Yvanna Cancela, and the committee chair, Sen. Tick Segerblom, who both indicated they are comfortable with the legislation as it stands today.
Ford and Segerblom have both signed onto the legislation, which has been opposed by law enforcement officials, as primary sponsors.
Ford's acknowledgement late Friday that he had scuttled the hearing contrasted with his answers to questions during an afternoon media availability. Asked whether it was too early for a hearing on the bill, Ford said that Cancela "would be making a decision on how to proceed in that regard" and that, as far as he knew, the hearing would happen on Monday.
But Cancela, in an interview after the hearing was removed from the Legislature's website, said she is ready for a hearing on Monday or any other day before the deadline.
"I've worked very hard with stakeholders, including law enforcement, and feel prepared to have a hearing," Cancela said. "With a deadline looming, I know scheduling can be challenging. When the bill is re-scheduled, I'll be prepared."
Cancela said she felt strongly about bringing some sort of immigrant protection legislation forward this session when she was appointed as state senator, both because of her background as a daughter of Cuban immigrants and because immigrants make up a significant portion of her district.
"I'm committed to doing my best to getting something done this session," Cancela said.
It is up to each chair to set the agendas for their committee's meetings, though the majority leader exercises oversight of the chairs, including the power to appoint and remove them.
Segerblom he was personally "not a bit" concerned with the amended language of the bill and that he would even "go forward with the original bill." Cancela recently decided to scrap the original bill's language and amend it to more narrowly prohibit state and local law enforcement from asking about an individual's immigration status at the point of contact.
"I support the bill, and I support the bill as amended," Segerblom said. "But the way these things work you don't want to go into something the way you know the outcome is going to be."
Asked whether Democrats lack a united front on the bill, Segerblom said he wouldn't use the word "Democrat" but acknowledged there is no united front.
"There are groups that we have to deal with, police, and we just want to make sure that we get their support if we can," Segerblom.
The state's major law enforcement agencies have made it clear that there's is essentially no version of Cancela's bill that they can agree to, worrying that putting anything in statute will be seen as limiting cooperation with federal immigration authorities could jeopardize the federal funding they receive. And though Cancela's amendment is more narrow than the original language — seeking to codify department policies already in place in Las Vegas and Washoe County, among other jurisdictions — the agencies have an overall philosophical concern about restricting their ability to make judgment calls on a minute-by-minute basis.
"I think we've come to the point where we agree to disagree," said Chuck Callaway, lobbyist for the Las Vegas Metropolitan Police Department, said earlier this week. "She's come as far as she can go and we appreciate that, but still we're just at that point where we can't support."
It was not immediately clear if or when a hearing on the bill will be rescheduled, though no upcoming hearings were listed on the Legislature's website Friday night.
The Nevada Independent is raising $200,000 by Dec. 31 to support coverage of the 2024 election.
Tax-deductible donations from readers like you fund this critical work.
If you give today,your donation will be matched dollar-for-dollar.
Give + Get Matched
Featured Videos