Senate passes major gun bill allowing temporary firearm seizure, bump stock ban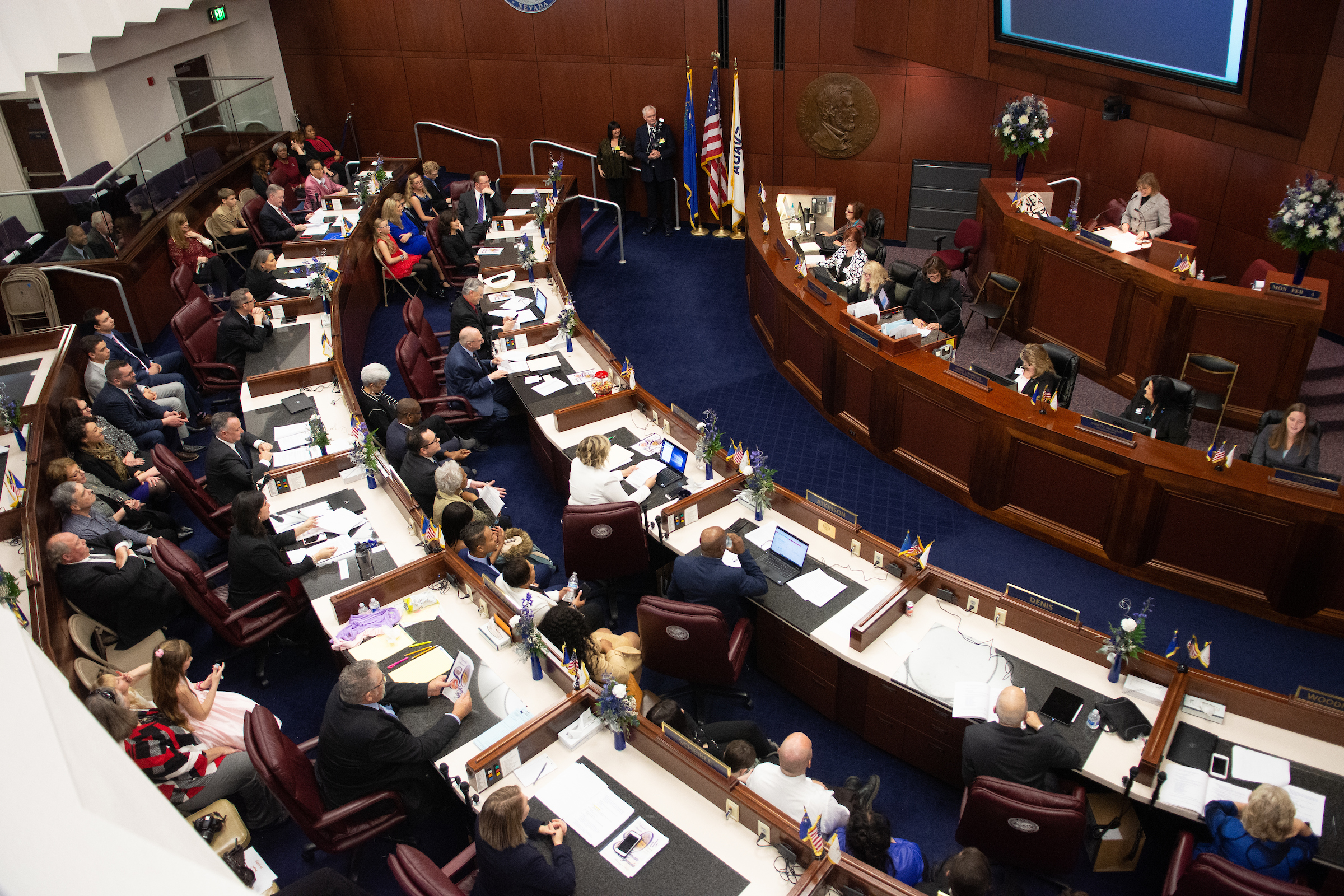 After adopting a substantial amendment that allows for the temporary seizure of a person's firearms amid displays of high-risk behavior, members of the Senate have approved an omnibus gun safety bill that also bans bump stocks and creates penalties for the negligent storage of firearms.
Senators cast a party-line 12-8 vote on Friday to approve Democratic Assemblywoman Sandra Jauregui's AB291, which now must have an amendment concurred by the Assembly before moving to Gov. Steve Sisolak's desk for a signature.
The bill was heard and voted out of the Senate Judiciary Committee this week after members adopted an amendment removing language that would have allowed local governments to pass more restrictive ordinances on firearms that those currently allowed under state law. Instead, senators adopted an amendment allowing for use of extreme risk protective orders, which allow family members of law enforcement to petition a judge to temporarily seize the firearms of an individual displaying high-risk behavior.
Such orders would last a maximum of seven days and require a court to hold a hearing to determine whether the firearms should be returned or whether the individual displaying high-risk behavior should continue to not have access to firearms, if a judge determines the individual presents a clear and present danger to themselves or others and other options have been exhausted. It also creates penalties for filing a false report.
A passionate, nearly 45-minute debate ensued among senators, bitterly divided on a bill that Democrats said struck the right balance in implementing reasonable restrictions on gun ownership but that Republicans said violated constitutional protections for due process before removing the fundamental constitutional right to own firearms.
In a floor speech littered with references to former Supreme Court Justice Anontin Scalia's opinion in the 2008 D.C. v. Heller case, Democratic Sen. Melanie Schieble said the measure would stand up to legal scrutiny and met the court's standards for reasonable restrictions on firearm possession.
"Do we think the Supreme Court would find the prevention of mass shootings a compelling government interest?" she said. "Do we think the Supreme Court would find the prevention of teen suicides a compelling governmental interest? Do we think that preventing the accidental death of young children who find guns underneath kitchen sinks to be a compelling government interest? I think you would be hard-pressed to find a constitutional scholar who says no."
Republican Sen. Keith Pickard countered by saying that at no point did the bill require a diagnosis of mental illness before removal of firearms, raising concerns of a lack of safeguards that would allow the orders prohibiting firearm owners to continue perpetually without necessarily high standards of evidence.
"We are talking about a bill that is built for confiscation of weapons," he said. "It does not address in any respect an actual diagnosis of a mental illness. So for those that would say that those of us that vote against this are voting against public safety and against keeping our schools safe, it is simply disingenuous."
Pickard and fellow Republican Sen. Ira Hansen also suggested that the bill was being driven by organizations funded by former New York City Mayor and billionaire Democratic donor Michael Bloomberg, who has helped fund groups supporting additional regulation of firearms. But that assertion was flatly denied by Democratic Senate Majority Leader Nicole Cannizzaro, who said the "crux" of the issue was to avoid tragedies driven by gun violence and not because of influence by outside groups.
"It is not due process, it is not a violation of constitutional rights, it is not monied interests," she said. "I do not stand on this floor in support of monied interests, but when you are the person who's ever had to have a conversation with a victim's family about whether or not there was something that could have been done, then you fight for things that provide safety."
The measure creates several triggers and examples of high-risk behavior that could warrant a temporary order, such as threats of violence, acts of violence, engaging in behavior a police officer determines to be a "serious and imminent threat" or has engaged in high-risk behavior while possessing or recently purchasing a firearm. An order would have to be requested by law enforcement or a close family member.
The bill also includes language from Democratic Assemblyman Ozzie Fumo's AB153, which creates a misdemeanor penalty for negligently storing a firearm in a place where a person knows a child could access the weapon. That bill died earlier this month on the deadline for bills to advance out of their second committee.
The measure also lowers to applicable blood alcohol content for firearm possession from 0.1 to 0.08.
Democratic Sen. Marcia Washington was absent from the Senate on Friday. A caucus spokeswoman said the senator was dealing with a family emergency.
Comment Policy (updated 4/20/2021): Please keep your comments civil. We reserve the right to delete comments or ban users who engage in personal attacks, use an excess of profanity, make verifiably false statements or are otherwise nasty. Comments that contain links must be approved by admin.