Senator who gave birth during session hopes motherhood no longer seen as 'disqualifying'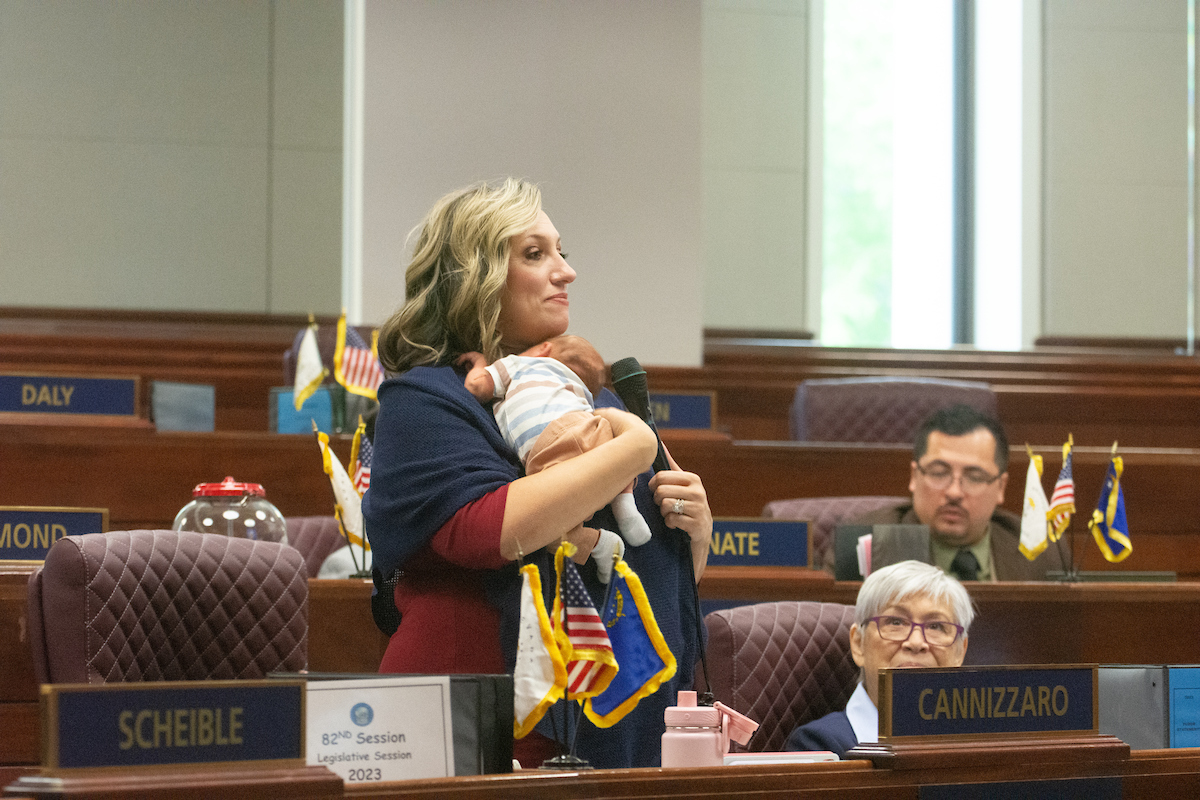 Senate Majority Leader Nicole Cannizzaro (D-Las Vegas) is the highest-ranking senator in the Nevada Legislature, responsible this year for negotiating key points of a $12 billion budget, deciding the fate of a Major League Baseball team's move to Las Vegas and determining whether the state will become Hollywood east.
But she checked into a Reno hospital on May 19, just as the 120-day session hit a fever pitch. Five days after giving birth, she was back on the Senate floor in a red dress and her signature stilettos, newborn baby Cole's fuzzy head peeking out of the top of a fabric baby wrap.
"It's not that it's easy to just show up five days later and try to do legislative business and take care of a baby," Cannizzaro told The Nevada Independent in an interview last week in her office, as Cole dozed in a carrier a few feet away. "But it's a choice that I feel really lucky to get to make."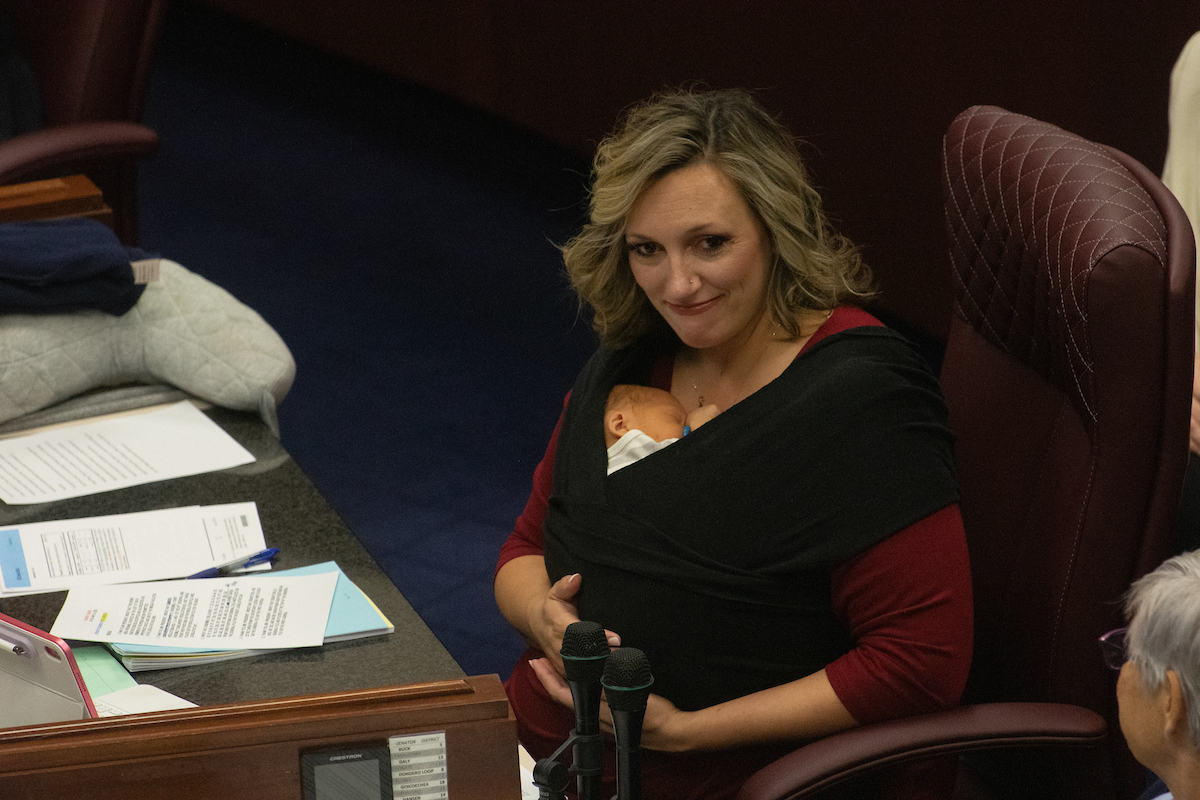 Nevada remains the only state with a female-majority Legislature, but even here, Cannizzaro is part of a small club of lawmakers who gave birth while in office. Two members of the Legislature have given birth during session since 2011; only 11 members of Congress have ever given birth while serving.
What sets her apart even more is her perch atop the legislative leadership structure, and that her new arrival came during the grind of a session marked by long and unpredictable hours, high-stakes partisan showdowns and tensions between a Democrat-controlled Legislature and a Republican in the governor's mansion.
She and her husband, lawyer Nate Ring, now have two sons under the age of 2 — she was pregnant throughout the 2021 session and gave birth just weeks after it adjourned.
The day before Cole was born, Cannizzaro — a lawyer and former prosecutor who has held office since 2016 — attended finance committee hearings at the beginning of a key legislative deadline day. But she started worrying when she could no longer feel her usually active baby moving in the womb, and left to get checked out.
Although it was weeks ahead of his due date and doctors said the baby was OK, they still recommended delivery, and she was induced. She said when she conducted some negotiations with the governor's office that day, she didn't mention that she was in a hospital room.
"I didn't want to worry anybody else about what was going on, or if I was OK," she said. "I wanted everyone to just kind of stay focused on their stuff, so I could put my energy towards having the baby and making sure that I was OK and he was OK."
Cole Cannizzaro-Ring was born at Renown Regional Medical Center in Reno on Saturday, May 20, weighing 6 pounds 10 ounces. While healthy, he had knots in his umbilical cord, so the early delivery was key.
"We're incredibly thankful for all the good care and well wishes we've received," Cannizzaro tweeted the following day. "Keep an eye out for a newborn visitor on the Senate floor soon!"
Although Cannizzaro deputized a fellow lawmaker to take over her duties in her absence, she made good on her promise to be back in a matter of days. But she acknowledges that returning to work during Cole's tender first days of life was "complicated" and tinged with a bit of sadness.
Lawmakers are pushing forward legislation that would expand opportunities for paid parental leave. Her decision to take almost no such time was made in part because of the pivotal nature of the session's final days.
"I have an obligation to be here and to do some of the things that I have been elected to do. … That's not to say that it's not hard," she said. "I would love to be at home, like, snuggling him and taking pictures of him and kissing his little feet and just staring at him for hours at a time. That's what I really would love to be doing."
Other Nevada lawmakers have given birth while holding office. Then-Assemblywoman Olivia Diaz (D-Las Vegas) is thought to be the first to give birth during a legislative session when she had her son in 2011. Former Assemblywoman Teresa Benitez-Thompson (D-Reno) had her daughter during the session in 2013, returning to legislative duties a week later.
Cannizzaro said it helps to be surrounded by so many other lawmakers who are also moms and are understanding when she needs to bring her 1-year-old son Case to meetings, or when she needs to breastfeed Cole.
"That makes a huge difference when you create an environment where that's not something that is looked upon as a disservice to the state," she said, or "put in a category where that makes you somehow less able to do this job."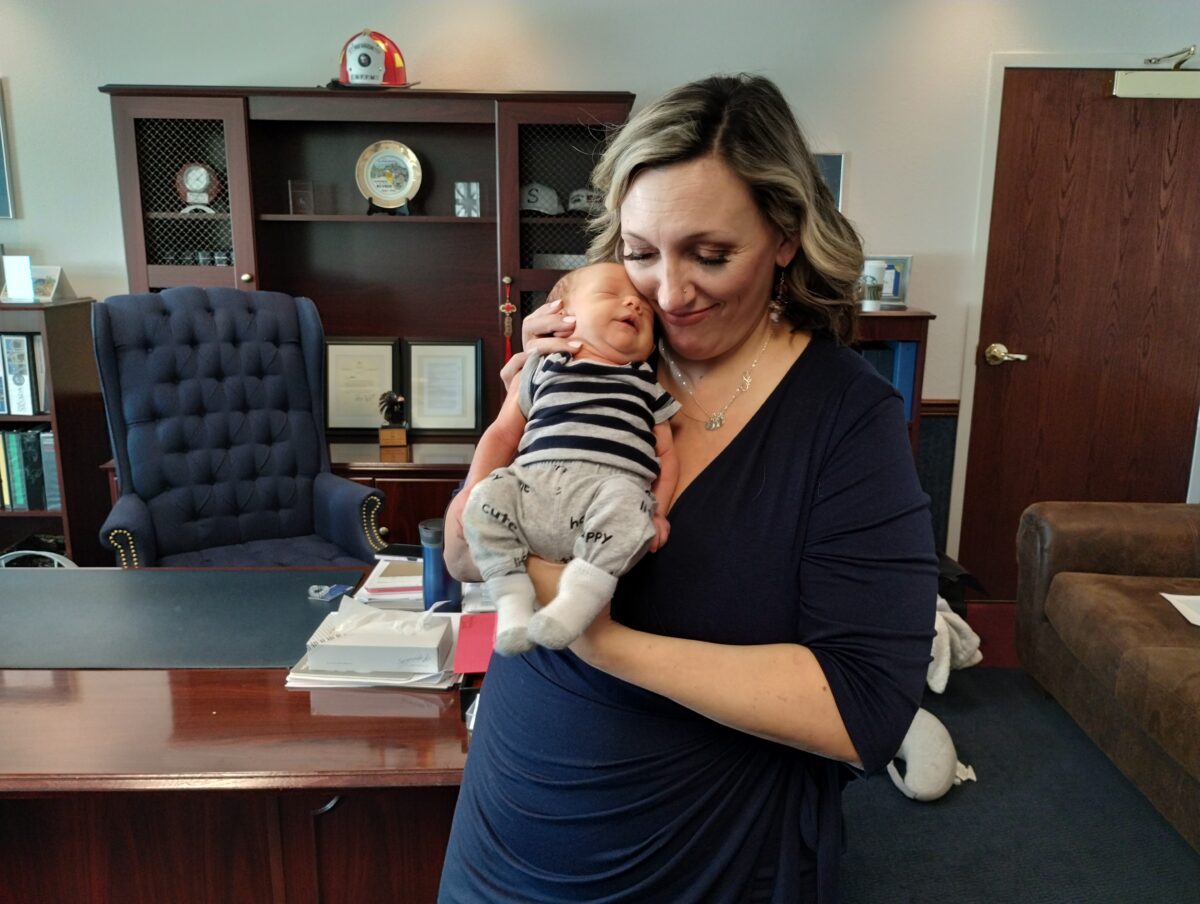 Her message that moms can be a part of places that have historically been male dominated or unwelcoming to small children is underscored by the scene in her office, where a stately wooden desk fit for meetings of state is flanked by a baby blue bouncer and curved pillows for nursing.
She wants to dispel "this notion that maybe you don't belong, if what you're also doing in life is deciding to create a family," she said. "Hopefully, that's not something that is a disqualifying, discouraging factor."
She's faced her share of questions about whether she could participate in session if she was pregnant, or what she would do if the baby came during session, or whether — after her first baby was born in 2021 — she would even stay in the Legislature. Indeed, managing her roles as leader and mom has involved working around doctor's appointments, being mindful of her health and seeking help from family and staff.
But though this may be one of the most demanding seasons of her political career, Cannizzaro doesn't hesitate in saying it was "definitely" the right time to start a family.
"I just couldn't be happier. They're just the light of my world," she said about her boys. "If I could bottle how I feel about them, and sell it, the whole world would be a happy place."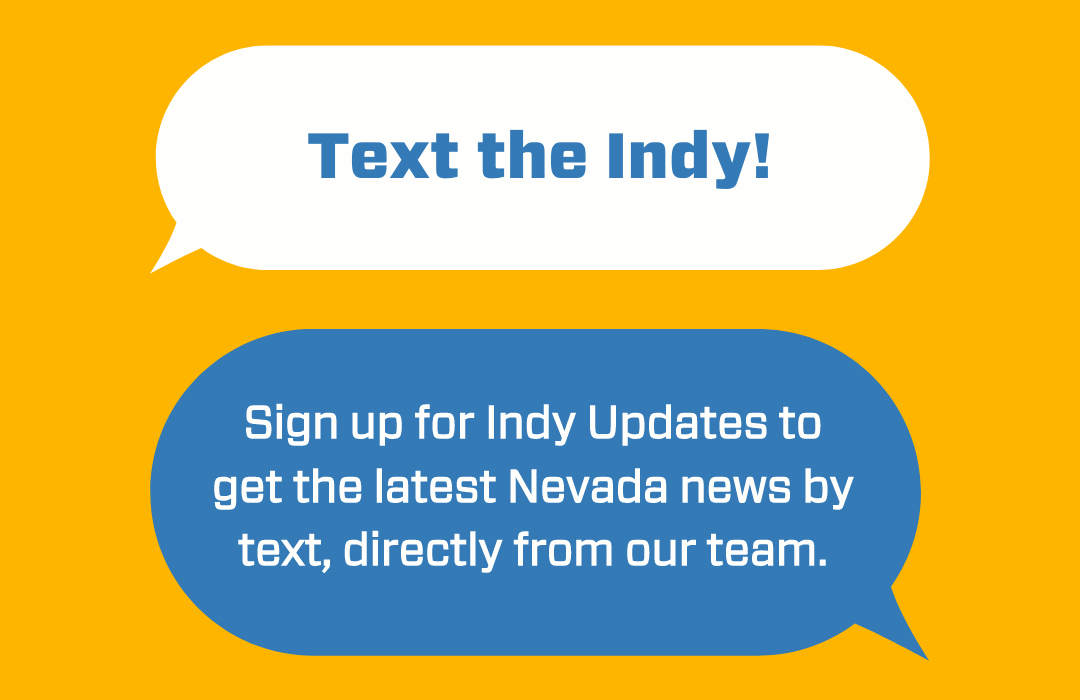 Featured Videos