Children play at the Sierra Nevada Academy Charter School preschool on March 14, 2017. Photo by David Calvert.
Session brings maintenance, but no real growth, in child care and education for youngest Nevadans
As evidence of the program's value, supporters of pre-kindergarten showed a PowerPoint slide during a legislative hearing that featured two handwriting samples from a single child.
The first one, taken in October of the child's year in pre-K, is a jagged scribble, more like a sawtooth than any legible characters. The second, taken in February of that year, is clear and deliberate in blue marker: "Ra'Shawn Thompson."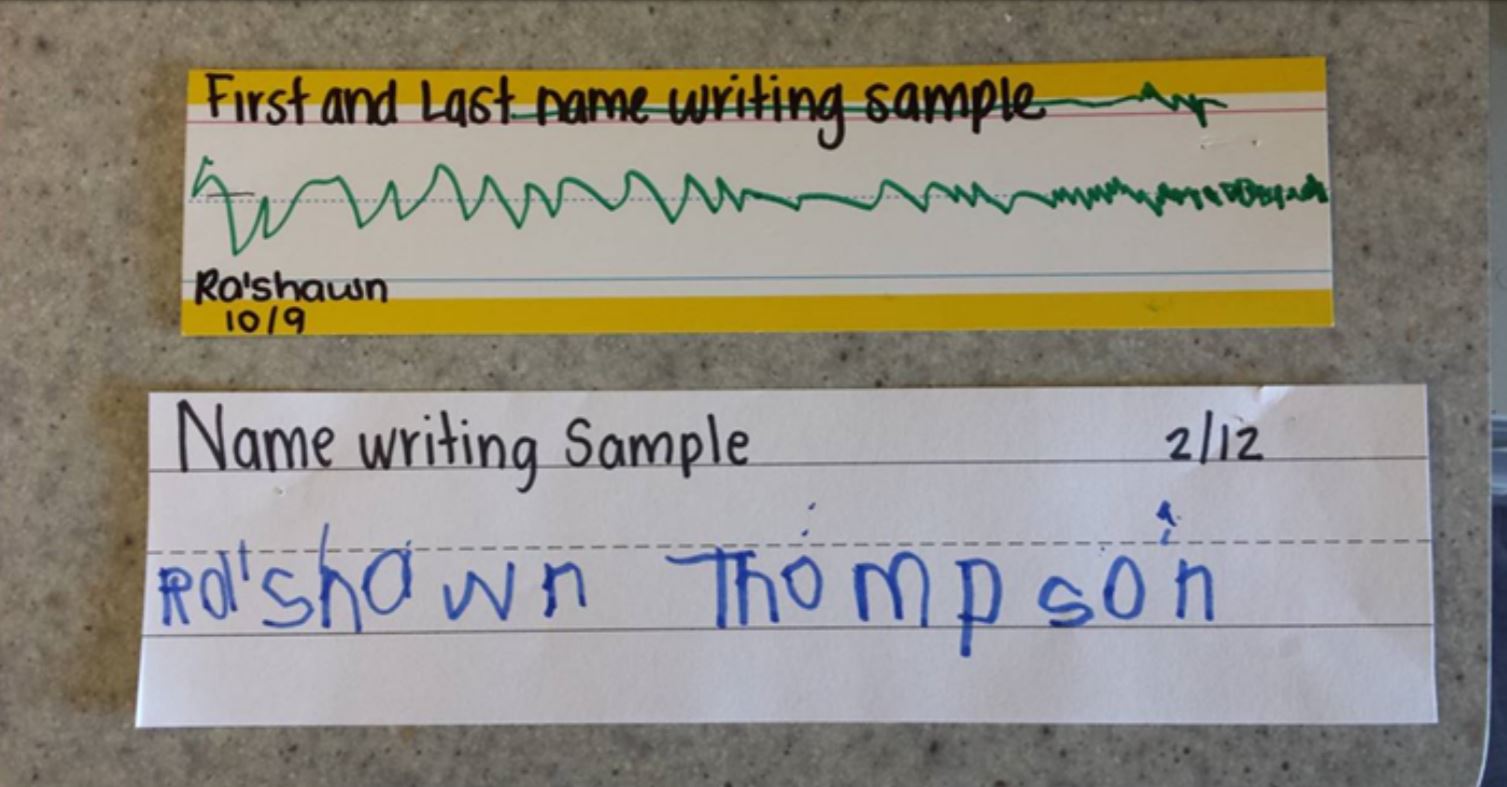 Advocates say a year in structured pre-kindergarten can do everything from help children learn to write their name and memorize their phone number in case of emergencies, to develop the social skills they'll need to get the most out of kindergarten. But in spite of the benefits to absorbent young minds, Nevada lawmakers largely maintained the status quo rather than broadening a state-run pre-K program that is currently serving only 11 percent of eligible, low-income 4-year-olds.
"I think in a lot of ways for early education it was a successful session, although not as successful as we would have liked," said Denise Tanata of the Children's Advocacy Alliance, who says the issue has become more top-of-mind even if lawmakers aren't funding a major expansion. "Looking at the sheer number of bills related to early childhood education was a huge improvement over the past."
Still, pre-K programs, as well as child care subsidies and other early childhood education and care initiatives, took a secondary role this session as the needs of K-12 schools and a proposed raise for teachers dominated much of the Legislature's discretionary spending. The allocation for pre-K remained essentially at levels recommended in the governor's budget even though several failed bills proposed more capacity and spending.
At the same time, lawmakers added tens of millions of dollars to K-12 education beyond what Gov. Steve Sisolak proposed.
Early childhood education suffers structural disadvantages because it's not compulsory, it's not part of the general K-12 funding formula, and some studies have suggested the gains children experience through programs such as Head Start fade over the course of several years. Others oppose ramping up the programs because they say parents should be responsible for early schooling. And the programs suffer the familiar plague of scarce funding and insufficient classroom space.
Those are some of the reasons that 63 percent of Nevada children ages 3 and 4 are not in school, according to the Nevada Kids Count report released last week. That's an improvement from the 2009-2011 survey, when 68 percent of 3- and 4-year-olds were unschooled, but still higher than the national average of 52 percent.
Nevertheless, advocates for young children say there was some progress on services for the youngest Nevadans. Here are seven takeaways from child care and pre-K in the 2019 legislative session:
Growth in child care subsidies, but program serving only fraction of children
Thanks to an increase in federal funding, the state has been able to eliminate a waitlist and increase the number of children served by the child care subsidy, which pays for care for children of low-income Nevadans — largely those on the Temporary Assistance for Needy Families (welfare) program or those with incomes so low they are nearly eligible for the program.
The state expects about $135 million in federal grant money over the biennium, which would support more than 9,000 children each year — roughly on par with the caseload of the last two years. An infusion of new federal money in the last two years has helped the numbers climb from a recent low of about 1,500 children in 2013 and has helped ensure child care providers are paid amounts closer to the current market rate, but there's no guarantee the added federal funds will be permanent.
The state, in turn, must pay an annual match of $2.5 million in what's known as a "maintenance of effort." That represents the same amount the state was spending for child care prior to 1996, when the Child Care Development Block Grant was reauthorized.
In spite of the growth in subsidy funding, it remains difficult to find and pay for child care in Nevada. The state ranks among the top 10 least affordable in all categories measured in Child Care Aware's 2018 report, and the Children's Cabinet notes that a family of three making 140 percent of the poverty level would have to pay 40 percent of their income to afford infant child care.
Yet it remains difficult to obtain a subsidy to help defray that cost. The state advises that a family of three should make no more than about $27,000 a year to receive the subsidy, or about 126 percent of the federal poverty level.
As a result of the tight restrictions, only about 6 percent of children living under 200 percent of the poverty level were receiving the subsidy in 2017.
The Legislature's actions on the child care issue aren't enough, according to Erika Washington, head of progressive nonprofit Make it Work Nevada. Insufficient wages and sick leave, coupled with a lack of access to quality child care, put stress on families, strain relationships and set children up for failure ahead.
"I don't ever feel like people are really concentrated on the importance of child care providers. This is the base of how our children are going to learn and grow in society," she said. "I think we're just constantly failing to be family first like we're supposed to be."
As her group goes out and talks with voters about what has been done this session, she said she tries to explain "that politics and policy is a marathon and not a sprint." And she's trying to encourage people to raise their voices to lawmakers about what policies they want to see, even though that can be inconvenient or embarrassing.
"We want people to know they can have their version of the American Dream. I want them to be hopeful," she said. "We can only make bigger steps when people are willing to stand up and tell their stories."
Pre-K seats maintained as grant goes away, but no real growth
Nevada learned in late 2014 that is was one of five states to receive a multimillion-dollar federal pre-K development grant, which has allowed it to build up capacity statewide to 3,023 slots. It also helped convert many of the existing half-day pre-K slots to full-day slots (a full day for 4-year-olds is considered five hours a day or 25 hours a week).
The grant, however, expired this winter. Nevada was able to continue the program through the rest of the school year but faced a fiscal cliff.
Lawmakers ended up allocating $41 million to maintain the status quo the state had achieved through the grant. A full-day pre-K seat costs the state about $8,000, or about $1,800 more than the state pays on average for a student in K-12 education. That's because the cost of supplies for the children and the lower student-teacher ratio of two adults per 20 children costs more.
Democratic Sen. Joyce Woodhouse aimed to continue building the state pre-K program through SB444, a bill to add $24 million to pre-K over the biennium and expand the number of seats in the program by 1,500. She said she toured two pre-K programs and was impressed with what she saw.
"It was such a rewarding experience to see these children who qualified have this opportunity. Many things these kids were experiencing were things we used to teach in 1st grade," Woodhouse, a former first-grade teacher, said at a bill hearing. "Our students are ready for these experiences and when we don't provide it, they are behind."
Nevertheless, the bill died without a vote in the Senate Finance Committee — which Woodhouse chaired.
"I know it's probably going to be difficult to add any additional seats as in SB444, but I will continue to try to make that happen so our children have these opportunities," she said at the hearing.
Patti Oya, director of the state's Office of Early Learning and Development, said she's glad the pre-K program isn't regressing and noted that awareness and acceptance of it is on the rise. She said better collection of data about the outcomes of the pre-K program should help bolster the case for greater investment.
"The importance of early childhood is out there," she said. "We used to hear, 'Why are you taking kids from their families?'"
In a statement to The Nevada Independent on Friday, Sisolak's office indicated that expanding access to early childhood education is one of his goals for future legislative sessions.
"Education is the foundation for success, and that starts with access to quality early childhood education for Nevada's youngest learners. As governor, improving Nevada's education system is one of my top objectives, and that includes expanding access to pre-K programs for children across the state," he said. "As we look to the future of public education here in Nevada, I look forward to working with our federal delegation, state lawmakers, and stakeholders to ensure all Nevada children have access to early learning programs to set them up for success in K-12 and beyond."
And there's another potential option for additional funding: AB309, which allows county commissions to raise the sales tax by a quarter-cent. The bill allows such an increase to fund one of eight different purposes, including aid to people experiencing homelessness, union-affiliated workforce development programs in the hospitality industry and pre-K programs.
Shaping the future of pre-K in Nevada
Lawmakers advanced a bill that seeks to bring more uniformity to a patchwork system of pre-K and preschool programs. Nevada's often-confusing early childhood landscape features different programs with different eligibility requirements, including the state-funded pre-K program, federally funded Head Start program, Zoom or Victory school-related pre-K and private programs.
SB84 doesn't add money, but creates a program through which the state could offer grants in the future and establishes eligibility requirements for grant recipients. Those guidelines follow the requirements of the federal pre-K development grant: that the programs target 4-year-olds from households up to 200 percent of the poverty line.
It also specifies that at least one teacher in a pre-K classroom should have a bachelor's degree, that the classes don't exceed 20 students to two adults, and that teachers are paid on par with K-12 teachers. The programs must also prioritize parent engagement, offer wraparound services and be inclusive to children with special needs.
While Nevada's federal pre-K development grant has expired, it does have a federal planning grant that could lay the groundwork for another federal grant to support early childhood education in the future. Nevada officials aren't holding their breath that the federal government will support the more expensive implementation phase, though; Oya said she expects only a fraction of the states that received the planning grant to receive an implementation grant.
No groundwork for more classroom space
One of the biggest challenges for pre-K programs is a lack of building space on traditional school campuses to accommodate more children.
Jared Busker of the Children's Advocacy Alliance acknowledged in a hearing that even if the state found $200 million to fund pre-K, there aren't enough buildings or enough teachers to bring it to life.
SB253 would have created the Prekindergarten Improvement and Expansion Program and provided $8 million over the biennium to help purchase portables, remodel and renovate spaces to create classrooms, and purchase furniture and supplies. Up to 10 percent of the funding could also be used to support the training of early childhood education teachers.
But the measure died in committee, frustrating advocates who had hoped it could generate additional investments.
"This would've put some state investment so the City of Las Vegas could do matching funding and it would incentivize other local jurisdictions," Tanata said in an interview. "We were disappointed that it did not move forward."
Early childhood education lost the battle for funding to K-12 education
Advocates for pre-K saw a glimmer of hope when lawmakers included $16 million in funding for such programs in a bill extending the current rate of the modified business tax (MBT).
But with a day left in the session, lawmakers scrapped that plan, amending the bill to tie revenues from the payroll tax extension to school safety initiatives, the Opportunity Scholarships program and — primarily — to carry out pay raises for K-12 public school teachers.
Tanata notes that the early childhood advocacy community doesn't have the lobbying clout of school districts and K-12 advocacy groups and struggles when it becomes a battle of either/or.
"I really think moving forward it's looking to not trying to pit these different groups together at the end of session, but coming together to identify what kids need in a holistic way and how do we increase the revenue pie," she said. "Not just trying to make decisions about what's more important."
Tanata said a pre-2019 interim committee showed significant interest in early childhood education, visiting pre-K sites and exploring the program. She sees improvement in her 20 years working in the field, but says it's still hard to ensure the issue scores a spot on the priority list alongside popular progressive initiatives such as raising the minimum wage.
The programs also face resistance from critics who say parents should be in charge of teaching basics such as the alphabet and early reading, not the state. Opponents also cite research that gains made by children in Head Start faded over the course of several years.
Busker, also of the Children's Advocacy Alliance, told lawmakers that while there is research suggesting the gains from pre-K may fade over the course of several years, it could be because teachers were focused on helping children who were further behind because they did not have preschool under their belts. He added that there is plenty of other research showing the programs' benefits.
Foster families did not get new funding to support child care
Democratic Assemblywoman Daniele Monroe-Moreno sponsored a bill that would have required the state to cover foster children with the child care subsidy and increased the reimbursement rate for child care providers serving children with disabilities. It aligned with Sisolak's promise in his State of the State address to allocate extra funding to the estimated 2,000 foster family homes in the state.
Monroe-Moreno said she brought forth the legislation after foster families from her church explained their difficulties managing the out-of-pocket costs of child care for children they took into their homes.
But after the Division of Welfare and Supportive Services testified that reallocating money to foster families and children with disabilities would force them to forgo 30,000 "member months" of service and prevent them from adding any new children to the program for the rest of the biennium, the bill was watered down.
The bill as approved allows the child care subsidy to flow to families in which a parent is trying to finish an educational or vocational program that leads to a degree or certificate, if there are sufficient funds in the program.
Stories
Candidate Trackers
Endorsements, Ads, Policies, Visits
& More
visit now
Comment Policy (updated 10/4/19): Please keep your comments civil. We reserve the right to delete comments or ban users who engage in personal attacks, use an excess of profanity, make verifiably false statements or are otherwise nasty.