Trump threatens legal action against just-signed Nevada elections bill expanding mail-in voting, ballot collecting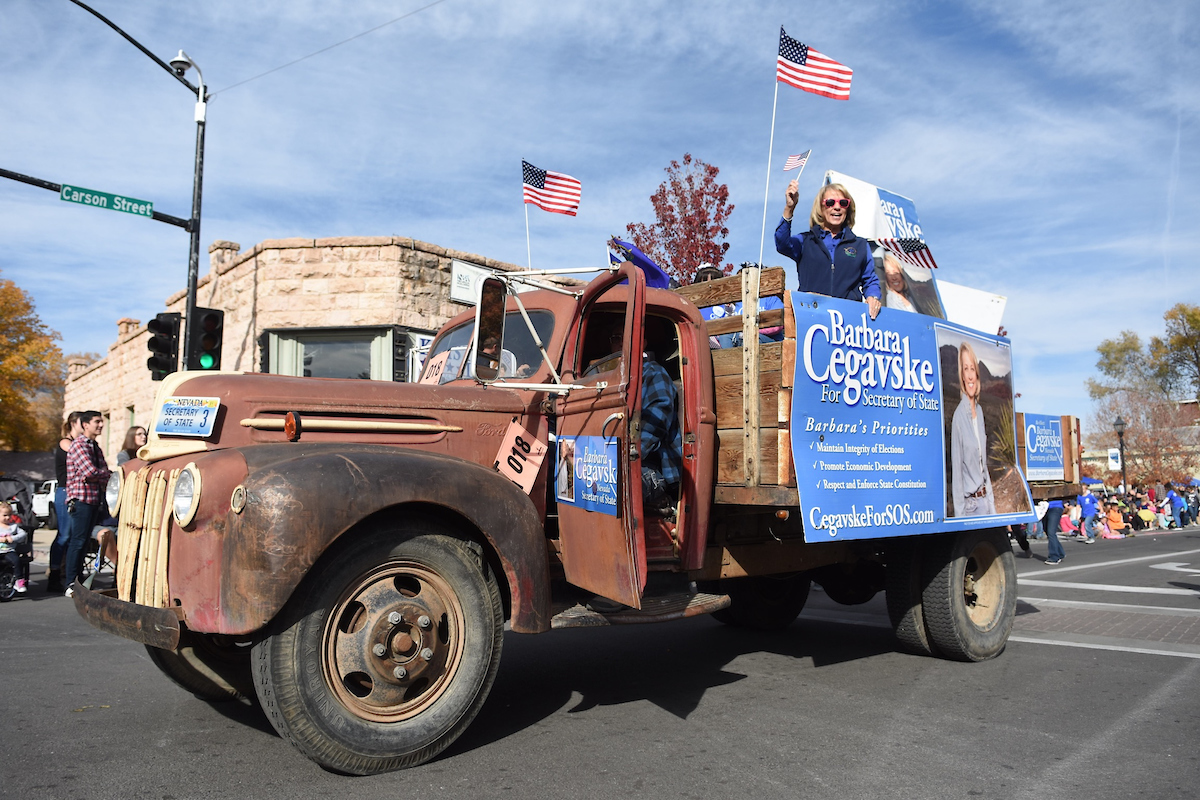 President Donald Trump doubled down on his criticism over Nevada's move toward a mostly mail general election during a press conference Monday, saying he expected a lawsuit would drop Tuesday against a bill that passed the Assembly and Senate on party lines over the last few days and was signed into law on Monday.
Trump's remarks, made at the White House, came after he wrote two tweets in two days on the issue, including one that called actions from the Legislature during an ongoing special session "an illegal late night coup." He also asserted falsely that there were no public meetings, though the bill was vetted by the Senate and Assembly in hearings that involved lengthy periods of public comment via phone because the legislative building is largely closed to the public in an effort to prevent the spread of COVID-19.
"Two nights ago, they went out and in the darkness of night without people, without having any meetings of the public, without having anything, they approved a ridiculous — you don't have to look at signatures, you don't have to approve anything, you can have double mailings, you can have all sorts of things," Trump said at the press conference. "Nobody's ever seen anything like it. it's a disgrace. Honestly it's a disgrace."
The bill, AB4, specifies that in the November general election, and any others that happen in the wake of a statewide emergency or disaster directive, election officials will send all active registered voters a mail-in ballot. It passed the Senate on Sunday, and Democratic Gov. Steve Sisolak's announced Monday that he signed it.
"Nevada is widely recognized as being a leader in election administration, and this bill will enable election officials to continue to support the safest, most accessible election possible under these unprecedented circumstances," the governor said in a statement. "I am confident that Secretary of State Cegavske, in coordination with local clerks and registrars, will run a safe, fair and accessible election this November."
Trump's remarks on Monday wrongly implied that there is no signature verification of mail-in ballots. AB4 details a process by which election officials check the signature of a voter on a mail-in ballot against the voter signature they have in government records.
The process of signature verification, which includes an opportunity for the voter to correct the issue if their ballot is flagged for mismatched signatures, ultimately disqualified nearly 7,000 ballots during the mostly mail June primary.
In the days leading up to the ongoing special session, Republican Secretary of State Barbara Cegavske had signaled that she hoped to move back to a more traditional general election rather than use the format from the primary that involved widespread distribution of mail-in ballots. Her office, asked about Trump's remarks, said only in a statement that they had not been informed of any pending lawsuit.
"The Nevada secretary of state has not been in contact with anyone in Washington, D.C. about a potential lawsuit in response to the passage of Assembly Bill 4," Cegavske's office said.
The Clark County Elections Department, asked about the president's comments on Monday, only reiterated its plans to send mail-in ballots to all active registered voters and set up regular polling places for in-person voting during early voting and on Election Day if AB4 is signed into law as expected.
The county plans to have 35 polling places open each day of early voting, in addition to more than 150 polling places on Election Day, in line with provisions of the bill calling for substantially more in-person voting sites.
That marks a significant change from the primary, in which Clark County had three in-person sites on Election Day and Washoe County had one, leading to long lines in those two most populous counties.
During the press conference, Trump additionally suggested — as he did in a tweet early Monday morning — that the U.S. Postal Service would not be able to handle processing the mail-in ballots.
"They have old equipment, very old equipment, and I don't think the Post Office is prepared for a thing like this," Trump said.
Sisolak, during a press conference Monday evening, called Trump's assertion "crazy, quite frankly." The Postal Service told CNN on Monday that it has enough capacity to process mail-in ballots come November.
"I mean the Postal Service delivers a lot of mail, we're talking about a minimal amount of mail in the overall scheme of things that the Postal Service delivers," Sisolak said. "They deliver sample ballots I'm sure they'll do a fine job, delivering these ballots."
Sisolak added that he was "proud" of AB4 and that he is confident that it will be "well received."
"It is extremely important to me that our citizens do not have to decide between their health and the right to vote," Sisolak said. "Their ability to exercise their right to vote is extremely important to me. I think that this bill encompasses that makes it easier for people to vote."
In the June primary, Nevada processed 483,788 mail-in ballots returned by voters. That number is expected to go up in the general election.
Trump suggested that it would be impossible to know the results of the general election in Nevada because of the massive number of ballots that would be cast.
"You'll have somebody like the governor of Nevada come out with this massive plan, out of nowhere to take millions of ballots and send them all over the place," Trump said. "You'll never know who won that state."
Clark County spokesman Dan Kulin said in an email that the canvass of the election, when results are formally accepted as final, will take place on Nov. 16.
Earlier Monday, Trump referred to Sisolak as a "clubhouse Governor" in a tweet about the legislation.
"In an illegal late night coup, Nevada's clubhouse Governor made it impossible for Republicans to win the state," the president wrote on Twitter. "Post Office could never handle the Traffic of Mail-In Votes without preparation. Using Covid to steal the state. See you in Court!"
But former Democratic Senate Majority Leader Harry Reid issued a scathing statement against the president on Monday, saying he was proud of Nevada's Democratic legislative leaders and saying Trump "has no integrity and no scruples."
"That's why he's lying about our state leaders and threatening a bogus lawsuit simply because Democrats made it easier for people to vote," Reid said. "His desperate tweets are the clearest sign he knows he's going to lose in November."
Democrats say that in light of the pandemic, Nevadans should have as much opportunity as possible to cast their ballot without showing up in person to a polling place and risking potential exposure.
Republicans have argued that a process already exists for people to request an absentee ballot if they fear exposure through in-person voting. They also have raised the specter that the mail-in system will propagate fraud, especially because AB4 allows non-family members to help seniors or people with disabilities fill out their ballot and turn it in (existing law required such assistance come only from a family member).
The changes are being made during a special session of the Legislature, which is convening months in advance of its Spring 2021 regular session to deal with a variety of policy issues, including changes to the state's unemployment law as Nevada experiences record joblessness, and implementation of a program to carry out mediation for people facing evictions.
Democratic Senate Majority Leader Nicole Cannizzaro and Assembly Speaker Jason Frierson issued a statement on Sunday decrying Trump's tweet from that day that called AB4 "outrageous," and another from Republican National Committee Chairwoman Ronna McDaniel. The lawmakers called the statements "disgraceful and patently false."
"This is a clear fear mongering attempt by the GOP to suppress voters this November as part of an effort to shield themselves from the backlash of a failed administration," the leaders said.
As of June, Nevada has about 1.9 million registered voters, and 1.6 million of them are in "active" status, under which they would receive a mail-in ballot through the provisions of AB4. Among active voters, 33 percent are registered Republican, 39 percent are registered Democrats and 23 percent are registered nonpartisans.
The Nevada Independent is raising $200,000 by Dec. 31 to support coverage of the 2024 election.
Tax-deductible donations from readers like you fund this critical work.
If you give today,your donation will be matched dollar-for-dollar.
Give + Get Matched
Featured Videos