Poll: Majority approve of Lombardo's early job performance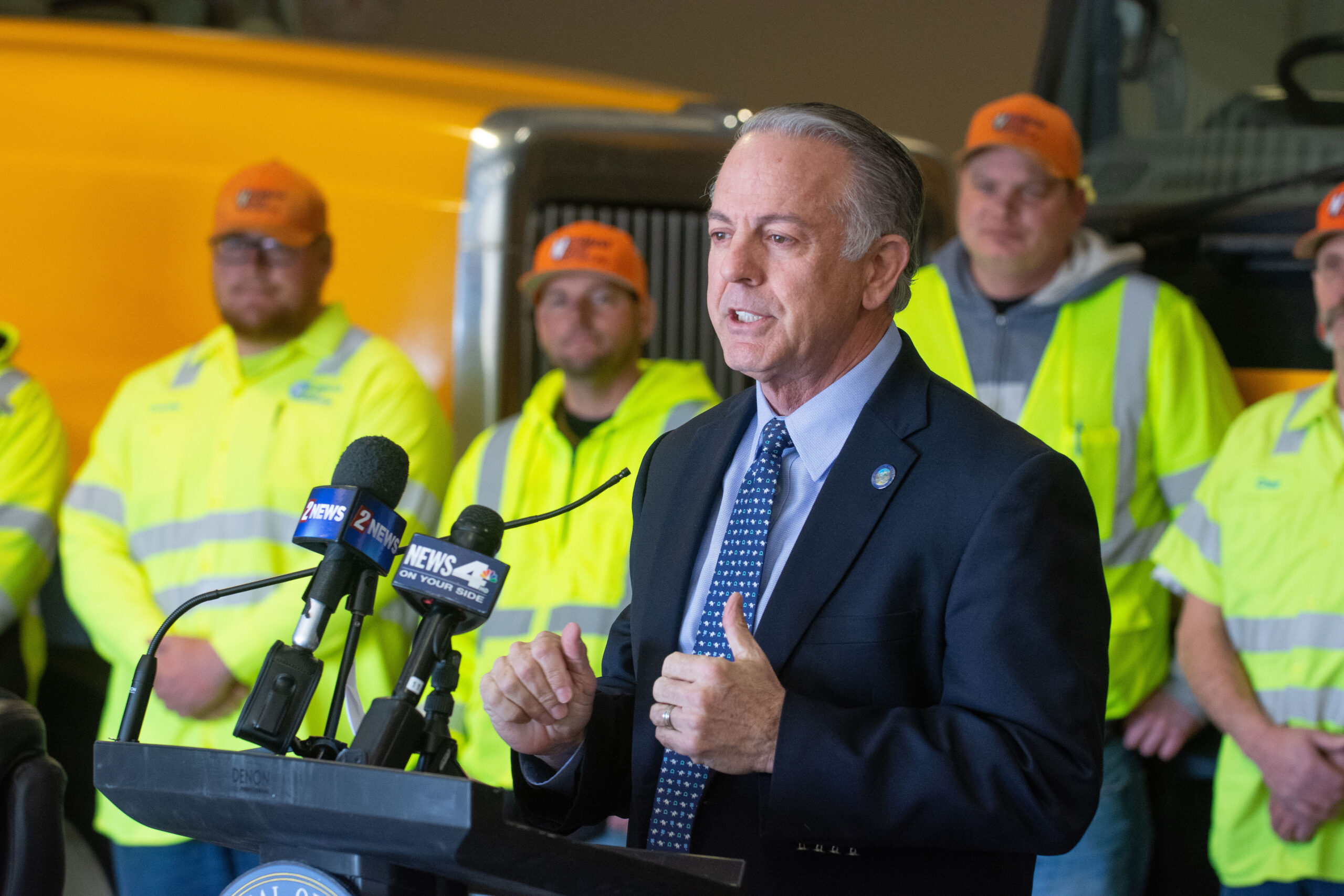 Just over half of Nevadans say they approve of Gov. Joe Lombardo's job performance four months into his term — even as a fifth of Nevadans say they still haven't made up their mind on the state's new Republican governor.
A Nevada Independent/Noble Predictive Insights poll of likely voters released Wednesday pegged Lombardo's approval rating at 51 percent and disapproval at just 28 percent, a net positive approval of +23.
Of those respondents, however, only 16 percent said they "strongly approve" of Lombardo's performance, while another 35 percent said they "somewhat approve." Another 21 percent of respondents said they have "no opinion."
The online, opt-in panel survey was conducted from April 18-26, and included a sample of 613 likely Nevada voters, with a margin of error of 4 percent.
The poll comes as Lombardo has remained mostly above the legislative fray, descending into the Legislature in large part only when his office's bills are being debated. Those bills include major parts of his campaign agenda, including the sweeping expansion of the state's school choice infrastructure, a crackdown on criminal justice policies he has characterized as "soft on crime" and large new investments in an executive branch overhaul.
That distance from legislative controversy sets Lombardo apart from other governors in nearby states, who have publicly and bitterly clashed with legislators over the last few months, according to Mike Noble, chief research and managing partner of Noble Predictive Insights, which is based out of Arizona.
"I think you all have had less public bouts, where in Arizona — heck, they just expelled a Republican legislator," he said. "Things are getting wild down in our capital."
In Nevada, by contrast, much of the conflict has appeared at the edges, as Democratic lawmakers have used committee hearings to poke holes in key Lombardo legislation, and as Lombardo's Better Nevada PAC has sought to pressure Democrats online and in the media.
But, Noble said, Lombardo is likely benefiting from simply being a new politician in office.
"Lombardo and [Democratic Arizona Gov. Katie] Hobbs are very similar in that I think they're in that kind of honeymoon period right now, and that honeymoon period typically lasts for about six to eight months," Noble said. "And we'll start seeing the voters who don't have an opinion start moving once that period is over."
Lombardo's approval also differed widely among genders — it was as high as 61 percent among men, compared with just 42 percent among women — as well as by region. Lombardo's highest marks came from the state's rural counties (70 percent approval), followed by Clark County (50 percent) and Washoe County (42 percent). 
The governor's approval was also predictably stratified by party identification. Seventy-nine percent of Republicans approved of his job performance, while just 9 percent disapproved. Among Democrats, just 34 percent approved compared with 46 percent who disapproved. Independents gave more mixed marks: 44 percent approval, 28 percent disapproval and 28 percent no opinion.
On specific issues, Lombardo's approval varied — but still largely remained above water.
Among his strongest issues was the economy, where 51 percent of respondents approved of his performance and 32 percent disapproved; 17 percent had no opinion. Lombardo entered office as the state continued its post-COVID recovery — an economic boom that has seen record performance on the Las Vegas Strip and the expansion of Northern Nevada's industrial corridor. However, though Nevada's unemployment has fallen sharply from its pandemic peak, it still remains the highest of all states, at 5.5 percent as of March.
Asked how well Lombardo handled gun policy, however, just 42 percent approved and 38 percent disapproved.
On the campaign trail, Lombardo saw the backing of major gun groups, including the National Rifle Association — even as he supported some gun control measures. That included backing universal background checks for gun purchases in 2021, while still signaling openness at the time to undoing major gun control laws, including calling for repealing the state's red flag law and undoing a ban on unregistered "ghost guns."
Lombardo's office has yet to signal how he may receive a trio of Democrat-backed gun bills, including measures that would raise the legal age to buy semi-automatic rifles and shotguns, close a legal loophole that has stymied the the state's ghost gun ban and restricting access to guns for those convicted of a hate crime.
Instead, in the wake of an initial hearing last month, his office issued a now-standard reply to inquiries about his stance: "We'll monitor all bills as they work through the legislative process and engage when we feel necessary."
When asked about Lombardo's performance on environmental issues, voters broadly approved — though with slightly higher disapproval marks. In all, 42 percent of respondents approved, compared to 32 percent who disapproved and 26 percent who had no opinion. Among those who approved, most — 28 percent — only "somewhat" approved, compared to 14 percent who "strongly" approved.
As governor, Lombardo has walked two paths on environmental issues. As water authorities across the Southwest grapple with the political and economic entanglements of the worsening water crisis on the Colorado River, Lombardo has sought to cast himself as an active participant in the process, promising in his State of the State address to be "more involved" in future river negotiations.
Voter pluralities or majorities in the poll expressed concern over the state's long-term water supplies and climate change. That includes 46 percent of respondents who believed the state was "not doing enough" to address climate change, compared with 25 percent who said the state was "doing the right amount" and 11 percent who said the state was doing "too much."
When asked about the state's long-term drought, 87 percent said they were concerned — including 41 percent who were "extremely" concerned, and another 26 percent who were "moderately concerned."
Asked specifically about decreasing water levels on the Colorado River, 86 percent of respondents were concerned, including 53 percent who said they were "very" concerned, compared with just 10 percent who said they were "not very concerned."
Most recently, Lombardo has moved to roll back key portions of the state's climate plan put into place under his Democratic predecessor, Steve Sisolak. That included an executive order in late March that called for a "balanced" state energy portfolio that more readily embraced natural gas.
At the same time, his office pledged to review and revise the state's climate plan, including a pledge from the Sisolak administration to reach net-zero greenhouse gas emissions by 2050.
Even as the Legislature — which is controlled by a Democratic supermajority in the Assembly and near-supermajority in the Senate — has clashed with Lombardo, the poll found the body's favorability ratings remained relatively high.
Overall, 57 percent of respondents viewed the Legislature favorably, compared with just 23 percent unfavorable, with 18 percent having no opinion. Both opinions were dominated by "somewhat" responses, including 45 percent of likely voters in the "somewhat favorable" camp, and another 18 percent in the "somewhat unfavorable."
However, party identification had only a moderate effect on the opinions of the Democrat-dominated Legislature.
A supermajority of Democrats viewed the Legislature favorably for a net favorability of +50 (67 percent favorable, 17 percent unfavorable). But Republicans also viewed the body favorably at a net +17 points (50 percent favorable, 33 percent unfavorable). Independents, by comparison, sat at a net +34 (55 percent favorable, 21 percent unfavorable).
The Nevada Independent is raising $200,000 by Dec. 31 to support coverage of the 2024 election.
Tax-deductible donations from readers like you fund this critical work.
If you give today,your donation will be matched dollar-for-dollar.
Give + Get Matched
Featured Videos