Democrats press governor's office on bill to expand school choice, hold back students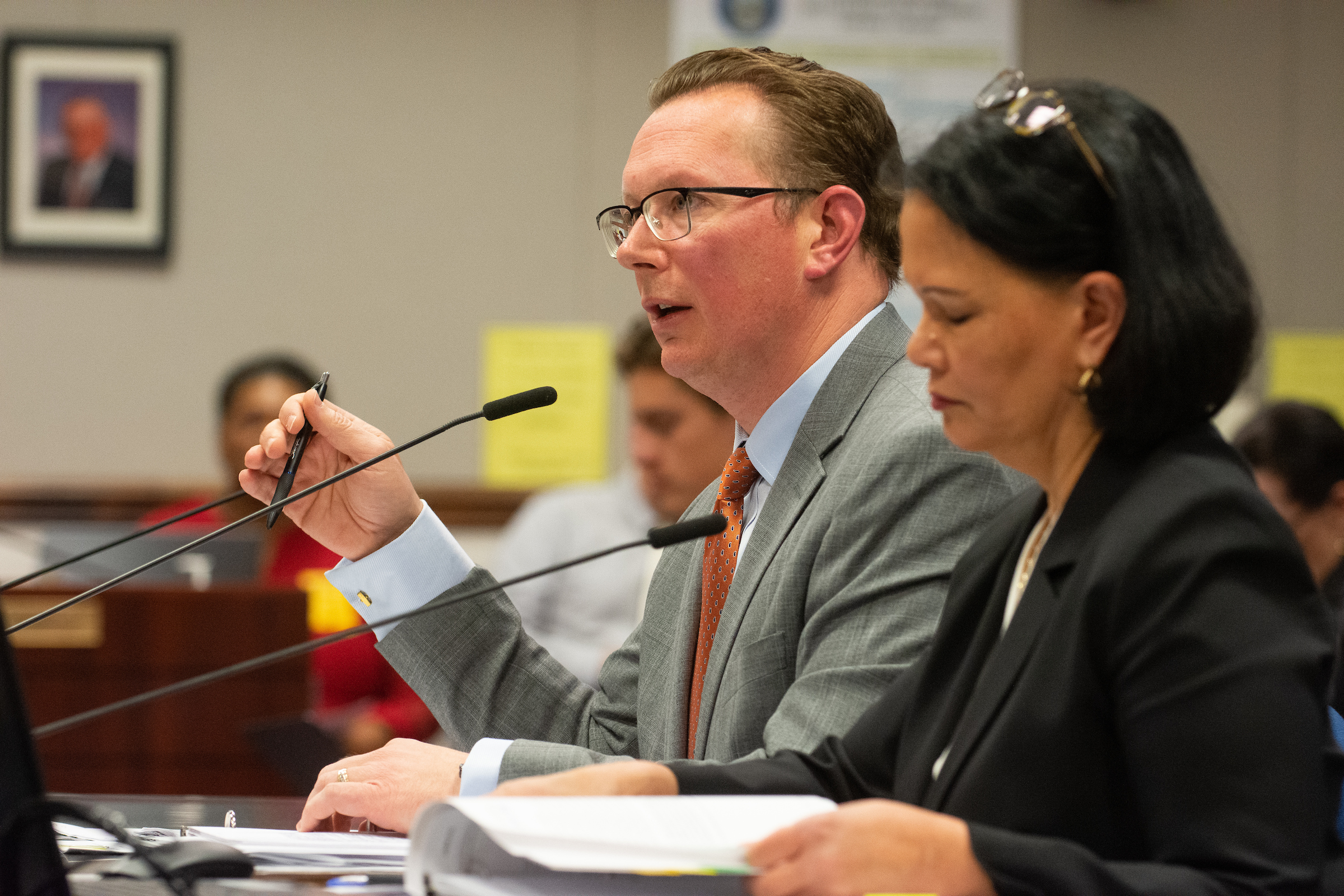 In an hourslong hearing Wednesday, legislative Democrats pressed Gov. Joe Lombardo's staff over a sweeping, 95-page omnibus bill aiming to implement the bulk of the governor's K-12 education agenda — including a massive and contentious expansion of school choice scholarships.
The hearing marked the first public sparring match between a Republican governor who staked his campaign on promises to fix Nevada schools and expand school choice programs, and a Democrat-controlled Legislature that now wields control over the bill implementing much of that agenda.
It also comes as lawmakers continue to wrestle with an expected $2 billion increase in public school funding headed to districts through implementation of the new K-12 funding formula, the Pupil-Centered Funding Plan, shepherded into law by Democrats in 2019. The funding boost is central to Lombardo's agenda.
AB400, presented Wednesday evening in the Assembly Ways and Means Committee, spans four major policy areas and more than a dozen minor ones. That includes the school choice expansion, the creation of the Office of School Choice, the expansion of teacher training pipelines, the re-implementation of provisions that would hold back elementary students who cannot read at grade level and new K-12 accountability measures.
Lombardo Chief of Staff Ben Kieckhefer argued the measure "goes hand in hand" with the governor's recommended budget, which includes $2 billion in additional education funding for the next biennium, up 22 percent from the last budget cycle.
"With this investment comes a heightened level of expectation for Nevada students and unprecedented accountability for Nevada school districts and their leadership," he said. "We cannot set high expectations and demand accountability, however, without providing the fiscal and policy support necessary for success."
But key Democratic lawmakers — including Assembly Speaker Steve Yeager (D-Las Vegas) — picked the bill apart Wednesday, in particular questioning the bill's expansion of school choice funding.
Major business groups, city governments and even the state's largest teachers union — the Clark County Education Association — lined up behind the bill.
That included CCEA Executive Director John Vellardita, who was among a half-dozen community proponents presenting the bill Wednesday on behalf of the governor's office.
But the bill has also drawn sharp criticism from progressive groups and another major teachers union, the Nevada State Education Association (NSEA), which has opposed most of the bill's major provisions including those on school choice and charter schools.
"With AB400, Governor Lombardo has dusted off a failed voucher scheme that will do nothing to improve the quality of public education in Nevada," NSEA said on its website.
Click to jump to key issues in the bill: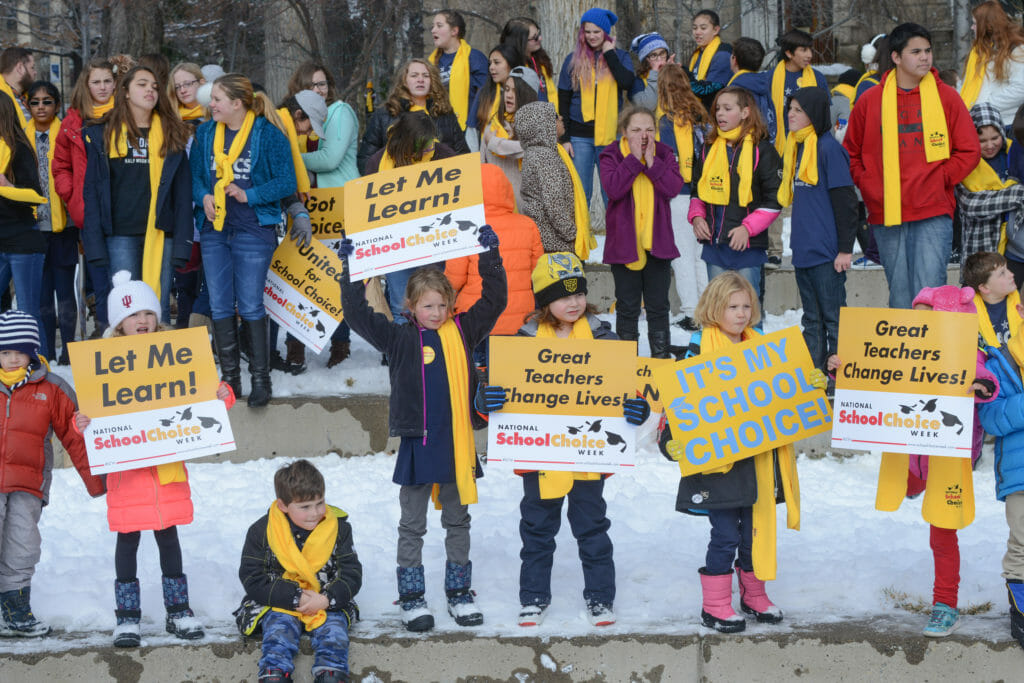 School choice expansion
Among the most substantial — and politically controversial — changes made by AB400 is a vast expansion of state funding for the Nevada Educational Choice Scholarship Program, more often referred to as Opportunity Scholarships.
Those scholarships, as designed now, provide a limited amount of money to low- and middle-income families to subsidize tuition at dozens of Nevada private schools, including private religious schools. Just over 1,400 students received scholarships in 2022.
Existing guidelines limit access to Opportunity Scholarships to families under 300 percent of the federal poverty line, or roughly $83,000 for a family of four in 2022. Qualifying families can then receive up to a maximum of $8,726 annually in scholarships from one of six participating scholarship organizations — though the actual amount awarded to individual students varies widely, according to reports from the Nevada Department of Education.
But under AB400, that qualifying threshold would jump to 500 percent of the poverty line, or about $150,000 for a family of four. In tandem with the increase, the bill would link the cap on funding for the scholarships (a pool generated by corporate donations exchanged for state tax credits) to a percentage of the state education fund rather than a static dollar amount, increasing that percentage incrementally up through the 2031-32 fiscal year.
That percentage would increase from 0.5 percent in the first biennium (roughly $50 million, or nearly quadruple current appropriations of around $13.2 million) to 5 percent by 2032 — or roughly $500 million per biennium.
Speaking to reporters in advance of the bill hearing on Tuesday, Kieckhefer justified the move as one explicitly designed to subsidize the cost of private schools for more families, including characterizing the new $150,000 threshold as middle class income.
"School choice is a reality, it's just primarily available for wealthy people," Kieckhefer said. "And Opportunity Scholarships make it available for low-income people. We think that choice should be available to everyone, and expanding it into middle-income households does that."
But Yeager pressed Kieckhefer on that expansion during Wednesday's hearing, noting the new threshold is more than double the median Nevada household income of $62,000, and arguing that the state shouldn't invest tax dollars in private schools before lawmakers had met existing public education funding goals.
"We're having a conversation about school choice, but you're asking us to make the choice to take the state's money, the tax revenue, and not put it into the public education system that we all agree is underfunded, and even in the best of circumstances is probably going to take another five years to get there per the Commission on School Funding," Yeager said.
Democrats on the committee also challenged the use of general fund money for religious schools, and raised questions over whether or not the use of Opportunity Scholarships evaded constitutional provisions prohibiting direct spending of state dollars on private schools.
Separately, the bill would also create the Office of School Choice. Designed to provide information and support to a variety of public and private school options including management schools, private schools, micro schools, virtual schools and home-schools, the office would also work with the State Board of Education and the State Public Charter School Authority to increase access to school choice options "that produce educational outcomes that are above average for pupils."
The director of that office, a new position created by the bill, would be appointed by the governor.
The expansion of Opportunity Scholarships comes as the most concrete effort by Lombardo to make good on campaign promises to champion school choice policies — but without touching state funding for public K-12 schools. It also marks an abandonment of previous efforts by state Republicans to enact a different school choice policy: Education Savings Accounts (ESAs).
First approved under Republican control of the Legislature in 2015, the program was technically spared by state courts in 2017, but the funding mechanism for the accounts — similar in concept to school vouchers — was not. Democrats later used a legislative trifecta in 2019 to eliminate the program altogether, and Republican lawmakers under Lombardo's stewardship have so far shown little appetite to revisit the concept this year. A measure from Sen. Scott Hammond (R-Las Vegas) to revive ESAs, SB200, has been exempted from legislative deadlines, but otherwise remains unheard by lawmakers in the Senate.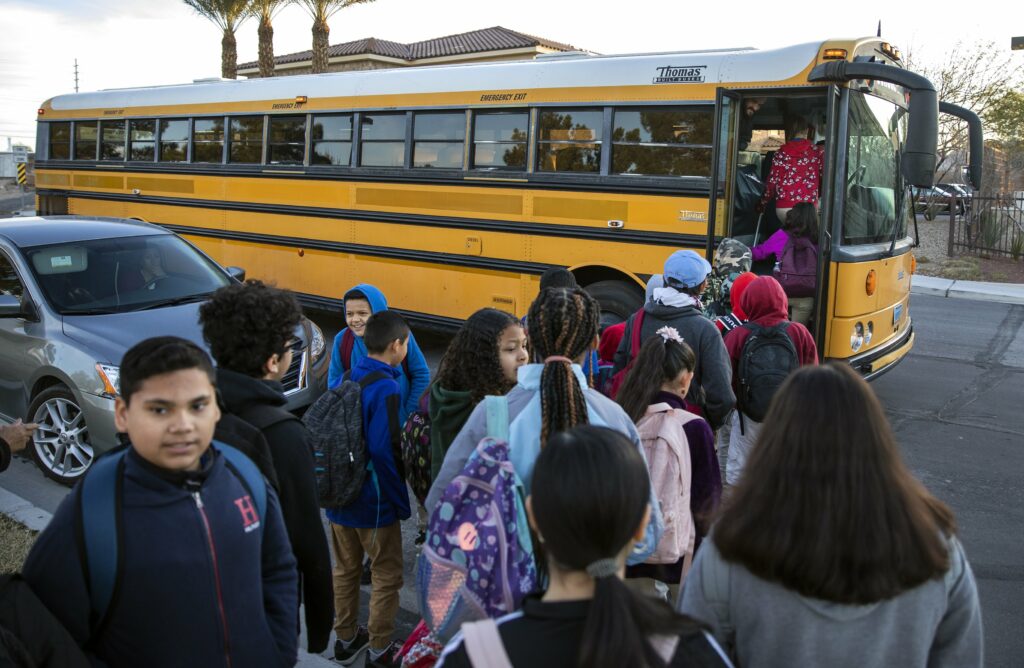 Charter schools and zoning
The bill would also allow certain charter schools to receive funding for transportation under the Pupil-Centered Funding Plan. In order to receive funding, charter schools would need to submit a "financially viable" plan to the Nevada Department of Education for approval. The bill states charter school transportation costs should not exceed, on a per-pupil basis, the average cost for transportation for other public schools operating in the school district in which the charter school is located.
The State Public Charter School Authority (SPCSA) said only a handful of charter schools offer transportation services to their students since these types of public schools aren't required to provide transportation options and don't receive this type of state funding. Charter school officials say if they did receive state support to offer transportation, they believe it would help diversify their schools by making their campuses accessible to more families.
Separately, the bill also seeks to enable a city or county to sponsor a charter school — a provision backed during the hearing by the mayors of both North Las Vegas and Henderson.
Kieckhefer told reporters that the development of charter schools could address overcrowding in public schools. He added that the governor's office is also looking to add tribal governments to the list in a possible future amendment, and that AB400 would not amount to funding of charter schools by those municipalities. Lance West, co-founder and executive director of the nonprofit Indigenous Educators Empowerment and member of the Pyramid Lake Paiute Tribe, said he welcomed the inclusion of tribal governments.
"I'm tired of seeing such poor academic achievement from my Native relatives occurring over and over," he said. "It is time for options."
But the proposal comes in opposition to SB344, a bill from Sen. Dina Neal (D-North Las Vegas) that would explicitly prevent cities and counties from funding or operating charter schools, barring several grandfathered exceptions in Las Vegas. In a floor speech Tuesday, Neal argued the bill would prevent city governments from diverting money for critical services toward charter schools otherwise not under their jurisdiction.
But the bill drew stiff opposition from Senate Republicans, and it only advanced ahead of a major bill deadline this week on a party-line vote of 13-8.
The bill also seeks to wholly roll back the existing zoning variance process, creating an open-zoning regime that would allow students to freely move between schools so long as space allows.
"We don't believe that students should be hard zoned into failing schools based on their ZIP code," Kieckhefer said. "They should be able to enroll there without a burdensome variance process that currently restricts people's access to other schools within the district."
Under the bill, school districts would not be required to offer transportation to students who attend a school other than the school they are zoned for.
Groups such as Power2Parent came out in support of the bill's expansion of school choice. The organization's executive director, Erin Phillips, shared the story of a mom who wanted to enroll her children into charter school to get them out of a school where they faced bullying and low grades, but wasn't able to because of long wait lists.
"Her children are still floundering in schools and classrooms that are not meeting their needs because of their ZIP code," Phillips said. "AB400 is an investment in education and a way out for some of these middle- and low-income families who don't have time to wait for us adults to figure it out."
But Michelle Booth with the Rogers Foundation, which has successfully blocked ESAs through legal challenges, said her organization is strongly opposed to the governor's bill because it "diverts more public dollars to unaccountable and discriminatory private schools."
"Private schools can continue to discriminate against students for almost any reason, such as being LGBTQ or special needs children," she said. "School choice is actually the private school's choice."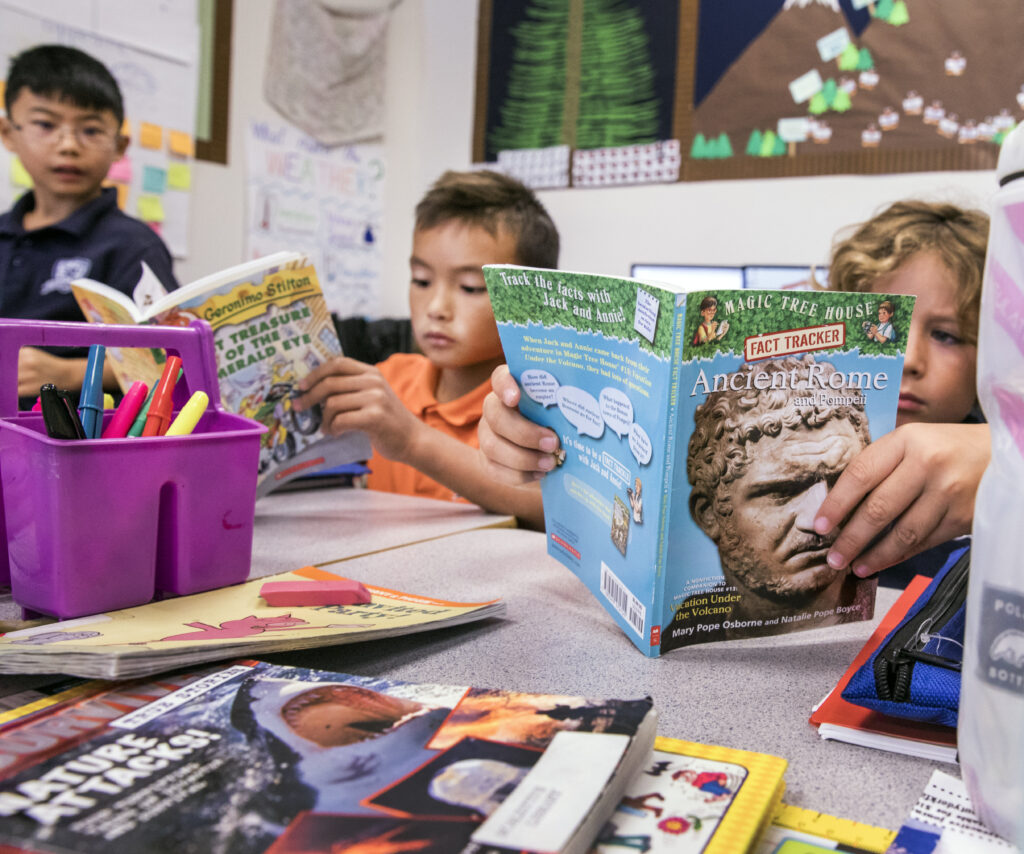 Early childhood literacy
AB400 seeks to bring back a 2015 policy to hold back third graders who aren't reading at grade level implemented under Republican Gov. Brian Sandoval, and repealed in 2019 through a Democrat-backed bill.
That repeal came in large part, proponents argued at the time, because of growing concerns that thousands of third grade students were on the brink of being held back in one fell swoop once the hold-back provisions kicked in — even as educators broadly praised the program for the large investments in youth literacy programs. About 15 percent of all students were scheduled to be held back based on testing, with many of the lowest-scoring students were also English language learners or students with disabilities.
But as the pandemic and policy decisions surrounding it roiled Nevada schools, Lombardo's campaign seized on Read by 3 as an early campaign tentpole, including criticizing the Sisolak administration for including the program as part of COVID-era budget cuts.
The bill includes language that would provide other routes and exemptions for a student to be promoted to fourth grade. In the event that a student doesn't show improvement in reading after being retained, the student's family would also have the option to move them to a transitional setting where they can continue working on their reading skills while keeping up with fourth grade learning standards.
Last school year, about 44 percent of elementary schoolers statewide were proficient in English Language Arts, according to state data.
Assemblywoman Sarah Peters (D-Reno) raised concerns about reinstating the hold-back provisions, especially by creating "damaging emotional delays in children that maybe we don't understand completely."
Kieckhefer, in response, argued it was "necessary and appropriate," in part because Nevada students were both capable of meeting the grade-level reading standards, and because "we need to have the sense of urgency that goes along with this policy."
"It's a way not just to hold children accountable and schools accountable, but hold ourselves accountable," Kieckhefer said.
Still, it could be years before the new hold-back provisions take effect. Kieckhefer told reporters that the governor's office is targeting 2028 as a potential implementation date, a provision that would come in a forthcoming amendment to AB400.
"We know that many children are not entering kindergarten ready to learn and we cannot establish retention policies in the third grade if we do not provide resources necessary to get those children prepared for success," Kieckhefer told the committee.
Another section of the bill creates the Early Childhood Literacy and Readiness Account, and authorizes the education department to award grants to support early childhood literacy and readiness programs. The money for the account will be funded through excess money from the state's education rainy day fund, the Education Stabilization Account, to the tune of $123 million.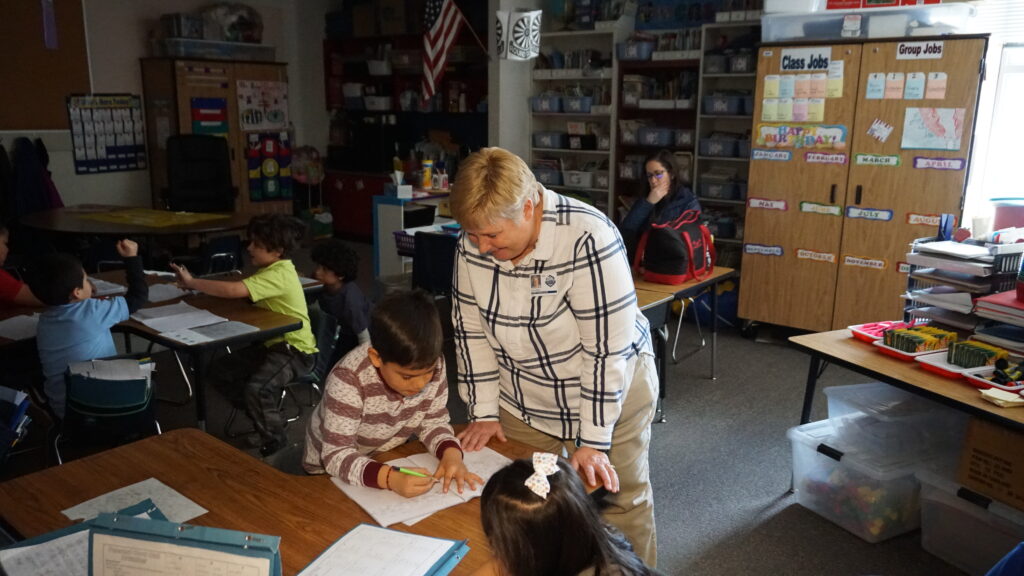 Teacher pipeline
The bill includes various efforts to grow the state's teacher pipeline amid the statewide teacher shortage. Those efforts include a measure that would require the Clark County School District to create a career and technical education program for students interested in becoming teachers. It also allows, but doesn't require, other school districts to create similar programs. Under these programs, students have the opportunity to earn college credits through enrollment in dual credit courses at a partner institutions.
Another section of the bill makes changes to the Teach Nevada Scholarship Program, which provides support for college students looking to become teachers, including raising the maximum scholarship amount to match the cost of receiving a bachelor's degree at a Nevada public university. It would also allow a scholarship recipient to receive the 25 percent of scholarship money retained by the State Board of Education after maintaining employment at a private school in Nevada for five years.
The bill would also create the Nevada Teacher Advancement Scholarship Program, structured similarly to the Teach Nevada Scholarship Program, that would provide financial support for educators seeking to obtain a master's degree in education or related field of study. It also requires the State Board of Education to retain 25 percent of the scholarship award, which would later be released to a scholarship recipient if they taught at a Nevada public or private school for three consecutive years.
Kieckhefer said Lombardo is also looking to "stop the bleeding" through a provision that would enable the governor to declare a critical labor shortage in certain positions at a school district or charter school. This would enable retired teachers to return to the job without blocking them from receiving pension payments.
"We're not going to fix our educator vacancy crisis with any one strategy," Vellardita said. "This is an approach that tries to find an immediate fix, and it can have an immediate effect on our high-vacancy schools as it exists today."
Accountability
Lombardo has stressed that the proposed additional $2 billion for K-12 education in the coming biennium must come with accountability. To that end, one section of the bill directs the Commission on School Funding to review student academic progress using metrics such as graduation rate, standardized test scores, dropout rates and the number of students who enroll in higher education upon graduation.
Under the bill, the commission would also make recommendations for strategies to increase the "efficacy, efficiency, transparency and accountability of public schools." Another provision requires districts and charter schools to submit quarterly reports to the commission on how they are using state funding to improve academic performance.
Assemblywoman Sandra Jauregui (D-Las Vegas) expressed concerns about the "significant workload" the bill would add to the commission. But Kieckhefer said there was a million-dollar appropriation in the bill that would support the work.
Committee Chair Daniele Monroe-Moreno (D-North Las Vegas) also pressed Kieckhefer on the scope of "remedial actions" that the governor could take against certain schools, and whether there were any limits on how the governor could exercise that power.
The Nevada Independent is raising $200,000 by Dec. 31 to support coverage of the 2024 election.
Tax-deductible donations from readers like you fund this critical work.
If you give today,your donation will be matched dollar-for-dollar.
Give + Get Matched
Featured Videos