Bills adding Nevada to national popular vote compact, banning private prisons pass ahead of deadline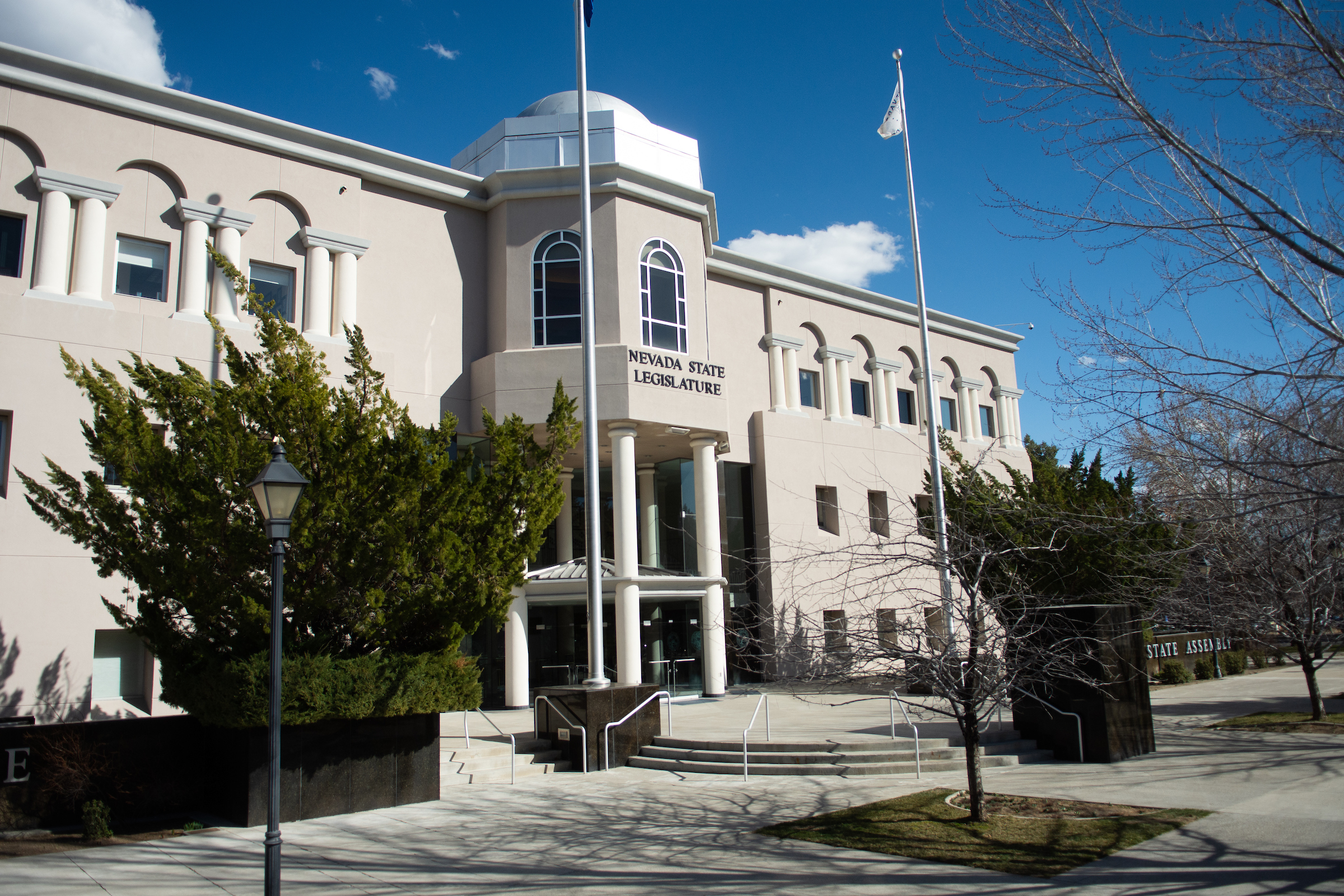 Bills decriminalizing abortion, banning private prisons by 2024 and pledging Nevada's six electoral votes to the winner of the national presidential popular vote all cleared their final legislative hurdles on Tuesday as lawmakers creep closer to Friday's floor passage deadline.
Legislators approved close to 30 bills on Tuesday, including measures requiring suicide prevention plans for public and private schools, revising a contentious 2017 opioid prescribing law and prohibiting settlements from excluding information on illicit sexual conduct or sex-based discrimination.
As they have done throughout the week, lawmakers have canceled most of their normally scheduled committee meetings in order to reserve more time for marathon floor sessions. But some pieces of legislation are still making their way through the legislative pipeline, including a paid time-off bill SB312, which is up for an initial hearing in the Assembly Commerce and Labor Committee.
Here's a look at what bills passed the Senate and Assembly on Tuesday.
AB186: National Popular Vote
Nevada's six electoral votes for president could soon be pledged to the winner of the national popular vote after the state Senate voted along party lines to approve AB186.
The bill, which was previously approved by the Assembly and now heads to Gov. Steve Sisolak, would tie Nevada to a compact of more than a dozen states that plan to give their votes to the winner of the presidential national popular vote once enough states join to have at least 270 electoral votes. If it's signed into law by Sisolak, it would bring the total number of electoral votes in states that have entered the compact up to 195.
Republicans opposed the bill en masse, saying the measure would make Nevada effectively irrelevant in presidential elections and drive attention and resources away from the state.
"This would unduly limit and diminish the impact that Nevada has on our national platform," Republican Sen. Keith Pickard said. "I think it's totally irresponsible for us to consider giving away what little influence we have on the national stage to the more populous states, which will ultimately control the elections."
Democratic Sen. Yvanna Cancela said she initially had similar concerns with the bill but was convinced to vote in favor of it because of the state's other competitive elections and the sense that all other elections in the country are determined by the popular vote.
"This will not change the fact that we will continue to have competitive Senate races, competitive gubernatorial races, all sorts of other races that continue to elevate Nevada's prominence in the national electoral work," she said.
A spokeswoman for Sisolak's office did not return an email asking whether the governor planned to sign the bill.
SB204: Suicide prevention for public/private schools
A bill by Democratic Sen. Pat Spearman requring public and private schools adopt policies for suicide prevention and outreach drew emotional testimony from state senators, who passed the bill on a 17-3 vote.
The bill requires public, private and charter schools to adopt policies on prevention and outreach for students at risk of suicide, including outreach with suicide prevention organizations and requires teachers and students to take training on suicide prevention. It also adds mental health to required courses for students, and authorizes the State Board of Education to revoke a private school license if it does not adopt a suicide prevention plan.
The bill drew impassioned testimony from Spearman — who read from a letter by a suicidal teenager — and Senate Minority Leader James Settelmeyer, who disclosed that his father had died by suicide and that he didn't think it was the state government's place to create such mandates for prevention efforts.
Other Republicans, including Republican Sen. Ben Kieckhefer, said they were opposed to parts of the bill — including the provision allowing the state to remove a private school license if it does not adopt a suicide prevention policy — but said the policy goal of preventing suicide was too important to cast a vote against.
"The implications of a suicide by a teenager are just so far-reaching, that I think what we can do, we should do," he said.
AB183: Private Prison Ban
With no debate, members of the Nevada Senate voted along party-lines to approve a bill that would phase out the use of private prisons in the state by 2022.
AB183, which is sponsored by Democratic Assemblywoman Daniele Monroe-Moreno, allows the state Department of Corrections to continue using privately-operated prisons until June 30, 2022, but sets various audit and compliance requirements for the department if any inmates are housed in a private prison. It also requires the department to annually report information on prisoners who are transferred out of state.
The state does not contract with any privately-owned prisons within state lines, but a budget subcommittee last month approved maintaining 100 beds in an Arizona facility to address overcrowding.
AB239: Revisions to opioid prescribing law
A bill that would make a number of changes to an opioid prescribing law passed by lawmakers in 2017 cleared the Senate unanimously on Tuesday. It also received unanimous support in the Assembly last month.
The bill, sponsored by the Assembly Health and Human Services Committee, would codify some regulatory provisions put in place by the state last year, including defining "course of treatment" and "acute pain," while making other substantial changes, including allowing doctors more discretion when it comes to writing prescriptions for opioids beyond the limits set in state law when they deem doing so to be medically necessary.
In short, the bill would allow doctors to prescribe controlled substances for acute pain even if a patient has already been issued a prescription for the same drug or write a prescription beyond an initial 14-day supply if they believe it to be in the patient's best interest.
The changes follow an outcry by doctors after the 2017 bill went into effect early last year, with physicians calling the law unduly burdensome and harmful to patient care.
AB248: Banning settlements that conceal sexual offenses
Members of the Senate unanimously voted out a measure that would prohibit settlement agreements that prohibit disclosure of information on conduct that would qualify as a sexual offense or sex discrimination.
The measure would make any such provision in a settlement agreement null if it is entered on or after July 2019 and allows a claimant to request provisions in the settlement to stay anonymous. It passed on a 34-7 vote in the Assembly on April 23.
SB179: Decriminalizing abortion, changing abortion informed consent law
The Assembly voted 27-13 on Tuesday to approve a bill that would remove felony criminal penalties on abortions from state law and make changes to the state's abortion informed consent law. Democratic Assemblywoman Dina Neal joined Republicans in opposition to the bill.
Specifically, the bill, sponsored by Democratic state Sen. Yvanna Cancela, proposes to repeal felony criminal penalties on abortions performed outside the scope of Nevada's abortion statute, including self-induced abortion. Under existing law, anyone who performs such an abortion is guilty of a category B felony punishable by up to 10 years in prison and a $10,000 fine. The legislation would also remove penalties on anyone who sells drugs to produce a miscarriage.
The legislation also removes requirements that doctors explain the emotional implications of undergoing an abortion and that they ask a woman's age and marital status before the procedure as part of the informed consent process.
The bill passed the Senate 12-9 last month, with Democratic Sens. Mo Denis and Marcia Washington joining most Republicans in opposition to the bill. Republican state Sen. Ben Kieckhefer crossed party lines to join the rest of Democrats in support.
The bill will head to Gov. Steve Sisolak's desk. Sisolak's spokeswoman did not respond to a request for comment on Tuesday about whether the governor would sign the bill, though Sisolak supports abortion rights.
The Nevada Independent is raising $200,000 by Dec. 31 to support coverage of the 2024 election.
Tax-deductible donations from readers like you fund this critical work.
If you give today,your donation will be matched dollar-for-dollar.
Give + Get Matched
Featured Videos