Bills banning police chokeholds, rolling back 2019 law protecting police under investigation clear Senate hurdle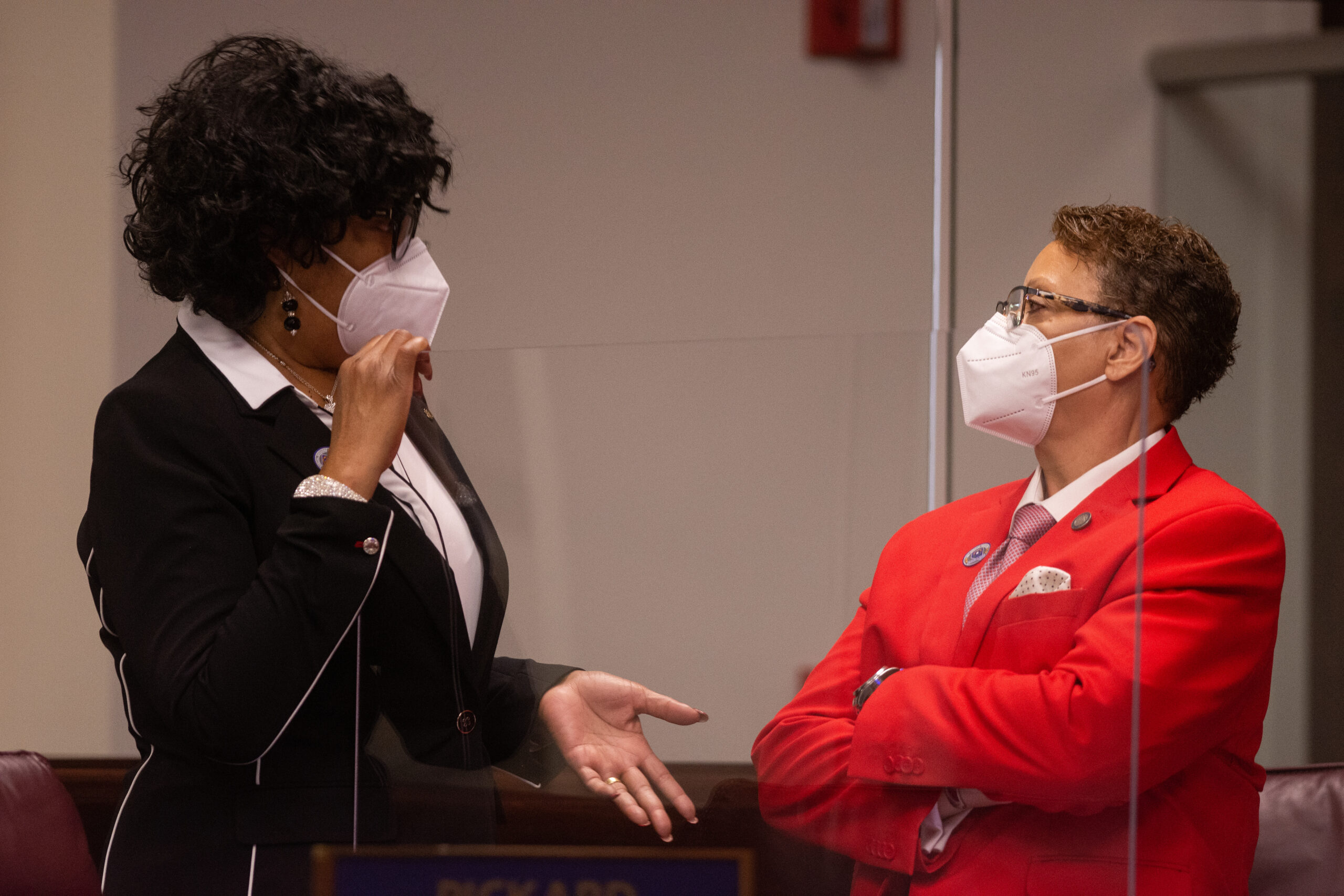 Members of the Nevada Senate voted Monday to approve bills that would restrict police use of chokeholds and amend out many sections of a previously passed bill granting additional rights to police officers accused of misconduct.
Both bills, AB3 and SB2, were introduced during the special session amid promises by Gov. Steve Sisolak and legislative leaders to tackle criminal justice reform issues in the wake of the police killing of George Floyd in Minnesota, which sparked protests around the world and in Nevada.
Senators voted 19-2 to approve AB3, a wide-ranging bill banning chokeholds and making other changes to police conduct. It was previously approved in the Assembly on a bipartisan 38-4 vote.
But the vote on SB2, which repealed sections of a 2019 bill granting protections to police officers under investigation for misconduct, was approved on a party-line 13-8 vote.
It now heads to the Assembly.
AB3
Ahead of the vote on AB3, members of the Senate praised the bill's provisions and said it would help improve tensions between minority communities and police departments.
Democratic Sen. Marcia Washington, who noted she rarely speaks on the Senate floor, said the bill was the beginning of "trying to correct some of the ills that have been occurring in our community.
"We're losing so many young people, because of a few bad cops," she said, choking up. "And we're not saying that everybody's bad in the police department. We're just trying to get rid of those that shouldn't be police officers. So, today I'll be supporting this bill because I want to see my grandsons and my granddaughters live a long life."
If signed, the bill will:
Restrict use of chokeholds, also called "lateral vascular neck restraints."
Require police to intervene if they see a fellow officer using unjustified deadly force against an individual, regardless of chain of command. It also prohibits police agencies from retaliation against an officer who intervened.
Expressly allow for public recording of police activity, as long as the person recording is not obstructing police activity. Also prohibits police from seizing or destroying recorded images or videos.
Require officers to be tested for alcohol or drugs if they are involved in a shooting or situation that leads to the death or substantial injury of another person.
Replace language in law that allows police to use "all means necessary" to make the arrest of someone who is resisting or fleeing. The bill changes the language to only allow "only the amount of reasonable force necessary."
The bill was also supported by the Las Vegas Metropolitan Police Department; lobbyist Chuck Callaway said that out of 1.5 million calls for service in 2019, Metro had 900 reported uses of force, including 21 instances of "lateral vascular neck restraints" or police chokeholds.
The two senators who opposed the bill — Republicans Ira Hansen and Pete Goicoechea — said they were concerned with the timing and didn't believe it rose to the level of an "extraordinary" circumstance required for the calling of a special session.
"I just don't feel comfortable again with the timing of this," Goicoechea said. "I think if we did take it a little later and a little more thought into it, it almost seems like a knee jerk reaction to me, given the events of this summer, and so I will be voting no."
Democratic Sen. Dallas Harris, who is Black, said the bill was indeed a response to an emergency, one that many Americans only began to realize after the summer of protests around the killing of George Floyd.
"This bill for me is a response to an emergency," she said. "While this emergency has come to the consciousness of a majority of our population due to recent events, what has happened is not new. And so I am proud to be part of a body that is taking a much needed step at this time to respond. Not to something new but something to that unfortunately is very, very old."
SB2
But senators split along party-lines to approve SB2, a rollback of several provisions protecting police officers under investigation that was approved in the 2019 Legislature despite staunch opposition from progressive groups and police departments, who said it hamstrung their ability to manage their workforce.
Many progressive activists (who wanted a full repeal of 2019's SB242) and police unions (who didn't want any changes) called in to oppose the bill during a hearing this weekend.
Ahead of the vote on Monday, Republican Sen. James Settelmeyer said he was opposing the bill because he thought it did not go far enough in granting police departments the ability to deal with problematic officers.
"The issue that I run into (in) my counties, which tend to be smaller, is actually that the sheriffs need far more latitude in getting rid of problem officers, and I feel that this bill does not give any significant reform in that respect," he said.
Democratic Sen. Melanie Schieble said it was important to clarify that the provisions in SB242 largely applied to civil cases, not criminal, and thus did not close the door to certain kinds of legal action being taken against officers who violated the law.
"I think that it does give police organizations, law enforcement agencies the latitude that they need to get rid of bad officers, and also protects those good officers who do serve our community," she said.
The Nevada Independent is raising $200,000 by Dec. 31 to support coverage of the 2024 election.
Tax-deductible donations from readers like you fund this critical work.
If you give today,your donation will be matched dollar-for-dollar.
Give + Get Matched
Featured Videos