Cancela: Amended immigration bill will not move forward now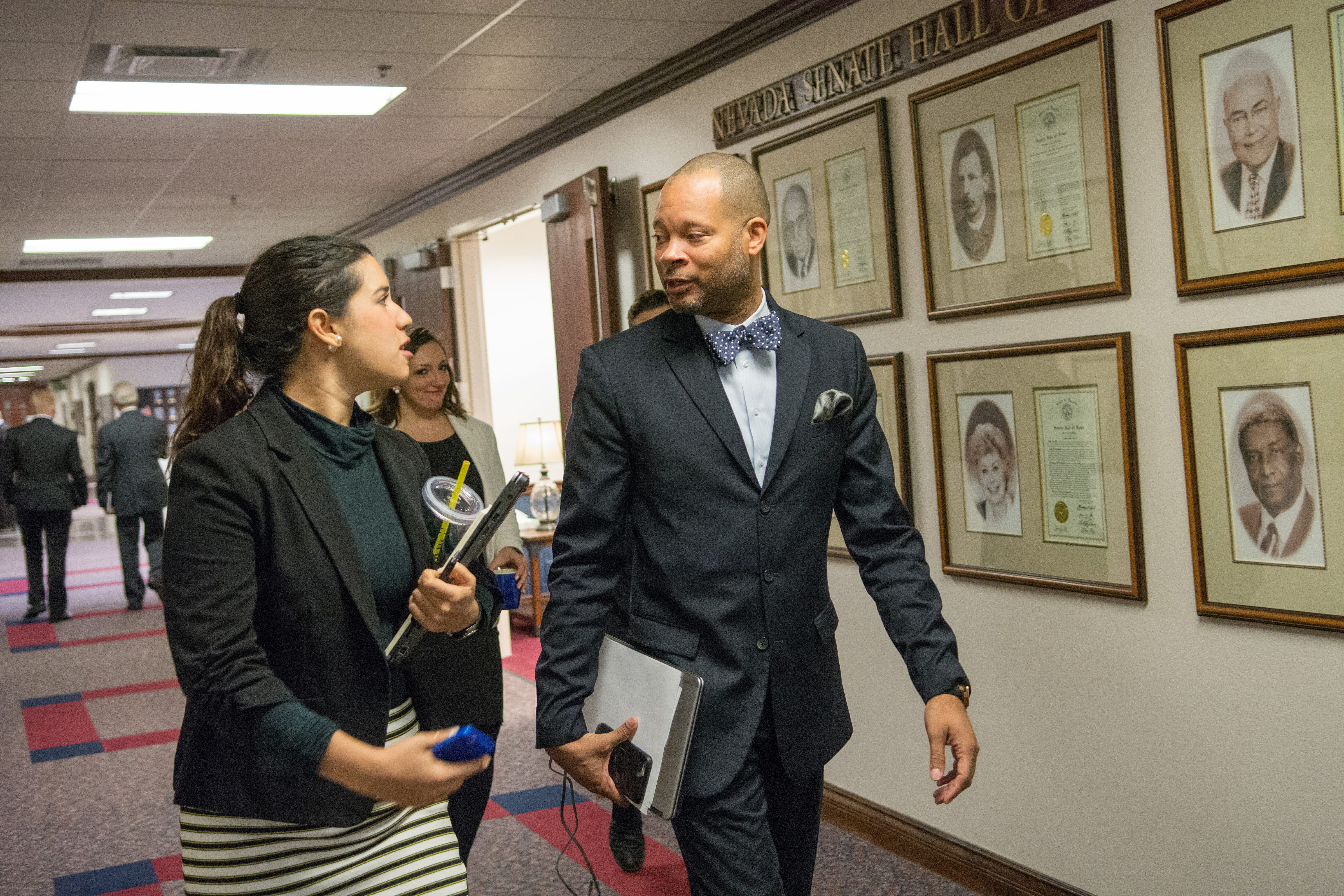 A controversial immigration bill that would have codified certain law enforcement policies in state law, initially referred to as a "sanctuary state" bill, will not move forward in its current form, the primary sponsor said Tuesday.
Democratic Sen. Yvanna Cancela, who introduced SB223 last month, said in a statement Tuesday afternoon that a "moderate bill to protect law enforcement from doing federal immigration work" in the form of barring officers from asking for immigration status "became inundated with misinformation and politicized with fear." Her announcement comes just days after Senate Majority Leader Aaron Ford scuttled a hearing on the bill on Friday that had been scheduled for Monday afternoon, saying the legislation wasn't ready for a hearing.
Cancela and Sen. Tick Segerblom, who chairs the Senate Judiciary Committee where the bill would've been heard, indicated on Friday they were comfortable with the language of the bill and had no concerns about moving forward with it.
"Of course I'm disappointed. I worked hard to try and find a good compromise," Cancela said in a statement. "Law enforcement did a tremendous job at being transparent with data and sharing ideas."
The news sparked a wide range of reactions from the disappointment of progressive activists to the glee of Republican leaders.
Ford said in a statement that he shares "the disappointment that we've yet to come up with a solution that accomplishes the goals of providing a greater degree of protection to the immigrant community and protecting local law enforcement's relationship with that community."
But he said that "provoking an unpredictable, anti-immigration federal administration" when there isn't consensus in the state would be "unwise," adding that he is committed to working with all interested parties to determine what measures can be put in place to protect the immigration community while maintaining a positive relationship with local law enforcement.
Democratic Assemblyman Chris Brooks, who recently introduced a bill in the Assembly (AB357) identical to SB223, said that it would be "irresponsible" for him to continue pushing his legislation in its current form without a "clear path to passage and agreement from all stakeholders."
"The last thing I would ever want to do is unintentionally motivate Trump to target Nevada's undocumented community without getting any protections passed into law," Brooks said in a statement. "From this point forward I will do all I can to find other ways we can protect all Nevadans through legislation."
Cancela worked with law enforcement officers, immigration activists and other stakeholders in recent weeks to come up with a compromise to the original language of the bill, which would have barred state and local law enforcement from participating in federal immigration enforcement without a warrant. She proposed an amendment to her bill last week that would have more narrowly barred law enforcement officials from asking about an individual's immigration status at the point of contact.
But the state's major law enforcement agencies remained opposed to the amended language, expressing concerns that putting anything in statute seen as limiting cooperation with federal immigration authorities could jeopardize the federal dollars law enforcement receives and, more broadly, that the state shouldn't be tying law enforcement's hands when it comes to deciding how to allocate resources and make decisions on a minute-by-minute basis.
Chuck Callaway, lobbyist for the Las Vegas Metropolitan Police Department, said last week that law enforcement would have to "agree to disagree" with Cancela, saying she'd come as far as she could go with the amendment to her bill but that law enforcement still wouldn't be able to support it.
Cancela said it is clear that law enforcement remains committed to regularly hosting town halls and sharing accurate information and that she plans to continue to work with them on immigration issues.
"Going forward, the sponsors of this bill aren't giving up. As elected officials, I believe we have a responsibility to be the loudest voice for those who often can't speak for themselves," Cancela said. "I'm continuing to work with stakeholders and will do everything I can to fight for our immigrant families — whether it's in Carson City, at protests, citizenship fairs, now more than ever we must stand strong."
Cancela, Segerblom, Ford, Sen. Julia Ratti and Sen. Mo Denis are all listed as primary sponsors on the bill.
Immigration advocates lamented the lack of a path forward for SB223 on Tuesday night, but said the legislation started an important conversation in Nevada about how to protect the immigrant community and praised Cancela for bringing it forward.
DREAMer Astrid Silva, co-founder of DREAM Big Vegas, called Cancela a "fearless representative of our families at the Nevada Legislature" in a statement.
"We stood proudly behind Senate Bill 223, which would have continued to give our families and our state peace of mind. Many of our law enforcement already follows these practices, placing it into law would have protected us from future overreaches," Silva said.
ACLU of Nevada Executive Director Tod Story said the group is "disappointed" SB223 won't receive a hearing but that it wouldn't deter the organization's efforts to protect the civil liberties of immigrants. "If SB 223 will not be heard, then we need to have a statewide conversation about how we can stand up to the federal government and police our Nevada communities our own way," Story said.
The Progressive Leadership Alliance of Nevada called Cancela the "most courageous elected official" at the Legislature and said they "commend her for standing up and fighting for her constituents and Nevada's most vulnerable communities." They said that codifying law enforcement practices into law would "ensure a renegade sheriff can't change tactics and ensnare law-abiding Nevadans into a cruel and complicated immigration system."
UNLV law professor Michael Kagan, who directs the school's immigration clinic, said in an email it was "disturbing" to see "how easily intimidated some Nevada leaders were by baseless bluster in Washington." The only requirement in federal law is to share information, and there was nothing in Cancela's bill that affected that, Kagan said.
He also said he is worried that Metro has hurt its credibility with the community by opposing a law off of their own stated policy. "They told everyone who would listen that Metro does not want to arrest people on immigration grounds," Kagan said. But then they loudly opposed making it binding. It's hard to say, we don't want to be held to what we say, but trust us anyway."
But Metro believes its actions will speak louder than words, pointing to the community engagement the department has been involved in, such as town halls on immigration.
"I think you have to earn trust. You can't demand it, you have to earn it. I think we've gone a long way in building relationships with the community and if we were to change our current practices and our current policy it would just damage those relationships," Callaway said. "To me, that provides the assurance to people that we're not going to tomorrow decide that we're doing ICE's job for them suddenly."
He added that he met with Ford and Cancela earlier this week and committed to working together moving forward to maintain strong relationships with the community and educate them on the department's policy on not enforcing immigration laws in the field.
Others, such as Republican Senate Minority Leader Michael Roberson, hailed the news as a "victory for Nevadans and for keeping our communities safe."
"I made the defeat of the sanctuary state bills my top priority and neither bill even received a legislative hearing," Roberson said in a statement. "However, despite today's news, I will remain vigilant and will fight against any effort to resurrect this legislation before the end of the session."
Republican Assembly Minority Leader Paul Anderson was more brief in his remarks on the news: "Good."
This article was updated at 11:35 p.m. on March 28, 2017 to include reactions from lawmakers and community members. It was updated again at 2:35 p.m. on March 29, 2017 to include comments from Metro.
The Nevada Independent is raising $200,000 by Dec. 31 to support coverage of the 2024 election.
Tax-deductible donations from readers like you fund this critical work.
If you give today,your donation will be matched dollar-for-dollar.
Give + Get Matched
Featured Videos