Cannizzaro says Lombardo's order to freeze, cut regulations could backfire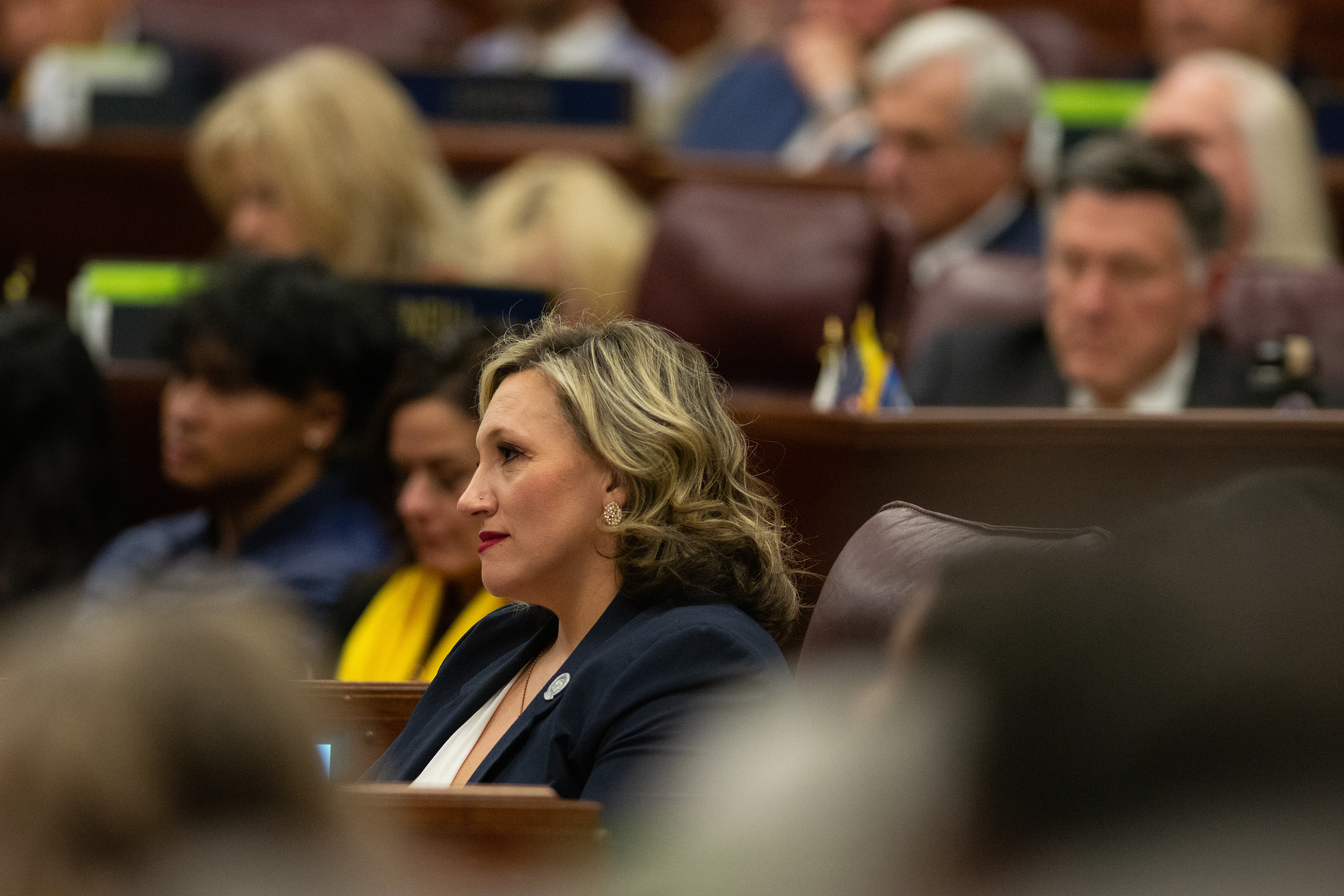 State Senate Majority Leader Nicole Cannizzaro (D-Las Vegas) said Republican Gov. Joe Lombardo's executive order to freeze new regulations, and have agencies each propose 10 regulations to be cut, could unintentionally create more inefficiencies in government.
In an interview Tuesday after Lombardo's State of the State address, Cannizzaro said regulations in Nevada exist to flesh out the details of laws passed by the Legislature. She said those laws are subject to extensive legal scrutiny and public comment periods.
"Saying you want to get rid of regulations or stop regulations from laws that have been passed and signed into law sounds like a great way to advertise that somehow you're reducing government and it's going to be more efficient," Cannizaro said. "I think we're going to see the exact opposite of that."
She said preventing the implementation of laws would be equivalent to ignoring the law.
"If there's a law that says this agency shall adopt regulations in order to implement this policy change … then we should be supporting that until and unless there is a bill that comes to the Legislature that says we're going to repeal that law," Cannizzaro said. "Otherwise, we're just not implementing laws that have been duly passed by a democratic system."
Cannizzaro said she would not be surprised if there are legal challenges to Lombardo's order.
The executive order issued by Lombardo on Jan. 12 requires all executive branch entities to review state regulations and recommend at least 10 to be removed by May 1. It also suspends new regulations from any executive agencies, with exceptions for regulations affecting public health, public safety, pending judicial deadlines and the essential duties of the executive branch, as well as those necessary to comply with federal law and to pursue federal funds.
The order mirrored former Republican Gov. Brian Sandoval's decision to impose a one-year moratorium on all regulations in his first executive order as governor. Sandoval required his administration to review the state's regulatory framework, determine whether regulations were still necessary and address any inconsistencies.
Reporting from the conservative publication Nevada News and Views indicated the review resulted in the repeal of 654 rules, with the majority of regulations cut in the Department of Business and Industry, the Department of Motor Vehicles and the Department of Taxation.
In an email, a spokesperson for the governor's office wrote that the Department of Administration is partnering with the governor's office to review and evaluate regulations falling under "executive agencies," which encompasses more than 300 entities and includes the attorney general's office, human resources and the state board of accountancy. She said the evaluations are underway, but the total number of regulations under review will not be available until after the review deadline on May 1.
"The Department of Administration and the Office of the Governor will issue relevant guidance for proposed laws and regulations introduced by the Legislative session," the spokesperson said. "If formally challenged, the administration will defend the order."
Other legislative priorities
With the legislative session set to start Feb. 6, Cannizzaro said she is focusing on passing policies on health care, criminal justice, education and housing.
In Lombardo's State of the State address Monday, he said he wanted legislation making possession of fentanyl in any amount a category B felony, for which the punishment is one to 20 years imprisonment. As a former prosecutor, Cannizzaro said she is acutely aware of the fentanyl epidemic affecting the entire country and is working with Attorney General Aaron Ford on legislation addressing the crisis.
She said she had not decided whether fentanyl possession belongs to a specific crime category, but it's vital to target those trafficking the drug to vulnerable populations.
"We've got to talk about how it is that we can make sure that those who are trafficking fentanyl, who are targeting our children, and who are having this really wide-ranging effect on our communities, can be held accountable in the right way," Cannizzaro said.
Over the last few sessions, Cannizzaro said she and other Democrats have focused on health care affordability and access, including passing legislation to lower prescription drug prices and address hospital billing practices. She said she was disappointed in Lombardo's lack of discussion about health care and child care costs during his address. Still, the Democratic caucus remains committed to continuing that work during the upcoming session and ensuring access to abortion, she said.
One of the bills Cannizzaro said she is proposing would codify former Gov. Steve Sisolak's executive order protecting those seeking access to abortion in Nevada and those providing reproductive care, regardless of other states' policies. Cannizzaro also noted there is bipartisan support for investing in and ensuring access to mental health services.
As hospitals and care providers face a nursing shortage, Cannizzaro said lawmakers need to ensure they are investing in workforce training, higher education initiatives to aid health care workers and ways to support those seeking nursing degrees and credentials.
She also said she is focusing on housing affordability and finding ways to ensure families have housing security and access to child care. Under Sisolak's administration, Nevada leaders invested $500 million the state received from the federal government through the American Rescue Plan into a "Home Means Nevada" program to increase the supply of affordable housing. Cannizzaro applauded the program and said lawmakers need to continue to find ways to support affordable housing access.
Growing up, Cannizzaro said she had two working parents who had to find ways to take care of their children while juggling their jobs. She said that meant working swing shifts and relying on neighbors for help. As a relatively new parent with another child on the way, Cannizzaro said she knows the importance of providing children with a happy, healthy environment.
"We have to find some common-sense solutions to make sure that families don't have to worry about where they're going to take their kid or what they're going to do tomorrow, if they can't afford the place that they're in," she said. "And so I think you're gonna see some policy pieces from the Legislature that really focus on those."
She responded to a call from Lombardo to address the need for housing through the transfer of federally managed public lands for development by saying it's vital to preserve public lands. However, she said she understands the need for land to expand housing availability and is open to a discussion, but wants clarity on what uses the land would be designated to include.
Compromise and negotiation take place at the Legislature all the time, Cannizzaro said, adding that laws develop through negotiation and bipartisanship. However, she said there are some stances she's not willing to back away from, including ensuring qualified teachers can serve in every classroom, protecting voting access and not using public funding to pay for private schools.
"I think there are some things that we're going to have to say no to and a lot of things we're going to say yes to," Cannizzaro said. "I look forward to working with the governor, and hopefully finding that common ground where we're doing good policy."
This story was updated on Jan. 27, 2023, at 2:17 p.m. to indicate that the Department of Taxation was among the top three agencies that cut regulations under former Gov. Brian Sandoval.
The Nevada Independent is raising $200,000 by Dec. 31 to support coverage of the 2024 election.
Tax-deductible donations from readers like you fund this critical work.
If you give today,your donation will be matched dollar-for-dollar.
Give + Get Matched
Featured Videos