Connecting the Dots: Out-of-state money dominates donations to groups supporting, fighting state Senate recalls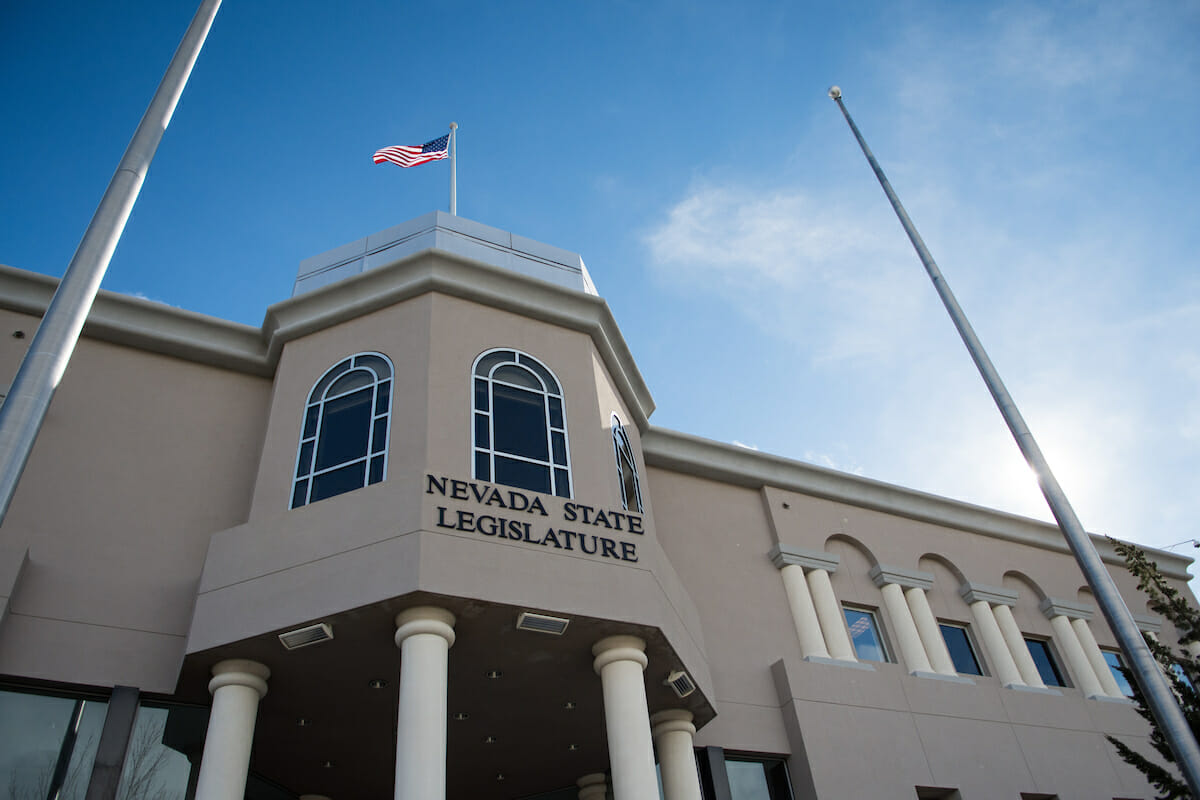 Close to $1 million in primarily out-of-state money poured in to both sides of a contentious battle to recall Nevada state senators, a high-stakes battle with control of a legislative chamber and oversight of the critically important redistricting process potentially up for grabs.
Campaign finance reports for one of the three efforts to recall Nevada state senators — and the Democratic-funded organization set up to combat them — were due to the Nevada secretary of state's office on Saturday, and for the first time revealed the financial backers and spending made by both sides in the ongoing recall efforts.
The Republican State Leadership Committee (RSLC), a political organization charged with electing Republicans to state offices across the country, provided the only donations to the committee formed to recall Republican-turned-Independent state Sen. Patricia Farley, who caucused with Democrats during the 2017 legislative session.
RSLC president Matt Walter said the $160,000 contribution came from the national group, not the entity registered with the Nevada secretary of state, and made the donations because of Democratic actions in the 2017 Legislature.
"We strongly believe in the Constitutional right of Nevada voters to hold their state Senators accountable for pushing legislation that is pro-felon and anti-business," Walter said in an email. "Tens of thousands of Nevadans signing to support these historic recalls speaks to the depth of frustration with these out-of-touch liberal Democrat Senators."
Under Nevada law, recall committees that fail to garner enough signatures to trigger a special election are required to file a contribution and expense report no later than 30 days after the last day to turn in signatures. Similar rules exist if a court determines a special election won't be held, and finance reports would be due four days before early voting begins in a recall special election.
Backers of Farley's attempted recall turned in slightly more than 2,000 signatures in November, well short of the 7,342 needed to trigger a special election. Backers of recalls targeting Sens. Joyce Woodhouse and Nicole Cannizzaro have both turned in enough signatures to trigger a special election, but legal challenges or disagreements over the validity of signatures turned in both cases have prevented any special election from being called so far.
The RSLC has a lengthy history in Nevada — it gave $600,000 to the Nevada Jobs Coalition, a PAC that targeted several state senate candidates, including Woodhouse and Cannizzaro, with digital ads and more during the 2016 election. Several major Las Vegas casino moguls, including Steve Wynn ($540,000 in 2012) and Sheldon Adelson ($700,000 in 2014) have donated to the group — which reported spending $18 million during the 2016 election — in the past.
Republican state Senate Leader Michael Roberson, a vocal proponent of the recall efforts, is a member of the Republican Legislative Campaign Committee's (an RSLC offshoot) 2017 executive committee. He also tweeted a picture of himself speaking at an RSLC event in Wyoming earlier in December, with a slide showing details of the recall efforts.
Walter told the Las Vegas Review-Journal that no Nevada businesses or individuals were involved with the decision to engage in the recall efforts, and that the organization as a matter of policy doesn't "earmark" donations toward targeted races.
Walter declined to answer whether the organization was also funding efforts to recall Democrats Woodhouse and Cannizzaro, though the recall committee did transfer or spend in-kind more than $118,000 for the other two recall organizations.
"We do not make our strategy public, and all of our spending will be disclosed in accordance with Nevada law," he said in an email.
A Democratic group set up to combat the recalls, Our Votes, Our Voice, reported raising more than $700,000 over the reporting period, primarily transfers from national Democratic groups and state-based candidates and political organizations. Though the organization was only required to report spending on the efforts to defeat the recall targeting Farley, it disclosed all of its contributions and spending.
The largest donations came in the form of $100,000 checks from the Democratic Legislative Campaign Committee (the RSLC's rough equivalent organization), a national teachers union and Florida hedge fund manager Donald Sussman, a major Democratic donor. It spent hundreds of thousands of dollars on a canvassing firm and producing campaign literature, as part of an ongoing "Decline to Sign" campaign aiming to stem signature gathering efforts by recall backers.
Here are the major contributions and spending made by both committees:
Committee to Recall Senator Patricia Farley
CONTRIBUTIONS:
$160,000 from the Republican State Leadership Committee
SPENDING
$60,868 to the Committee to Recall Senate Joyce Woodhouse. $33,000 included in-kind expenses of "legal consulting" and "signature collection services."

$58,000 to the Committee to Recall Senator Nicole Cannizzaro. $33,000 included in-kind expenses of "legal consulting" and "signature collection services."

$29,760 to

Advanced Micro Targeting

, a political consulting firm that produced

campaign literature

and engaged in signature gathering for the recall efforts. The firm has been used by several Nevada Republicans,

including Roberson

.

$6,423 to

Hutchison & Steffen

, the law firm representing all three recall committees. Lieutenant Governor Mark Hutchison is a partner at the firm.

$4,795 to

In Compliance Inc.

, a business that handles compliance and filing for state and federal campaign finance reporting.
Our Votes, Our Voice
CONTRIBUTIONS
$100,000 from the Democratic Legislative Campaign Committee

$100,000 from Donald Sussman, a Florida-based hedge fund manager who gave

more than $40 million

to Democratic Super PACs and other groups during the 2016 election

$100,000 from the

National Educational Association

, the nation's largest union for teachers and educational professionals

$58,000 from the Nevada State Democratic Party

$50,000 from the

National Democratic Redistricting Committee

, an organization chaired by former Attorney General Eric Holder that aims to develop a "comprehensive approach to redistricting."

$50,000 from Friends of Joyce Woodhouse

$50,000 from the Nevada State Education Association, the primary Nevada-wide teachers union.

$40,000 from the Nevada Conservation League

$30,000 from the Committee to Elect Nicole Cannizzaro

$25,000 from

EMILY's List

, a progressive PAC that provides financial support to female candidates

$20,000 from

Citizens for Justice

, a Nevada PAC that represents an industry group for lawyers

$20,000 from Nevada Senate Democrats

$16,000 from

NARAL Pro-Choice America

, a 501(c) nonprofit that supports abortion access

$10,000 from Friends of Harry Reid, the former Nevada senator's campaign committee

$10,000 from Leadership in Nevada, a political PAC associated with Assembly Speaker Jason Frierson

$10,000 from

IBEW PAC Voluntary Fund

$10,000 from

Ironworkers Political Education Fund

$2,003.57 from I

BEW 357 PAC

, associated with the southern Nevada branch of the union
SPENDING
$163,041 to Rocky Mountain Voter Outreach, a canvassing firm based in Denver. It's previously been employed by several Nevada legislative Democrats, including

Senate Majority Leader Aaron Ford and Assembly Speaker Jason Frierson

.

$131,253 to

The Strategy Group

, a consulting and direct mail firm that's worked on every Democratic presidential campaign since 1992. It's also done independent expenditure work for Rep. Jacky Rosen and the Nevada state Senate Democrats.

$90,000 to

For Nevada's Future

, a branch of the progressive organization founded by California billionaire Tom Steyer

$36,500 to

Myers Research

, a polling and consulting firm run by Andrew Myers, previously the pollster to the Democratic Legislative Campaign Committee and the Democratic Governors Association.

$22,500 to

Perkins Coie

, a national law firm that's filed several lawsuits over the recall efforts and defended the targeted state senators in court

$12,000 to

Sinclair Strategies

, a political consulting firm based in Massachusetts and led by former Harry Reid campaign manager Sean Sinclair. The firm has produced campaign material for

several Nevada Democrats

, including Rep. Ruben Kihuen, Clark County Commissioner Marilyn Kirkpatrick, Las Vegas City Councilman Bob Coffin and a pro-recreational marijuana ballot question.

$10,000 to Wolf Rifkin Shapiro Schulman & Rabkin LLP, a Las Vegas law firm representing Woodhouse and Cannizzaro in court.

$6,000 to Sala Consulting Ltd., the firm of former Harry Reid financial director Chris Anderson
Disclosure: Wynn Resorts has donated to The Nevada Independent. You can see a full list of donors here.
The Nevada Independent is raising $200,000 by Dec. 31 to support coverage of the 2024 election.
Tax-deductible donations from readers like you fund this critical work.
If you give today,your donation will be matched dollar-for-dollar.
Give + Get Matched
Featured Videos