Democratic Assemblywoman Dina Neal at the Nevada Legislature on Feb. 4, 2019. Photo by David Calvert.
Democratic Assemblywoman Dina Neal to apply for state Senate seat left vacant by Atkinson resignation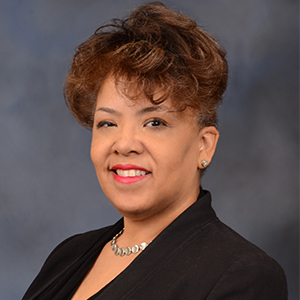 Democratic Assemblywoman Dina Neal said she's submitting an application for the state Senate seat left vacant after former Senate Majority Leader Kelvin Atkinson resigned earlier this week.
Neal, who was first elected in 2010 and chairs the Assembly Taxation Committee, represents a district that includes a portion of North Las Vegas and is nested within Atkinson's Senate district. Clark County is accepting applications through Monday as the commission prepares to appoint Atkinson's replacement.
"I have done significant community work, I've advocated and represented a portion of that district for a really long time, and I'm super passionate about it," Neal said, adding that her father — former Sen. Joe Neal — represented the district for 32 years. "I feel like I'm the best person to serve that district and to move the needs of that district forward. We have significant needs. We have good things, we have great things, but we still have a district that needs a strong advocate and a strong representative and I think I am that person."
Atkinson was the top-ranking senator before announcing Tuesday that he would be pleading guilty to federal charges of misusing campaign funds. After his resignation, Democratic Sen. Nicole Cannizzaro was chosen to lead Senate Democrats.
Cannizzaro declined to comment on who the Senate might recommend when asked whether she might support Neal or Assemblyman William McCurdy, whose district is also within Atkinson's, for the role. McCurdy has not said whether he will apply.
"There's an open application process, and the County Commission is going to appoint," Cannizzaro said in a brief interview Friday. "At this point we just look forward to having a good colleague come join us and help us finish out the session."
Neal acknowledged that she may be going against the Senate leadership's wishes, but said she had long intended to seek the Senate seat and wanted to be honest with her constituents about that.
"It's not a battle between [Cannizzaro] and I, it's me saying that I'm not going to tell my district that I don't want that job," she said. "And so I'm going to put in my application and let them know that I do want that job based on what happened."
Stephen Munford, son of former Assemblyman Harvey Munford, also plans to apply for the seat. Munford challenged Atkinson for the Senate District 4 seat in a two-way primary in 2016, winning about a third of the vote.
"I did not plan on running for any political office in 2020 or the near future, but I have received many calls and inquires asking if I plan on applying for the SD4 seat," Munford said in an email. "Still feeling committed to my district and my community and to the voters who voted for me in 2016 … I feel compelled to apply."
Updated 3-8-19 at 5:03 p.m. to include information about Harvey Munford applying for the Senate District 4 seat.
Comment Policy (updated 3/21/19): We welcome reader comments on our stories. However, in keeping with our general policy of transparency, accuracy and accountability, we do not accept comments from anonymous accounts. Anonymous accounts are those without a valid first and last name. Any such comments will be deleted, and anonymous users will be blocked from commenting further. We also will block commenters who use offensive language, engage in personal attacks or state things that are verifiably false.
get our morning newsletter,
The Daily Indy
INDYMATTERS PODCAST
CAFECITO CON LUZ Y MICHELLE
@TheNVIndy ON TWITTER