Follow the Money: Democratic lawmakers lead as record $13 million raised in 2022 cycle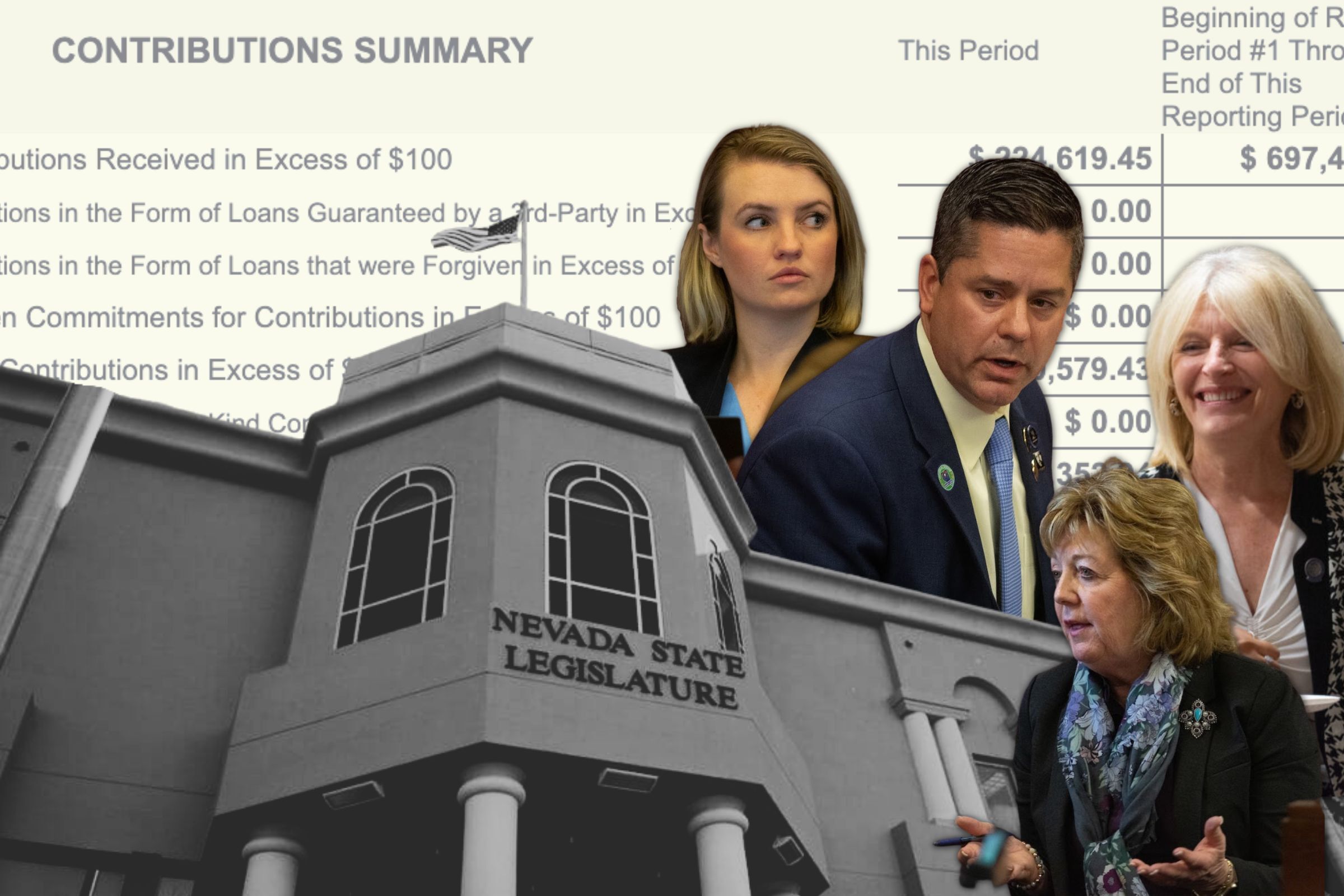 As elections across the country saw record spending through 2022, Nevada legislators — led by Democratic leaders and incumbents locked in tight races — set their own fundraising records last year.
Across the two years of the 2022 election cycle, 62 Nevada lawmakers raised a combined $13 million in big-money donations (those greater than $200), adding to a record fundraising cycle for Nevada politics and shattering amounts raised during the previous two election cycles when lawmakers brought in less than $11 million.
The multi-million dollar growth in fundraising for legislators came amid a competitive election cycle in Nevada with every top office up for grabs. Democrats and Republicans split statewide races for six constitutional offices, including a Republican victory in the high-profile race for governor that also set fundraising records.
Of the top 10 individual fundraisers in the Legislature, nine were Democrats, with incoming Assembly Speaker Steve Yeager (D-Las Vegas) leading the group at more than $875,000 raised. The lone Republican among the top fundraisers was Assemblywoman Heidi Kasama (R-Las Vegas) at No. 10. She raised more than $366,000.
This story is part of The Nevada Independent's "Follow the Money" series tracking money in politics. This installment, and others published throughout the legislative session, will analyze the fundraising activity of state lawmakers, with deep dives into how different industries, including gaming and mining, and top contributors, such as the Nevada Association of Realtors, doled out money to legislators.
The data offers a close look at how the state's most powerful companies and political organizations contribute to policymakers, who set laws affecting businesses and residents alike. It also provides context for the 120-day legislative session that begins Monday, as lawmakers face pressure from the same groups and individuals who donated to their campaigns.
The Nevada Independent tracked and categorized more than 8,000 donations of $200 or more from Jan. 1, 2021 through the end of the election cycle on Dec. 31, 2022. Donors are limited to giving a maximum $10,000 to a single candidate, but major corporations easily surpass that limit by contributing through various affiliated entities or businesses — a process sometimes referred to as bundling.
Some wealthy donors, ranging from lawyers to doctors to casino magnates, may also boost contributions to a single candidate by donating the maximum amount under their name and under their spouse's name.
Each donation was categorized by the industry or field of the organization or individual who contributed, and the entire set of donations was analyzed for patterns and trends.
Data collected does not include donations made to losing candidates, nor does it break down small donations under the $200 threshold or fundraising activity for the many PACs or political groups that spend in support of candidates.
It also excludes Assemblywoman Sabra Newby (D-Las Vegas), who was appointed after the election and did not raise funds. It does not include a portion of Sen. James Ohrenschall's (D-Las Vegas) fundraising because he has not filed a fourth-quarter report with the secretary of state's office as of Feb. 3.
Still, the $200 threshold captures the vast majority of all the money contributed to elected lawmakers over the last two years. More than 7,400 sub-$200 donations totaled just $221,000.
Below are highlights of the data analyzed on each sitting lawmaker's big-money fundraising.
Yeager, who is set to hold the top leadership spot in the Assembly as speaker, raised more than $875,000 through 358 contributions during the 2022 election cycle — a more than $200,000 lead over the next leading fundraiser, Sen. Marilyn Dondero Loop (D-Las Vegas), who raised $674,000.
Dondero Loop, along with Sens. Melanie Scheible (D-Las Vegas) and Julie Pazina (D-Las Vegas), rounded out the top four, each bringing in more than $565,000. All three Democratic senators faced some of the most closely fought races of the year. Dondero Loop won re-election over her Republican challenger by just 1.4 percentage points, or about 750 votes.
Though Yeager did not face as difficult an election challenge as those senators, defeating his opponent by more than 6 percentage points, major donors typically give the most to party leaders who will be responsible for guiding policy decisions throughout the session.
At No. 5 on the top fundraiser list, Assemblywoman Sandra Jauregui (D-Las Vegas), who also serves as majority leader in the lower house, raised nearly $543,000 through 291 contributions.
Those five lawmakers, who represent just 8 percent of the Legislature, raised a combined 25 percent of all big-money contributions.
After leading all fundraisers during the last cycle, Senate Majority Leader Nicole Cannizzaro (D-Las Vegas), raised the eighth most ($418,000), despite not facing re-election this cycle.
The top Republican fundraiser, Kasama, brought in more than $366,000 — significantly more than new Assembly Minority Leader P.K. O'Neill (R-Carson City), who raised less than $121,000. Senate Minority Leader Heidi Seevers Gansert (R-Reno), who was not up for re-election last year, followed closely, raising $117,000, the 39th most in the Legislature.
The average fundraising haul among the 62 elected lawmakers was more than $210,000, and the median haul was $155,000.
At the lowest end of the fundraising pole, Sen. Carrie Buck (R-Henderson), who did not face re-election, raised just $25,000 through 14 contributions.
Sen. Jeff Stone (R-Henderson), a former California state lawmaker, got the most bang for his buck, receiving the highest average of $2,500 per contribution by raising $275,000 from 110 contributions.
Democrats substantially outraised Republicans
In a Legislature in which Democrats hold a supermajority in the Assembly and a near-supermajority in the Senate, fundraising totals are even more lopsided — Democrats outraised individual Republicans 3-to-1.
But the data comes with an important caveat: Several of the biggest fundraisers were also running in the tightest races — races that were close, in part, because their Republican opponents were also among the party's top legislative fundraisers.
Absent those competitive races, many legislators in "safe" districts that required less intense campaigning — both Republican-heavy and Democrat-heavy ones — raised comparatively less money.
Still, even in the most competitive races in which Republican candidates out-raised the average, Democrats maintained a substantial fundraising edge. In Las Vegas' hotly contested Senate District 9, for instance, GOP challenger Tina Brown raised $343,000 to Scheible's $542,000 in 2022 alone. In Las Vegas' Senate District 8 — a race decided by just 1.44 percentage points — Republican Joey Paulos raised $274,000 to Dondero Loop's $618,000 in the same time period.
Put another way: The average Democratic Assembly member raised nearly $213,000 in big-money dollars to the average Republican's $150,000. In the Senate, the difference was even more pronounced — roughly $309,000 for the average Democrat to the average Republican's $146,000.
Generally speaking, Democrats also received more individual big-dollar donations than their Republican counterparts, with the average Assembly Democrat receiving 143 donations of $200 or more, to the average Republican's 117.
Again, that difference grew in the Senate, with 163 average contributions for Democrats to just 94 for Republicans.
Money comes in after Election Day
Another substantial subset of contributions are post-election donations. Taken together, lawmakers received more than $702,000 from Nov. 9, the day after Election Day, to the end of 2022.
Leading the pack in post-election fundraising, Cannizzaro raised $58,000 during that period, closely followed by Dondero Loop at $57,000 and Pazina at more than $48,000. Seevers Gansert led Republicans, bringing in nearly $44,000 after Election Day.
These post-election contributions are not uncommon, especially among special interest groups and major companies looking to contribute to lawmakers ahead of the formal legislative process. Among those who received most of this money, late contributions came almost entirely from PACs, corporations or industry groups.
That fundraising period also saw contributions concentrated among leaders and a handful of legislators, as a majority of the Legislature (38 members, not including Newby and Ohrenschall) brought in less than $10,000 during that time.
---
Roy Visuett contributed data analysis to this report.
This story is a part of The Nevada Independent's weekly Follow the Money series, which examines the amount of money contributed by major industries to individual state lawmakers. Check back next week for a breakdown of the largest industries and most prolific donors in the 2022 election cycle.
The Nevada Independent is raising $200,000 by Dec. 31 to support coverage of the 2024 election.
Tax-deductible donations from readers like you fund this critical work.
If you give today,your donation will be matched dollar-for-dollar.
Give + Get Matched
Featured Videos