Congressional incumbents raise money at record pace ahead of midterm elections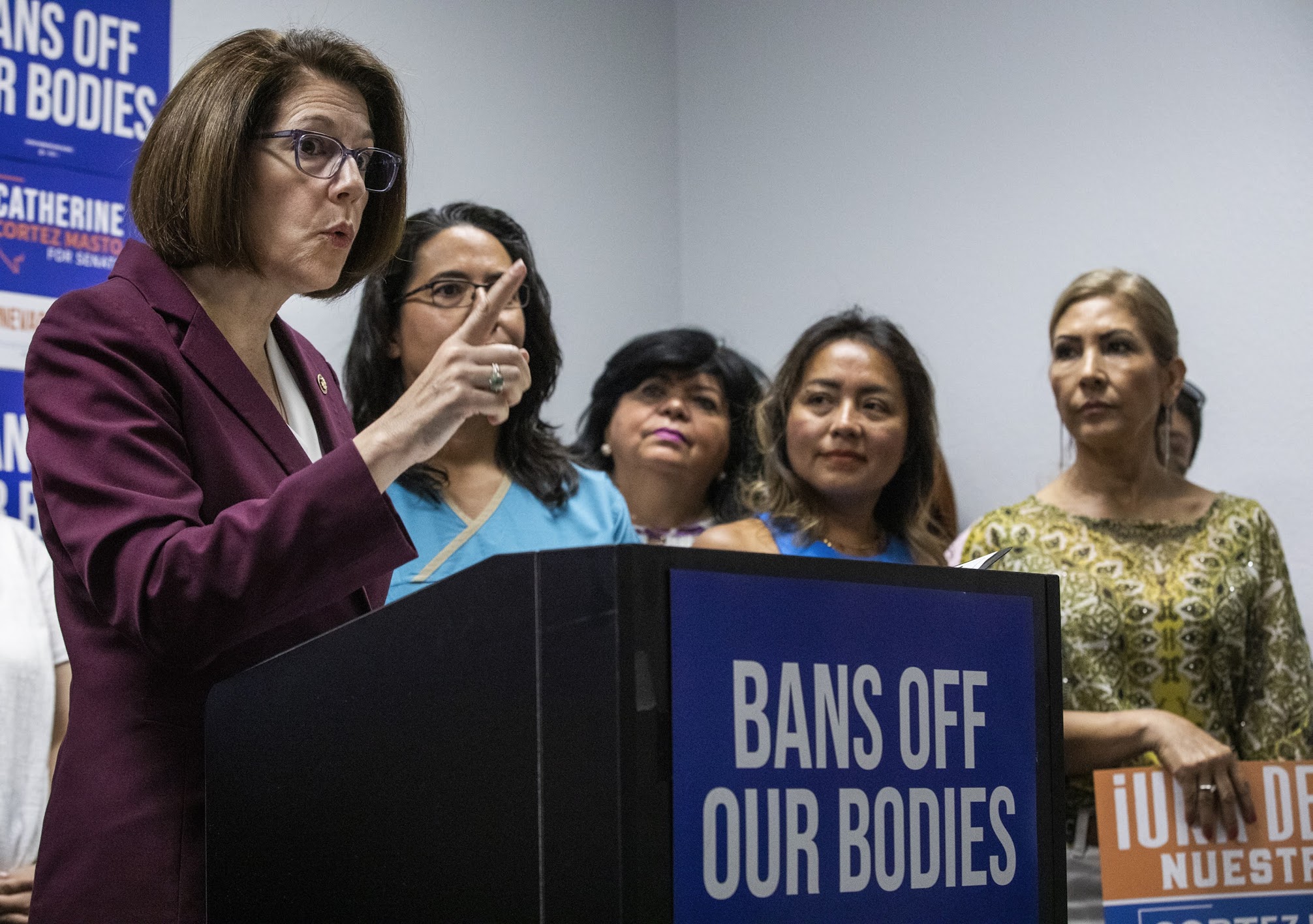 During the second quarter, a pair of Democratic incumbents, Sen. Catherine Cortez Masto and Rep. Susie Lee, raised record amounts of money for Nevada candidates running for their respective chambers of Congress.
Though they surpassed their fellow congressional delegates in campaign fundraising during the period, Cortez Masto ($7.5 million raised) and Lee ($1.2 million) were not alone in pulling in massive hauls. Democratic Reps. Dina Titus ($701,000) and Steven Horsford ($867,000) also set personal records for second quarter fundraising.
Less than four months away from the midterm election in November, the record amounts likely signal the difficult re-election battles each of the Democrats will face over the coming months.
Swirling headwinds for the party, including President Joe Biden's historically low approval rating and the country's highest inflation rate in four decades, have diminished the significance of Democratic advantages in voter registration statewide and in three of the state's congressional districts.
But as the dust settles from the June primary election, Republican candidates challenging the Democratic incumbents remain far behind in the money race. Former Attorney General Adam Laxalt raised a little more than one-third as much as Cortez Masto during the second quarter. Entering July, Lee had seven times as much cash as her Republican opponent April Becker.
As congressional candidates in Nevada gear up for a summer and fall of big spending, the latest campaign finance reports, submitted to the Federal Election Commission last week, provided the first look at how the general election contenders stack up since the June primary.
Below, we explore fundraising and spending data for the second quarter, which combines data from a pair of campaign finance reports — a pre-primary report covering April 1-May 25 and a July quarterly report covering May 26-June 30.
Cortez Masto shatters Nevada fundraising records in competitive Senate race
Incumbent Democrat Sen. Catherine Cortez Masto continued her run of record-setting fundraising with another $7.5 million raised through the second quarter, including $3.8 million banked in the roughly five weeks covering the end of May and June.
Through the quarter, Cortez Masto also continued her spending trend, dropping more than $8.7 million — split roughly between $5.6 million in the pre-primary period and another $3 million in the five weeks that followed — or enough to leave about $9.8 million cash on hand.
Those massive sums have been compounded by increasingly large outside spending by major PACs, especially by the latino voter outreach organization Somos PAC, which spent more than $3.4 million on media buys attacking Republican candidate Adam Laxalt in May and June.
Laxalt, meanwhile, began to expand his fundraising operation with more than $2.8 million raised through the quarter, of which a little less than half, $1.3 million, came in the final five weeks of the quarter.
But amid an unexpectedly competitive Republican primary, Laxalt also joined the ranks of candidates spending more than they raised, shelling out nearly $3 million and leaving $2.1 million cash on hand.
In recent weeks, Laxalt's campaign has sought to diversify its fundraising efforts in a bid to tap into a nationwide network of donors as its totals have continued to lag both Cortez Masto and other top GOP Senate fundraisers, such as Georgia's Herschel Walker.
That includes launching a joint fundraising committee with Ohio Republican Senate candidate J.D. Vance and, according to fundraising emails obtained by The Nevada Independent, holding a trio of fundraising events in the Washington, D.C. area this week, with tickets ranging from $500 to $5,000.
And as the post-primary dust has settled, last week's filings provided some new clarity on the campaign of Republican Sam Brown, whose longshot bid to challenge Laxalt ultimately faltered in the final months of the campaign.
Even as he was on track to finish 21.6 points behind Laxalt, Brown still raised almost $1.1 million through the second quarter, with most (about $732,000) raised in the pre-primary period before the end of May.
It continued a streak of $1 million-plus fundraising quarters for Brown, but was an amount that ultimately wilted under increased fundraising gains for Laxalt (who also benefited from heavy outside spending in the final weeks of the race, including more than $651,000 in combined second quarter spending from the Club for Growth and its affiliated PACs).
Combined filings show Brown spent more than $1.5 million, leaving just under $237,000 cash on hand. What he may do next remains unclear — but likely not for long. On Monday, Brown tweeted that he will look to help Republicans "so that we can take back Congress and the governorship" in 2022, and that he would announce specific details "soon."

Titus' fundraising soars past opponents in District 1
District 1's long-time Democratic incumbent Rep. Dina Titus reported raising more than $700,000 in the second quarter, dramatically more than her opponents in both parties. After spending about $136,000, Titus was left with nearly $1.7 million in cash on hand.
Titus, who won the Democratic primary in June, spent $21,000 on consulting and nearly $10,000 on printing and mailing campaign advertising to voters. In November, she will face former Army Colonel Mark Robertson — who defeated former Latinos for Trump leader Carolina Serrano in the Republican primary.
Robertson raised nearly $170,000 during the second quarter, and he spent more than $207,000, including nearly $36,000 on digital advertisements, primarily through Google and Facebook, as well as just shy of $33,000 on fundraising services. Robertson also paid himself back more than $72,000 for loans he previously made to his campaign. He was left with nearly $200,000 in cash at the end of the quarter.
Despite losing in the primary, Serrano raised $193,000 and spent $387,000, cycling through more cash than Robertson in the second quarter.
Amodei emerges from District 2 primary win with nearly $300K in the bank
On his path to re-election in ruby red District 2, Republican incumbent Rep. Mark Amodei won the June primary, after he spent more than a quarter of a million dollars on advertising through television, radio, mail, newspapers and billboards.
Amodei spent just short of $430,000 during the second quarter and reported raising about $246,000. He received financial support from Wynn Resorts PAC, NV Energy PAC and the NRA Victory Fund. He ended the quarter with $298,000 in cash on hand.
Amodei was out-raised during the quarter by his top primary opponent, Douglas County Commissioner Danny Tarkanian, who brought in $629,000 by the end of June. However, the majority came from Tarkanian's personal funds. He loaned himself more than $475,000.
During the second quarter, Tarkanian spent roughly $706,000, of which $667,800 went toward services from First Tuesday, a political strategist group.
The winner for the Democratic primary in District 2, Elizabeth Mercedes Krause, an educator, who won in a landslide, has not filed any fundraising reports with the Federal Election Commission.
In District 3, Lee sets a second quarter record as advertising spending heats up
Democratic Rep. Susie Lee reported raising about $1.2 million during the second quarter, a record for the period by a Nevada candidate for the U.S. House. She ended June with nearly $2.6 million in cash on hand after spending about $775,000 during the quarter.
Lee, whose campaign has focused primarily on abortion in the wake of the Supreme Court's decision to overturn Roe v. Wade, spent more than $454,000 on television and digital advertising in the days following the decision. In June, Lee's campaign announced a $500,000 investment in an advertising campaign portrating Lee as "pro-choice" and her Republican opponent April Becker as "anti-choice."
Becker, who won the Republican primary for District 3 by a wide margin, securing 65 percent of the vote, raised almost $328,000 during the second quarter, pushing her cash on hand to more than $360,000.
That balance marked a drop from the previous quarter, as Becker ramped up her campaign spending ahead of her primary win. She reported $417,000 in spending, including more than $172,000 for advertising.
Becker also received a boost in fundraising from a joint fundraising committee associated with House Minority Leader Rep. Kevin McCarthy (R-CA). On the final day of the quarter, she received a contribution of roughly $63,000 from the joint committee, Take Back The House 2022. The Republican nominees for Districts 1 and 4, Robertson and Sam Peters, also reported receiving about $60,000 each from the group.
Horsford widens fundraising lead in District 4 race
Democratic Rep. Steven Horsford had his strongest fundraising quarter of the cycle so far, bringing in about $867,000 and pushing his cash on hand to nearly $2.5 million — more than 15 times as much as his Republican opponent.
With no primary election challengers, Horsford was able to coast through the quarter, spending just $316,000, including $30,000 for advertising.
Sam Peters, a veteran and insurance firm owner, reported raising $237,000 during the quarter and finished the period with $163,000 in the bank after defeating Assemblywoman Annie Black (R-Mesquite) in the Republican primary election.
On his way to a 6-point victory over Black (48 percent to 42 percent), Peters narrowly outspent his opponent during the quarter ($278,000 to $268,000). Peters reported spending more than $115,000 on a combination of advertising, media placements and direct mail during the period.
Editor's Note: This story appears in Indy 2022, The Nevada Independent's newsletter dedicated to comprehensive coverage of the 2022 election. Sign up for the newsletter here.
The Nevada Independent is raising $200,000 by Dec. 31 to support coverage of the 2024 election.
Tax-deductible donations from readers like you fund this critical work.
If you give today,your donation will be matched dollar-for-dollar.
Give + Get Matched
Featured Videos