Follow the Money: Lombardo raised record amount after victory, bolstered by gaming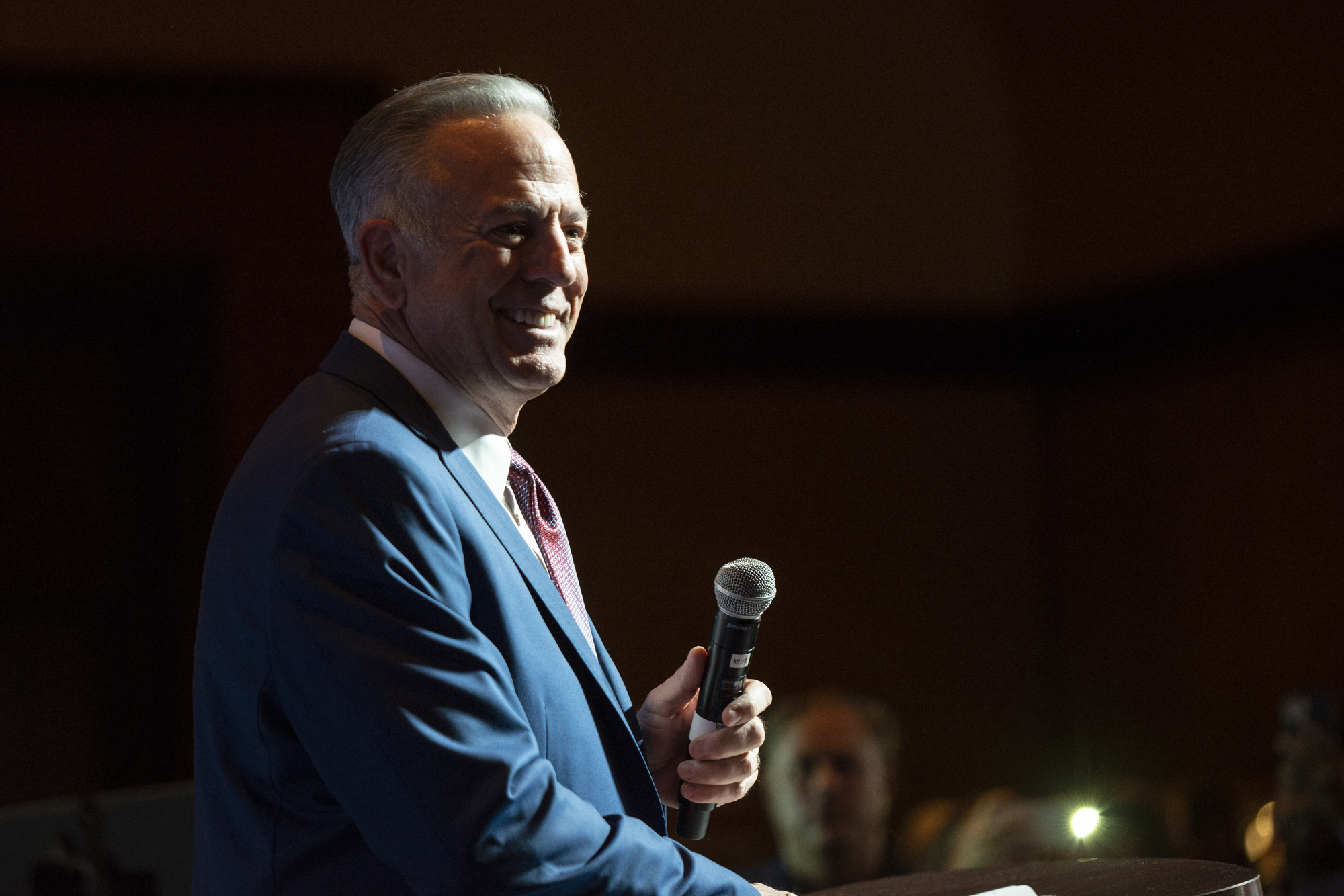 From the day after Election Day through the end of 2022, Republican Gov. Joe Lombardo's campaign raised nearly $2 million — a record for a state-level candidate and nearly double what former Democratic Gov. Steve Sisolak raised after his victory in the 2018 election.
Lombardo's massive fundraising haul after his narrow general election victory was driven by maximum contributions of $10,000 from 161 donors, totaling $1.61 million. Major donors included leading members of the state's powerful gaming industry.
The fundraising boom comes as companies seek to curry favor with the state's new chief executive, as they have done with previous new governors. Following Sisolak's 2018 election win, he raised nearly $1.1 million through the end of that year, with major contributions coming from key gaming and development businesses and other Nevada companies.
This year, Lombardo was the subject of similar fundraising activity. Ten members of the Fertitta family, which owns Las Vegas-based Station Casinos, gave him a combined $100,000; 10 Las Vegas hotels and companies owned or operated by Caesars Entertainment gave a combined $100,000; companies owned by Boyd Gaming gave a combined $50,000, and companies owned by Wynn Resorts gave $30,000.
Many bigger businesses, holding considerable interest in how Nevada's governor will affect economic and industry-specific policy, also hedged their bets by giving large contributions to both Sisolak and Lombardo amid a tight gubernatorial race.
Lombardo received significant contributions from donors previously supportive of Sisolak, including 27 maximum contributions totaling $270,000 from companies owned and operated by MGM Resorts International.
As recently as Election Day, the company threw support behind Sisolak. On Nov. 8, a trio of MGM-owned LLCs (550 Leasing Company II, LLC; Metropolitan Marketing, LLC; and Arena Land Holdings, LLC) each gave $10,000 to Sisolak. Just weeks later, between Dec. 19-31, the LLCs each gave $10,000 to Lombardo.
Other companies that gave multiple maximum donations to Lombardo included waste disposal company Republic Services and public utility company NV Energy. The donations came by way of various LLCs and different company names. For example, NV Energy gave $10,000 to Lombardo through each of the following: "Nevada Power Company dba NV Energy," "NV Energy Inc" and "Sierra Pacific Power Company DBA NV Energy."
Bolstered by a historic windfall after his electoral win, the fourth quarter of 2022, covering Oct. 1-Dec. 31, marked the first quarter Lombardo outraised Sisolak during the election cycle.
During that period, Lombardo raised $3.7 million, compared with $2.1 million for Sisolak. Both candidates also spent big as they made a final push before the election, with Sisolak spending $3.1 million and Lombardo spending $3.6 million. That amount included Lombardo's campaign paying nearly $2.8 million to Strategic Media Services, a Virginia-based media firm.
In the final two days of the year alone, Lombardo received more than $200,000 in campaign contributions. The flood of money comes as the new governor is now barred from soliciting or accepting contributions or commitments for donations during a so-called "blackout period." State law prohibits the governor, lieutenant governor and members of the Legislature from doing so 30 days before a legislative session begins through 30 days after the session ends. The session begins on Feb. 6 and ends on June 5.
Democrats dominate in down-ballot fundraising
Secretary of State
As polls indicated a razor-thin race for secretary of state, Democratic Secretary of State Cisco Aguilar spent a record amount of campaign cash on the race, dumping more than $2.4 million into the race in its final weeks — an amount totaling roughly three-quarters of all the money he spent during the entire 2022 campaign, and leaving just over $27,000 in cash on hand.
En route to his victory in the general election over Republican Jim Marchant, Aguilar raised nearly $967,000 in the fourth quarter — a slight dip from his record third-quarter haul of $1.1 million, though one that came largely from a single month of fundraising.
Much of that money — roughly $894,000 — came in contributions before the end of the calendar year. But Aguilar also received a sizable chunk in post-election fundraising, totaling more than $73,000 from 40 contributions, including $10,000 from Reno-based entrepreneur Cort Christie, who has been a prolific donor to Republican candidates.
Marchant, by contrast, raised just $114,000 in the fourth quarter, including $5,000 from prominent Nevada election denier Robert Beadles, $3,000 from the Beadles-linked Franklin Project, and $10,000 from an LLC linked to prominent Southern Nevada Republican donor Don Ahern, who is linked to the Ahern Hotel and Ahern Rentals.
Attorney General
As Democratic Attorney General Aaron Ford sailed to a nearly 8-point victory over Republican challenger Sigal Chattah, he continued to command a massive fundraising lead. During the fourth quarter, Ford raised $880,000, pushing his total for the year to more than $3.4 million, as Chattah raised just $571,000 over the course of 2022.
Just $25,000 of Ford's contributions came after Election Day. As attorney general, Ford is not subject to the legislative session blackout period on fundraising, unlike the governor, who signs bills into law, and the lieutenant governor, who serves as president of the state Senate.
With a significant cash advantage, Ford emptied his bank account on the way to victory, spending $2.9 million during the fourth quarter, compared with just $278,000 in spending for Chattah. Ford's massive spending prior to the election came as he previously won his first race for attorney general in 2018 by just 0.5 percentage points.
Most of Ford's spending went toward communications and advertising, with more than $2.6 million going to Iowa-based media firm GPS Impact.
Chattah, like Marchant, received $5,000 from Beadles.
Lieutenant Governor
Republican Lt. Gov. Stavros Anthony reported a comparatively small $126,000 raised through the fourth quarter, of which more than a third — roughly $45,000 — came after the election.
Still, Anthony spent nearly double what he raised in the election's final weeks, dropping nearly $244,000 in the last five weeks, or roughly one-third of his $774,000 in total campaign spending.
Opposite Anthony, Democratic Lt. Gov. Lisa Cano Burkhead both outraised and outspent him in the fourth quarter, hauling in $179,000 and spending $348,000 in the same time period ahead of her electoral loss. That fundraising included five donations of $10,000, including one from Las Vegas Sands.
Legislature
In the Legislature, leading fundraisers included Democratic leaders and Democratic Senate candidates locked in tight races.
Incoming Assembly Speaker Steve Yeager (D-Las Vegas), for years among the Democrats' top legislative fundraisers, continued to lead the way in 2022 with more than $236,000 in fourth quarter fundraising, with an additional $96,000 raised through his PAC, Nevada Strong.
Sen. Julie Pazina (D-Las Vegas), who won a close-fought race for an open Senate seat by fewer than 5 points, closely followed Yeager, raising more than $235,000 during the fourth quarter.
Sens. Melanie Scheible (D-Las Vegas) and Marilyn Dondero Loop (D-Las Vegas), who were both considered among the most vulnerable Democratic incumbents in the Senate, also found themselves near the top of the fundraising list, bringing in nearly $201,000 and $189,000 during the fourth quarter, respectively.
Senate Majority Leader Nicole Cannizzaro (D-Las Vegas) raised nearly $168,000 during the fourth quarter. Her Republican counterpart, Minority Leader Heidi Seevers Gansert (R-Reno), raised more than $59,000 in the same time span, including $43,500 raised after the election.
The fourth quarter also marked an opportunity for top industry players, such as gaming and real estate companies, to funnel money to newly elected or re-elected legislators before the blackout period.
Nevada Realtors, which traditionally ranks as one of the top donors to state lawmakers, gave more than $50,000 to members of the Legislature during the post-election period from Nov. 9-Dec. 31. Payday lender TitleMax also ranked as a top contributor during that period, giving more than $28,000 to a slew of lawmakers.
The Nevada Independent is raising $200,000 by Dec. 31 to support coverage of the 2024 election.
Tax-deductible donations from readers like you fund this critical work.
If you give today,your donation will be matched dollar-for-dollar.
Give + Get Matched
Featured Videos