Inside the economic blueprint helping drive Sisolak's legislative agenda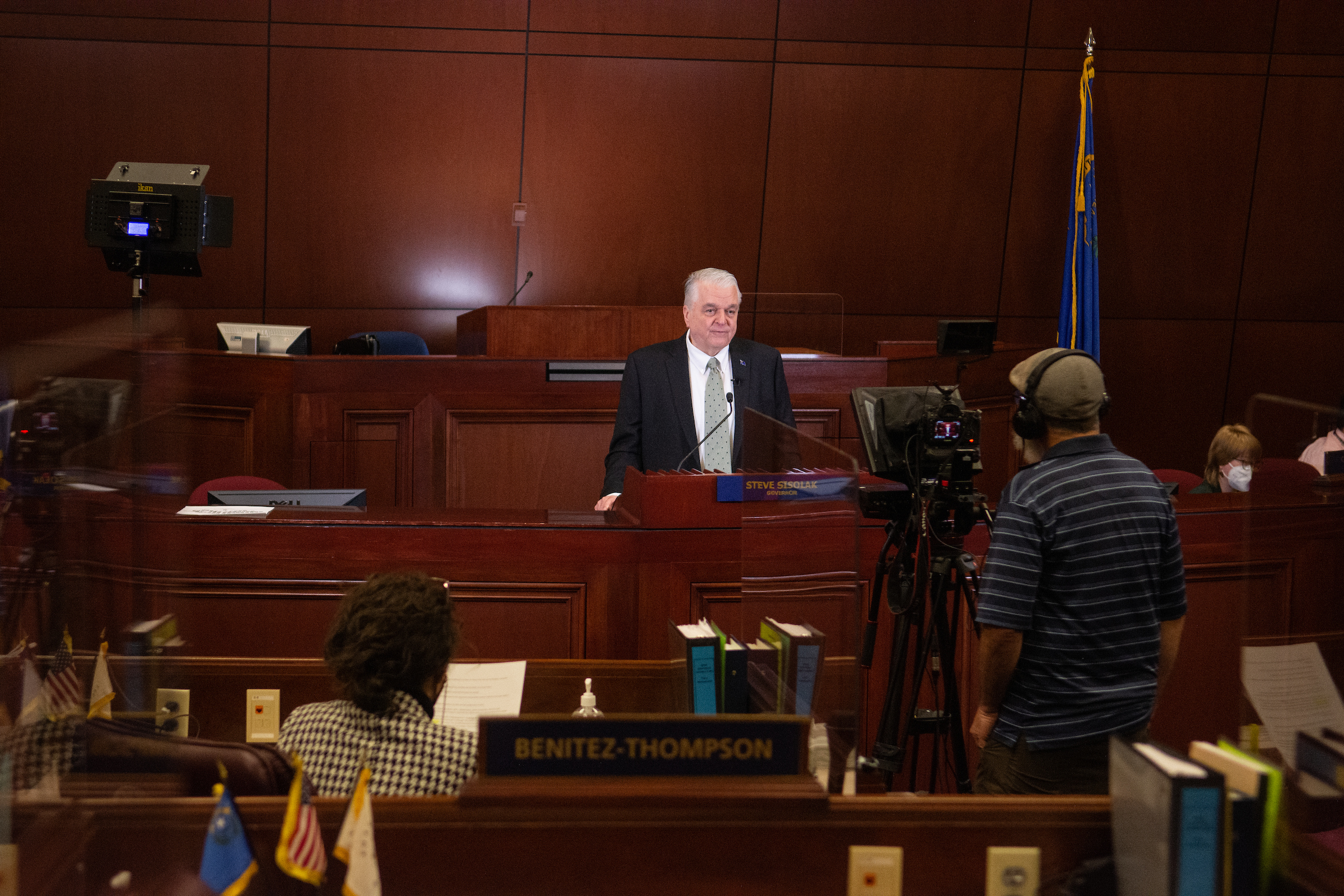 In last month's State of the State speech, Gov. Steve Sisolak laid out his legislative wish-list that — in contrast to his 2019 progessive policy agenda — focused more on economic development and recovery from the COVID-19 pandemic.
Ideas listed by the governor in the speech — funding a state infrastructure bank, creating "Innovation Zones" and a focus on job training and small business development — weren't surprising, given the state's precarious economic situation and a likely desire by Sisolak to avoid having his name attached to any controversial policy shifts ahead of his upcoming re-election in 2022.
The starting point for much of the governor's legislative agenda comes from another source: the long-awaited update to the state's economic development blueprint, created by the Governor's Office of Economic Development (GOED) in conjunction with a couple of think tanks — SRI International and Brookings Mountain West -- and a consulting firm -- RCG Economics.
The report was released in December 2020, and was published on GOED's website in January. In an interview, GOED Deputy Director Bob Potts called the report a "foundational piece" to how the governor and his administration are approaching economic development during the legislative session.
"These were options that were made available to leadership," he said. "And the ones that showed up in the State of the State are the ones that piqued the governor's interests, and actually fit his agenda and where he wants to go with things. So it's very complimentary."
Creation of the report has been in the works for several years; GOED in 2018 had actually commissioned (at the price of around $200,000) an update to the state's initial 2012 economic development blueprint report, but sat on the findings and finished product for more than a year during the transition between gubernatorial administrations.
In October 2019, Sisolak tapped Michael Brown — former head of Barrick Gold USA and then-director of the Department of Business and Industry — to lead the agency, after it had implemented a temporary pause to new tax abatements offered by the state. In December 2019, Brown said the agency would pursue an update to the 2012 blueprint, but the publishing timeline was thrown off by the COVID-19 pandemic last March.
Potts said that the publishing delay was a blessing in disguise; the initial shutdown and lingering economic aftershocks of the COVID-19 pandemic have thrown out the normal playbooks for how states approach economic development, meaning that the office and hired think tanks had to essentially start the reporting process over from scratch.
Still, there could be legislative changes coming that would affect the economic development planning process. A bipartisan group of state lawmakers have signed on to a bill that would require that the state's economic development plan be updated every three years.
"What's happened is when our economy has been robust, we haven't updated the strategic plan," bill sponsor Heidi Gansert (R-Reno) said. "It's really important whether the economy is robust or not, that we're working on economic development strategically."
Much of the report focuses on the near-term economic situation. It calls for an immediate "Economic Dunkirk" — an immediate leveraging of state and federal dollars to "rescue" pandemic-affected businesses and workers without opening the state up to an increase in COVID-19 cases (or affecting consumer confidence in the state's ability to keep infections down).
But the report also looks ahead to a potentially uncomfortable future: the state's economy in a post-COVID world that may be much different than the state's pre-pandemic situation.
"The reality is that some of Nevada's workers will not return to the same job that they had before the COVID-19 pandemic—either because of business closure, lack of customers, or drop in demand for certain industries," it states. "Small- and medium-sized businesses have been especially hard hit, and their losses will delay a strong recovery."
In addressing the anticipated changes, the report attempts to do three things: assess what has and hasn't worked in past economic development efforts; identify which economic sectors or types of businesses the state should attempt to help grow; and suggest immediate as well as longer-term steps for potential initiatives to help those specific industries.
"The capacity of the state and its associated institutions is stretched to the limits by the current crisis," the report states. "Nevadans have preferred a low-capacity state government, dispersed over three cities. But Nevadans cannot prosper in the future without accepting the need to invest in real management and financial capabilities."
Many of the related proposals (called "Capabilities to Realize the Vision" in the report) were included in Sisolak's State of the State address. They include:
Fully fund the state infrastructure bank. The report touts this as a major opportunity for transportation development (noting that the state constitution bans toll roads). "Capital will be cheap, labor will be available, and it will be vital to complete the capital projects discussed in the section above if the state's economy is going to grow in new, more resilient directions," the report states. Lawmakers created a shell of an Infrastructure Bank in 2017; Sisolak's budget adds $75 million to the fund.
Create a Small Business Advocacy Center. The report says that at least three different agencies are at least partially focused on addressing the needs of "Micro-, Small-, and Medium-Sized Enterprises" (MSME), and suggests that those responsibilities be housed under GOED. Sisolak's State of the State remarks touted a proposal by Lt. Gov. Kate Marshall's to create a Small Business Advocacy Center, meant to be a "one-stop location to help small businesses take advantage of the resources that exist and help them cut through the red tape."
Restructure Nevada's higher education system. The report calls for a better alignment for community colleges with the federal government definition (as well as redefining Great Basin College in Elko as a four-year institution), with a focus on "articulation, certification, remediation, stackable credentials and work-place learning." (Community colleges have pushed back on the classification issue). Sisolak called for a restructuring of the state's higher education system, including breaking off community colleges into their own governing structure.
Provide incentives for remote work. The report says the state should work to attract a "new class of digitally and geographically connected worker" to Nevada, citing a growth in remote work amid the pandemic. Sisolak called for creation of a "Remote Work Resource Center" in his State of the State speech.
Some of the report's proposals, such as establishing a sovereign wealth fund or growing the state's community banking network, weren't mentioned in the governor's speech. Potts said ideas listed in the report should be considered a menu of policy options for state leaders to take up, as opposed to a list of must-haves.
"There's going to be back and forth on some of this stuff," Potts said. "Some of it may never see the light of day. And that's fine."
And not all of Sisolak's legislative agenda stems from the report. Despite the word "innovation" appearing 30 times in the report, it contains no details on the proposed "Innovation Zone" concept floated by Blockchains LLC that would allow the tech company to essentially establish their own "county-within-a-county." The only mention of Blockchains, LCC in the report comes in a section about potential expansion of rail lines.
Potts declined to give additional details about the Innovation Zone concept. GOED representatives have largely avoided the topic or said that more details will be forthcoming from the governor's office.
The office does not plan to bring bill draft requests to the Legislature that would modify the state's current slate of tax abatement and incentive programs. The office says it has become more "picky" in choosing which industries it tries to attract to the state — Brown said during a recent budget committee meeting that the agency has started requiring corporate responsibility pledges as part of the incentive application.
But the topic of tax incentives, as well as the state's economic development blueprint, is likely to come up during the 2021 legislative session. Sen. Heidi Gansert (R-Reno) introduced SB117 last week, a measure that would require GOED to update the state economic development plan at least once every three years, and would require regional development authorities (such as EDAWN in Northern Nevada or the Las Vegas Global Economic Alliance in Southern Nevada) to present plans on "recruiting and marketing" efforts to GOED once every two years.
The measure would also create an interim legislative study committee diving into the state's current abatements, exemptions and other incentives. A similar measure passed the 2019 Legislature but was vetoed by Sisolak — backers of that bill, including Sen. Dina Neal (D-Las Vegas) have co-sponsored Gansert's bill.
In an interview, Gansert said it was important for the state to more regularly update its economic development plan more often than once a decade, and that doing so would help match investments in workforce development and other longer-term projects with the state's economic goals.
She said a legislative committee focused on a "bottom up analysis" of the state's tax abatement package would help ensure that abatements or incentives were only being awarded to companies with high-quality jobs, and not just automatically offered to any business that met the minimum requirements.
"Right now, a lot of the abatements are on autopilot based on statute, and that's something we need to address," she said. "I do agree that we need to look at jobs that will pay higher wages, jobs that are related to how we're developing a knowledge based economy, and also in health care. So we have to be able to have some discretion around the abatements and incentives so that we can target the best paying jobs for Nevadans."
Comment Policy (updated 4/20/2021): Please keep your comments civil. We reserve the right to delete comments or ban users who engage in personal attacks, use an excess of profanity, make verifiably false statements or are otherwise nasty. Comments that contain links must be approved by admin.