Legal, health-care systems struggle to meet needs of wayward youth with autism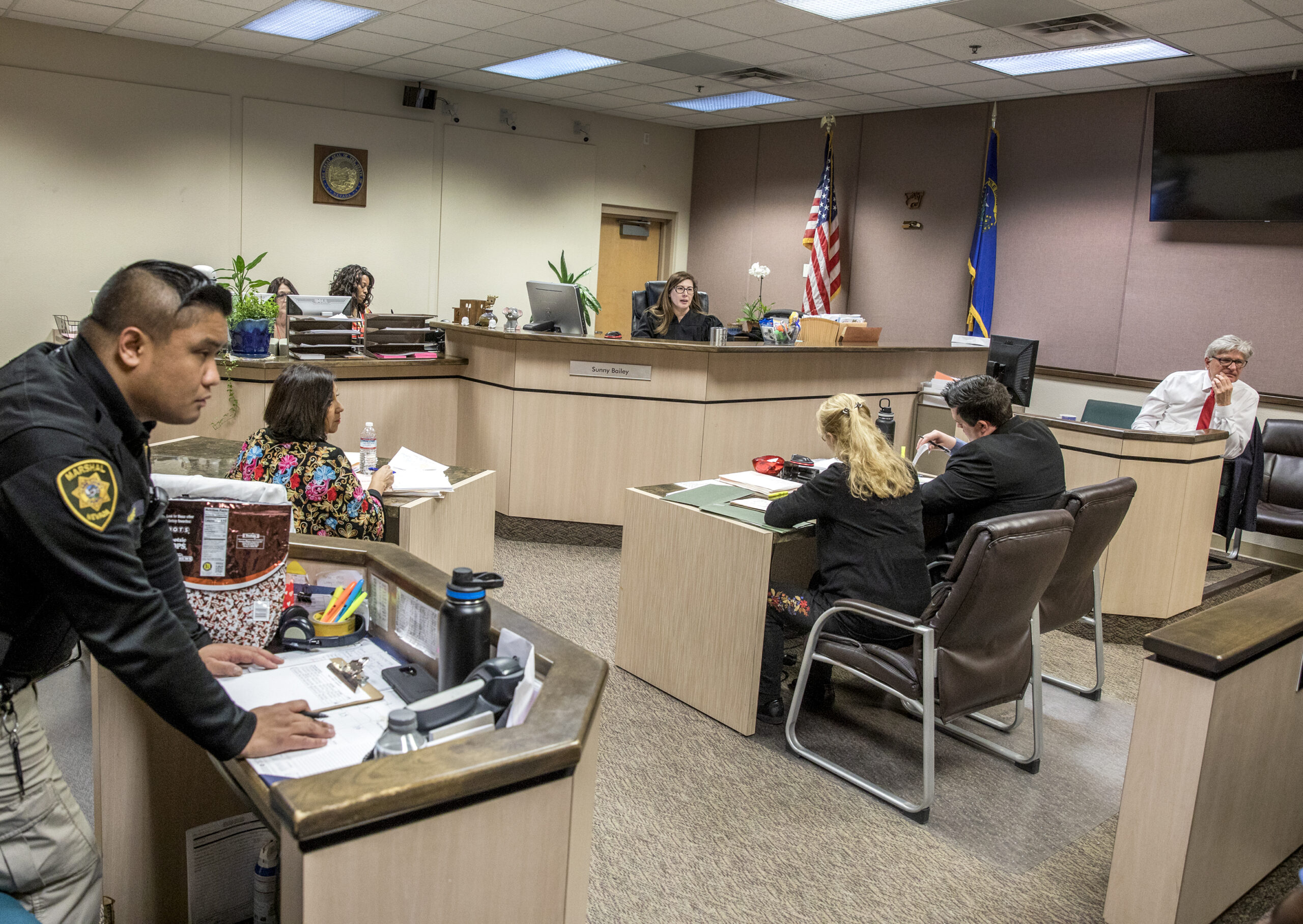 In one Clark County courtroom, the judge's most important tool might be the Tootsie Rolls.
The contents of the two-pound bag sitting on on the marshal's podium go to teens who have waited patiently in the lobby for their turn before the judge. When a defendant is called up, the judge doesn't hold the threat of prison time over him. Instead, she says that if he behaves for the next few weeks, he gets time to play his favorite video game — Fortnite.
Welcome to autism court — a program that works with youth who, perhaps because of a lack of a diagnosis or insurance troubles that prevented their parents from enrolling them in behavioral therapy during their most formative years, have struggled and gotten themselves in trouble with the law.
"This court was set up because what we noticed is that we had quite a few youth coming on domestic violence related charges, battery on teachers, we have a couple property crimes, but a majority are going to be domestic violence cases," said juvenile court hearing master Soonhee "Sunny" Bailey, who runs the program. "And they were coming in either on the spectrum, or the parents have been told they're on the spectrum and they've received no services at all."
Hearings are heavily focused on lining up treatment-based solutions and rewarding good behaviors, often with candy. Positive reinforcement is a key tenet of applied behavioral analysis, the go-to treatment for children with autism.
But the court is also a sobering reminder of how far Nevada remains from meeting the needs of all children on the spectrum, and the dire consequences of failing to do so in a timely fashion. Of the nearly 8,500 children estimated to have autism within Nevada's school system, only several hundred are getting help through the Autism Treatment Assistance Program or Medicaid, and some families are waiting years for services.
"Despite funding, the state continues to fall short on serving children with autism. It's difficult to get to the bottom of why this happens," said Bailey Bortolin, who lobbies for Nevada legal aid organizations that assist some of the youth in autism court.
The first question in many of Bailey's cases is who insures the child. If it's Medicaid, the children's chances of getting help can be dicier — the state's efforts to get Medicaid-eligible children into treatment over the past few years has gone far slower than originally projected.
Lawmakers discussed a trio of bills last week that aim to tackle those challenges. The price tags for all of them is now up to $69 million over the next two years.
But the formative years when a child is most receptive to treatment are slipping away for many Nevadans and the consequences of missing that window are evident in Bailey's courtroom and beyond.
Prisons Director James Dzurenda recently testified that — as part of their crisis intervention training — all correctional officers are now being trained on how to redirect the behavior of inmates with mental illnesses and autism. They can be susceptible to joining gangs to fit in, he said.
"It's pretty high," Dzurenda said about the number of inmates with autism. "I'm not sure of the numbers, but it's absolutely high."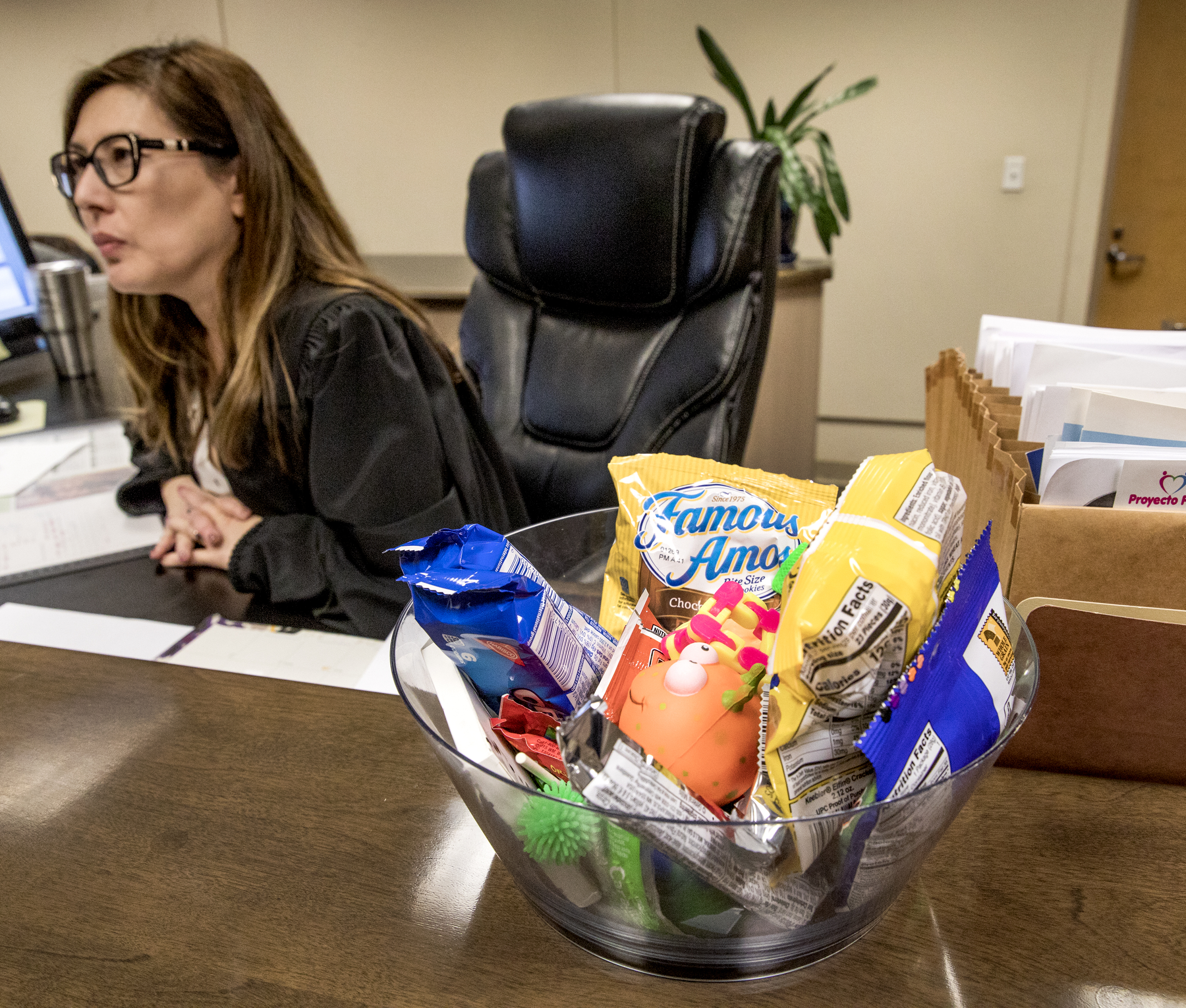 The Medicaid disappointment
For more than a decade, Nevada has funded the Autism Treatment and Assistance Program (ATAP) — a state program that will pay for a range of treatments for children with autism, including applied behavioral analysis (ABA). ABA involves a therapist teaching new behaviors to a child, redirecting repetitive or negative behavior — such as screaming and head-banging — and using positive reinforcement to build progress.
A landmark 1987 study on the technique found that about half of children who received 40 hours a week of one-on-one, in-home ABA therapy for two years starting before they were four years old went into non-special education classes later on — effectively recovering from the disorder. None in a control group, where children were getting less than 10 hours a week in therapy, were "mainstreamed."
The average cost to a family of a child with autism including treatment and lost wages is $1.5 million to $2.5 million, but that can be cut by about 66 percent, according to Cori Moore, an assistant professor at the UNLV College of Education whose research specialties include autism. 
"For every $3 we invest in early intervention treatment, we are saving $11 for society," Moore testified.
ATAP has long faced more demand than supply. As of Dec. 31, there were 444 children on the waitlist, and the average wait time is 372 days.
So advocates celebrated in 2014 when the federal government announced that ABA therapies could be covered by Medicaid, the government insurer that serves nearly a quarter of Nevadans.
Former Gov. Brian Sandoval's budget in 2015 proposed to use Medicaid funding to vastly expand ABA therapy in Nevada. He allotted $42 million to the cause and estimated nearly 1,900 children would receive services in the coming biennium.
But the rollout has been far slower than expected. Today, only about 137 children are covered by managed care Medicaid, and 416 are enrolled in fee-for-service Medicaid. State officials say they've made "huge progress" percentage-wise on ensuring more children are signed up, but acknowledge it's been difficult.
"When there's a new service or when we expanded Medicaid in our state, there's always that ramp up time and challenges that we didn't anticipate ahead of time," said Dena Schmidt, head of Nevada's Division of Aging and Disabilities Services, in a recent interview. "We had to learn how to bill Medicaid, for example. And that wasn't something we were used to. It was a new part of our process that we have that we didn't have the skillset for."
Even the ATAP program has not been meeting its capacity objectives. While the program was budgeted to serve 836 children in the current biennium and could have helped another 290 children through reserves, Bortolin said, current enrollment is 648.
The number of providers is one limiting factor, and something that lawmakers tried to address through bills last session. The number of Medicaid-accepting registered behavioral technicians (RBTs) — the people who work directly with children with autism — has grown from 145 in early 2017 to 535 by late 2018.
But the number of board certified behavioral analysts (BCBAs), who supervise RBTs, has grown at a slower rate, from 26 to 53 statewide. Part of that is because it takes several years to earn a BCBA certification but only 40 hours to earn the RBT certification.
"There's a need for more providers to participate in Medicaid. And … the economics of the situation suggest that ... there is an overall shortage," said Cody Phinney of the Nevada Division of Health Care Financing and Policy, pointing to long wait times to find a provider. "And there are providers that have made it clear that they don't have to participate in Medicaid because there's so much demand outside of Medicaid."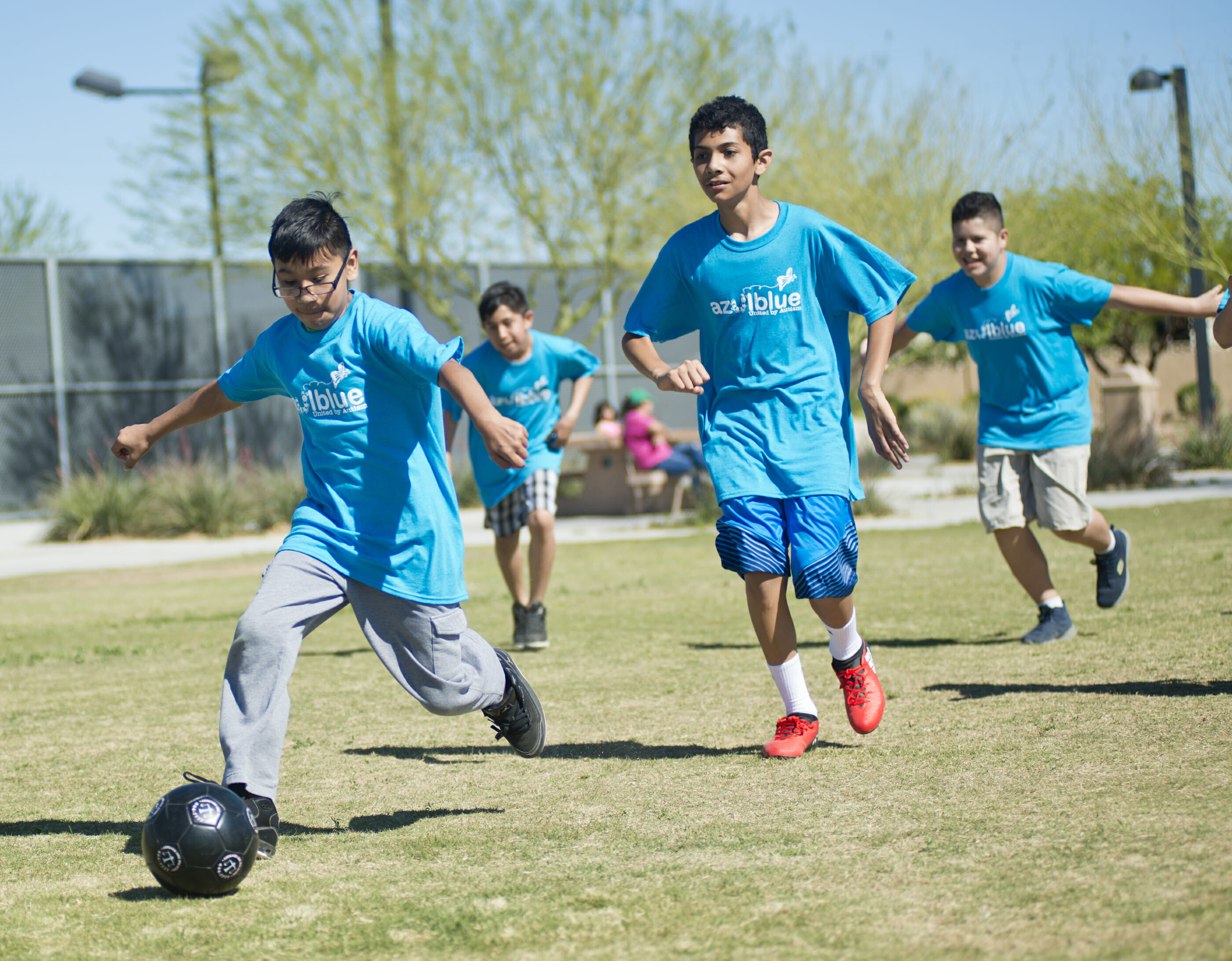 Competing with fast food jobs
Many people blame the shortage on the rate that Medicaid reimburses providers for the services of RBTs. The rate is $31.30 per hour — significantly lower than the $52 per hour that TriCare (military insurance) pays and lower than many neighboring states.
By the time a provider pays for a supervisor, insurance, workman's compensation, employment taxes and other overhead, many of the actual RBTs are making a starting wage of $12 an hour.
"Not only does the job require training, but it is a demanding and intense job that may include working with individuals who are physically aggressive," said Gwynne Partos, vice chair of the Nevada Commission on Autism Spectrum Disorders.
One RBT who testified to lawmakers said he wanted to keep serving his clients, but found that with all the driving he had to do to three far-flung clients' homes in a given day, he could make more driving for Uber and Lyft. Another autism service provider lamented the high turnover in the job, saying she was frustrated to see a sign on a recent visit to In-N-Out saying the burger chain offered starting wages of $12 with earning potential for $15.75.
"As business owners, it pains us to lose out on skilled employees because making French fries down the street can provide a more consistent paycheck than fulfilling your life's ambitions to make a difference in the lives of children," said Megan Szeto, co-owner of Reno-area ABA provider The Learning Consultants.
Although the number of RBTs in Nevada who serve Medicaid clients has grown significantly, activists said they think many are only spending a few hours a week with those clients because they can make so much more from clients with other insurances. Erik Lovaas, who runs the The Lovaas Center for autism treatment, testified that based on his analysis of the number of hours RBTs were billing Nevada Medicaid in late 2018, only 38 children were getting the 40 hours a week in therapy recommended to help them live a normal life later on.
"Our government agencies claim to have hundreds of RBTs on the books. That does not mean those RBTs are working with Medicaid kids or working the hours needed or staying on the job for any length of time," testified Julie Ostrovsky, a member of the Nevada Commission on Autism Spectrum Disorders. "I know this because as a commissioner, the public comment during our meetings is filled with parents, providers frustrated by the system, the system that is hindering their ability to help children who need consistent services on a daily basis."
Democratic Sen. James Ohrenschall is proposing to raise the reimbursement rate from $31.30 to $48 an hour, which reflects the median rate for several neighboring states. It's not included in the governor's recommended budget and is estimated to cost an additional $22 million in the next two years — about $10 million of which would come from the general fund.
Phinney said that while the state doesn't have an opinion on the appropriateness of the RBT rate, it came after much discussion, with input from the state's rates division and the federal Centers for Medicare and Medicaid Services. Absent legislative intervention, the rate is only reviewed every four years.
"The legislative process can always adjust something like that," Phinney said. "If they pass a law, we'll follow it."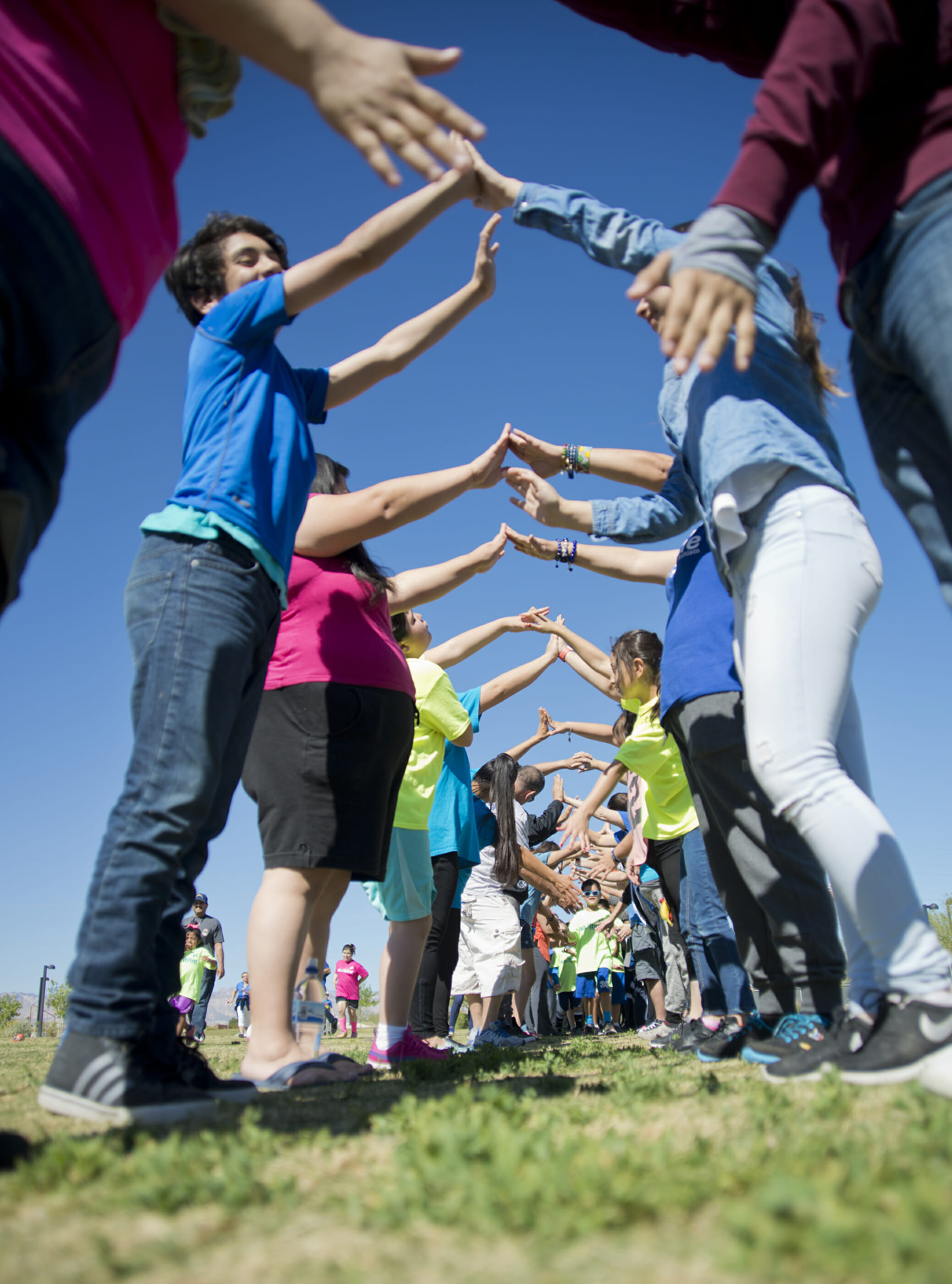 Falling through the cracks
Gov. Steve Sisolak has budgeted $7 million more for autism services — money that state officials say will eliminate the entire waitlist of children needing ATAP services. ATAP's budget is also seeking to add employees to provide case management services to a growing number of clients.
"It's just connecting with providers, follow up to the family, it's getting them connected to other services," Schmidt said about the case management job. "It's really approaching the family holistically and ensuring that they have access ... all their needs are getting met."
But another bill would significantly ramp up ATAP's workload. SB202, a bill sponsored by Democratic Sen. Marilyn Dondero Loop, requires the Department of Education to communicate with the health department about which students have autism and then directs ATAP to reach out to those families and determine if they could benefit from services.
A common problem is that a school district will diagnose a student with autism through an evaluation that includes a school psychologist and a special education teacher. But many insurances — including Medicaid — won't accept that assessment as a basis for providing ABA therapy. They want a medical diagnosis that includes evaluation from a clinical psychologist and a developmental pediatrician.
There's a huge waitlist for getting the appointments needed to get the diagnosis, which generally involves a 20-25 page report on the child's cognitive abilities.
"Unfortunately, the whole process from the time a parent or a school teacher expresses concern about autism, to when that child actually receives school and community services, may be two years or more. That's valuable time lost," testified Dr. Mario Gaspar de Alba of UNLV School of Medicine's Ackerman Autism Center. "That's time critical to best outcomes and quality of life."
The bill seeks to connect those two systems more closely, so no students in the school system miss out on additional treatment because they are unaware of services available elsewhere.
The state has tacked a massive fiscal note to the bill, suggesting it would cost $47 million to bring all of the nearly 8,500 Nevada schoolchildren projected to have autism within the ATAP case management system. That's not accounting for any increase in the RBT reimbursement rate, as specified in SB174.
"With the outreach that's required by this bill, the anticipation would be that our caseload would increase dramatically," Schmidt said.
If the $69 million price tag for the increased autism services is accurate, that's about as much as the state plans to spend for two years on the Read by Grade 3 initiative. It's a little less than the budget for Sisolak's entire school safety initiative. It's twice as much money as it will take to fund the Millennium Scholarship for the next two years.
Ohrenschall is undeterred.
"I can't dispute those numbers," he said. "But I do believe that's money well spent."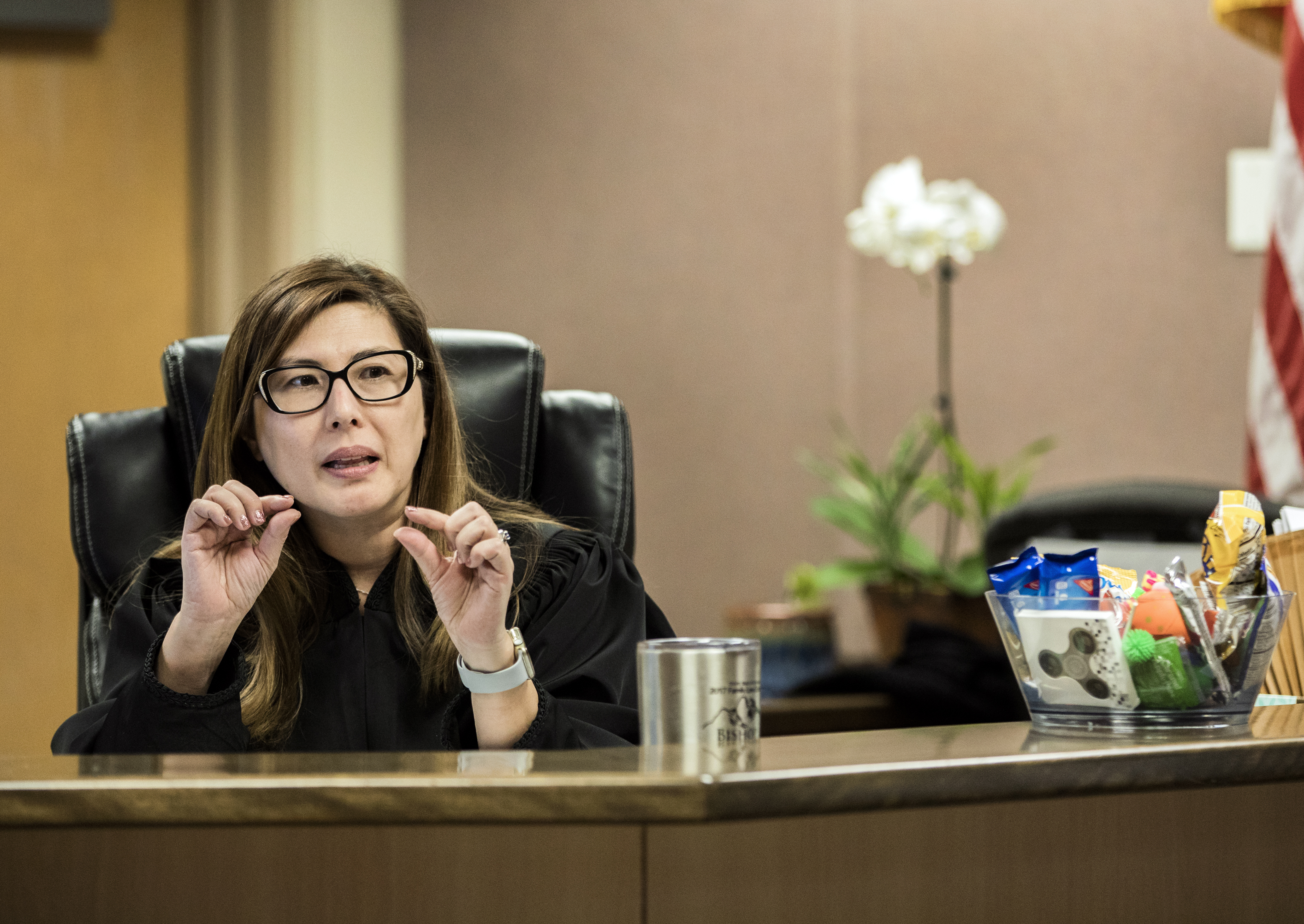 Back in court
Although lawmakers are proposing specific policy solutions such as the change in reimbursement rate and better coordination between school and state systems, they're also acknowledging that they're still not sure why so many Nevada children with autism are falling through the cracks.
SB174 also calls for a legislative audit exploring the barriers to children with autism getting services. SB202 calls for reviews every six months on the roadblocks. And SB216 would make a temporary autism task force permanent, with paid staff support, to report to the governor on the needs of families dealing with autism.
That information could affect the docket in Bailey's courtroom, where many of those who suffer from those barriers end up. 
The court is born out of personal experience — Bailey's 20-year-old daughter has autism and was so violent that when the girl was 5, experts told her to put her child in an institution because she would never learn to talk or feed herself.
Bailey moved from Seattle to Nevada "out of desperation" to take advantage of the ABA offered by the Lovaas Center. Insurance didn't cover the treatment, so she paid out of pocket for 45 hours of therapy each week. She even learned the ABA techniques herself.
"The parents had to learn how to become behaviorists. So we had to learn the behaviors and break things down," she said. "There's a reason I know there's 27 plus steps in brushing your teeth. I've had to do it."
Bailey's daughter averaged 250 aggressive acts a day at age 7. Now, she might act out once every month or two. She has a vocabulary of about 400 words and has learned to communicate using technology, to the point that the family has stopped doing therapy because the girl is doing so well.
"We can go out to eat, which is something I never would have dreamed of doing at age 5," she said.
Bailey hopes that someday Nevada's autism court will be out of a job. That could be a long way off.
"What really, optimally would be the best thing is if I didn't have a need to exist because kids on the spectrum didn't end up in juvenile, if we could handle them with early intervention," Bailey said. "But unfortunately, right now, instead of finding that there's less of a need for us, we're finding there's more of a need for us."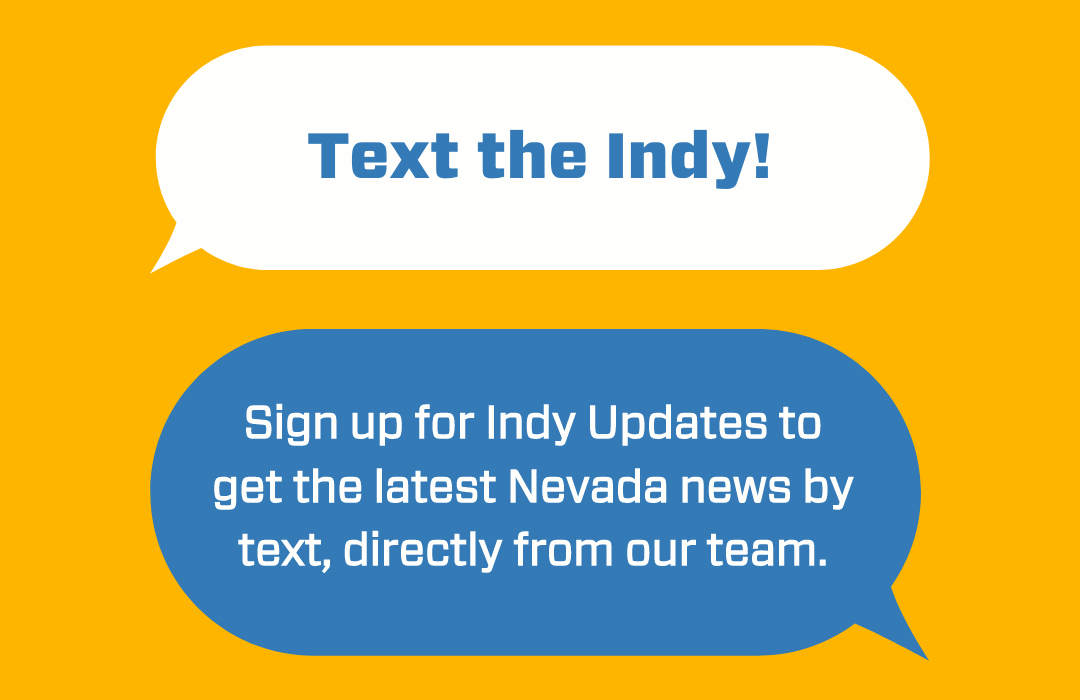 Featured Videos
Comment Policy (updated 4/20/2021): Please keep your comments civil. We reserve the right to delete comments or ban users who engage in personal attacks, use an excess of profanity, make verifiably false statements or are otherwise nasty. Comments that contain links must be approved by admin.