Legislative leaders tout friendly relations, prepare for high-stakes session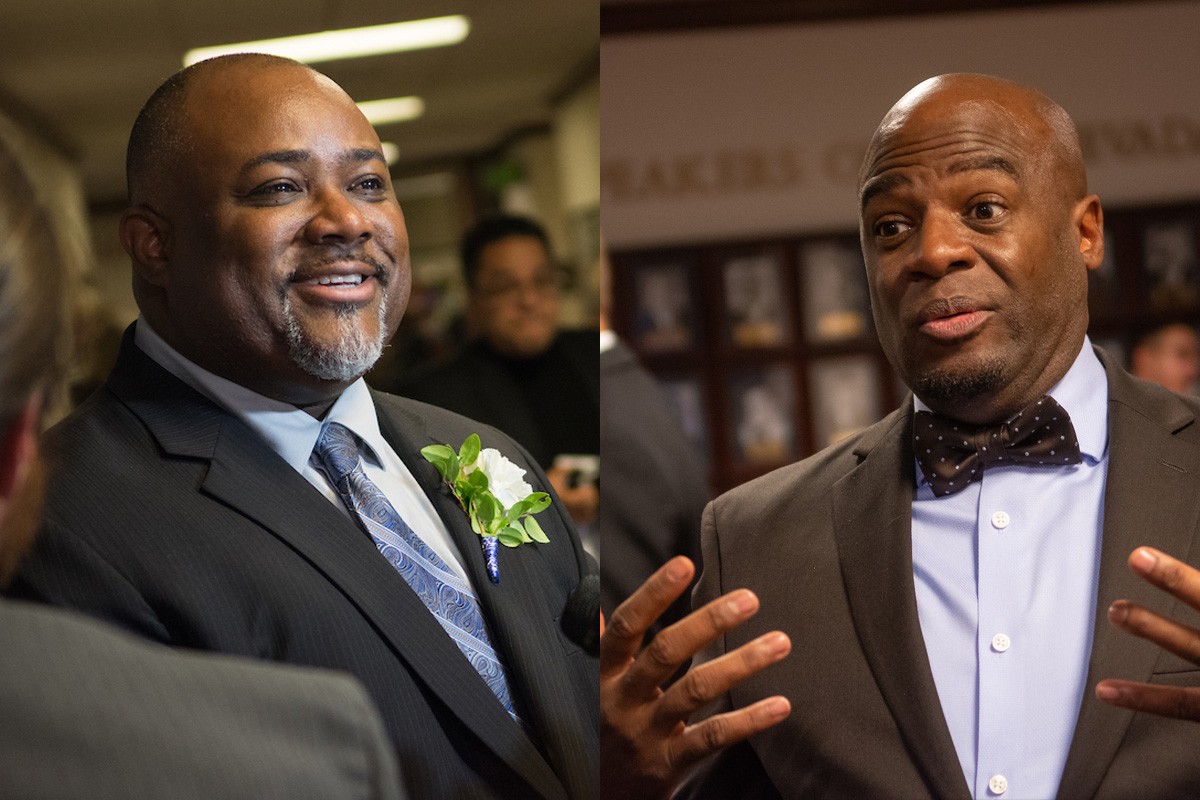 Assemblyman Jason Frierson and then-Senate Majority Leader Aaron Ford appeared cut from the same cloth when the 2017 legislative session convened.
They were classmates in law school. They attended the same church. They were part of the same historically black fraternity. Together, they became the first pair of African-American lawmakers to lead the Legislature.
But for all his history with Ford, Frierson says he and incoming Senate Majority Leader Kelvin Atkinson go back further.
"It's easy to forget that I've known Kelvin for even longer," Frierson said.
Atkinson was one of the first people Frierson met when he moved to Las Vegas in the late 1990s, and the two attended the same church. Atkinson, first elected to the Assembly in 2002, recruited and mentored Frierson when he first ran for office in 2010 and said he in turn has leaned on the Assembly speaker for advice on how to handle leading a caucus.
"I'm actually closer to Jason than I was to Ford, and Ford and I are pretty close," Atkinson said. "But I've always been closer to Frierson. We text probably three, four, five times a day on issues, and sometimes more than that if we've got some stuff to resolve between the houses."
Even more so than last session, the relationship between the two leaders will be in the spotlight as they, along with newly inaugurated Democratic Gov. Steve Sisolak, attempt to push for progressive policy goals previously unattainable under past Republican leadership. For the first time in 28 years, Democrats control the governor's mansion and both chambers of the Legislature, including a supermajority in the Assembly and one seat short of a two-thirds majority in the Senate.
They believe that their friendship will be an asset when it comes to sorting through some of the thorniest issues the Legislature will tackle this session. Already, lawmakers are likely to face high-stakes debates over collective bargaining, Opportunity Scholarships, and a payroll tax rate reduction reversal.
"The fact that we know each other and we have known each other for so long I think is going to allow us the kind of grace that friends give each other," Frierson said. "So, are there going to be times we disagree? Of course. Are there going to be times where we have different priorities? Certainly. But I think the fact that I know him so well is going to allow us to easily get past that."
The two men's relationships with their counterparts on the other side of the aisle will also play a key role in determining how significant a role Republicans play in shaping policy this legislative session. Assembly Republican Jim Wheeler is apprehensive, if pragmatic, about the power that his 13-member caucus will wield this session.
"We don't know what's going to happen," Wheeler said. "Obviously the other side of the aisle can run right over the top of us if they want to."
Senate Republicans are significantly better situated than their Assembly counterparts as Democrats are one vote shy in that chamber of a supermajority, meaning any increase in taxes or veto override Democrats want to pass will need buy-in from at least one Republican senator.
Although the one-vote margin could be an effective negotiating tool, Senate Republican Leader James Settelmeyer said he and his caucus were not preemptively closing doors and were open to negotiating on just about every aspect of the policy package and budget proposed by Sisolak. But he warned that the caucus had no interest in playing "pathological, partisan politics" and cautioned of electoral consequences if the majority party pushes too far.
"If the national agenda stays out and we just focus on Nevada issues, we're going to get along," he said.
Leadership friendships
Despite their close relationship, Frierson and Atkinson have decided to not just govern on a handshake. Unannounced publicly, the two recently signed a formal memorandum of understanding establishing ground rules and an understanding of how the two chambers will work together.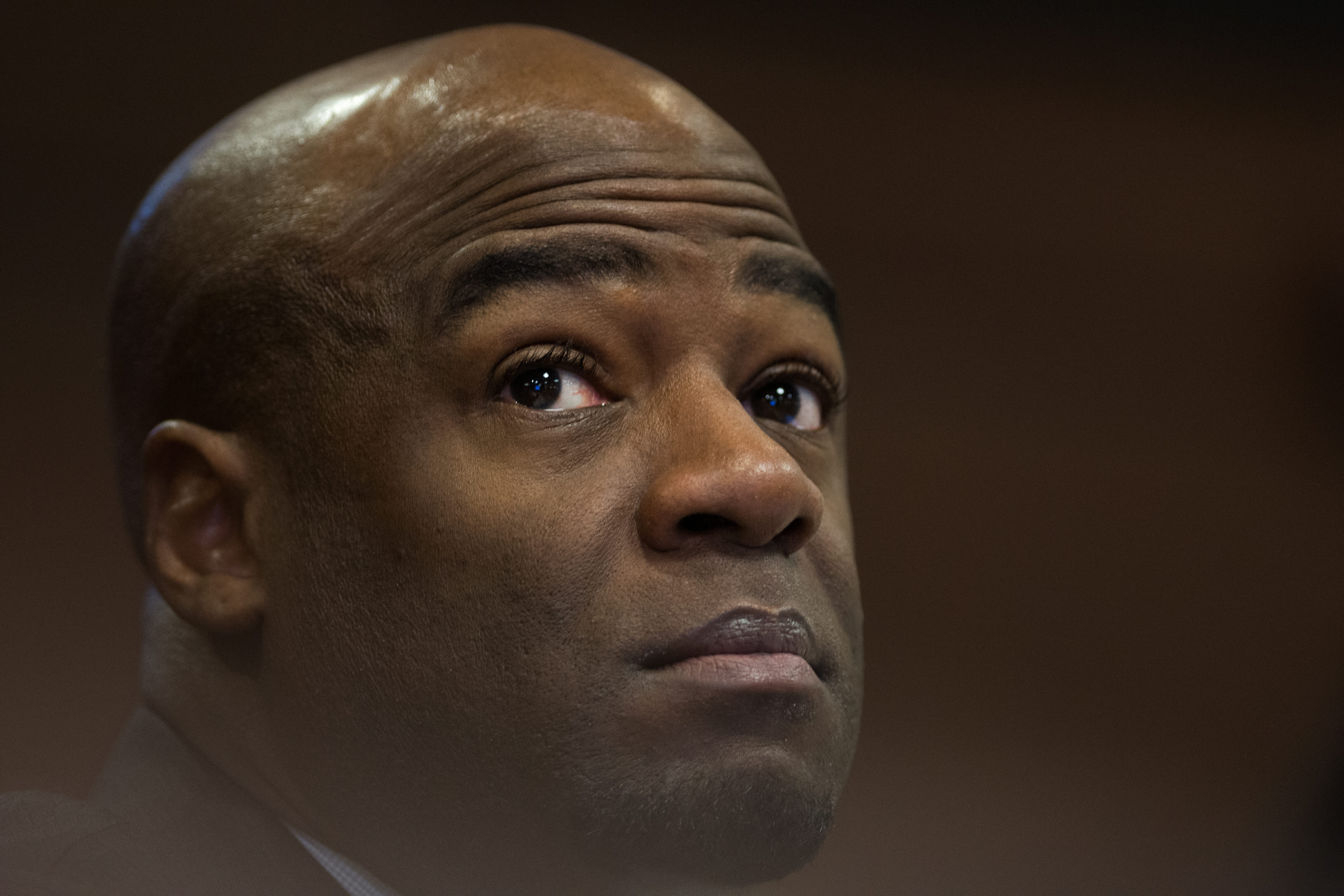 "While Ford and I had a great relationship, continue to have a relationship, our members didn't always know what our thoughts were on how we were going to move forward," Frierson said. "There were times where my members would take certain actions that didn't go over so well because there wasn't that kind of communication before."
Atkinson said the memorandum was designed to pre-empt issues such as lawmakers waiting in another chamber's committee hearings for hours to present their bill, and to address communication issues in conference committees where lawmakers hash out differences in bills between both legislative chambers.
The tables have also turned between the two men this session, with Frierson serving as a mentor for Atkinson as he steps into the top caucus leadership position for his first time in a 17-year legislative career.
"It's just kind of turned around because now I'm leaning on him more," Atkinson said.
Legislative Democrats also plan to further their own policy agendas and not just rubber-stamp Sisolak's, though they say they have many shared values and priorities.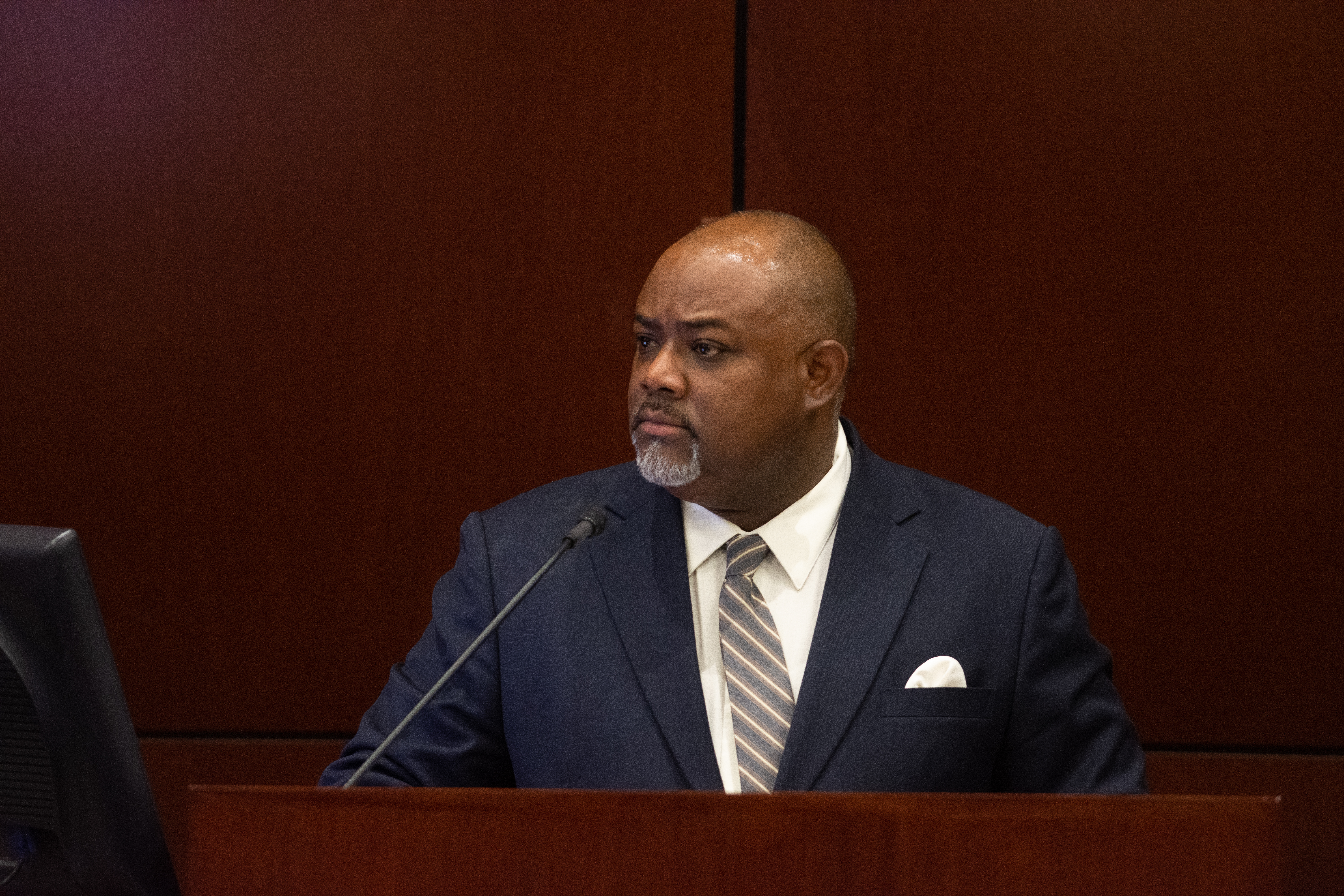 "I think we won't always agree and we'll have to have conversations and work through those disagreements," Frierson said. "So I am in no way simply deferring to the executive … we're certainly not giving up the authority that we have as an equal branch to try to advance policy that we think is good for the state."
One difference from prior sessions will be retiring the "Nevada Blueprint" — a glossy brochure of policy priorities that legislative Democrats heavily promoted during the 2015 and 2017 legislative sessions. Atkinson said his caucus would still create a list of priority bills, but wanted to move away from the formalized "blueprint" model in favor of themed weeks focusing on individual policy areas such as health care or education.
"They'd rather kind of do that than have this pamphlet that costs a lot of money that the only people that read it is in this building," he said.
Like Atkinson and Frierson, the two Republican leaders have a longstanding friendship — and even hail from the same town, Minden. Wheeler said that he and Settelmeyer met about 2008 or 2009 just from being in the same groups in a small town.
"We meet now about once a week if nothing else, just to go over things and also for friendship reasons," Wheeler said. "He and his wife are very good friends of mine."
Settelmeyer and Atkinson
At first glance, Atkinson and Settelmeyer are very different people: One is a gay, African-American bar owner with a fondness for bow-ties and an avid social media presence; the other is a white, lanky, fourth-generation Northern Nevada rancher with a long gait, no Twitter account and an ever-present white cowboy hat.
Yet over the past decade, the two have struck up an unlikely friendship — bonding over a shared interest in transportation and energy issues, and building a relationship that will be key to determining the success — or failure — of any contentious legislation in the 2019 session.
Both men acknowledged an initial frostiness in 2007, their first overlapping session when both served as members of the Assembly.
"You've got to remember, he's a rural guy, I'm this urban guy, so I don't know if we necessarily got along that well when he first got here," Atkinson said. "I think that he probably saw me as this huge urban guy who didn't care too much about the rural communities, and I probably viewed him the same way, and he's quick to say he didn't care for me in the Assembly."
Settlemeyer said their relationship grew over subsequent sessions and after both were elected to the state Senate -- Settelmeyer in 2010 and Atkinson in 2012. Both recalled at the end of the 2015 session, Settelmeyer gifted Atkinson a pair of cufflinks that belonged to his father.
"It had a wide variety of colors," he said. "Mr. Atkinson had shared some personal aspects of his life, and it seemed like an appropriate match. So I gave them to him. Mr. Atkinson tends to wear cufflinks a tad bit more than I."
Atkinson said he's been over to Settelmeyer's Gardnerville ranch in past sessions, joking that it was part of an attempt to "indoctrinate me into being a rural guy. It just never panned out."
For his part, Settelmeyer said his growing tenure as a lawmaker and Atkinson's ownership of a downtown Las Vegas bar called the Urban Lounge after a career working for Clark County has allowed them to see eye-to-eye on more issues.
"When he became a businessman, it allowed him to look at things a little bit differently. And as I became more involved in government, I started to look at things differently," he said. "If you're completely in the private sector and you don't deal with government except for in a negative way per se, that causes problems."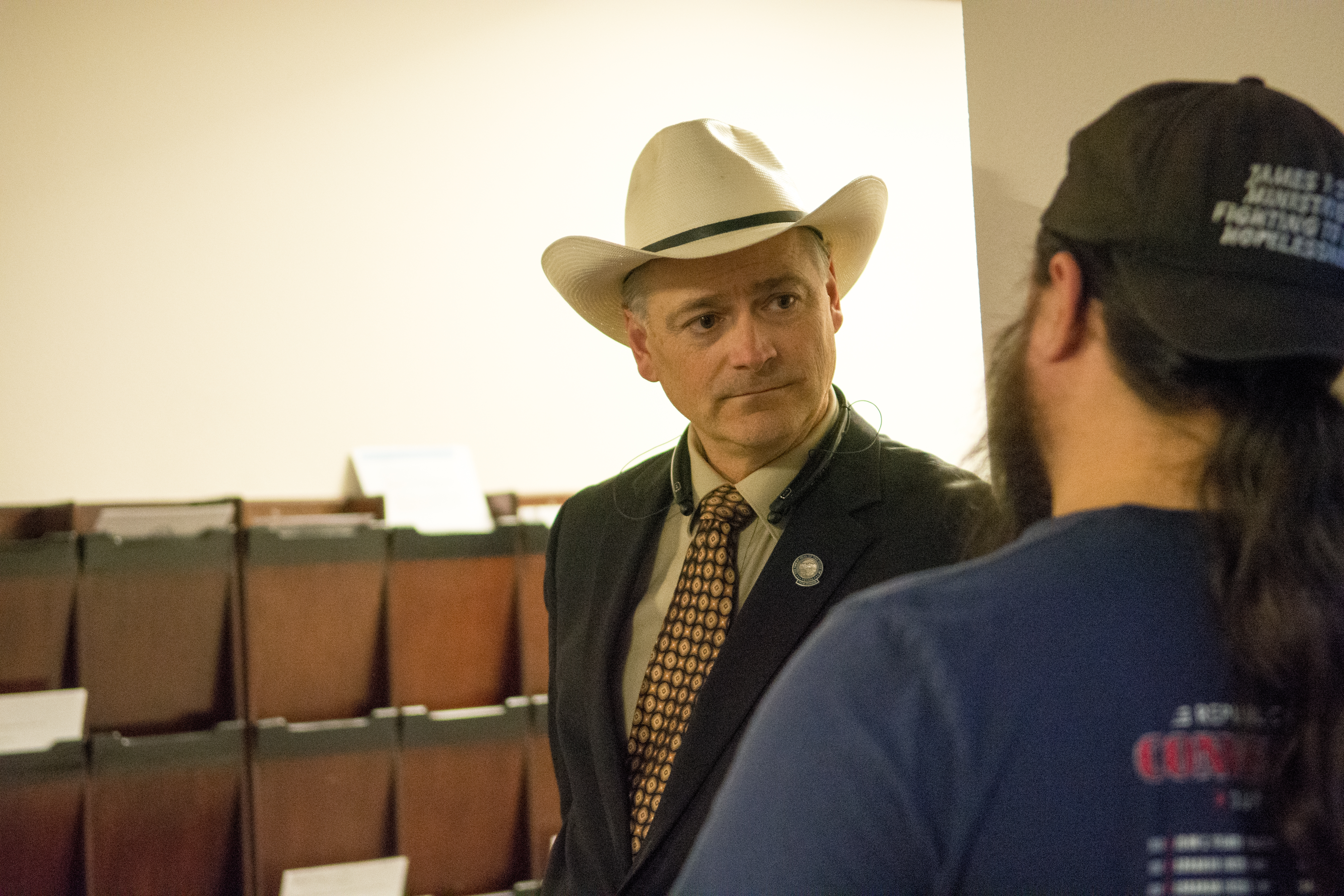 Atkinson said he and Settelmeyer talk often, and both have agreed to try to avoid the bickering and coldness that dominated the relationship between their predecessors, Ford and former Senate Minority Leader Michael Roberson. As a token of good faith, Atkinson said he planned to dismantle the Senate's three-member Rules Committee, created by Roberson in 2015 and continued by Ford in 2017, which is charged with limiting which amendments could be put up for a vote on the Senate floor.
He also said Democrats wouldn't attempt an early effort at redistricting — a process required every decade but technically allowed during any legislative session.
"You only do that if you're worried about where you're going to be in (2021) and I don't think there's any doubt from us or anybody else that we'll be in the majority," Atkinson said.
But positive feelings are typical at the start of the legislative session, with the regular calls for civility and bipartisanship often melting into legislative maneuvering, tough votes and last-minute negotiations. Sisolak's proposal to extend a scheduled decrease in payroll tax rates will surely attract controversy throughout the session, and Atkinson said the caucus has requested a legal opinion to see whether keeping the "sunsetting" tax rate in place could be accomplished by a majority vote, as opposed to the two-thirds required to raise a tax.
But overall, Atkinson said he wanted to avoid bringing bills requiring a supermajority to the Senate floor.
"I think the governor needed us in (2015) and so for us to be able to kind of shoo off a lot of the bad stuff that they were doing, (we were) kind of were able to hold out," he said. "If we start doing the same thing, giving them a lot of meat, which is two-thirds majority bills that they can hold out on, I think it lessens our strengths this session."
Settelmeyer said his caucus would not draw lines in the sands for members and predicted that "you'll see our votes all over the place, as always," but warned that he and his caucus members wouldn't be convinced by arguments — including those made by Sisolak — that extending the expiring taxes was the only way to pay for popular social programs such as Meals on Wheels.
"I'm sorry, the Meals on Wheels budget is $800,000," he said. "There are other sources that can be cut, other things that could be increased to provide that money for that program. I'm sorry, I don't buy the mantra of 'Hey, you have to vote for this, otherwise it means you're taking away diapers from adults.'"
Atkinson also hinted at several policy goals that Democrats hope to push this session, including a legislative solution to the stalled gun background check that was approved by voters in 2016 but stymied when the FBI refused to process the checks. Atkinson said it was "very possible" that passage of a background checks law would coincide with the February anniversary of the mass shooting at Marjory Stoneman Douglas High School in Parkland, Florida.
But Atkinson balked at staking a solid position on raising the minimum wage — saying he hadn't settled on a number and wanted to first talk with "stakeholders" — and poured cold water on the progressive dream of repealing Nevada's right-to-work laws, saying "the appetite to do it right now at the beginning of session is not there right now."
Both lawmakers want to create a fee structure that would compel electric vehicle owners to pay into the state's Highway Fund, which is largely funded by gasoline taxes that electric car owners don't pay. Settelmeyer, who said he recently bought a used electric Fiat 500e for his wife to commute to work, said it could take the form of a surcharge on "electric" license plates or fees assessed on electric car charging stations.
Settelmeyer said he applauded Sisolak's call to increase the Renewable Portfolio Standard without raising electric prices, but questioned its feasibility. He suggested that energy efficiency standards should be counted towards the RPS, and said he believes proponents of expanding community solar or rooftop solar need to first compensate for the strain on transmission systems.
"We generate a lot of renewable energy in the state of Nevada," he said. "Do I think we should encourage more? Yes. But within the confines of not pushing energy rates through the roof."
Although many expect a partisan fight over continued funding for Opportunity Scholarships — means-tested private-school scholarships funded by private businesses in return for state tax credits — Atkinson said he planned to defer to lawmakers heading the education and finance committees. But the Democrat said there wasn't "a huge appetite" to continue the "one-shot" $20 million in funding for the program approved as a last-minute deal in 2017.
"In this realm, I'm one vote and so I can tell you that those programs don't help the kids in my district," he said. "When I vote for those types of issues I'm voting with the kids in my district in mind."
Frierson and Wheeler
Compared to their Senate counterparts, the two Assembly leaders aren't nearly as close. Wheeler said that he and Frierson have a "very good relationship" and described him as a "friend."
"I guess I should qualify that and say that we're friendly," Wheeler said.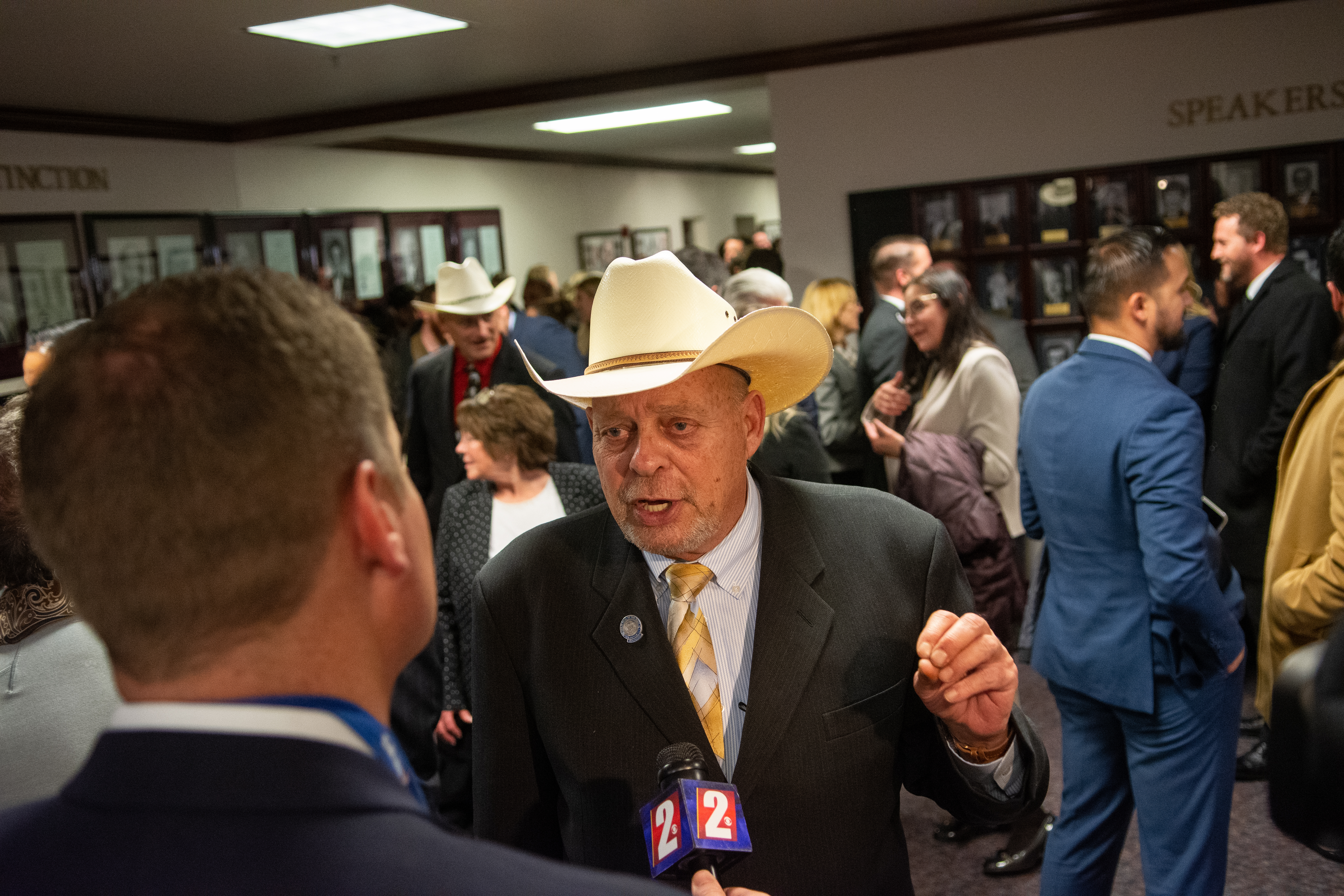 The two men got to know each other serving on the Assembly Judiciary Committee in 2013, when Frierson was the chair and Wheeler was a member. Each has positive memories of serving with the other on the committee.
Frierson noted that the two were "frequently on opposite ends" of issues but were "able to deal with our political reality and have, I think, some productive conversations." Wheeler remembers Frierson as being open to talking and occasionally making some changes to legislation based on his ideas.
"We hope to have that kind of relationship again," Wheeler said.
So far, Frierson said he and Wheeler have established a mutual respect for each other and have been communicating "very well" since November, though he isn't as close to Wheeler as he was to former Assembly Republican Leader Paul Anderson, who left the Assembly to head the Governor's Office of Economic Development in 2017. But Frierson said he plans to "extend the same olive branch" he did to Anderson.
"The extent to which he's able to help his caucus be effective and advance policy that's their priority for their district is going to depend on whether or not the minority leader wants to govern, recognizing the math, or if he wants to use this session as an opportunity to be a bomb-thrower," Frierson said.
Assembly Democrats technically don't need any Republican votes on any legislation this session the way their counterparts in the Senate may for bills requiring a two-thirds vote. But Frierson stressed that he wants bipartisan buy-in on bills, particularly after being on the other side of the equation when Republicans held a leadership trifecta in 2015.
"The notion that I don't really need them is a mathematical one but not a practical reality," Frierson said. "That's just not how we lead in Nevada. I think 2015 was an example of what happens when you kind of overlook governing for political opportunities, and we don't want to repeat that. I would like to move forward together."
Wheeler said Republicans reserve their right to put up a united front and vote "no" if Democrats "run right over" Republicans on issues. But he hopes that Democrats bring his caucus into the fold on important issues to get their input.
"I hope we're able to sit down and talk with the caucus leaders and the governor and make agreements on some things," Wheeler said. "But there's obviously some things we won't move on."
Among his top priorities this session, Frierson named his desire to protect patients with pre-existing conditions, an area where he's likely to get Republican support. Those protections are currently in jeopardy pending the outcome of an appeal of a federal judge's decision ruling the Affordable Care Act unconstitutional.
"All Republicans that I know want health insurance to cover pre-existing conditions," Wheeler said.
Wheeler said that he believes Republicans would be supportive of legislation to codify protections for pre-existing conditions into state law so long as it's "handled by the free market." By that, he said he means that he doesn't believe insurance should be subsidized "more than we already do."
Frierson said Democrats are also likely to take up some of the proposals put forward by an outside group following a six-month review of the state's criminal justice system. Wheeler believes there is "room for criminal justice reform" in some areas, such as giving judges more discretion when it comes to sentencing, but said that a proposal to reduce sentences for major crimes would be "very hard to get behind" and that there should be a "very strict process" for felons to have their rights restored.
"There are some good ideas and there's some other ideas that I can't support," Wheeler said. "Each individual assemblyperson needs to vote their own conscience and their own district."
There are other issues the two are likely to butt heads on. Wheeler hopes that there is some "wiggle room" to work with Democrats on funding for Opportunity Scholarships but said he's "apprehensive" about the payroll tax proposal, which may need one Republican vote in the Senate.
"I know how this building works, and if I were in their position, I would do the same thing," Wheeler said. "I would try to peel one guy off."
Wheeler also expressed concerns about any gun control legislation Democrats might try to pass this session, including an assault weapons ban. Asked how Republicans would be able to stop such a bill in the minority, Wheeler said "the people of the state will band with Republicans to stop it."
"We're already starting our communications in that direction to where we start letting more people out there know what's going on without using the press because, quite honestly, the press doesn't put our message out," Wheeler said, though he declined to offer specifics on what that communication effort will look like. "I'm not giving it away yet."
As far as whether he will give Republican bills a fair shake, Frierson noted that he has "good relationships" with members of the Republican Assembly caucus and he wants their members to be able to go home and tell their constituents they got something done. But he equally hopes that Republicans won't just vote against Democratic bills just because they come from Democrats.
"While mathematically we don't need a vote," Frierson said, "I think as statesmen we should find ways where we can agree on some things."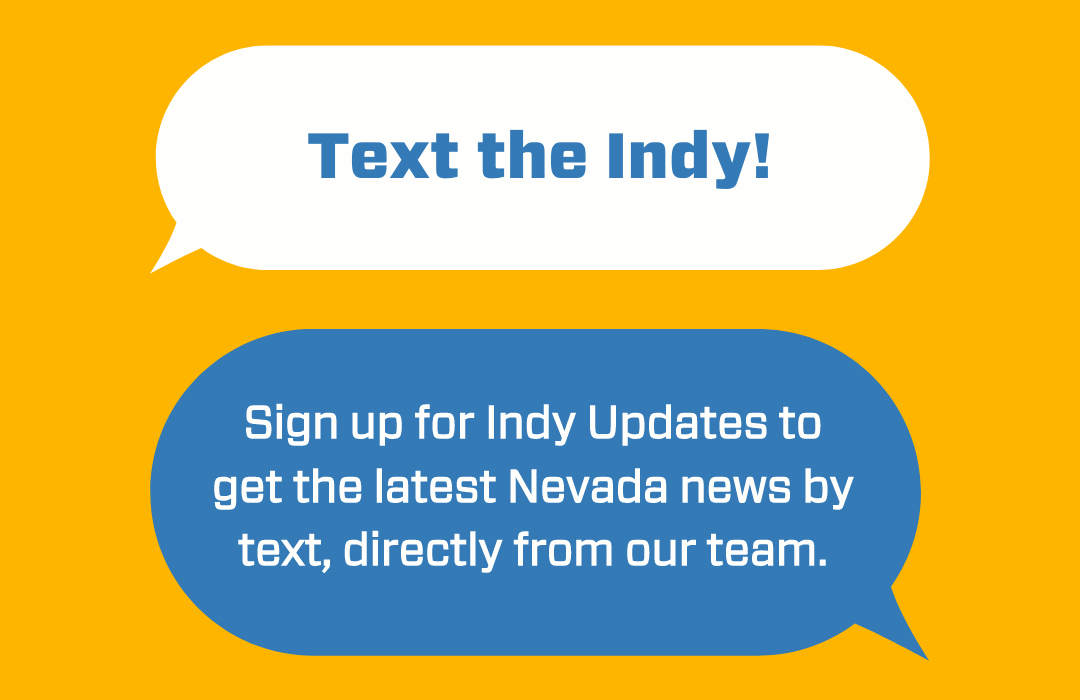 Featured Videos
Comment Policy (updated 4/20/2021): Please keep your comments civil. We reserve the right to delete comments or ban users who engage in personal attacks, use an excess of profanity, make verifiably false statements or are otherwise nasty. Comments that contain links must be approved by admin.