Group reviewing Nevada criminal justice system advances 25 recommendations that could save state $640 million in prison costs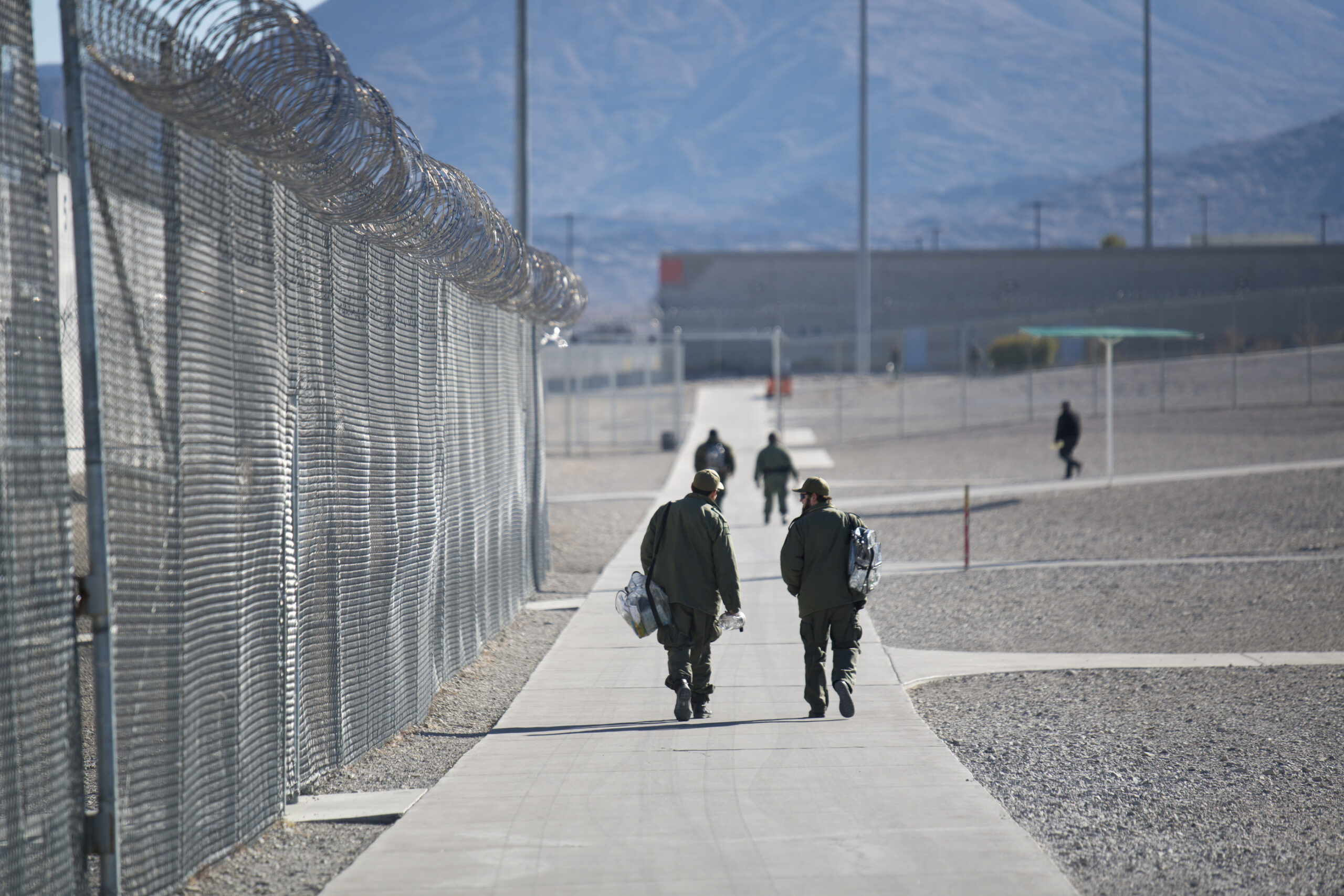 A panel of Nevada criminal justice leaders is forwarding to the Legislature a package of 25 recommendations that experts say could save the state $640 million in prison costs over the next decade if enacted, although not all commissioners were thrilled with the ideas.
The proposals came after the Boston-based Crime and Justice Institute spent about six months poring over state data to pinpoint why Nevada's prison population growing almost 700 percent since 1980, while the general population has grown by about 250 percent over that period. State leaders on the Advisory Commission on the Administration of Justice, which has been working to turn the data into policy recommendations, voted 11-4 on Friday to approve a final report.
"The commission has never presented to the Legislature a squared-up set of issues, recommendations … or data on which the Legislature can conduct a debate," said Nevada Supreme Court Justice James Hardesty, who has served on the commission for about a decade and helped secure the assistance of the Crime and Justice Institute. "What I hope will happen by conveying the report to the Legislature is that we'll put in front of the Legislature, front and center, the choice that faces the taxpayers of our state."
Although Nevada's prison population is expected to grow by nearly 1,200 in the next decade at a cost of $770 million, implementing the changes could avert 89 percent of that growth, according to the report released Friday. The report urges lawmakers to apply any money savings to drug treatment, post-incarceration reentry services and other programs that could prevent crime and recidivism.
"We can't simply incarcerate, provide no programming and release to the street ... and think that we're going to get good results. We're not. We're going to get repeat offenders," said Democratic Assemblyman Steve Yeager, the commission chairman. "So this effort is about getting at the root of the problem that we're trying to address, and about telling taxpayers we're getting more bang for your buck."
Some members of the ACAJ, which includes lawmakers, prosecutors, law enforcement, a victim advocate and an inmate advocate, were sharply critical of the recommendations. They include major policy changes that have been politically difficult to enact in the past, such as adding nuance to Nevada's broad burglary statute and reducing penalties for lower-level crimes under the burglary umbrella.
"I think that ultimately we will see a negative impact on public safety, we will see a negative impact on quality of life in our neighborhoods, we will see a negative impact on our economy when people come to this state and realize we've lowered crimes to a misdemeanor, we've made property crime less of a priority," said Las Vegas police lobbyist Chuck Callaway. "You come to Las Vegas and you're victimized, you're not going to come back here."
The report marks an opening offer to the Democrat-controlled Legislature. Members will have a Democrat in the governor's mansion for the first time in 20 years, and in August, Gov. Steve Sisolak's campaign said he was supportive of the top-to-bottom review of prison population drivers and suggested he was open to taking cues from the committee.
Democratic Attorney General Aaron Ford, who spent the last six years as a state senator, tried to assuage lingering concerns among some of the committee members that certain recommendations were still flawed. He said the Legislature carefully vets the proposals for unintended consequences — so much so, in fact, that many recommendations from the commission in the past did not become law.
"The Legislature is not a stupid place, it's not filled with stupid people," Ford said. "I know for a fact that some of my own recommendations were compromised and some of them just killed outright because we couldn't come to grips with determining how best to accommodate the concerns of law enforcement and the concerns of criminal justice reform advocates."
Among the recommendations heading to the Legislature:
Require crisis intervention training of law enforcement officers

, who are often first on scene when someone is having a mental health episode. CIT courses teach officers about mental health, de-escalation and crisis resolution skills and enable them to refer people to mental health services.

Make sentence deferral the default option

for nonviolent offenders in specialty court programs. That means people who successfully complete the requirements of a drug or DUI court program, for example, could avoid having a felony conviction on their record.

Amend the burglary statute so penalties are proportionate to the crime.

Experts  have faulted Nevada's burglary statute for being overbroad and not distinguishing between, for example, getting into someone's open and unoccupied car or entering their home at night to commit a felony. They recommend a scale that imposes lighter penalties for entering a vehicle and harsher ones for entering a home.

Raising the threshold for a felony theft (grand larceny) conviction.

Nevada law is among the harshest on theft, classifying it as a felony punishable by 1-5 years in prison if more than $650 but less than $3,500 is stolen. The committee recommends the felony label does not kick in until $2,000 is stolen, and lesser amounts be classified as misdemeanor or gross misdemeanor.

Streamline the parole process

so more inmates are released with the "training wheels" of parole supervision instead of sent back into the community cold because their sentence has expired. The committee recommends allowing parole commissioners to hold hearings in absentia for certain offenders and issue a parole determination without a hearing using the parole board's reporting.

Reduce the maximum probation sentence

that can be ordered. Nevada law allows a sentence of up to five years of probation, but research shows almost all probation violations happen in the beginning of someone's time on supervision. The committee recommends capping probation terms at three years for Category B felonies, and capping it as low as 1 year for gross misdemeanors.

Limit the time behind bars for technical parole violations

(ones that do not rise to the level of a new crime). Parole violators released in 2017 had spend an average of nearly 10 months behind bars upon their release. The committee recommends no more than 30 days incarceration for a first technical revocation and up to 90 days for a third technical violation revocation.

Expand the scope of re-entry services.

The committee says state staff should do more than simply help an inmate secure housing in the community, but should also focus on employment, treatment, medical care and education upon a person's release from prison. The committee also recommends that re-entry planning begin six months before an inmate is eligible for parole.

Reinvest in community supervision, treatment and transitional housing.

The committee recommends using any savings from imprisoning fewer people to invest in services that help people successfully transition out of prison. That could be accomplished by setting up a grant fund that local governments could tap into to increase services.
The report comes after staff at the Crime and Justice Institute, supported by the Justice Reinvestment Initiative at the federal Bureau of Justice Assistance, spent months collecting and compiling state data and interviewing people who work in Nevada's criminal justice system. The group is expected to help bring legislators up to speed on their conclusions as some or all of the proposals work their way through the Legislature in the upcoming session.
In previous presentations to the ACAJ, the CJI team identified key drivers for the growing prison population and the fact that Nevada now has the country's 15th highest incarceration rate.
Nevada uses prison instead of parole or probation more frequently than other states. In 2016, 52 percent of offenders in Nevada were incarcerated while 48 percent were on community supervision. Nationwide, 31 percent of offenders are in prison and 69 percent are on parole or probation.
Although the state has specialty courts that target offenders' mental health or other needs, they often receive a felony conviction regardless of whether they complete the program, which can be a disincentive for finishing strong and complicate their employment prospects later.
Nevada has also seen increasingly long stays in prison, although that has not led to a drop in the rate of people who later reoffend.
And the lack of appropriate housing means Nevada has hundreds of people at any given time who are eligible for parole but are not let out because they have nowhere to go.
The institute concluded that Nevada's correctional dollars could be spent more strategically if it incarcerates lower-level offenders less and reinvests the savings in treatment and other interventions. Critics who are on the commission pointed to California, saying a voter-approved ballot measure in 2014 called Prop 47 lowered criminal penalties for certain crimes and has spurred more petty crime.
Yeager countered that the package of reforms was built on Nevada-specific data and would have the advantage of legislative vetting, rather than simply a yes-no vote of the people without amendments, as California had.
Other proponents included Amy Rose of the American Civil Liberties Union, who said a high rate of parole and probation revocations show Nevada's rehabilitation efforts aren't doing enough to reduce recidivism.
"From all the data we have it's clear we need to make these reforms in Nevada," she said, pointing out that similar efforts are happening in other states and at the federal level. "We really need to be on the front lines of that and continue moving forward."
This story was updated at 1 p.m. on Jan. 11, 2019 to add vote and comments from Advisory Commission on Administration of Justice Meeting.
The Nevada Independent is raising $200,000 by Dec. 31 to support coverage of the 2024 election.
Tax-deductible donations from readers like you fund this critical work.
If you give today,your donation will be matched dollar-for-dollar.
Give + Get Matched
Featured Videos