IndyTalks: Full transcript of Steve Sisolak's interview with The Nevada Independent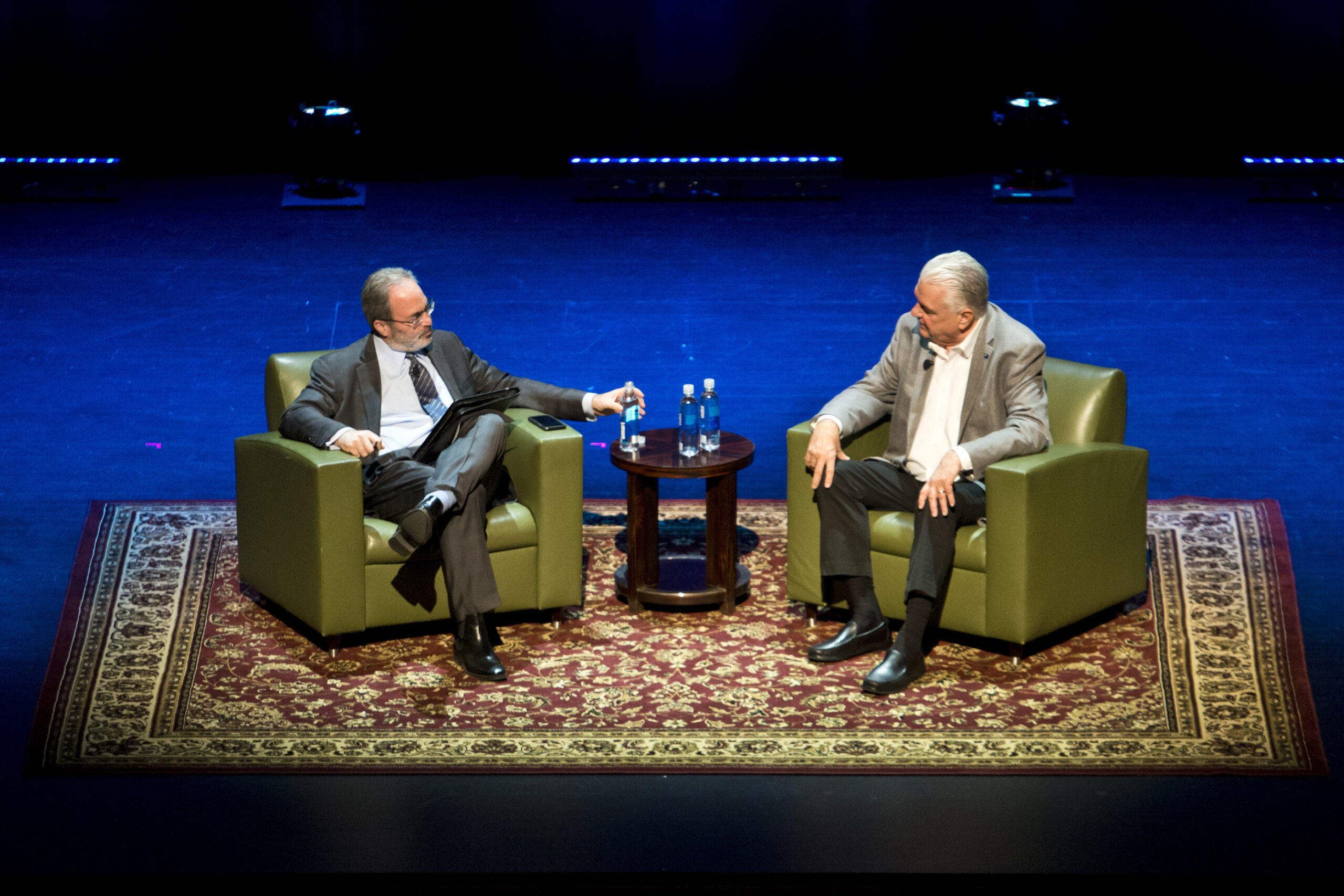 Gov. Steve Sisolak showed many of his cards during last week's IndyTalks forum, detailing his positions on everything from education funding to banning private prisons.
Sisolak, the first Democratic governor of the state in two decades, will have a nearly unparalleled opportunity to implement his agenda thanks to united Democratic control of the Legislature, which gavels in next week for its 120-day session.
Although he noted many of his policy priorities and budget decisions earlier this month in his State of the State address, Sisolak gave more details during the IndyTalks interview with Nevada Independent Editor Jon Ralston, including his support for a $12 minimum wage and ending cash bail.
The Nevada Independent summarized Sisolak's answers after the event last week, and has also published video and audio of the event.
Below is a full transcript of the IndyTalks interview with Sisolak, with additional context. Click the highlighted text to read annotations from Indy reporters.
Jon Ralston: Governor, thanks for coming.
Gov. Steve Sisolak: It is a pleasure, Jon. I am glad to hear you have got so many students here today. I appreciate y'all coming out. I appreciate it.
Isn't that great?
It's very nice, yeah. You are teaching them.
Does it feel real yet?
It is sinking in. It is slowly sinking in.
What is making it sink in?
The work. No, I am really, I am enjoying it. I have been back and forth between here and Carson City numerous times. I go back up early tomorrow morning and I will be up through the start of the session. And, we are having a good time. Learning a lot. We have made some big appointments and getting our policies in order and working with legislative leadership and meeting some of the new folks coming in, so it has been educational for me and I am enjoying it.
What surprised you the most so far?
Geez.
Already stumped him. What is the over? What is the under?
I don't think anything has really surprised me. I don't think anything surprised me. It is a lot of work. I expect it to be a lot of work. I have been very, very fortunate. I think I have hired the best chief of staff that anybody has ever had in Michelle White. I know Mike Willden did a great job for [Gov.] Brian [Sandoval], but Michelle has just been rock-solid for me. And we have made, like I said, some good appointments, and you know, through how all of that has progressing, we have got a few more to go, but it is something that I am looking forward to. And I really believe in talking to [Assembly Speaker] Jason [Frierson] and [Senate Majority Leader] Kelvin [Atkinson] and we will be able to accomplish some good stuff this year.
You know, it is interesting, and I have known you a long time as I mentioned, you put your daughters front and center in your campaign, and after you were elected, it has been a couple of months now or so, what do they want you to do?
Be myself. That is all they really want me to do. I am blessed with two great kids. I have got very strong women in my life. My mom is 92 and this Friday is going to be my four-week anniversary of getting married to Kathy. So, she is the best thing that has happened to me, obviously. They were very, very supportive of me, my daughters were. They always have been. We have got a close bond because of the way they grew up, so it has been a tremendous experience for all of us.
Do they have any specific policies they really want you to push?
No.
They don't?
No.
Would you tell me if they did?
No.
Okay, that is what I thought. You know a lot of people here, Governor, might not know about what your real start in politics was. They know about you being a regent and a county commissioner, but it actually began in '94 and '96 when you actually ran for the state Senate unsuccessfully against Bill O'Donnell and then Ann O'Connell. Sorry to remind you of this.
Those were two losses, Jon, and you are reminding me of the losses.
What I have been wondering is I have been thinking about tonight, Governor, is besides Dina Titus and her persuasive skills in getting you to run, you were a businessman at the time, you were successful back then. Why did you want to get into public office? What prompted you to do it in the first place?
I have been fortunate. I moved to Nevada in 1976, graduated from UNLV, got my MBA at UNLV, and had a couple of small businesses, and I have been blessed. I have been very fortunate, and I want the next generation, including my kids, to have the same opportunities that I had. Anything that I can do to contribute to that. My dad has been gone now for about 16 years and he always told me to try to leave the world a little bit better place than you found it and that is what I intend to do.
But when you first, I mean, what made you think that it would be fun to get into public life after being a successful businessman? What was the pitch and what was it inside you that said, I want to do this?
The first time I think I was a little naïve when I got talked into running, I had no idea what is was really going to be all about. But, I enjoyed it. I learned a lot. I really got to speak to a lot of people, understand a little bit better what is going on, and I wanted to lobby for things that are good – good laws and good regulations – for the regular, everyday folks, and that is what got me motivated.
You lobbied the Legislature. You know a little bit about the process and then you decided, "Hey, I can do that."
Well, that is what I thought, but I was unsuccessful. I got the hat and the t-shirt to show for both of those losses. It was educational, like I say, when I went up against two well-funded Republicans and we ran good campaigns, just came up a little bit on the short end. But, I learned a lot about politics and moved on to the Board of Regents when there was an opening. Maddy Graves asked me to run. It was his seat. And then, when term limits kicked in and Commissioner Woodbury couldn't run any more, I took that as a challenge.
You don't want to talk about that whole episode, do you?
Sure. I am open to anything.
Nah, that was fun. But, what I am curious about, and I think there are some people who still don't know a lot about, where is Steve Sisolak on the political spectrum? I mean, where is he if you put the Democratic party, if you put Alexandria Ocasio Cortez here and you put Joe Manchin here.
Geez, Jon.
I mean, you sounded pretty liberal during that State of the State speech, which will get to in a minute, as you know. But, when you were on the Clark County Commission, you were really seen as a business Democrat. You supported a lot of development projects, some of which were controversial. You went after some of the public employee unions at times, and even [the Las Vegas Metropolitan Police Department] you took on for a while over the sales tax, and that was before you gave away the store to the Raiders, but we will get to that in a second.
Somehow, I knew that was coming, Jon. Somehow, I knew that one was coming.
I mean, I don't like labels. You probably don't either – liberal, moderate, conservative. But, talk about what is your political philosophy. What governs you? Where do you think you fit in the spectrum?
I don't know. I guess I leave that to pundits like yourself. I really consider myself a pragmatist, a realist, a common sense-type of philosophy I use in governing. I consider myself a Nevadan and a family man first, and if it is in the best interest of my constituents and the citizens of Nevada, I support it. If not, I will take you head on.
You know, the criticism of someone who describes themselves the way that you just did, as a pragmatist, is what is it you really believe in? And if someone said to you, "What do you really believe in," there are lines that you won't cross, certain issues that you are really passionate about. Obviously, education was one because you were on the Board of Regents for a while. But, what are the issues that really get you going? And, I think you probably learned some stuff even as you ran for governor about issues you didn't even know about, whether it is prisons or other kinds of issues, right?
Yeah. I did learn a lot and I continued to learn every single day. You know, whether it is about horses or prisons or whatever it might be, DHHS. I guess that my philosophy is that the everyday person in my opinion, that the economic robust that we have experienced in the last eight, ten years, has not made it down to the everyday Nevadan. I mean, they haven't had the opportunity to experience some of the increases and the benefits that resulted from our economy, and I want to make sure, as I said in my speech, that every Nevadan around every dinner table has the same opportunity for advancement that the wealthy and those sitting on the board of directors have had for the last 10 years.
Why is that do you think, and you have articulated this before, I think you mentioned it in the State of the State to some extent, why hasn't that, if it is true, and I assume you have picked up from talking to a lot of people plus looking at statistics, why is it true that it hasn't trickled all the way down to some people?
I think our structure, the way it is set up, I mean, a lot of the taxes we have are regressive when you get to sales tax and you get to fuel tax, and some of those things, and I think that our wage structure like it is, it is difficult for somebody to make that big leap up from, you know, from being basically at the bottom of the ladder in the socioeconomic ladder to a few rungs up. And, it is tough. Parents work their entire lives to support their kids an education so that they can make that leap, and I think as a government it is our responsibility to make sure that everybody is treated equally, whether it comes to education, whether it comes to job opportunities, whether it comes to health care, that everybody has a chance. And that is what I believe in and that is what we are going to fight for for the next four years.
Okay, no more applause. I am kidding. I mentioned Brian Sandoval jokingly earlier, third term for Brian Sandoval, but you accepted much of what he had in his budget — we are going to talk a little bit about that in a second — but are you offended by me saying that this is Brian Sandoval's third term. Do you think it is?
I mean, it is my first term. Is it going to be similar to what Brian would have been in his third term? I mean, it might very well be. He and I have a lot of the same philosophies. I count Governor Sandoval as a friend. I mean, he did an incredible job as far as I am concerned for the state of Nevada while he was there. That deserves a round of applause. We disagree on a few things, but we agree on awful lot of them. I mean, he showed a lot of political courage, especially with the expansion of Medicaid. He helped an awful lot of people and that is something that I want to continue. I think he stood up and he did the right thing even against his own party sometimes and against what might have been the opinion of his advisors.
Do you think he voted for you?
After some of the things that he said, I doubt he voted for an opponent, but I don't know.
Okay, let's talk about the State of the State speech and let's go through some of the things in there. And let me start with —
You got a lot of pages of questions there.
I do indeed. I do indeed. Settle in everybody, we are going to be here all night. So, one of the things you mentioned very early in your speech, and you seemed very proud of it, and I am going to read from it, okay, and then we are going to talk about it. "This budget is presented without any new taxes." Let me say that again. "This balanced budget does not contain any new taxes." Okay, George Bush '41.
No new taxes, Jon. There were no new taxes on it.
We are reading your lips. Well, well, not exactly.
Exactly. There were no new taxes in that.
There was this trigger for the payroll tax, also known as the modified business tax. It was designed when the commerce tax was passed and it was supposed to balance out if they didn't want to create a windfall, they didn't want to create a situation where Kenny Guinn, where we had to give back all this money for political reasons. And you are also keeping all these millions of dollars that are supposed to go into the highway fund through the government's services tax just so you can arguably, and I say arguably, claim not to have raised taxes. You are raising taxes.
I am not raising taxes. Let's do the second one first. If you are talking about the highway tax, it is a continuation of a redistribution of a current tax. That is not a tax increase.
It wasn't supposed to go in, was it?
The redistribution?
Yeah.
You could always redistribute things. Sometimes in your budget, you take from your household budget and you have to do a home repair. You know, that is just the way it is. That is just a continuation of a redistribution is all that is. A sunsetting of a tax that we are just going to delay this sunsetting tax is not an increase. That is a delay of a sunset.
You think a lot of people out there are buying that? It is like, I don't hear them clapping for that one.
Well, that is what it is. I mean, you know –
Taxes never sunset, even Governor Sandoval said –
I am not the one who passed the tax. I am not the one who passed the tax. I am just the one who is continuing the sunset, that is all I am doing. I am mother nature in this argument, Jon. I am just continuing the sunset.
Where is the sunrise, sir? When is it going to be morning in Nevada again? I mean, I guess we are being facetious here, and people can argue semantics, whether it is a tax increase or not. But, you decided to do that for a reason, and there are a lot of small businesses who thought that that payroll tax was going down. They may have even relied on it. I mean, is the only reason you did that is because you didn't want to have to raise taxes or was there some public policy reason for doing it?
No, I disagree with you, Jon. I don't think any business relied on the sunset of that tax to stay in business for another year.
I didn't say to stay in business, and it is a very small amount. I understand.
Yeah, it's a very small amount.
But if you're a large employer they might be upset with you too and those are the important ones, right?
No, I don't think they're upset with me.
Okay.
I think that they view it the way I view it and I listened to some of the individuals that I'm going to be working with in Carson City, as they're related to these two moves. If you want to cut Meals on Wheels and not feed our seniors, or you want to cut mental health, or you want to make our schools less safe than I allocated for the budget, go ahead and argue with me, but I don't think the vast majority of our legislators or the citizens in Nevada think that that's a wise thing to do.
You guys just heard the leverage that he's going to use against the Legislature. You're going to keep repeating that the entire session? Are you not?
I don't think I need any leverage.
No?
I think that, common sense, I think everybody up there has a heart and I met with these senior citizens. We had 900 and some odd on the waitlist to get Meals on Wheels. I mean that's unconscionable to me. We need more medical mental health professionals in our school and in our communities, and those are just some things. I mean we need to make our schools safer. We had a committee that was set aside that studied school safety and it's incumbent upon us to make the investment necessary to keep our communities safe and to service those and provide for the basic necessities for those that don't have much and that's why I continue with what I did.
You better enjoy this. This is going to be the best part of the night for you.
And I'm not dodging it. I'm going to own it. That's what I did.
No, I don't think you're dodging it at all, but you're talking about the spending side and a lot of people in this room and a lot of people on both sides of the political outlet are going to agree with Meals on Wheels and some of the other things that you're funding, I think. It's not that. It's how you're doing it. And you essentially said that the revenue structure of Nevada is responsible for the economic boom. It ain't broke, let's not fix it. So the revenue structure is fine and you're just going to keep sunset and not sunsetting things that are supposed to be sunset? Is that the Sisolak policy?
The revenue structure had those taxes in place and I think they're working just fine. The revenue structure as I inherited from Governor Sandoval is doing very, very well and our revenue structure moving forward the next biennium is going to be the same revenue structure, so I think that's a positive thing and we're going to provide more services than were provided under previous budget.
From a political standpoint, some people would say, oh, why did he do that? Now he's given the Republicans, who essentially would be irrelevant otherwise in Carson City. They can meet in a phone booth in the Assembly and there's barely more of them in the Senate. There's one short of a super majority in the Senate. It's going to take two-thirds to get those things done now, the sunsets. You gave the Republicans leverage to hold the whole session up. Thanks a lot, Governor.
Well, you're the one that said it's going to take two-thirds. I'm not convinced it's necessarily going to take two-thirds. One of them I'm certain is not going to take two-thirds, I'm pretty confident, the continuation of the redistribution is not going to take two-thirds. There's a disagreement among legal scholars whether or not the other one will take two-thirds, but besides that, I don't want the Republicans meeting in a phone booth. I'm a firm believer, as I said in my speech, I want everybody coming together. I met with leadership, both the minority and majority, and I believe for us to be a stronger Nevada, I want to hear everybody's ideas. I want to hear everybody's ideas. I want to hear everybody's proposals and I think if we sit down and we get together and reach a consensus, we'll make better laws and the state will be better for it. I want everyone to be relevant.
Good luck. The rainy-day fund and what you're doing with that, that's been controversial for a long time.
It has.
How much should be in the rainy-day fund? You had to deal with essentially a rainy-day fund when you were at the County Commission to some extent, but by law, you have to have 5% in there, and what you're doing is you're essentially taking $150 million out of there to help balance your budget. I don't know how many people know that. You're putting $45 million a year in, but you're taking $150 million a year out of there to balance your budget. And so I really want you to give me a candid answer to this if that's possible. Did you essentially say, I want to spend all this money on X, Y, and Z, and I'm not criticizing the spending priorities, but we need to figure out some kind of gimmickry so we don't do this and raise taxes and that's why you came up with this not sunsetting the tax and sweeping $150 million out of the rainy-day fund? That conversation occurred, right?
You give me a lot more credit than I deserve, Jon. No, that conversation did not occur. We're obligated to, under law statute, provide for the rainy-day fund, to make contributions to the rainy-day fund. We're doing that. The last session is the first one that that was done under Brian Sandoval, Governor Sandoval, and we're going to continue that through this buy-in, because we're going to need that at some time, whether that recession comes in two years or comes in five years or ten years, we're definitely going to need that. The last time we had a rainy-day fund, we cut through it like nothing because we didn't have enough money in there. So it's put in there for a reason and that's where it's going to stay.
I guess what I'm wondering is how many people know that with the economic forum saying things are going well, $590 million or so of new revenue, what you've done is essentially you are spending $400 million or so above that through the methods that I just described in addition to diverting, I believe, $54 million…do I have that number right? I think I do.
From which?
From the pot tax, right?
That's a good guess, yeah.
See, I studied your budget, Sir.
You did.
Okay. So almost a billion dollars of new spending. You're comfortable with that?
I am.
You are? Why?
Because we're in a robust economy right now. Unemployment is at a record low. I think that the economy is moving along fine, as you said, and I appreciate you bringing it up. We're going to have more revenue coming from the new stadium that we're going to have online.
Did I bring that up?
You did bring that up. You did bring that up.
Oh, okay. I don't remember that.
And the increase in the marijuana tax, so I'm comfortable that our revenues will meet projections and we won't have any type of a shortfall.
I guess what I'm wondering is did that number give you any sticker shock at all? What? A billion dollars almost?
I spent a long time going over the budget with our analysts and my advisors and spent some long nights up in the Governor's office looking at the various numbers and after going through and massaging them and understanding the revenue sources and expenditures, I feel comfortable that we're going to be in a good, sound financial position.
As I said, I've known you for a while. Here's what I think probably happened, and correct me if I'm wrong. You went through and you learned about all these programs. You didn't know in granular detail what the state budget looked like before you ran, maybe even until after you won, and I think you said, listen, I can't cut this. We need to keep going with this and we need to find a way to pay for it and I don't want to raise taxes but this is what I believe in as the governor. Did something like that happen?
[laughs]
That's a yes.
That's pretty close to a yes, that's pretty close to a yes. There are certain things that I feel very, very strongly about. Mental health is one issue that I feel incredibly strong about. We need much more in the way of mental health. It's been woefully underfunded. We are investing more in mental health than has been done in a decade. We're investing more in health and human services than we have ever put into the budget before. I feel that preexisting conditions must be continued to be covered. Those are things that are absolutely just non-starters for me, that are so, so important to me, and yes, I said to my staff, here's a list of A, B, C, D and these have got to be included in there so let's find a way to make it work and as I said, I've got a great staff and they made it work.
Well, you brought up mental health and I was going to get to health care a little later but I'll let you control the agenda briefly. So let's talk about mental health. And this is…I follow the Legislature since before you first ran, sorry to bring that up again, and…
You're older than I thought, Jon.
Yeah, I am. I am. Ain't it the truth? So mental health has been something that very few legislators or governors, by the way, have really said I'll put out front. You made a big deal in your speech that there's been more money infused into health and human services than ever before and you put mental health really as a focal point. Talk about what you've found, and you learned a little bit about this probably as a county commissioner and then with UMC and how they're treated in emergency rooms and all of that stuff. You can't … I won't use the word "fix," Governor, but what can you really do that's going to have an impact, do you think?
You're right, I learned a lot about mental health on the county commission. Sadly, I learned through 1 October about mental health. I learned that a third of the inmates we have incarcerated at CCDC, our criminals are mental health patients. I learned that we had this crisis where we were shipping folks to California with mental health related issues. I've learned that a lot of our homeless problem is a mental health situation. These are things that I learned on the county commission and I'm taking with me. I think what we need are more trained professionals in the mental health field. We need more inpatient beds to put folks in. Right now, unfortunately, if an officer picks somebody up for vagrancy or loitering, whatever it might be, or a mental health related issue, there's no place else to take them but CCDC. They're stabilized, they're given prescription medication, maybe for 30 days, and the door revolves and they're back out the door again. That's just the way it is and that's something that simply can't work. We need to do what we can to stabilize these folks and make them a productive member of our society and I think to do that we have to make an investment and that's a big dollar investment that the state is making but I think you're going to see benefits in the long run.
You say more beds. That's probably the most expensive proposition of all of this. Do a lot of new facilities need to be built, do you think?
Well, I don't know how many new facilities need to be built and how many things can be repurposed that we can do. Clearly part of our jail issue is mental health. A big part of our homelessness is mental health. I think our schools need more mental health counselors. I mean they're doing a lot more in terms of talking to these kids on the tip lines and so forth and so on. If we catch a problem early, we can prevent it from being a much bigger problem later on down the line and I think that is something that we have underinvested in for decades and it's not an additional … it's part of our health-care system. Mental health is part of our health-care system and it needs to be treated as a disease, which it is, and hopefully we can get people some relief.
Earlier you mentioned the courage that Brian Sandoval had to expand Medicaid. He was the first Republican governor to do it. He took a lot of heat, but he stood by it and it became a big issue, as you know, last year even in the election, and he stood by what he had done. There was a bill, unseen anywhere else in the country, that was presented last time. It was a Medicaid-for-all bill that my reporter, Riley Snyder, takes credit for nicknaming SprinkleCare, after [Assemblyman] Mike Sprinkle. The governor vetoed it. The governor vetoed it. There were a lot of people around the country watching that, Governor, hoping that he would sign it. He vetoed it. Would you have signed that bill?
I don't know if I would have signed it in the form that it was in.
Why not?
There are numerous bills out there right now that are going to deal with Medicaid expansion and Medicaid for all. I think it's a bigger problem than can be handled in one session. I really do. I think that it's something that we need to get everybody … that's why I advocated a Patient Protection Commission, to bring everybody together, the health-care providers, the insurance companies, the pharmaceuticals, Big Pharma, and come up with a common-sense solution. Unfortunately, in some of these things, there's unintended consequences and I don't think that was thoroughly vetted. I don't know if I'd have signed it, I'll be honest, Jon.
When you say unintended consequences, what are you worried about? And I'm wondering also why you say it can't be done in one session. If that bill passed, we would have had Medicaid for all. Would we not?
You would have had Medicaid for all, but I don't know what the unintended consequences that would have been. There is a funding issue and we've got a lot of issues to deal with in terms of health care. You've got price gouging on prescriptions, you've got surprise billing, you've got a multitude of issues that all need to be brought together. This piecemeal approach isn't working, and I don't think it was thought out well enough. I think the same thing happened with cannabis.
We're going to get to that. Don't you worry.
It was not … some of the unintended consequences weren't thought about and it's causing more problems on the back end now than if we would have handled them at the beginning, so I would just like a little more thought put into it.
So you're suggesting, and correct me if I'm wrong, I'm trying to piece together what you just said, basically that you can't just do Medicaid for all without considering the impact on other parts of the health-care system and you should try to do something in a more comprehensive way and is that what this … because the Patient Protection Commission and we can't do it in one session, you know what that sounds like to me? It sounds like, oh, let's put this off. I don't want to have to deal with the expense and let's do a blue-ribbon task force. How many times have we heard that? That's what it sounds like.
No, that's not at all what I'm talking about. I think that you need to get … if you can have something that works, like right now we're continuing to fight over the Affordable Care Act. I would like to get everybody at the table. I'd like to get business and I'd like to get labor and I'd like to get the health-care professionals together and say, yes, this will work, as opposed to having people, after it's passed, trying to fight to make it not work, and that's a big concern for me.
What world are you living in where you think that you're going to get all these interests around the table and, "Oh yes, Governor, let's do something all together" and they'll sing "Kumbaya" or "We Are the World" or whatever they sing and everything will be fine.
I don't think that they're going to sing "Kumbaya," but I think I've got a good chance of getting them all to come together. That's one thing I did on the county commission. I'm proud of the fact that I was able to build a consensus. If you can sit Sheldon Adelson and Mark Davis down at the same table and get them to agree on something, I think that you've made some progress and I think we can do that too.
How'd that relationship turn out after all, Governor?
Touche. Well, we've got a convention center expansion to the stadium, so it worked out okay. It worked out okay.
You're going to … are you going to like mention the Raiders' stadium like in every segment here?
Yeah.
Okay. I figured.
I haven't gotten to the Golden Knights yet. I'm going to mention that one too.
The Golden Knights, how much tax money did you spend on that?
Oh, that's good. I appreciate that.
Anyhow, we'll get to that. I really want to finish up on health care because I think it's important and you did mention a couple of things. In another landmark bill that was passed, that the governor first vetoed but then a compromise was reached, is a drug transparency bill for diabetes drugs which I think the pharmaceutical industry is very worried about. They're just filing these reports now. There's not a lot of transparency yet on that and you've talked about something that you called, during the campaign, something called Silver State Scripts. Do you remember this?
I do.
Okay. I thought it might have just been something on your website. I'm kidding. But somehow this is going to be formed and this is going to help negotiate lower drug prices. I think there were a lot of people worried who believe in transparency and in reining in pharma. I think there are a lot of people in that Legislature who believe in that, who wonder what the next step is. How would this work?
I think we do need to rein in pharma. I think that we need to negotiate the best price we possibly can for our pharmaceuticals by combining different buying groups and the buying power increase, everybody in the Big Pharma industry is telling me that that can be a very effective way to do that. You're talking about, you know, if it's diabetes, that drug is relatively inexpensive compared to the drug cocktails that they're prescribing for people that have very difficult to treat diseases that have a small universe of folks that buy the drugs, but I believe that the pharmaceutical companies that I've met with, numerous of them at the National Governor's Conference, understand that they kind of have a target, not kind of, they have a target on their back right now and they want to come to the table and negotiate, so I think that we'll be able to take advantage of that.
Is this the same table that all those other interests are going to … I mean is there one table?
Yeah, different day. It's the same table I use. It's a good use of resources. We use the table over and over again. We don't keep buying new tables, Jon. We don't have it in the budget.
A fiscal conservative after all. I guess what I'm wondering, one thing, as I said, I'll keep going back to this. I've known you a long time and you have done some things in the county commission where you did force consensus on certain things, but these are very thorny, difficult issues with a lot of different special interests, whether it's prescription drugs or just health care in general, the surprise billing issue is going to be a huge issue in the Legislature. They've been trying to address it for a long time. You're not naïve, is the point that I'm making. You know how difficult this is going to be, so just saying you're going to come in and do a Nikita Khrushchev on the table and bang your hand and everything is going to be fine. It's not going to work that way.
Well, you view them as difficult issues. I view them as big opportunities I mean I think that they're an opportunity to provide better quality of life for the citizens in Nevada and I firmly believe that if you bring them in a room, you put them around the table, that I'm going to continue to reuse, and I lock the door, I'll be able to…
Is it round or square?
It's kind of an oblong table, it's kind of a conference table.
An oblong, okay.
I think we'll be able to come up with a consensus. I think that you could solve the situation we're dealing with in Washington right now if you sat five people in a room without their attorneys, locked the door, and said nobody can walk out of this room until we come up with a solution, we wouldn't have our federal workers in the situation that they're in right now.
And you're saying you're willing to do that on these issues? You're going to do that? You're going to take the lead as opposed to saying, which you've kind of said, "Oh, I'll let the Legislature take care of that and I'll come in at the end and decide whether I should sign it." You're going to be an active participant? You're going to be calling these people in around this mythical oblong table and you're going to get something done?
Jon, it's not a mythical table. The table exists. It's a reused table. It exists. The table exists. Yes, I'm going to call people in and first I'm going to seek input from various groups and I'd rather be proactive and get people talking upfront so that you can reach a common agreement, you can reach a consensus, before you have to get to vetoing something or holding somebody hostage or whatever it might be. I'm a big believer that if everybody talks and you get something and everybody walks out of the room a little angry with me from the discussion, we're probably in a good place and we've probably reached a good compromise.
Well, good luck. I mean it.
Thank you.
Let's talk about education.
You can't come to the meetings ever. Maybe Riley. Maybe we'll let Riley in. I don't know.
Don't worry. I think the bugs are still intact at the oblong table. Don't worry, we're good.
I'll check that.
So let's talk about education, which I was going to get to before you started talking about health care, which is the other big issue to you and it's always a big issue. Every governor is the education governor. Brian Sandoval pushed through, in 2015, the largest tax increase in history and he actually got done some reforms and changed the way that education is funded in some ways. Are there any programs that he got passed, reforms, that you don't like, that you think need to be revisited?
Boy, I would rather not have so much categorical funding as we have right now, whether it's Victory or Zoom or some of those sort of things.
Why not?
Because I don't think it's getting down to every single student. I think that gets to some students depending on your zip code and depending on the school that you're at, but if you're not at a Zoom School and you're an ELL student, you don't get any benefit from it. I would rather have it be part of the weighted formula in the DSA and every student could get the benefit from that. Unfortunately, I got the budget very, very late. We got up there and we were able to spend a lot of time studying and just a little bit of time tweaking and I think we'll be more aggressive next time around, but I would rather see that in the weighted formula and the DSA account so that every student, regardless of their zip code, regardless of their family income, would get the benefit from those programs and currently that's not the case.
Yeah, I mean it is true. Go ahead. It is true that when you say you're going to spend the $100 million and you're continuing, for instance, with the Zoom Schools, there are schools with similar kinds of problems that are not getting the benefit of that funding, so you're essentially, as I've said when I talk about this, you're creating a caste system. You have the haves and the have nots to some extent, but that's a function of spending too, right? You'd have to spend a lot more money to make it equitable, wouldn't you?
No, I don't think you would have to spend more money. I think you'd take the same amount of money and you'd divide up the money and the money would follow the student, regardless of what school the student goes to. If you're an ELL student or you're a student with special needs or you're a student that is on the autism spectrum, that money would follow you to whatever school that might be, whether it's an inner city school or an urban school or a rural school, whatever that might be, and I think that all our students will be much better off for that. The complaint I got in campaigning for a year and a half, two years, was that they saw this tax increase, but people are saying this money never got to my kids. My school isn't any different than it was before this tax increase. So what was the point of that? So I think we're going to have to make some changes.
What kind of changes?
I would like to see the categoricals eliminated and moved into the DSA count eventually. That's something we want to work with the Legislature about. I think that the report card and my discussions with both … particularly Washoe and Clark, the school districts, the jury is out on how effective some of these programs are. I mean I think you've read, you've provided some of the coverage on that and I think time will tell, but I would think it's better if we put it into an equally weighted formula that everybody gets a chance at those resources.
That's a pretty substantial change. I mean I understand you got the budget late, but we're talking about unraveling a lot of what was done in 2015 then, I think. Are you not?
No. I don't think you're unraveling it. I think you're just shifting and reallocating. I mean the money for ELL should not go to the school. It should follow the student, wherever that student is. It's not the school that has trouble with ELL, it's the student that has trouble with ELL. The money should go to the student, not go to the building. That's the way we're doing it now and I think it's backwards. That's just my opinion.
But even though I think it's facile to say it's all about money, it to some extent has to do with money and more money. We're still way below, unless you do some crazy math over on Bonanza Road, the bottom line is that we're way below the national average in per pupil funding. Doesn't that bother you?
It does. It does bother me. I mean, I came from Wisconsin and I got to meet a lot of the governors at both the NGA and the DGA and we had long conversations about education and when we compared numbers, it was, frankly, it was embarrassing. It's embarrassing to say we're at the bottom of every one of these lists. I saw your thing the other day about one was best and … the only one I disagree with is the quality of our universities because I don't think they were 47th and 49th. I think we're much better than that. Right, all the UNLV students out there? We're not better than that? But we need to do better. We're at the bottom of too many lists and we don't respect our teachers, we don't pay our teachers, and we need to start making some changes. I think…
That's going to cost a lot of money.
It is going to cost money, Jon, but you can invest in students and in our education system, you can invest in the prison system. Take your pick. I mean you have to stand for something and if you don't stand for something, you fall for anything, and I'm going to stand for education.
You did propose a 3 percent raise in the first year, I believe, for teachers, right?
Correct, for educators.
Okay, that's right.
A lot more than teachers. They have a great support staff and they deserve the same credit.
That's right. Fair enough, fair enough. This has gone on for a lot of years too, is the governor proposes these raises, but the money then goes down to the school district oftentimes, right, and then becomes subject to … you know what I'm about to say.
Oh, I know well what you're talking about and I had this discussion with the superintendents before I gave the State of the State speech and I said, look, this is what I want the money to go for. This is what the Legislature wants the money to go for. That money is directed towards teachers, towards their raise, and I don't want it allocated to other programs, traditional programs. I don't need any more superintendents, associate superintendents, vice-superintendents, deputy superintendents, or anything that goes with that. I need teachers to start to be compensated a little bit more fairly.
It's very interesting that you left out another component of the problem once it's sent down to the…
I knew you'd bring it up.
Yes, exactly. Your friends in the teachers' unions will make the subject of collective bargaining and they'll change what the governor intended often. Have you told your friends in the unions that you want this money to go in … you can't mandate anything.
I know.
You can't. I know you think you're all powerful now, but you can't do that. You can't do it.
I know.
So…
Don't tell them that though, Jon. If you don't tell them that, I figure they might not figure it out.
So that's the frustrating thing, right? Isn't it?
Yeah.
I mean you want to do all this stuff, but eventually the money … you have to rely, you're essentially saying to the Superintendents and to the union leaders, listen, this is what I think you should do with the money, and don't forget, I'm the governor.
Yeah, that's what I'm going to say, don't forget I'm the governor. There's going to be another budget coming in two years.
Right.
I've made that clear to both of our … all of our labor partners that that's what my intention is, that's when the arguments against putting the categoricals into the DSA account that then become the subject of potentially collective bargaining resource. I firmly believe in my heart, Jon, that our educators want what's in the best interest of our students. I think the Legislators want what's in the best interest of our students. I think the taxpayers want what's in the best interest of our students. And I think we need to bring them all together, our students will benefit, and our state will benefit as a result of that, if we just get on the same page. We're going to sit around that same table, that oblong table.
Great. The table that solves all problems. Or maybe it's this one.
No, this is too small of a table. I need more people.
Read by Three is one of the more controversial programs. There are some members of your party that don't like that, as you know. Do you like that program, Read by Three?
Like I said, I think that the scorecard is out, the report card on all these programs. I think it's had some successes in some areas. Has it been demonstrated or codified in all areas? No. It's an expensive program, a lot of money, millions and millions of dollars are poured into that program. I've got members of my party and the Republican party, but we're all members of the Nevada party and I think we need to sit down and say which of these programs work and how do you get the money to those students? And…
Are you skeptical that it'll work, Governor?
Which?
Holding kids back who can't ready by three? Are you skeptical of it?
I'm skeptical if that'll even work. If they teachers will really hold them back. First off, it's a difficult thing for a student to face, to be held back, the peer pressure that that student is going to be under, if his or her friends all move up and that student is held back, that's a difficult thing for a kid to deal with when they're at that age. That's a difficult thing for an adult to deal with, when their peers kind of all pass them by and they're held back. I mean it sounds good in theory, but in practicality, I don't know if it's going to work. I really don't.
One of the things that you've had to deal with that almost no other governor has really had to deal with, and it's going on around the country, is dealing with the issue of school safety and violence in schools and you talked about in your State of the State that a portion of the 10 percent marijuana tax going to preventing violence in our school. How much of that tax? Is it the entirety of it? Do you not know yet?
I don't know yet, and I can tell you that the taxes, the portion, the whole tax isn't going to be enough. I mean there's an additional…there's a beginning part where we've got to do a lot to harden. There's a lot of hard things in the school. It's the locking systems, it's the fencing, it's the camera systems in the school, those sort of things.
Those are expensive.
Those are very expensive. Those are very expensive and I don't think we're going to be able to, unfortunately, do them all at one time. I don't think you're going to be able to count on the local jurisdictions, the local school districts, to provide much in the way of resources, but I think we need to do more proactively. I mean, I spent a lot of time with the counselors and the mental health professionals in our school. They've got a waiting list of a month to get into these counselors and these mental health professionals for these kids and when a student wants to see a counselor or a mental health professional, they don't want to see one in March. They want to see one tomorrow.
They're waiting a month?
They're waiting a long time, Jon. They're waiting a long, long time, yeah.
So you do have a lot…you think they should hire a lot more mental health counselors in the school?
I do. I think we need to train more mental health people. Oftentimes these kids have nowhere else to go. They say, well, let them talk to their parents. Sometimes that parents are the problem. They can't talk to the parents. They need to be able to talk to an independent person and I think we need more mental health professionals. We need to do more in terms of patrolling or watching as we do in the Fusion Center, social media. There's oftentimes a warning ahead of time for these kids and we're not doing that, because after the fact, everybody says, oh yeah, I told so and so, I told so and so, or we thought that this person was a problem and nothing came from it, so I think here is another…we need to be more proactive.
What is your general take on charter schools? They've had what I would describe as mixed results here in Nevada. The online schools, some of them, have been utter disasters, as you know. You like charter schools?
I think they provide somewhat of an option, but there are a lot of problems that are associated with it. One, it's easier for them to gain in the rankings and have higher performance level because they don't take kids with special needs, they don't take ELL students, they don't take the more difficult cases because they get to select who they take. Often, it's done by a lottery. I don't think that they get as much of a social interaction as I'd like to see, as the other schools have, but charter schools are something that we've got a lot of. In my commission district we approved a lot of charter schools. I think it's an experiment in our education system and, like you said, the results are very mixed.
You don't seem like a big fan.
Public schools are my number one priority.
Well, charter…
Don't tell me that charter schools are public schools. Charter schools are not necessarily the same as a public school.
They are public schools.
But Jon, in the public school, everybody that lives near that school is assigned to that school. In a charter school, it's not that way. It's just not the same.
Sisolak hates charter schools, staff. That's…
Sisolak loves public schools, staff. That's what we've got to put out there.
I don't even know the answer…did you send your kids to public or private schools?
My kids went to public … Durango High School, they went to private school for their first eight years, and the public schools were absolutely terrific. Durango High School is a great high school where my daughters graduated from.
Yeah. I actually sent my kid to private school and then public school for high school too and it was a great high school. Why did you send to private … the reason I sent my kid to private school originally was because the kindergarten was like two hours, all day kindergarten, and then I just went up through the private schools. Why did you send your kids to private school?
My kids started in pre-kindergarten at the private school and stayed the whole time through eighth grade.
Which brings up another issue that I know you knew I was going to bring up, which is school choice, and there are a lot of people wondering why you didn't include Opportunity Scholarships which help low income kids. They give tax credits to business, in case people don't know what they are. That was a big deal to a lot of people and I don't think it is in the Sisolak budget, is it?
The funding for Opportunity schools that's required in statute is in the budget. It was $5 million. It grew out, I think, 10 percent a year. That's in my budget. The expansion that Gov. Sandoval had is not in my budget. Opportunity Scholarships are a complicated form of an ESA. I mean it provides money that's available. Some schools took more advantage of that than other schools did and I would rather invest that extra $20 million into our public education system. With that being said, the opportunity scholarships required by NRS are still there.
I mean what was in the Sandoval budget is not in the Sisolak budget. That's correct, right?
The Sisolak budget is what we're dealing with for the next two years now.
I see. Thank you for pointing that out to me.
I appreciate it. Thank you. You're welcome.
Do you understand…I mean, you're a parent and you talk to a lot of parents. Do you understand the frustration that some parents have with the public school system where school choice, whether it's through ESAs or through opportunity scholarships, might say, you know what? I can't do it anymore. I want to try something different. Give me that $5,000 through the ESA or give me the grant through…do you understand why some parents feel that way?
I understand that parents are frustrated with our education system. I clearly get that, Jon. But I think it's difficult to be…to look at the other side of it, how can you be frustrated with a school system that is woefully underfunded, we're funded worse than almost any district in the United States of America, and people say, don't throw more money at it. Frankly, you have to put more money into education if you want to have better results. There's no two ways about it. If you want to recruit and retain the best teachers, you can't start them out at $39,000 and $40,000 a year. It just isn't going to work. I met a young couple up in Reno, a young man and woman. They're both teachers and I said, "How do you like it?" They said, "We absolutely love our jobs. Love it. The only downside is, at our wages, we'll never be able to afford to buy a house." And that's not fair. I mean these teachers could do something else and make a lot more money. They care about our kids and that's why I think that they should be compensated a little bit more fairly. Three percent is not enough, but that's where we're starting. I mean the thought of teachers having to go and buy their own pencils and pens and erasers and paper is ridiculous. We raised that from $100 to $180. I wish I could have raised it more, but I wanted to send a message to our educators that we do care about them, that we've got their back and we're going to try to improve our education system one dollar and one student at a time.
So you believe that by advocating for school choice you're essentially raising a white flag on the public school system? Is that what you think?
Not that you're raising a white flag on it. I think that you've got to recognize that it's an underfunded…the people that are advocating for ESA should be advocating for more funding for public education because if we had more funding for public education, we would have better schools. If you take these dollars out of the public school system, we're going to have a bigger shortfall in the public school system than we currently have. That's simply going to exacerbate the problem.
All right. I want to move on because a lot more subjects to cover in the four hours that you've allotted to me tonight and I appreciate it. I want to talk…obviously, you have a lot of experience in higher ed through being a regent and you learned a lot. You said in your State of the State, let me read to you, it was one thing you said, "We must continue to invest in our higher education system. In addition to funding for student enrollment growth, I am recommending funding for two new buildings, a health and sciences building at the College of Southern Nevada and a new education building at Nevada State College."
You're going to point out that they're both in Southern Nevada, right?
Why do you hate the north so much?
I think that the capital expenditures we made on our CIP improvement, CIP budget, are where they were the most needed, those two were the most needed. We expanded some things. We finished the veterans' home up in Northern Nevada. We invested money in Northern Nevada the same that we invested in Southern Nevada, but 75 percent, 80 percent of the population is in Southern Nevada and these students needed the buildings and I intend to bring the buildings there.
I kind of feel like a lot of people did watching Tony Romo do the NFL game, like he predicted exactly what the play was going to be, like you already know the questions I'm going to ask. It's very disconcerting, sir.
You kind of gave that away, Jon. You gave that away.
The whole north/south issue is something, though, that is…it's existed for many, many years, as you know. You were perceived, when you were on the Board of Regents, this came up during the campaign for governor even, as being a southern partisan and all for the south and not so much for the north. There was a piece today by some folks at UNLV, I don't know if you saw an op-ed in The Current, where they just scorched Thom Reilly for being biased and not wanting to change some of these formulas. There was a perception and a reality in Carson City for many years that Bill Raggio, may he rest in peace, one of the greatest legislators ever, and Joe Crowley, also rest in peace, and amazing guy at UNR, but they got all the spoils for UNR. Is that a reality?
I'd rather look through the front mirror than the rear view mirror looking back, Jon.
That's a yes too?
There was a feeling, I think, that there was more money going to the northern schools than going to the south. I remember when I was on the board and we did a study and Great Basin was getting more than UNLV was getting. I think that Bill Raggio and Joe Dini did an incredible job representing their districts and their areas and I respect that and I admire both of those gentlemen, but I think that, here again, as I said previously in the discussion about our public schools and our students, the money needs to follow the students and the student growth is at UNLV and in particularly it's at Nevada State College the College of Southern Nevada. That's why they're getting the two buildings. That's where the enrollment growth is.
What are the issues in higher education that need to be addressed that have not been addressed before that you can use your, frankly, unique knowledge presiding over a higher education as a regent that you can bring to being governor?
Well, I've had numerous discussions with the presidents and with the chancellor. We need to focus more on degrees and certifications that people get coming out of it. They're finishing these programs. Once they get it, they don't just start and then get out. I think that there's a big problem and I've had this discussion and we're trying to work with our school districts, our universities, and our labor unions. Every child should not go to college, Jon. I mean that's a stigma that has been there for a long, long time. You've got to go to college in order to be successful. I spent 10 years on the Board of Regents and had the sad situation dealing with a lot of parents who'd call me up and say, look, my son or daughter just graduated. They've got a liberal arts degree. These folks or the students accumulated $50,000, $60,000 in debt and the best job they can get is an assistant manager at a fast food restaurant. I mean that's what they can get. That's a problem. At the same time, I've got HVAC folks or plumbers that are making $80,000 a year and we can't train enough of them. So I want to invest in the career technical training that's necessary in our community colleges. I'm a firm believer that … I get to speak a lot in high school, as do you, and I'll tell the kids, the first thing you've got to do is graduate from high school or get a GED and once you do that, you've got three good opportunities. The first is you can pursue a formal education at either community college or university, you can go into a trade, or you can go into the military. Those are your three options you have available and they're all good options. But you've got a student on this hand who spends five years to get a four-year degree and had got $60,000 or $80,000 in debt, like I say, and there's not a great job waiting for him because we're not training him for a job. We're training him for a degree. On the other hand, you get a student that becomes an apprentice, is earning while they're learning, and at the end of five years they're driving a brand new car or truck, they've got enough of a down payment for a house, and they're going to make $80,000 or $100,000 the rest of their life. They've got a skill. Students need to know that that option is available for them.
In your State of the State, you talked about forming some new commissions. We already talked about one of the, the Patient Protection Commission. I want to talk about a couple other ones that are very, very interesting and break new ground in Nevada, frankly. One of them is this Cannabis Compliance Commission, which seems to be based, to some extent, on the gaming control regulation. You didn't provide many details or why you really think this is needed. Here's your chance.
I've got a lot of details and a lot of reasons why I think it's needed. What we're going to do this week, we hope to, in the next week, 10 days, going to sign an executive order forming a task force that's going to come up with the parameters for the Cannabis Compliance Board. Right now, we have had hundreds of millions of dollars invested in this cannabis industry. It's created a tremendous amount of jobs, good paying jobs, for our citizens in this state and it's providing a lot of tax revenue. At the same time, we've got some real, real issues in the industry. The most important one to me is it's still a cash economy, that provides a big safety concern. I dealt with his at the county when people were coming in with backpacks of $20 bills in order to pay their property tax and somebody's got to count that. And there's a banking problem there. You've got the problem as it relates to consumption lounges, that we're selling this product, you can't consume it in your hotel room, you can't consume it in the car, you can't consume it outside. Where are the folks supposed to partake or indulge in that? It's a, pardon my pun, flourishing, growing industry and … that was good, huh? And I want to provide some guidance in terms of where they go. Everybody's got a different rule. Clark County's rules are different than North Las Vegas which is different then Henderson and is different than Sparks and different that Washoe. It should be like gaming. It's the same set of rules all over the place. I am proud of the fact that the state of Nevada has a gold standard when it comes to gaming regulations. If we're going to be in the marijuana industry, and we are, we're in the marijuana business, I want us to have the gold standard. So I want a group of individuals to set down, here's the rules and if you follow them, you've got no problem. If you don't follow them, you've got a problem. This last set of licenses that came out, you've written about it, I've read about it. There's a lot of controversy about how those were handed out. Scoring behind closed doors. I'm very much in favor of … Gaming Commission meetings are transparent. Cannabis Compliance Board meetings are transparent. They're going to be done in the open and everybody can see what happened and who got awarded what license and how.
Shouldn't all this stuff that happened behind closed doors, with the awarding of the licenses, the scores, the names, shouldn't all that be released, Governor?
Absolutely.
Then why don't you make that happen? It's your state government now.
We are…
Shouldn't all that be released, Governor?
Absolutely.
Then why don't you make that happen? It's your state government now.
We are doing a … a minute ago you said I had no control. Now it's my state government.
No, no, no. That's with Clark County. You know what I meant.
We are looking at the entire process, what went through, and to determine how to best deal with the situation that I inherited from a previous administration.
But that should be released, all that information.
All that information should absolutely be released. One of the issues I'm dealing with, my legal counsel now is … we're subject to several lawsuits as it relates to this, the preservation of materials and the scoring and whatnot, but that's all going to be reviewed and it'll remain to be seen how we handle this moving forward, but in the future, the awarding of these licenses should be done by something like this board, this Cannabis Compliance Board, and it should all be done in the public. People should have a right to attend the hearings and to hear what's said and to hear what's promised, so people have some confidence in the system.
I suppose there's a problem with making it retroactive in the sense that gaming applicants have to go and get licensed by the Gaming Control Board. Is that how it's going to work in the future, that people are going to have to get licenses to be in this industry and can you go back and look at the people who may not have been vetted as well and actually make them go through a process? What are the legal problems there, if there are any?
There's a lot of legal problems because I don't know when you get into property, right, about having a license even though it's a privileged license. I can tell you this. We dealt with this at the county. We vetted these folks for, I think it was, three, four days. Those county commission meetings were 12 hour meetings.
Oh, you gave a license to everybody who wanted one then, didn't you?
No, we didn't.
Come on.
We really didn't.
Anybody who was rich.
Ouch, that was hard. No, we needed to … and then a year later, very few of those licensees remained. Right now, some of the licenses that were awarded this last time around are already being sold. I mean we weren't selling winning lottery tickets. That wasn't the idea of what we were doing here and we got away from the medical aspect and it strictly became recreational and the patients weren't serviced, so we need to get a better handle on this and I'm confident that working with the Legislature to help form this board because I'm going to put the task force together and work with the Legislature, come up with a plan, to implement a board that will be taken seriously and will have some authority.
Are you worried that there's corruption in that industry?
Worried? I want to make sure that there's not corruption in that industry and I'd rather be proactive and avoid any undue influence or corruption from coming into that industry.
Do you think there is corruption now?
I want to make sure that no corruption comes into that industry and avoid the appearance of any corruption in that industry.
All right. I tried, guys. The other new commission or office you're creating is something called the Office of New Americans, and you talked in your speech with some passion I think about a Dreamer you had met.
Deisy.
Yeah, and there are a lot of amazing Dreamers in this state.
There are.
You know that, right?
I do.
And I'm just wondering…
And they're not recognized as much as they should be recognized for all that they do for our communities.
Exactly. I'm wondering whether this is based on … Mo Denis, the Democratic state Senator, proposed something like this in 2017. There was a bill that essentially got scuttled because there was so much controversy. "Oh no, you're not going to help the legal and undocumented residents with your Office of New Americans, are you?" Are you?
Jon, my motivation behind this is I had a young man working on my campaign. I took him from Congresswoman Titus, Francisco Morales, who I had the pleasure…anybody know Francisco? He's an incredible young man.
Yep.
I had the pleasure of going with him when he voted for the first time after becoming a citizen and got his right to vote, and he took me, he was my outreach director in the Latino Hispanic community, and I got to spend a lot of time in some of our businesses and I know how hard these folks work. I know how hard these business owners are working, and I'm not talking 40 hour weeks. They are working 14 hours a day, seven days a week, to make their business work and support their family, and oftentimes, they don't know what opportunities are available, what options are available, and the investment in an office, I think, will make them more aware. It'll make people have more access to services that area available and that's our intention behind doing it.
But when you talk about Dreamers, Dreamers are not citizens. In fact, maybe the most famous Dreamer in the country, Astrid Silva, will, on Twitter very regularly … you can always cheer for Astrid, that's fine with me, put out that, just a reminder, Dreamers are not citizens.
But they should be given a path to citizenship.
Are you announcing your candidacy against Catherine Cortez Masto for the U.S. Senate now? But seriously, does that mean that Dreamers and other undocumented workers are going to be welcome in the Office of New Americans?
I want the Office New Americans to help any immigrant in this country that needs access to services that might be available.
Legal or otherwise?
I want them to have access to … people that need help finding services will be able to find it in that office.
Whether they're legal or not?
I want people that need to have access for services to be able to go to that office and obtain it.
But you know what you're inviting here. I mean, listen, it's terrible what's going on in this country.
It is.
And you saw it in your campaign too, this demagoguing about sanctuary cities and sanctuary states as a way to divide people and do dog whistling to racism and all the rest of it. Right here, you see … this is what happened with Mo Denis's bill. You don't say specifically what it's going to do, then you're going to have all of this happen again. Are you not, Governor?
I don't believe we are, Jon. I don't like fearmongering and I don't like judgments being made. I'm talking about human lives. I mean people talk in such platitudes and at a 30,000 foot level about this. These are real people with real problems and real lives and if we can provide services for immigrants in this country, I want to do it.
I'll ask the question one other way. Ready?
I'm going to give you the same answer, Jon. Go ahead.
It's going to be tough to give the same answer to this question. Would Astrid Silva be welcome in the Office of New Americans?
Absolutely.
Okay. You know, mentioning the…
So is Deisy.
Right, exactly. And other Dreamers. Mentioning all that nonsense that went on here with sanctuary cities and all that stuff, what do you think about the issue of whether local jails should refer people to ICE and deportation proceeding if they've just gotten like traffic tickets or something?
This is an issue that I spent a lot of time when I was on the county commission with Sheriff [Joe] Lombardo on this issue with ICE. We were proactive. If it was a minor violation, there was never a report to ICE. In my discussions with the sheriff, it's never his intention to do that. We had a shorter hold than was required in order … ICE very seldom came and picked anybody up and if the violent criminal, the worst of the worst, the felons that are going to break the law, yes, they need to be prosecuted to the full extent of the law and deported, but people that are convicted of shoplifting or traffic violations, I mean, there's no need for that.
What's the dividing line? Where's the line of demarcation? Is it misdemeanors? Is it certain felonies? Where is it?
That's your job as a reporter to get the specific...
Oh, here we go.
I'm not defining minor and major, but if it's a violent crime, that's one thing, a non-violent crime is another thing.
All right. You've been very generous with your time. I don't want to keep you much more than about 15, 20 more minutes. I've got a few other questions on my list. As someone who's been around a long time, and some people in this room who've been around the legislative process a long time, probably the most stunning thing that you said in your State of the State was that you are going to push for collective bargaining for state employees. I'm sure there are a lot of people in this room who support it, but it's very controversial and I think you know why. In fact, I mentioned him already, [former Republican state Sen.] Bill Raggio, he used to say every cycle, "If they ever pass collective bargaining for state employees, it's going to totally destroy how this state works. It's going to bust the budget, or it will force cuts in the budget. It'll essentially make the Legislature irrelevant." Don't cheer for that please. And that there are serious policy implications and there's a reason that it hasn't been done in the past.
What's the reason, Jon?
Politics. Politics, right?
Our state employees should be treated in a fair and respectful manner. The fact that they haven't had a raise in 10 years and the fact that they don't have the same working conditions that other jurisdictions had … I'm coming from a county that employees did have collective bargaining.
They make a lot more money than the state employees, don't they?
They make a lot more money and you're absolutely right. That's one of the big problems. You can't expect the state to run when it's headquartered in Carson City, which is away from the vast majority of the population, the pay is probably 30 percent to 40 percent less than any other governmental entity that exists, and to attract good people at those wages is simply not going to happen. They are first-class citizens. They're first-class workers that keep our roads safe, they protect our families, and they deserve fair wages and reasonable working conditions. And I think allowing that discussion to move forward with collective bargaining is a positive thing that's long overdue.
Even with what you've just said, you understand it's going to cost the state a lot more money. Not this much, a lot more. I'm not saying it's not good policy. Are you willing to be the governor who signs a collective bargaining for state employees bill knowing that no budget will ever look the same?
We're going to invest in our people, Jon. I think that's a good thing. I don't think that's a downside. We're going to invest in the people that provide services to the state of Nevada and then we're going to have to find the resources in order to make those accommodations, yes.
So you hope you get a bill that you can sign?
I hope that the Legislature can work out the details and we bring this forward, yes, I do.
Okay. A couple other labor issues, obviously, that came up. Obviously, the minimum wage has come up a lot. You said it's impossible for an individual, let alone a family, to live on $7.25 an hour. What could they live on?
I don't know. I think that I'd like to get the minimum wage up to the $12 range, minimum, at some point. That can't be done in one fell swoop. It has to be done over a period of years, a dollar and a quarter a year for three years, four years, something like that, a dollar a year. I think that that's more of a living wage, but it's not going to affect our hotels. I mean they're all under contract. They're making more than most folks. These are more for the fast food type industries that are getting minimum wage.
So you envision a bill that sets out dates for going up, as you said, a dollar and a quarter per year until it gets to $12? That's what you envision?
What I envision is the Legislature to sit down around this table, not this hypothetical table, with all of the business partners and come up with a plan to say, look, this is what we can live with. The same as with paid sick leave or maternity leave, is to sit down with the various interested parties and say what can we come to? What kind of consensus that's going to work for everybody? And I'd be willing to sign that.
But you did say, I heard you say it and it's on tape now, a dollar and a quarter a year, maybe something like it, up to $12.
Something like that, yeah.
And you mentioned paid sick leave as well.
I did.
In your State of the State, you mentioned equal pay. I mean…
Well, some of this is common sense. Equal pay, who's going to argue with equal pay? I mean it's so long overdue, yeah, absolutely.
And paid leave for…what are your ideas on that? How should that be codified?
Well, there's got to be a way that…you can't it for the smallest of businesses and have two or three employees certainly, because that would be too much of a burden, but I think if you had, and here again, it would have to be a reasoned out compromise, whether you've got 20 employees or 15 or 25 or whatever, based on their longevity with the companies, they're entitled to five, ten sick days a year.
All right. I'm going to go through a few other issues and then…
You've got more?
Oh boy. I'm about halfway done. So…
These folks want to go home.
I'm going to do…no, they want to stay here all night with us, Governor. They do. Right? Applaud. All right, see. Never let the people make the decisions.
They made the decision. That's why I'm here tonight, Jon.
He's good. Let's go through a few law and order issues if we can real quickly. There's going to be a lot of talk about criminal justice reform. It's a big deal to the Speaker. I know that, and it is to the Attorney General to when he was the Senate Majority Leader and they talked a lot about it. How committed are you to criminal justice reform and what do you support?
I'm very committed to criminal justice reform. Cash bail is a big problem for people.
You said during the debate that you'd be willing to end it.
Yeah, I would, because what you do…and here again, I'm taking a lot of the experience I got at the county level, the local level, and moving it to the state level. You've got people that are arrested. They're incarcerated. Bail is set so high that they can't make bail. The first thing you'll do is you'll lose your job, then you lose your apartment or you lose your house, you end up losing your family and you might not even be guilty in the first place. That's something. The charge stacking is a problem. Cash bails are a problem. I'm in favor of banning the box so that you don't have to keep revealing that, people that have served their time. The First Lady and I got to stop at High Desert and visit some of those folks. I think people that do their time deserve a second chance. They've earned a second chance and we'd like to reintegrate them into society.
What about, for instance, like sealing pot misdemeanors? That's come up too as part of criminal...
If I had my choice, Jon, I'd like to work with the Legislature. I'd like to expunge misdemeanor pot records for people.
There have also been proposals in the past to ban private prisons. Do you think, that's a good idea or not?
I do.
So much news. Am I right? Thank you.
You're going to have a field day with this on your Twitter account. I can only imagine.
I just feel sorry for my staff. They've got to do about 10 stories out of this. Anyhow, the issue of background checks has come up a lot, as you know. They're clapping for me here. "I'm working with the Legislature", you said, "to implement common sense background checks on all firearm sales in Nevada." Great applause line. Go ahead, applaud. The question of course, as you know, is how? It's not that easy. The FBI being an impediment to the implementation perhaps. How do you really get this done? Do you know?
I do know. I do know how we're planning to do it. We're working with both the Attorney General's office and my counsel to roll out a plan that we have to be able to implement background checks. I know the NRA has already put out a video in opposition to what I said in the State of the State address, but I feel very, very strongly that background checks do save lives. There's not a doubt in my mind. Every day, Jon, I believe, in this country, some individual that has a restraining order against them goes and buys a gun and can kill the person that got the restraining order against them.
I fly a lot since I've started campaigning and been elected and to me it's unimaginable. You can get on the plane. You can be on the no-fly list and you can still buy a gun. I mean, how can you be stopped at TSA, be on a no-fly list, but you can go down and buy a gun? It makes no sense whatsoever. I think there is a way that we're working on to implement the background checks and I'm hopeful we're going to be able to roll it out quickly after beginning the session.
Does it require legislation to do it or….
That's…
Why are you not telling? You've told us everything else. You might as well come…
We're at a sensitive stage, I think, and I don't want to…
Are there backchannel negotiations with the FBI going on?
We're at a sensitive stage right now in terms of negotiating, Jon, and I don't want to do that.
But you feel confident you're going to be able to get to some resolution soon after the session starts?
I do.
And be able to say, finally, after this thing passed several cycles ago, it's going to be implemented?
Finally, after what the people voted for cycles ago is going to be implemented. That's my hope, yes.
Are you for or against the death penalty?
I'm opposed to the death penalty.
Can I go through some quick questions here? Since we brought it up and I know you want to talk about it again, I'm going to bring up the Raiders, in a way.
You're just mad because they beat the Buffalo Bills. That's your only problem.
The Bills had a better record than the Raiders pal.
We're building. The Raiders are building for 2020.
So what about the whole philosophy the governor bought into and that GOED has bought into of tax incentives? Are you happy with the job GOED does? Because even though it came out, and I think we asked one of your budget folks if you cut anything. It looks like you're not that happen with GOED. There's a couple things in there that are not there anymore, the $4 million for workforce funding. You're smiling. He said, oh, he found that, and $5 million…
You did go through that budget with a fine-tooth comb, Jon. I give you credit. You did.
And $5 million that the governor had in there for small business and entrepreneurial initiatives. Are you not happy with what GOED is doing?
We've got a small business advocate going into the Lieutenant Governor's office that I think is going to suit that just fine. I think that some of what GOED did is absolutely done great things for the state of Nevada, particularly bringing in Tesla up there, but I think there were some unintended consequences that were not well thought through at the time.
Such as?
Such as I think it's driven up the housing prices in Northern Nevada to an extreme where people can't afford to buy a house. I think it's overcrowded some of our schools up there. I think it's caused a shortage in workforce up there and driven up the price of labor. Those weren't anticipated. I-80 isn't wide enough going out to where the factory is. If there's a flat tire, it causes a 45-minute delay. So I think GOED has done some good things. At the same time, I'm more into the smaller business philosophy than getting...
But you're cutting out these things that would have helped small businesses, right?
Well, I think that the GOED philosophy that's there is different than my philosophy is, so I'm going to, at some point, move in a little bit different direction towards small or mid-size businesses.
Oh, is that right? Okay, more news. You want to talk more about the Raiders being a bad team?
That's not really news. No, they're building. I told you. They're building for 2020.
All right. Let's talk about a couple other issues including the environment. Are you for or against Yucca Mountain? No, I'm kidding. Hang on.
Not one ounce of nuclear waste, Jon. Not one ounce.
Oh, stop it. Come on. You still opposed to the rural water importation project, as you said during the campaign?
I am. I spent a lot of time up north and we've got very fragile aquifers. I think that we brought in a new water engineer onboard and have a great opportunity to get a better understanding of where it's at. There's a shortage of water clearly. I've made a directive. I've talked to the Chancellor and the Head of both universities in DRI. I think we need to do much more at our universities in terms of desalination research. I really believe that that's something that should have been done at the water authority when I was there 10 years ago as opposed to investing $70 million into ranches up north and buying water rights. We should have explored more desalination like the one plant that we've invested in in Mexico and traded for more Colorado River, because ultimately we have no shortage of sea water and I think ultimately that's what we're going to have to do and I also think that our universities should be spending more time and research on renewable energy than they're doing.
So you plan to make good on that promise? You're going to stay opposed to it. You're going to do everything you can to find alternatives is what you're saying?
I am going to do everything I can, yes Sir.
And Pat Mulroy is not going to have a role in your administration I gather? I'm just kidding for everyone who gets that one. Anyhow…
Nobody really gets that joke. That's a you and me joke.
You know what? That's good enough for me.
I know it is, yeah. You'll be laughing about this one on the way home. I know you will.
You know, our reporter who just has been a revelation, Daniel Rothberg, who's done all these great stories on water in the state and I'm just wondering if you've thought about Nevada's role on the Colorado and what you're going to do going forward. There's all kinds of policy concerns about the allocation.
Yeah, Daniel has written some good pieces on that and I've served on every water agency we've had, the Colorado River Commission, the Water District, the Water Authority, Big Bend, and every water issue and every water board. People say, well, why don't you reallocate the Colorado River? We're not going to get anymore water out of the Colorado River. For us to get more water would mean some other state would have to give up some of their water. No state is going to give up part of their allocation for the Colorado River. It's not going to happen.e So the only way we can get some of that would be to trade for it or purchase it from them, i.e., if we put a desalinization plant that they can produce whatever it might be; 50,000, 100,000 acre feet of water that we could trade for that water coming out of the Colorado River that otherwise they would have gotten. That's the only way is to replace what they would have gotten. That's the only way we're going to get more water.
Exactly. One other, real quickly, a policy issue that Daniel has covered and I gather is really big in the water world. The state engineer, most people don't know what the state engineer is, but it's an immensely powerful position.
Incredibly.
And there's some talk about allowing a different kind of person to serve, like a water lawyer or a hydrologist. Have you picked up on this at all, Governor?
Yeah. I have, and that's a difficult area because there is not a lot of expertise in this area. There's not a lot of lawyers that are water experts, water rights experts. There's not a lot of water engineers and that's something that we're looking into because we've got to make permanent long-term replacements in that department. There is just a shortage of talent as it relates to that and that's something that, again, we talk about at our university level. I mean we've got law schools but we're not training people in water law. We're not training engineers in water law and we need to do more of that. We're not training our lawyers in nuclear energy, which we should be doing. Those are areas that I think we need to be a little smarter and a little more proactive in.
What's going to happen after this is all kinds of people are going to email me and say why didn't you ask the governor about that? How could you not…so, I just have a few more questions, I'm still going to get it, and then we'll be done. I promise.
You said that 30 minutes ago.
I know. Am I good, or what? They'd let me go all night, but you've been very…more than generous with your time, Governor. Just a couple of other quick things. A couple meaning 14. No, so you mentioned expanding early voting in your speech. That's a big deal. How much?
How much should we expand it?
Is it a week? Two weeks? Should we start voting now for 2020?
I thoroughly enjoyed your early voting analysis every day, Jon. Every day. You're analyzing every county and every mail... Does he know early voting? They call him Early Voting Jon. I think that early voting makes it, I guess, more accessible for folks, easier. I know you're not a supporter of early voting. You believe in people voting on election day, but I think when you saw what we had this time, that there were such massive lines even with all the early voting, I would think that another one to two weeks of early voting would be helpful.
Okay. Big issue up there you followed probably, the last session and forever is payday loans. You think that there should be a cap? There are in other states.
I think this is another one of these issues, Jon, that we need to find a compromise. I mean there's some people that use payday loans in a good manner. I could tell you one of our payday loan companies, in fact, two of our payday loan companies, one is a payday loan company, the other is a…I guess it's a lending company, it's a little bit different, offered free $2,500 loans to all of our federal employees interest free during the strike, which I thought was a pretty generous offer for them to make for folks that are strapped right now.
Some people can use payday loans responsibly, other people can't use payday loans, whether that's the government's place to interfere or intervene in that, I'm not totally sure. I'm happy to listen to both sides. But it's a need. A lot of people in Nevada do not have bank accounts. A lot more don't have them than you realize don't have them and sometimes people need to access money and they can't get it from a bank and I don't know what's the alternative frankly.
Well, another big issue that's come up lately and is a big concern to a lot of people, regular folks and to big casino companies, is a reworking of the opinion of what the Wire Act does and there's now a new opinion, essentially, that could threaten the existence of online gaming, which your predecessor and the Legislature have been very, very supportive of. Are you going to do anything as governor on that? Are you going to write a letter? Are you going to call your friend, Donald Trump? What are you going to do?
I don't even have his phone number. I don't think I could call him. I don't know…
Are you concerned about it? Where do you come down on that?
I am concerned about it. I'm concerned about anything that's going to impact the biggest industry we have, the hospitality/gaming industry, in the state of Nevada. I don't know what, as governor, I can do other than use the bully pulpit to speak out. I was a little surprised, not just that it changed, but businesses…one thing that I've learned in my 65 years is businesses need consistency and continuity. You can't have regulations changing like this and when they rely on them and they invest based on a regulation, it's just not a good thing to not be able to have security knowing that that's going to stay the same. That's a bigger issue to me than just as it relates with the Wire Act.
One thing, I don't want to bore people to death, but PERS, there's been countless stories written about PERS. Are you a PERS is okay, status quo kind of guy, or PERS needs reform kind of guy?
Well…
You might have some unique knowledge of this, by the way. I don't know how many people know that the First Lady was on the PERS Board until recently.
She was chair of the PERS Board until recently.
Right. So what does she tell you? Is it okay? Everything fine?
She's told me a lot about PERS. I know more about PERS than I think I ever was going to know until I got married. We have probably the best PERS system in the country. We get a much higher rate of return than any other system does without all the expenses that other states have. That being said, there's a three quarters of a percent rate increase this year for PERS, which is $30 million or $40 million range for the state government. The local jurisdictions are getting hit with he same thing. Benefits are escalating, but ours is funded better than anybody else is funded. Now what do you get into this is it 60 percent, 90 percent funded, because nobody's taking out all the money at one time. It's a defined benefits systems, which that's what we have here, changing and having a double tier system would be extremely difficult at this point, to change. It would be nice to get a little bit of return on it, but right now, that's the best return that we're going to get.
Final subject matter before I wrap and ask you a final question, so this kind of the penultimate question.
Final subject matter before the final question. This is good. Boy, you are good.
I've had to pull out all my tricks with you tonight. Big issue that's gone back and forth too is this issue of occupational licenses, which I'm sure you follow a little bit. Some people consider think they're too onerous, that there's too many of them, that these occupations need licenses. Is this something that you're going to look into or not?
Yeah. I want to look into licenses and I want to look into the boards as well, whether you get — and I'm not demeaning any of these professions, but I don't know how much control the states should have over interior decorators and barber shops and cosmetologists and the list goes on and on and on and I don't know if it's really the state's function to provide these licensure to provide the boards that regulate this. When I saw the list of boards that we have for these various things, I know at one point some legislator thought that it was really important to have the Alfalfa Seed Board. I don't know who came up with that board, but it's important to the people that are on the board. I don't know who else, but it's important to some people. I think we need to do a really close deep dive into that, how many of them are really necessary and if we really need to be doing some of these licenses.
So you're going to do something? You're going to have someone look at them?
Yes.
Okay. So you just mentioned this and it's kind of maybe a strange thing to wrap on, but you mentioned that you're 65.
I am.
And I started thinking about that. I knew how old you were. You just turned 65. Say happy birthday to him. He just had his birthday.
Thank you. I had my birthday two days before I got married, so it was a good thing.
Exactly. You are the oldest governor to be elected since Vail Pittman, 75 years ago.
You're killing me, Jon. That's what you came up with as my last question? Okay.
Wait, so…
There's more? Oh good.
The campaign was grueling.
It was.
I don't think you missed a day, though.
I didn't.
But I think it's a legitimate question to ask, being the oldest governor in 75 years. Did I mention that yet? You've sat up here for a grueling 90 minutes with me.
It's been fun.
How's your health? Is it good?
It's great. My health is really, really good. It's gotten better since I got married. I'm sleeping more, eating less, exercising more, all those good things. My health is good. I'm in good shape. It's probably the best it's been in quite a while. It was a tough campaign, both campaigns were tough. Long, long days, but I got a lot out of it. I really enjoyed meeting people. I enjoyed traveling around the state and visiting and seeing real world problems and I ran into you at the airport up in Reno my last time back and it's amazing. I sit down in this seat and people are like, really? You're the governor? They can come up and shake your hand, in not many states can you do that and I fully understand that and I think I'm very fortunate and blessed that I could come to a meeting like this, an event like this, and be able to take questions and answer some questions, but I'm still feeling really good. My health is good and I think I've got some good years in me that we can accomplish some good things for the state of Nevada. I've learned a lot in the last 20 years and going to move it forward.
Well Governor, I want to say again how much I appreciate your willingness to do this. You and I have known each other a long time. I really do appreciate it and I think I speak for everybody in this room and many people in Nevada who wish you the best and good luck when the Legislature starts, because your life is about to be not as fun. Governor, thanks for coming.
Thanks, Jon. It's a pleasure.
The Nevada Independent is raising $200,000 by Dec. 31 to support coverage of the 2024 election.
Tax-deductible donations from readers like you fund this critical work.
If you give today,your donation will be matched dollar-for-dollar.
Give + Get Matched
Featured Videos