Lombardo effort to end some job license requirements attracts Latino support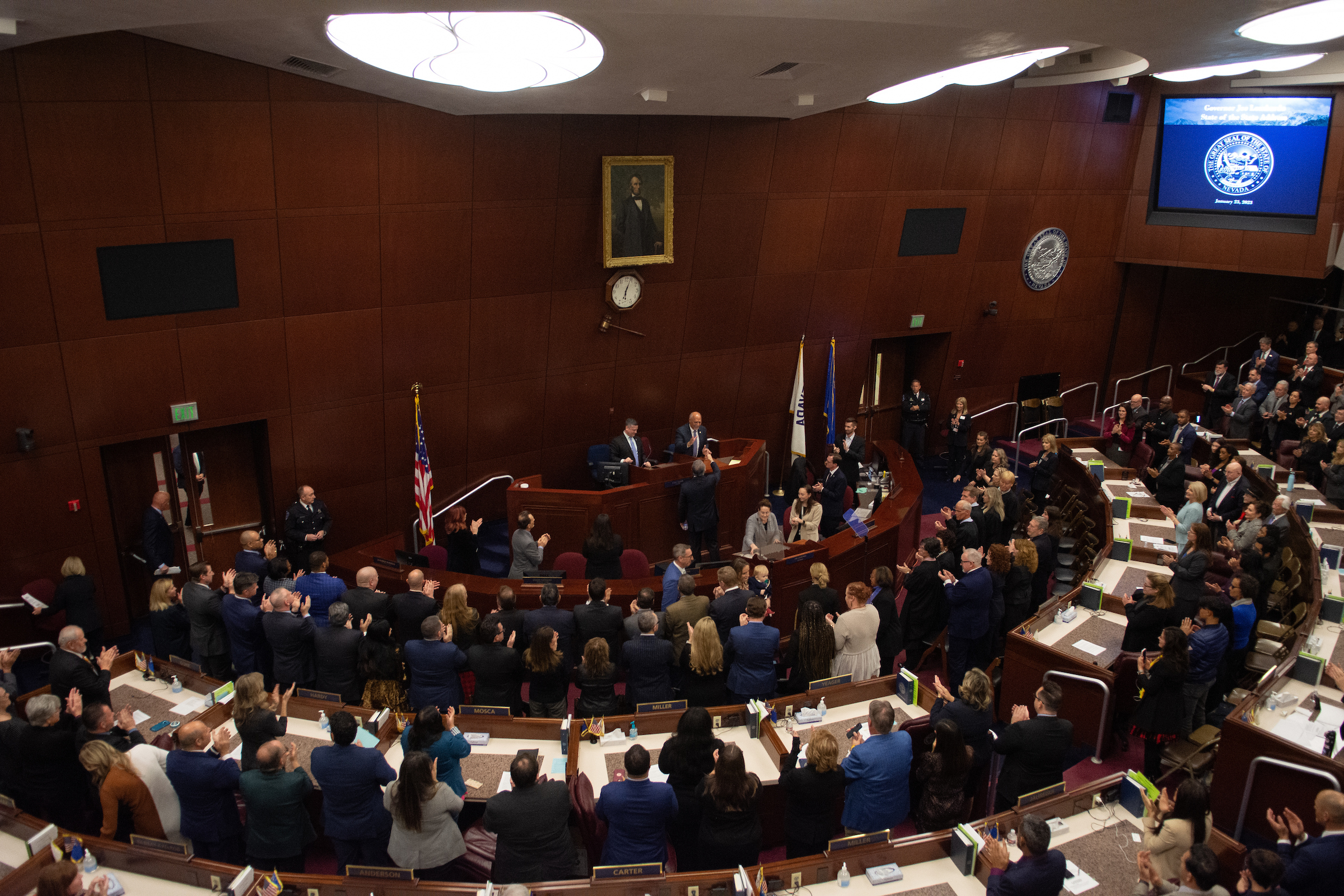 Free market Latino advocacy groups are lining up behind Gov. Joe Lombardo's efforts to remove licensing requirements for more professions in Nevada.
The executive order, signed by Lombardo in January, aims to phase out licensure requirements for certain occupations by July 1 if licenses are not required for such professions in a majority of states. It also freezes any new licensing regulations.
While the governor's office is actively reviewing reports from licensing boards that were due April 1 on which occupations should no longer require a license, activists believe 15 professions — including interior design, commercial drywall contractor and locksmith — fit the qualifications laid out in Lombardo's order.
There are 34 independent occupational boards in Nevada that cover more than 50 occupations, including health care specialties such as dentistry, optometry and podiatry, as well as contractors, accountants, private investigators, massage therapists and landscape architecture. In total, they cover about 25 percent of the state's workforce, or more than 265,000 licensees or businesses.
Members of the boards are usually appointed by the governor and are empowered to hire full-time professional staff, oversee and issue licenses, collect fees, issue regulations enforcing state laws and revoke or suspend licenses. Unlike most state agencies and divisions, they are fully fee-funded and don't receive any funding from the state's general budget and are exempt from normal budgeting, internal control and other personnel requirements.
However, a 2020 review of Nevada's occupational licensing by the American Institutes for Research found that the state had the highest costs for initial licensure and yearly renewals — averaging $1,022 for new applicants and $401 for renewals — and that the vetting process based on "good moral character" is unclear and inconsistent between licensing boards.
A 2018 state audit detailed various oversight issues with the state's occupational licensing boards, including that more than half of Nevada occupational licensing boards weren't following a 2010 directive to keep their salaries in line with state employees. And a 2019 audit report suggested that the state can improve the licensing boards' accountability by establishing executive branch oversight and setting standards for regulatory, financial and administrative operations through the Department of Business and Industry.
But some boards that might see big changes under the order are pushing back.
Nevada State Board of Architecture, Interior Design and Residential Design Executive Director Monica Harrison argues that interior design is regulated in some way in 30 jurisdictions, therefore it would not fit under the executive order's minimum requirement of licensure in at least 26 states.
Although "regulated" does not necessarily mean licensed, only three states (Nevada, Florida and Louisiana), the District of Columbia and Puerto Rico have passed legislation that requires every interior designer working in code-based spaces to be licensed by the state. Some states might require interior designers to register or have a certification, as well as a certain amount of education and in-the-field experience.
"There are 166 registered interior designers who have well and faithfully served Nevadans since 1975, who have built their careers and lives here, and whose work contributes hundreds of millions of dollars annually to Nevada's construction industry," Harrison said. "This would all be lost if the [registered interior designer] registration is 'phased out.'"
A representative of the Nevada Contractors' Board told The Nevada Independent the board was not able to comment on the executive order.
Latino entrepreneurship
According to a study published by the libertarian Institute for Justice in 2022, Nevada is ranked the worst state in the U.S. when it comes to the hurdles to earn a license and the number of jobs that require a license.
Marcos Lopez, the outreach and coalitions director for the libertarian-leaning think tank Nevada Policy Research Institute said these hurdles — high cost and "unnecessary" requirements — disproportionately burden minority communities that may already be swimming against the current to achieve the American Dream.
Lopez also argues that there are "alternatives" to licensing including registration and certification that may help maintain accountability without the long process.
According to the U.S. Small Business Administration, nearly one in four new businesses is Hispanic owned. And annually, about 5 million Hispanic-owned businesses contribute more than $800 billion to the nation's economy.
"We really have that entrepreneur spirit. We're always looking to innovate. We're always looking to start our own business. And it's just part of who we are," said Eddie Diaz, the Nevada strategic director for Libre Initiative, a libertarian-leaning nonprofit focused on Hispanic community engagement and outreach. "Creating business, anywhere we go, whether it's a restaurant, whether it's a barber shop — it just runs in our blood."
Research conducted by the American Economic Association found that immigrants are 80 percent more likely to start businesses than U.S.-born citizens. Groups representing some of those businesses are backing the push to reduce regulations.
"Regulations often slow down entrepreneurship and make it more difficult for Nevadans to start a new business or grow an existing business," said Peter Guzman, president of the Las Vegas Latin Chamber of Commerce (LCC), adding that occupational licensing reform is "long overdue."
Social justice implications
Lopez also argues that occupational licensure barriers could be seen as a social justice issue. In particular, licensing requirements that might be "vague and subjective" could get an individual's license application denied. Language such as "good moral character," Lopez said, could block people who might have been convicted of a crime.
"We need to change this language wherever they exist so criminal exclusions only apply if it is directly tied to the occupation," Lopez said. "It makes no sense to deny someone a barber's license if they were convicted of drug possession."
Assemblywoman Brittney Miller (D-Las Vegas) presented AB363 earlier this month to address the use of "good moral character" as a requirement for occupational licenses. The bill would prohibit a licensing board from denying an applicant based on criminal history except if the felony directly relates to the job's responsibilities or issuing the licensing would pose a risk to public safety.
"We would not suggest licensing a person who had been convicted of elder abuse to work in a nursing home," Miller said during the bill hearing. "Instead, the bill requires that each individual receives scrutiny on a case-by-case basis to determine whether or not the actual offense has a direct link to possible vulnerabilities or risk."
AB363 did not receive a committee vote by a legislative deadline, meaning it died and there will be no further action on the bill.
Miller argued that the bill would "reduce recidivism while putting more Nevadans back to work" and that having a criminal record does not equate to low-quality services nor predict an individual's ability to perform an occupation.
The Nevada Contractors' Board opposed AB363 because of concerns that it could hinder the board's ability to ensure that licensees are not a risk to the general public.
"We license individuals who are granted access to people's homes and families so we take the consideration of criminal backgrounds very seriously," Misty Grimmer, a lobbyist for the Contractors' Board, said during the hearing. "To be very clear, there is no crime that would automatically eliminate a person from being considered for a contractor's license."
The Contractors' Board was exempt from 2019's AB319, which required boards to create a screening process and publicly post a list of crimes that would automatically disqualify a person's application.
Diaz said that occupational licensing reform, both through Lombardo's action and through legislative efforts such as SB92, which proposes simplifying rules governing street food vendors, would help remove barriers and decriminalize people's efforts to make a living.
Lawmakers passed SB92 out of its first committee in the Senate last week.
"At the end of the day, we want a business-friendly Nevada," Diaz said. "Everybody should have access to rise up that economic ladder … We want to make sure we have opportunities to enter the workforce without so many burdensome regulations and licenses."
The Nevada Independent is raising $200,000 by Dec. 31 to support coverage of the 2024 election.
Tax-deductible donations from readers like you fund this critical work.
If you give today,your donation will be matched dollar-for-dollar.
Give + Get Matched
Featured Videos