Audit: Licensing boards ignoring directive on salaries, some paying above statutory caps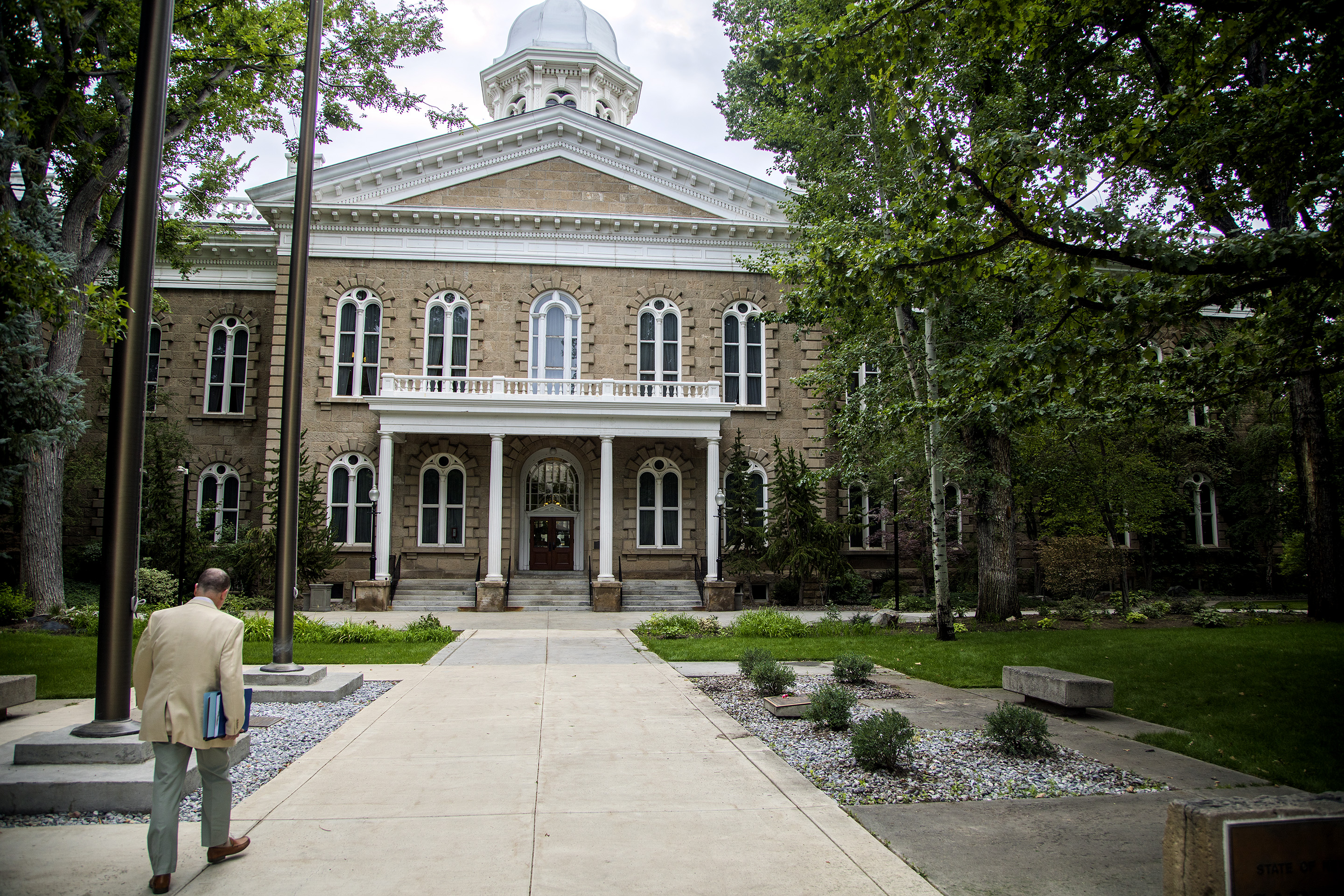 More than half of Nevada occupational licensing boards aren't following a 2010 directive to keep their salaries in line with state employees, and another 12 percent are paying salaries above caps set in state law.
A report presented Thursday to members of the state's executive audit committee — composed of the governor, lieutenant governor, attorney general, secretary of state, treasurer and controller — detailed various oversight issues with the state's nearly three dozen occupational licensing boards on everything from executive compensation to inconsistencies in how boards manage their finances.
The audit — and the somewhat testy responses from several licensing boards — underlined a consistent pressure between the semi-autonomous regulatory bodies and the governor's office, which is nominally in charge of regulating them in a process that Gov. Brian Sandoval called "exhausting."
"I do feel like some of the boards and commissions feel like they're autonomous, and they don't answer to anyone, and once I've made an appointment, that's it,"Sandoval said at the meeting. "Speaking for myself, it's really frustrating when my office and I have to bang heads with the boards and commissions, particularly when it's the governor who makes those appointments."
Nevada law regulates a total of 42 professions or occupations, 31 of which are governed by independent boards, ranging from nursing and medical professionals to veterinarians and architects. Board members are largely appointed by the governor and are charged with issuing occupational licenses and carrying out disciplinary actions against licensees. They aren't funded by state dollars, instead operating off of fees charged to license applicants.
The audit reported that at least four of the boards — Pharmacy, Medical, Contractors and Accountancy — paid out salaries above the limit set in state law, which caps most salaries for state employees at 95 percent of the governor's annual $149,753 salary.
The boards presented a variety of reasons for paying their executive directors above the limit set in law. The State Board of Pharmacy wrote in a response to the audit that the salary figure included contributions to the state's retirement fund and pointed to conflicting language in state law that gave the board the ability to determine the executive director's salary.
Similarly, state Contractors Board executive officer Margi Grein wrote that "ambiguity" existed as to whether licensing board employees were subject to the same salary cap that applied to state workers.
Sandoval said he would be requesting a legal opinion from the attorney general's office to determine whether employees of occupational boards should be treated the same as state employees. His office said Wednesday that the request has not yet been sent.
Regardless, the next governor will see a nearly $14,000 raise due to laws requiring gubernatorial salaries be increased in line with salaries for state workers. That change means the new maximum state employee salary will be $155,300 a year.
The audit report also stated that 65 percent of the boards were not following a 2010 memorandum from former Gov. Jim Gibbons directing boards to comply with state law setting caps on state worker salaries and to ensure salaries are consistent with "similar positions within the state system."
"Boards chose instead to compare their executive director position to other Nevada boards, Nevada municipalities, and out-of-state boards and government entities," the report stated. "The entities, in general, pay higher salaries than the state system."
The audit suggested that boards were overpaying executive directors between $28,000 and $59,000 on average compared to similar positions for state employees, and suggested that salary ranges should fall between $101,000 and $132,000 depending on the complexity of the board.
Another issue highlighted by auditors is the state board of Occupational Therapy Executive Director Loretta Ponton, who also does independent contracting work for the boards of Environmental Health and Speech Pathology. Although the three boards are located in the same office and have cost-sharing agreements, Ponton's total compensation from the three boards is scheduled to be $208,000 in 2019 — above the salary of the governor and the limit for state employees.
Auditors contended that the arrangement could violate a 2017 law designed to prevent occupational boards from employing the same person as an executive director or secretary for more than one board. But Ponton said in a response letter that the auditor's findings had "no legal basis," and "improperly questioned the validity of the independent contract agreements."
"The applicacity of law on employment does not apply to independent contractors," she said in an interview. "All of my boards are in full compliance with all the laws and regulations."
Republican Assemblyman Keith Pickard, who sponsored the 2017 bill changing several of the rules on occupational board makeup, said in an email that Ponton's status was a "loophole" in the law that could be addressed by the 2019 legislature. He noted that the boards themselves were "generally operating well," but he had concerns about the tension between the boards and the governor's office.
"If there are boards who are flouting the Governor's directives, my concern is that we run into another part of the NC Dental Bd. v. FTC ruling that says the state must exercise oversight of the boards to maintain the boards' immunity as a state board," he wrote in an email. "So if this report is accurate, I think we need to bring those boards back and have them explain how they believe they are compliant with Nevada law and SCOTUS directives."
Many of the other recommendations in the audit also dealt with the integration of boards with other aspects of state government, including requesting that they use staff attorneys with the attorney general as a baseline level of legal support more often. The report noted that at least six of the boards did not use attorneys with the office for at least a full fiscal year between 2014 and 2017 and noted that legal costs were lower with attorney general lawyers than with contracted outside counsel.
"State oversight could be improved if the Boards used the (Office of the Attorney General) for a baseline level of legal support," the audit report stated. "This will help ensure the OAG maintains awareness of Board activities and Board actions are consistent and in compliance with statute."
It also suggested that the state Department of Administration develop standard guidelines for "financial and administrative practices" for the board, noting that 28 of the boards did not have a formal policy for determining adequate operating reserves balances.
"If the reserves are too low, boards may not be able to cover operating expenses, or if too high, boards may be overcharging for license fees," the report stated.
Reserves for the boards varied wildly — the state board for Homeopathic Medical Examiners reported having operating reserves for 2.7 months, while the state board for Occupational Therapy had a reserve of 47.3 months.
The audit also stated that 25 of the 33 boards which executed contracts for professional services between 2014 and 2017 approved at least one contract without permission from the Board of Examiners, a three-member body consisting of the governor, attorney general and secretary of state which approves state contracts worth more than $50,000.
Comment Policy (updated 4/20/2021): Please keep your comments civil. We reserve the right to delete comments or ban users who engage in personal attacks, use an excess of profanity, make verifiably false statements or are otherwise nasty. Comments that contain links must be approved by admin.