Nevada Senate votes on party lines for bill expanding mail-in voting during times of emergency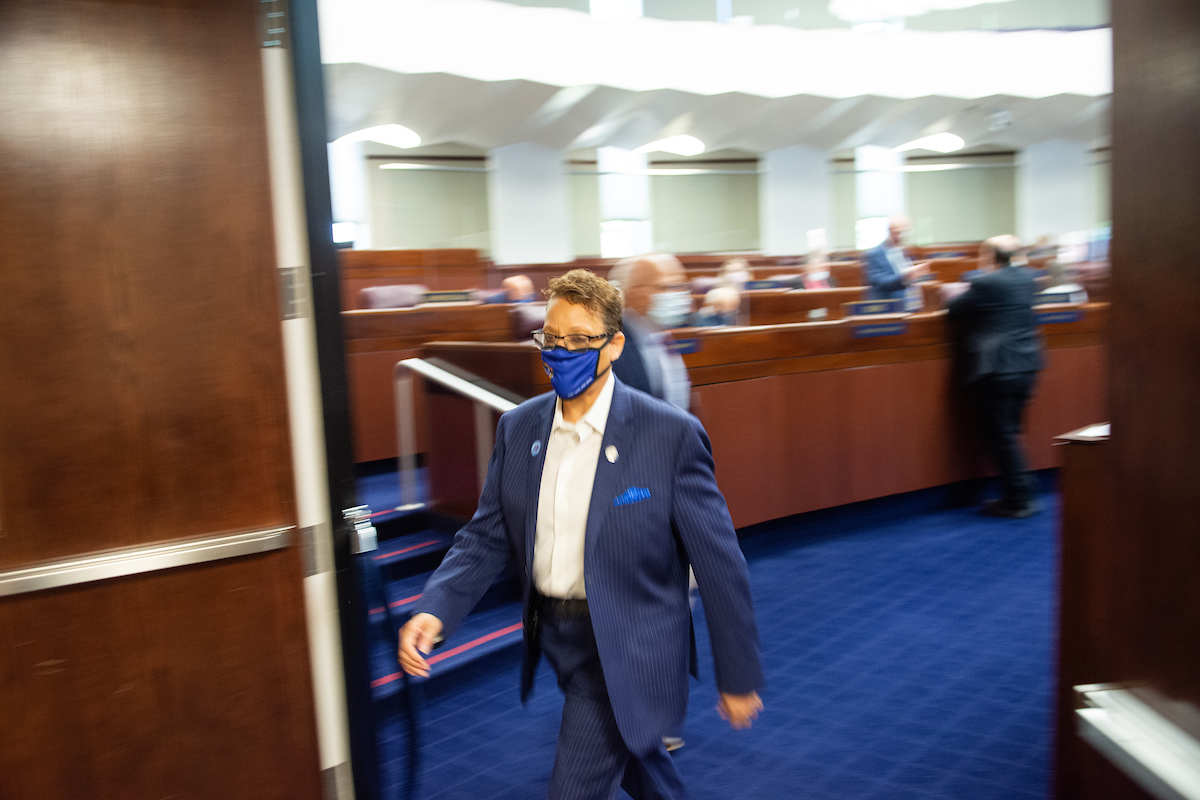 Hours after President Donald Trump threatened litigation over it through a tweet, members of the Nevada Senate voted on party lines to approve a bill that expands mail-in voting during times of emergency.
As in the Assembly, AB4 stoked strong feelings in a Sunday morning floor debate. Republicans in the minority argued that voters can already choose to vote by mail if they request an absentee vote, that a state of emergency enabling the format could last indefinitely, and that provisions newly allowing non-family members to turn in ballots on behalf of others — a practice known as ballot collection or "ballot harvesting" — could encourage fraud.
"The idea that we are disenfranchising anyone is a canard," Republican Sen. Keith Pickard said before the 13-8 vote. "We have absentee voting accessible every day."
But Democrats stressed that it was important to expand options for people to participate safely without leaving their homes or standing in line.
In an interview after the vote, Democratic Senate Majority Leader Nicole Cannizzaro said it was "unacceptable and wrong" for the president and Republican National Committee Chair Ronna McDaniel to suggest that the bill would lead to voter fraud.
"What we should be doing is allowing for everyone to make their voices heard, and having fair and free elections," she said. "That's the bottom line. So, trying to meddle in our election process to score political points is something that we are just not going to tolerate."
Democratic Sen. Dallas Harris noted that the state's health metrics have worsened since the primary.
"We had a successful primary election conducted in the exact same way this bill is proposing," she said. "Why in the world wouldn't we facilitate mail-in voting during a pandemic? In these extraordinary times, the least we can do is remove the barrier of requesting an absentee ballot."
In addition to the requirement of sending mail-in ballots to all registered voters, the bill requires a minimum number of polling places for both early voting and Election Day in Clark and Washoe counties.
In Clark County, the bill requires 35 polling places for early voting and 100 for Election Day; Washoe County is required to have 15 polling places for early voting and 25 polling places on Election Day. That's an expansion from the primary, when Clark County had three in-person sites on Election Day and Washoe had one, and voters there were still in line hours after polls were officially set to close.
All other counties are required to keep one polling place open during both the early voting period and on Election Day.
Democratic Sen. Pat Spearman, who is Black, said her family always emphasized how important it was to exercise the right to vote. She noted that she is third generation free, and only the second generation to have the right to vote.
"They did things that they had to do to survive long enough for us to have the right to vote," she said. "I will not desecrate their names."
Democratic lawmakers pointed out that instances of reported voter fraud are exceedingly rare; Secretary of State Barbara Cegavske, who opposed the bill, reported no evidence of voter fraud in the 2018 election and no such reports came in during the primary, and research shows that there is no evidence of widespread voter fraud on a national level.
But Pickard said he thinks that's because there's only one part-time investigator working on the issue and that the back-up plan is calling in secretary of state investigators who already have securities fraud probes to work on.
"This idea that there is no evidence of voter fraud is illusory, because there is no real enforcement arm," he said. "There's no investigation other than someone reporting it."
The bill had already passed the Assembly in a 29-12 vote.
The Nevada Independent is raising $200,000 by Dec. 31 to support coverage of the 2024 election.
Tax-deductible donations from readers like you fund this critical work.
If you give today,your donation will be matched dollar-for-dollar.
Give + Get Matched
Featured Videos