Poll: Nevadans favor expanded mail ballot access, chilly on business litigation protections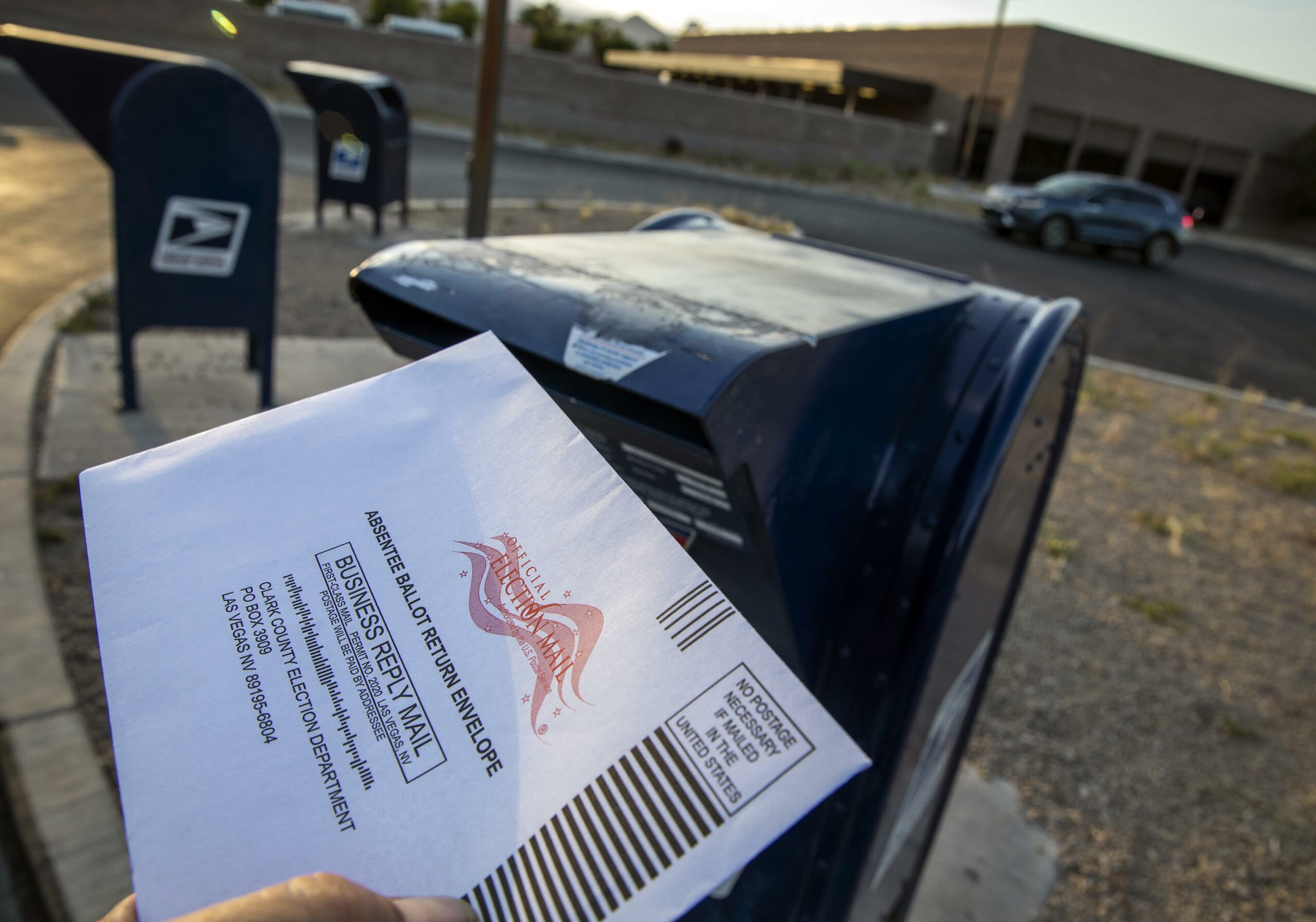 Nevadans favor a greater mix of in-person voting and access to mail-in ballots for the 2020 general election, and would prefer to see enhanced worker protections over COVID-19 liability protections for businesses, according to a new poll from a left-leaning nonprofit.
The poll was conducted by political data firm TargetSmart on behalf of State Innovation Exchange, a nonprofit group that drafts and offers examples of left-leaning legislation. The poll was conducted between June 21 and July 6 using a mixture of online and phone interviews with 523 registered voters in the state, and it has a 4.3 percent margin of error.
Many of the poll topics correlate closely to items that will be on the agenda for the upcoming legislative special session. The formal proclamation was issued late Thursday by Gov. Steve Sisolak's office, and will include agenda items related to mail ballots and the general election, and protections for businesses against COVID-19 related lawsuits.
"Nevadans overwhelmingly support efforts to improve access to voting, but do not support giving liability immunity to corporations," Nevada State Director for the State Innovation Exchange Stacey Shinn said in an email. "Our Governor and legislature have the opportunity to focus on the issues that matter most to Nevadans now and the polling on these issues speaks for itself."
The poll framed the liability and worker protection question as an either/or: Should businesses be "required to provide safe working conditions and be penalized if workers get sick due to corporate negligence," or be "protected from liability if workers get sick on the job so they can get people back to work?"
Fifty percent of poll respondents favored the workplace safety option, compared to 30 percent on the liability protection option.
The results on that question also had a sharp partisan divide; self-identified Democrats agreed with the worker protection option on a 49 point margin, with Republicans agreeing with liability protections on a 16-point margin. Self-identified independents favored the workplace safety option by a 22 point margin.
On the topic of elections, the poll found nearly a third of respondents said they planned to vote by mail in the general election, with about 39 percent planning to vote in-person either during early voting or on election day.
The poll also found 61 percent of respondents supported sending vote-by-mail applications to all registered voters. Nevada sent actual mail-in ballots to all registered voters for the 2020 primary election, but Secretary of State Barbara Cegavske has said her office doesn't have the funding to do that for the general election.
It also found only 40 percent of poll respondents support allowing election officials to begin processing mail-in ballots before Election Day, with 60 percent opposed.
Additionally, the poll found respondents were more likely to favor taxes on corporations (64 percent), carbon-emittance based taxes (65 percent) and higher taxes on either the wealthiest Nevadans (71 percent) or those making more than $250,000 a year (67 percent).
Respondents were markedly less enthusiastic about increasing the sales tax (70 percent opposed), or applying the sales tax to online purchases or services such as car repair or haircuts (each 65 percent opposed). Another 61 percent opposed raising motor vehicle fees or other fines for moving violations.
The Clark County Education Association has filed an initiative petition to raise the state's sales tax rate to help fund K-12 education. It needs to collect at least 97,598 valid signatures by Nov. 18, 2020 to qualify the initiative.
The poll also found widespread pessimism about the direction of the country, with a slightly more mixed view on the direction of the state. 71 percent of respondents said the U.S. was on the "wrong track," with only 23 percent saying things were moving in the right direction.
In Nevada, 46 percent of respondents said things were on the wrong track, with 36 percent saying things were moving in the right direction.
Additionally, 52 percent of respondents said they believe the "worst of the coronavirus outbreak is yet to come," compared to 25 percent who said the worst of the pandemic is over and 23 percent who were unsure.
Nevada polling memo_State Legislative Exchange by Riley Snyder on Scribd
Nevada polling memo_State Legislative Exchange by Riley Snyder on Scribd
The Nevada Independent is raising $200,000 by Dec. 31 to support coverage of the 2024 election.
Tax-deductible donations from readers like you fund this critical work.
If you give today,your donation will be matched dollar-for-dollar.
Give + Get Matched
Featured Videos