Without divulging his next move, Roberson calls for Republican unity heading into 2018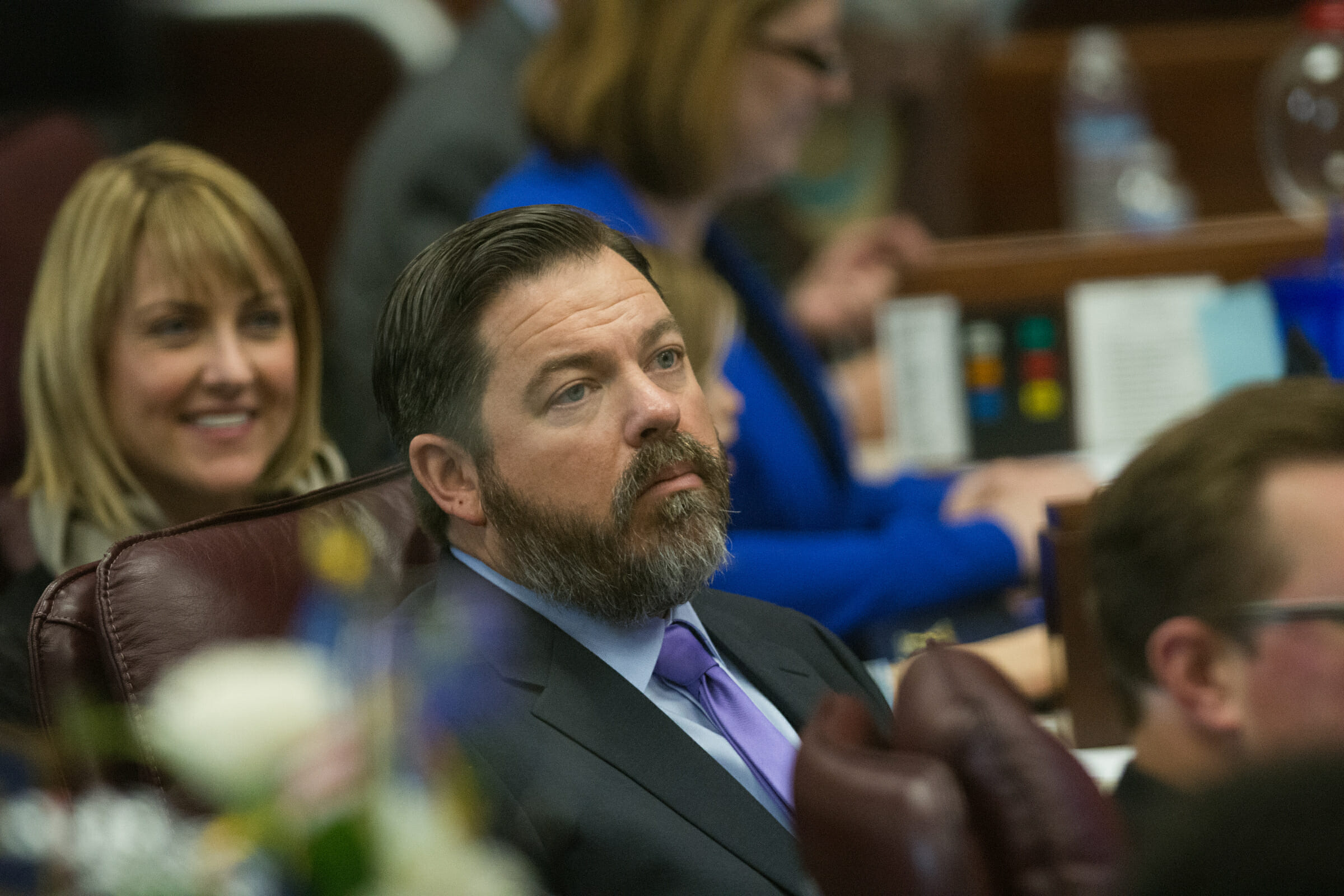 State Senate Minority Leader Michael Roberson has remained mum about his political aspirations since the session ended, but on Tuesday the lawmaker said he has ruled out two possibilities.
As the featured speaker at a Nevada Republican Men's Club event, Roberson fielded a question about whether he plans to run for lieutenant governor — his widely speculated next career move. He largely dodged the question, opting to keep his intentions quiet for now.
"I'm not running for Congress, and I'm not running for re-election," Roberson said. "If I do run for another office, that announcement will be on another day."
Roberson spent the bulk of his address recapping the legislative session, which ended in June, and slamming what he termed the "radical" political agenda of Democrats who control both houses. He lamented Democratic-backed bills that would have put a tax on plastic bags, increased the minimum wage, forced small businesses to provide paid sick leave, given felons more rights and banned fracking in the state, among others.
And then he offered a call to action to his fellow Republicans assembled in the restaurant at Bali Hai Golf Club:
"I hope the laundry list of real policy proposals the Democrats put forth this last session makes it very clear to everyone in this room how important it is that we put our intraparty squabbles aside and focus on beating the real opponent," said Roberson, who lost in a GOP primary for Congress last cycle. "If they have a Democratic governor in 2019 and if they still control both chambers of the Legislature in 2019, all of that stuff I just mentioned will become law."
Roberson said he's crafting a plan to restore a Republican majority to the state Senate. He declined to offer details but did reference the budding gubernatorial race.
"I know there's been no announcement yet, but I'm just going to say right now: Everyone in this room should be calling Adam Laxalt and encouraging him to run for governor," he said.
Laxalt, the state's attorney general, is expected to jump into the race to replace Gov. Brian Sandoval, whose second terms ends in 2018. Roberson and Laxalt were allied during the last session, with the minority leader defending the attorney general after revelations he had been secretly recorded by Gaming Control Board Chairman A.G. Burnett.
Roberson also touched on two hot-button issues — Education Savings Accounts and sanctuary cities — during his luncheon remarks.
The senator acknowledged that Republicans' inability to secure funding for ESAs, a voucher-like program that would give families money to put toward certain educational expenses, was a "disappointment." Funding for the controversial program died in an endgame compromise that funneled $20 million to the tax credit-funded Opportunity Scholarship program and greenlighted a 10 percent excise tax on recreational marijuana.
"The fight is not over," Roberson said, referring to ESA funding. "All we need are the votes. We need a Republican governor, and we need more Republicans in the Legislature. The law is still on the books."
Meanwhile, Roberson said he is moving forward with plans for a ballot initiative that would amend the state constitution to ban sanctuary cities in Nevada. He's chairing Prevent Sanctuary Cities, the political action committee steering the effort.
Roberson said he hopes the PAC can start gathering signatures by Labor Day. If enough signatures are collected, a ballot question would appear in the 2018 and 2020 elections.
"Basically, it would just require local governments to comply with existing law," he said.
The Nevada Independent is raising $200,000 by Dec. 31 to support coverage of the 2024 election.
Tax-deductible donations from readers like you fund this critical work.
If you give today,your donation will be matched dollar-for-dollar.
Give + Get Matched
Featured Videos