Follow the Money: Real estate, development industries gave legislators more than $1.3 million ahead of 2021 session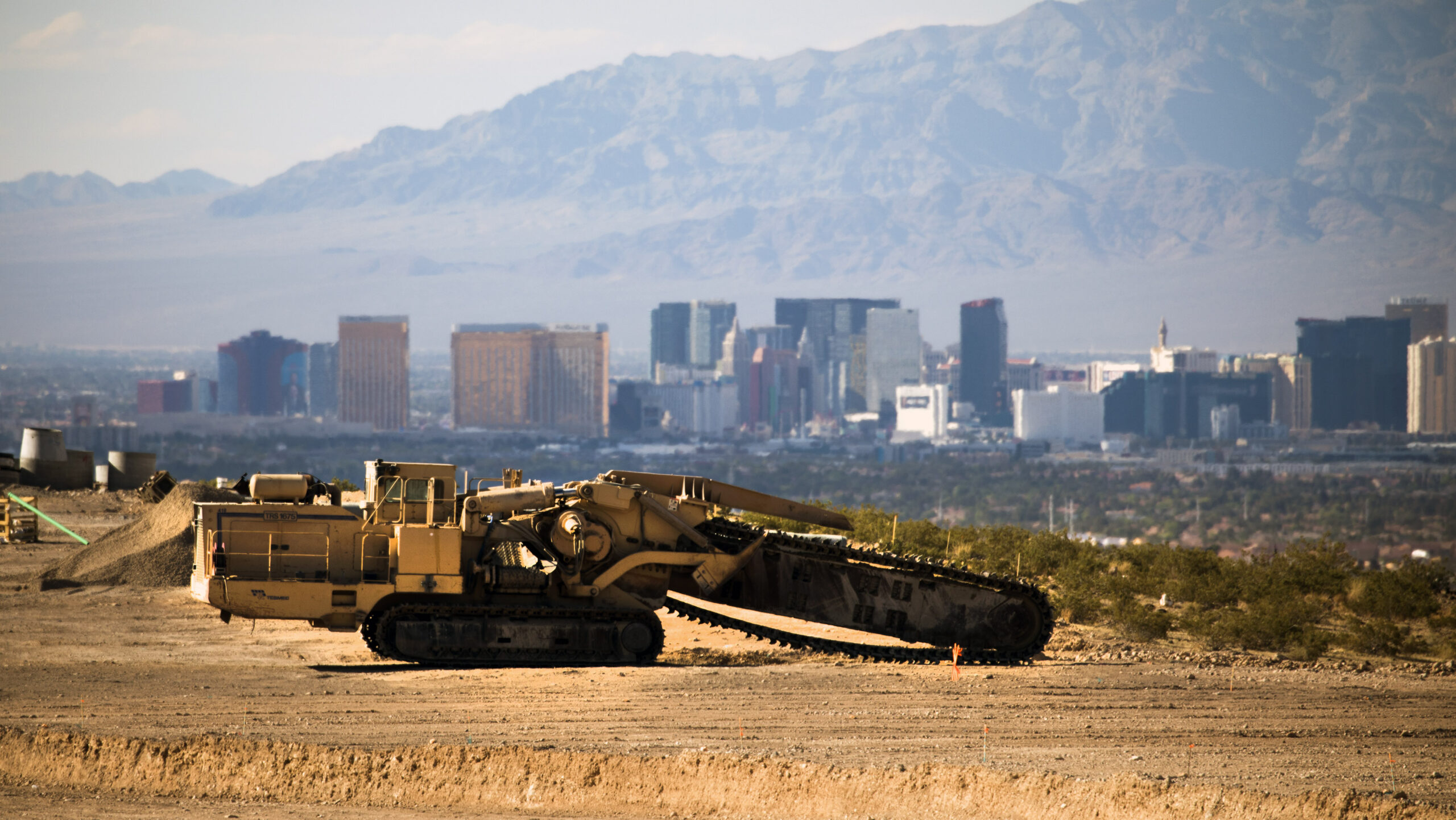 Through the 2020 election cycle, no industry gave more money to Nevada's legislators than real estate companies, developers and the PACs funded by those companies, which combined to contribute more than $1.3 million over the last two years.
In total, it's an amount roughly 30 percent more than the next nearest industries — labor unions and health care — which each contributed just over $1 million dollars in combined contributions to state lawmakers in the aggregate.
It's also a sizable increase in industry spending compared to trends over the last two years, representing roughly a third more than the industry gave in either the 2016 or 2018 cycles, when those same PACs and related businesses gave lawmakers slightly less than $1 million combined.
This influx of extra campaign spending comes at a time when the Democratically controlled Legislature has signaled a renewed interest in housing issues, especially as concerns mount over housing affordability and supply issues compounded by the economic fallout of the pandemic.
In order to assess broad trends in campaign spending, The Nevada Independent categorized and analyzed more than 7,700 individual contributions of more than $200 made to all sitting Nevada lawmakers in 2019 and 2020.
These contributions capture nearly all campaign spending throughout the two-year cycle, and more broadly show to whom the largest contributions flowed and how much those contributions were worth in the aggregate.
The data in this story represent a slice of the broader whole: 965 individual contributions from 240 contributors fell under the broad umbrella of real estate and development, a group that includes everything from large PACs and corporations to industry executives and investors.
There are, however, three legislators not captured in these real estate-centered numbers: Sen. James Ohrenschall (D-Las Vegas), reported no contributions from donors categorized by The Nevada Independent as real estate or development related, while Sen. Fabian Donate (D-Las Vegas) and Asm. Tracy Brown-May (D-Las Vegas) were each appointed after the election and after a freeze on contributions made prior to the legislative session.
Breaking down the top contributors
Like most industry-level campaign spending, the vast majority of total spending was spearheaded by a handful of well funded PACs at the top.
Taken together, top-contributing PACs controlled by five groups — Nevada REALTORS, the Southern Nevada Home Builders Association, the Nevada Home Builders Association, the Nevada Subcontractors Association and Associated General Contractors — accounted for nearly three-fifths of all the money contributed by 240 individual donors.
A vast majority of the remaining donors gave in relatively small amounts. 215 donors gave legislators less than $10,000 in the aggregate, and of those donors, 163 gave less than $2,000.
Below is a donor-by-donor breakdown of those five largest contributors.
Among all donors, no group came close to Nevada REALTORS, which alone spent $397,000 on 57 legislators through 2020.
However, not all those dollars came directly from the group's PAC. Instead, at least some money spent by Nevada REALTORS flowed through similar PACs that often contributed to similar candidates.
Under Nevada law, individual donors are capped at $10,000 in contributions per cycle, $5,000 each for a primary and general election. However, the largest donors of any given cycle — usually corporations — often circumvent this limit through the use of subsidiary companies, sometimes spreading tens of thousands in contributions through a half-dozen or more individual donors.
PACs, which have no legal limits on the amount of campaign contributions they can receive, frequently offer an avenue similar to that of a subsidiary, allowing single donors to continue maximizing contributions to a handful of favored candidates by contributing massive sums through multiple PACs.
For instance, Assemblywoman Heidi Kasama (R-Las Vegas) — who has long worked as a REALTOR in Nevada and was once the president of Nevada REALTORS in 2018 — received the $10,000 maximum not only from the Nevada REALTORS PAC, but also from REALTOR Champion PAC and REALTOR Industry PAC. Those two PACs reported raising money from just one transaction in 2019: a flat $1 million each from Nevada REALTORS.
Kasama was among five legislators receiving greater than $10,000 from Nevada REALTORS or related PACs, a group that also included Assemblywoman Sandra Jauregui, D-Las Vegas ($15,000); Assemblywoman Alexis Hansen, R-Sparks ($15,000); Sen. Dina Neal, D-Las Vegas ($12,500) and Sen. Mo Denis, D-Las Vegas ($10,500).
Nevada REALTORS gave an additional 14 legislators the $10,000 maximum, of which 10 recipients were Republicans and four were Democrats. Overall, Nevada REALTORS' contributions largely favored the GOP, which received nearly 50 percent more on average than legislative Democrats.
Two of Nevada's home builders trade groups — the Southern Nevada Home Builders Association and the Nevada Home Builders Association — combined to contribute $198,500 to lawmakers in 2020, roughly twice as much as the next-nearest single donor.
The largest single chunk of that money came through the SNHBA and its Home Building Industry PAC, shortened as HI-PAC, which gave 43 legislators $119,000. Even taken alone, it would still be the second largest total contribution amount of any single real estate donor.
HI-PAC's contributions generally favored Democrats — Democratic lawmakers combined to receive $81,000 to the Republicans' $31,000. On average, it meant individual Democrats received roughly $3,000 to the Republicans' $2,375.
Five legislators received the $10,000 maximum from HI-PAC, including Senate Majority Leader Nicole Cannizaaro (D-Las Vegas), Assembly Speaker Jason Frierson (D-Las Vegas), Sen. Scott Hammond (R-Las Vegas), Assemblywoman Sandra Jauregui (D-Las Vegas), and Assemblywoman Daniele Monroe Moreno (D-Las Vegas).
Contributions from the statewide PAC, the Nevada Home Builders Association PAC or NVHBA PAC, totaled $79,500 for the cycle — enough to make it the fourth-largest donor on its own.
However, much of NVHBA's own political fundraising money came directly from regional home building trade groups, including $50,000 each from SNHBA and its Reno-based counterpart, the Builders Association of Northern Nevada.
The PAC's coffers were also buoyed in 2020 by an additional $100,000 from the Leading Builders of America, a national trade group whose only other entrance into Nevada political fundraising was a $10,000 contribution to one-time Republican gubernatorial candidate Adam Laxalt in 2017.
Only two lawmakers saw maximum contributions from NVHBA: Frierson, and Senate Minority Leader James Settelmeyer (R-Minden). Other major recipients include Senate Majority Leader Nicole Cannizzaro (D-Las Vegas ($8,000)) and Sen. Heidi Gansert (R-Reno ($7,500)), with the remaining 34 legislators receiving $5,000 or less.
NVHBA's contributions slightly favored Democrats in the aggregate, who received $42,000 to the Republicans' $37,500, though the average individual Republican received marginally more, $2,083 to the Democrats' $1,615.
Contributing through its PAC, the Nevada Subcontractors Association gave 42 legislators $95,000, making it the third-largest real estate contributor of the cycle.
A slight majority of that money went to Democrats, who in total received $50,500 to the Republicans' $44,500. On average, however, it was individual Republicans who received slightly more, roughly $2,340 to the Democrats' $2,190.
The Nevada Subcontractors Association gave the maximum contribution to just one legislator: Frierson. Four others — Hammond, Jauregui, Cannizzaro and Gansert — received $7,500, while the remaining 37 lawmakers receiving contributions saw $5,000 or less.
Through its AGC Build PAC, Associated General Contractors— not to be confused with the similarly named and similarly spendy Associated Builders and Contractors trade group — contributed $76,750 across 31 legislators, enough to make it the fifth-largest single donor.
Unlike other top donors, AGC's contributions widely favored Nevada Republicans, who received $58,500 to the Democrats' $18,250. On average, Republican lawmakers saw roughly $3,650 from AGC, compared to just $1,210 for Democrats.
AGC also gave out just one maximum contribution in the form of two $5,000 donations to Hammond. Sen. Carrie Buck, R-Las Vegas, saw the second most with $7,500, while the remaining 29 legislators received $5,000 or less.
Breaking down the top recipients
Though all but three lawmakers received at least some fundraising from the real estate industry, much of the money was concentrated among just five Republicans who won some of the state's most competitive legislative races last year.
Taken together, those five legislators — Gansert, Kasama, Buck, Hammond and Assemblyman Andy Matthews (R-Las Vegas) — received 32.6 percent of all real estate money contributed through 2020.
Overall, industry contributions also tended to favor the GOP. Though outnumbered by legislative Democrats 25 to 38, Republicans received 60 percent of all real estate contributions, or $810,194 to the Democrats' $536,450.
Consequently, the average Republican legislator received more than twice as much in real estate-related fundraising, roughly $32,408 compared to the average Democrat's $15,327.
Over the coming weeks, as part of our Follow the Money series The Nevada Independent will be publishing deep dives into the industries that dominated legislative campaign spending in the 2020 campaign cycle. To see previous installments, follow the links below:
Tim Lenard, Riley Snyder and Sean Golonka contributed to this report.
The Nevada Independent is raising $200,000 by Dec. 31 to support coverage of the 2024 election.
Tax-deductible donations from readers like you fund this critical work.
If you give today,your donation will be matched dollar-for-dollar.
Give + Get Matched
Featured Videos