Judge blocks GOP-backed redistricting lawsuit for 2022 election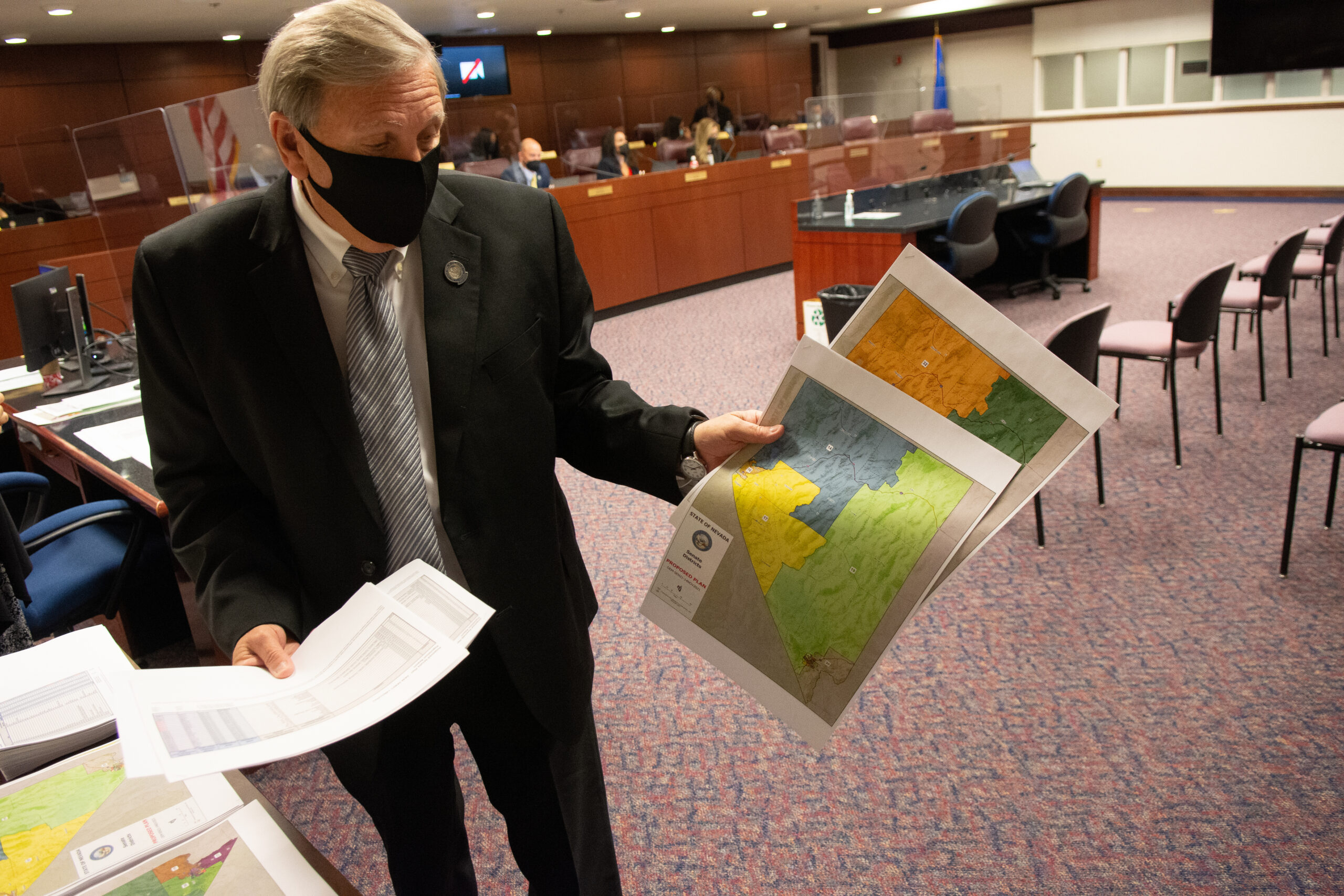 Republican-backed efforts to challenge Nevada's electoral maps in court on the heels of redistricting are likely on ice for the 2022 election cycle.
A decision by Senior District Judge Robert Estes during a virtual hearing Wednesday will have the likely effect of keeping the new legislative district maps — which largely favor Democrats — in place for the 2022 election. The hearing largely focused on a request for a delay in candidate filing while the lawsuit is pending.
Estes said in a ruling from the bench that it would be "not fair" to interrupt the ongoing election process and two-week candidate filing period, which began on Monday, and said that the "election is going to proceed" under the boundary lines adopted after November's special legislative session.
"Without clear standards, without a clear constitutional statement, there's nothing that this court can find that the plaintiff is probably going to win, and have this court declare that there is unconstitutional partisan gerrymandering," he said. "Not to say that in another kind of hearing that they might prevail, but I can't say that it's real clear that they're going to."
The ruling focused only on the request for a preliminary injunction and not on the full merits of the case — meaning an additional hearing and decision affecting lines for future elections could still proceed. Plaintiffs could also appeal the Wednesday order to the Nevada Supreme Court.
The suit was filed by Assemblyman Greg Hafen II (R-Pahrump) and former Nye County Commissioner John Koenig in mid-November, just a week after the Democrat-controlled Legislature and Gov. Steve Sisolak approved the new maps amid staunch Republican opposition.
Attorney Justin Townsend, representing Hafen and other plaintiffs, said the maps approved by lawmakers were designed with "near surgical precision" to ensure that the Democratic Party could easily win legislative supermajorities without a corresponding share of the statewide vote — something he said violated constitutional rights of equal protection.
"Under SB1 [the bill creating the new maps], the Democrats have an easy path to a supermajority in both houses of the Legislature, even though they have far less than a supermajority of the statewide electorate," Townsend said. "That's simply not fair. And that's what equal protection of the laws means. It deals with fairness. Everybody in the state of Nevada is to be treated fairly."
But Deputy Solicitor General Craig Newby, representing the executive branch, pointed to the U.S. Supreme Court's 2019 decision in Rucho v. Common Cause, which held that partisan redistricting is a political question that cannot be reviewed by federal courts and put the onus on the legislative branches and courts in the states to police the redistricting process.
That standard, combined with Nevada's lack of a constitutional or statutory framework limiting redistricting based on party preference, meant that for "better or for worse," there was "no discernible standard" that could be used to determine if the maps were unconstitutional, Newby said.
"What we're left with is no standards under Nevada law … to determine how partisan is too partisan, how urban is too urban, whether common interests amongst Nevadans are based on water, or based solely on where they live or anything else," he said. "This is plaintiff's burden, seeking the extraordinary remedy of a preliminary injunction to inject uncertainty and potential chaos into Nevada's 2022 elections … and they simply haven't done that."
Attorney Bradley Schrager, representing the Legislature, added that recent U.S. Supreme Court decisions on redistricting cases in other states meant "you are simply not going to be able to stop the machinery of an election once it is underway."
"It is simply too late — not only too late for a preliminary injunction, it is too late for this case, in this election cycle," he said. "Plaintiffs are free to maintain their claims and free to go forward. It is not going to affect this election cycle in any possible way."
Plaintiffs in the case filed an amended complaint in late January adding several additional plaintiffs, including Elko Assemblyman John Ellison, a ranching family in Tuscarora who would be split into different districts under the new maps, and a board member of the Somersett Owners Association in Reno now included in an Assembly district stretching to Elko County.
Those plaintiffs then filed a motion for preliminary injunction in early February, asking the court to maintain current districts and delay the candidate filing period in early March while the litigation is pending.
Estes acknowledged the delay in litigation wasn't the fault of the plaintiffs, as transmission of U.S. Census data was delayed amid the COVID-19 pandemic, but said issuing a preliminary injunction now would affect dozens of candidates who have already filed to run for office.
"This court finds to disrupt what has already gone before and to disrupt all of these candidates and the political parties — that is not fair," he said.
Though the complaint doesn't name the Legislature as a defendant, the body nonetheless moved to intervene in the case last month under language in the recently passed redistricting law that grants the legislative branch wide latitude to intervene in any redistricting-related litigation. Plaintiffs challenged the intervention because the contracted law firm representing the Legislature — Wolf, Rifkin, Shapiro, Schulman & Rabkin LLP — has done extensive work for legislative Democrats.
According to an analysis from the Princeton Gerrymandering Project, the new maps weigh three of the state's congressional districts toward Democrats (each with more than a 55 percent vote share for Democrats), with none considered competitive.
That analysis also determined that the new maps would tilt 15 of 21 state Senate seats and 29 of 42 Assembly districts toward Democrats, with only eight legislative seats (three in the Senate, five in the Assembly) considered competitive.
Nevada's last redistricting process in 2011 was largely driven by the courts, after Republican then-Gov. Brian Sandoval and the Democrat-controlled Legislature failed to reach agreement on legislative and congressional maps by the end of the 2011 session. A court-appointed panel of three special masters were charged with drawing new districts, which were used throughout the next decade.
The Nevada Independent is raising $200,000 by Dec. 31 to support coverage of the 2024 election.
Tax-deductible donations from readers like you fund this critical work.
If you give today,your donation will be matched dollar-for-dollar.
Give + Get Matched
Featured Videos