Lawmakers begin wrapping up 2021 session; 'Right to Return' passes, Death with Dignity fails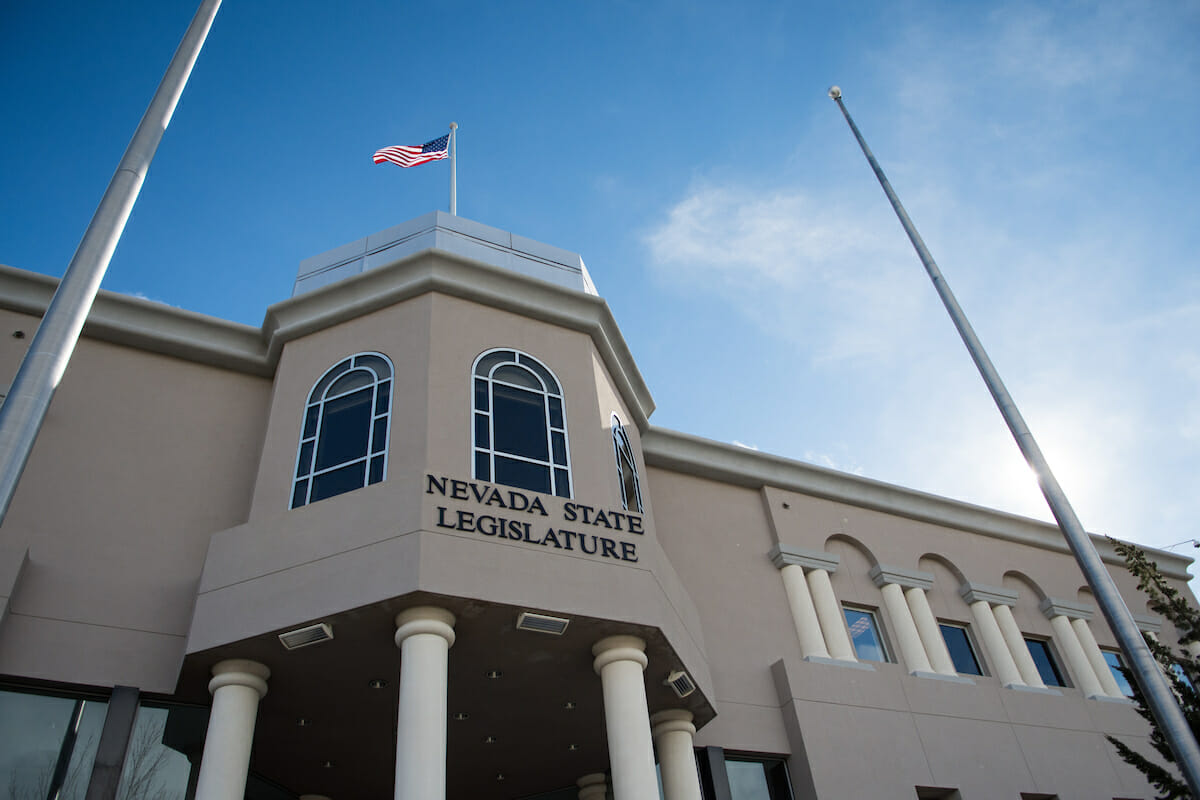 Crunch time has finally arrived for the Legislature, with lawmakers planning to work steadily through Sunday to work out compromises and pass scores of bills with less than a day and a half left in the 120-day session.
Much attention has been paid to negotiations over the long anticipated AB495 — the measure implementing a new excise tax on mining and various other education and health care changes, up for its first hearing on Sunday evening. But many other high-profile measures are finally approaching the finish line — including final votes on "Right to Return" legislation, as well as last-minute appropriations and amendments.
Here's a look at some of the latest developments in Carson City on the penultimate day of session.
Physician aid in dying legislation will not advance
A deeply divisive bill that would have allowed terminally ill patients to self-administer life-ending medication is not moving forward.
Bill sponsor Edgar Flores (D-Las Vegas) told The Nevada Independent on Sunday that there was no consensus on AB351 and the bill would not receive any further hearings or a floor vote.
"I've lost all hope," Flores said. "The position of the leadership is just, we don't think the votes are there."
Similar legislation divided Republicans and Democrats in 2017, when it passed 11-10 in the Senate. Democrats largely supported the measure, but the bill never made it to a final vote after it died in an Assembly committee. A 2019 measure sponsored by then Sen. David Parks (D-Las Vegas) also never received a floor vote after passing through its first committee.
Flores chalked the death of the bill up to ethical dilemmas and hesitancy to pass such a contentious piece of legislation. But he hopes to continue the dialogue in future sessions.
"It's funny how … there's very contested bills and then one session it just comes in and it goes right through," Flores said. "And I think it's a lot of just that education component, and then kind of holding out, just being consistent."
In early April, New Mexico became the latest state to provide a legal pathway for physician aid-in-dying, Flores said, noting that opinions are shifting.
"There's an obvious trend where states are recognizing that there's folk who need it, and should have a right to request it if they want it," Flores said. "So I think we'll come back in two years and do this whole thing again."
— Tabitha Mueller
Assembly approves 'Right to Return' legislation, bill heads back to the Senate for final vote
The Assembly gave quick party-line approval to legislation that would guarantee the rights of laid-off gaming and tourism industry workers to return to their jobs.
The 26 Democratic Assembly members outvoted 16 Republicans to send SB386 back to the Senate for final concurrence on an amendment. The Senate voted along party lines last Wednesday to approve the legislation.
Lawmakers on Friday evening adopted an amendment that exempts small businesses — ones that prior to the pandemic employed 30 or fewer workers — from being affected by the so-called "Right to Return" legislation. The amendment likely exempts small restaurants and vendors operating in casinos from having to comply with the hiring requirements in the bill.
Assemblywoman Heidi Kasama (R-Las Vegas) urged lawmakers to vote against the legislation, saying its passage would hurt small businesses and 30 "seemed like an arbitrary number."
However, Assemblywoman Maggie Carlton (D-Las Vegas) called SB386 a bill that "protects the people that built this state. They are the economic engine of Las Vegas."
Carlton said the 78-day shutdown of the gaming industry in an effort to slow the spread of the pandemic a year ago March, "was done for the right reasons. This is also the right thing to do. This protects everyone."
Gaming interests and the Culinary Union struck a deal on the high-profile legislation earlier last week, agreeing to limit the scope of the bill and exempting certain employee classes including managers and stage performers. The Nevada Resort Association agreed to take a neutral position on the bill in return for those concessions, though not all casino operators are on board with the proposed legislation.
SB386 would allow workers in the gaming and travel sectors the right to return to their jobs, covering those workers laid off after March 12, 2020, and who were employed for at least six months in the year before the governor's first COVID-19 emergency declaration.
— Howard Stutz
Amendments to a bill pushing citations, rather than arrests, for minor crimes
A bill directing law enforcement to issue citations in lieu of arresting people for misdemeanor crimes, AB440, passed out of a conference committee Sunday morning with two amendments, one proposed by Sen. James Settelmeyer (R-Minden) and the other from Sen. Dallas Harris (D-Las Vegas).
Settelmeyer's amendment establishes requirements for candidates running for county sheriff in rural Nevada counties. Specifically, the amendment lowers the population threshold for required qualifications from 100,000 to 30,000 and stipulates that a candidate running for county sheriff must have accumulated at least five years of service as a law enforcement officer and have been certified by the state or a federal law enforcement training program.
The other amendment gives law enforcement officials time to implement the measure, specifying that provisions within the act do not apply until the Division of Parole and Probation has sufficient resources to carry out the measure.
The bill passed out of the Assembly and Senate on party-line votes with Republicans in opposition.
— Tabitha Mueller
Gender-neutral bathrooms bill gets messy
A discussion over a bill requiring that single-stall bathrooms be designated as gender neutral going forward turned into a discussion about whether more urine ends up on the floor in men's rooms.
Sen. Keith Pickard (R-Henderson) said he would oppose the bill — AB280 from Assemblywoman Sarah Peters (D-Reno) — because he doesn't think there should be mandates on businesses to make their restrooms unisex. He also argued that "women have more sensitive sensibilities as a whole."
"By doing this, we're going to be making all the restrooms men's rooms, and that will create problems for a good number of women in society," Pickard said.
Sen. Joe Hardy (R-Boulder City), a doctor, also offered an anatomical explanation for why the floor of men's rooms might be dirtier.
"So, it sounds to me like men are the problem, and they could work on that, but in the meantime, I think the bill is fine," concluded Sen. Melanie Scheible (D-Las Vegas).
The committee ended up passing the bill — which "grandparents" in existing restrooms but governs future builds — with Republicans opposed.
— Michelle Rindels
$1 million to Immunize Nevada in AB355
AB355, a bill that already includes a variety of allocations for nonprofits, has a new proposed addition — $1 million for the statewide nonprofit Immunize Nevada.
Sen. Julia Ratti said the organization has seen a deluge of support for the COVID-19 vaccination effort, but much of that is strictly limited to the pandemic. Ratti said she doesn't want the group to be shortchanged in its normal work.
"This gives them the flexibility to make sure that we're not disrupting the regular programming that they do for flu, back to school," she said.
So far, the bill includes: $750,000 for the "Expanding the Leaderverse" initiative at UNLV's International Gaming Institute, $350,000 for the "We the People" civics program in schools, more than $3 million for the Lou Ruvo Center for Brain Health, $1 million for the Nevada Blind Children's Foundation and $2 million for the Springs Preserve in Las Vegas to develop an ethnobotanical garden for teaching indigenous farming techniques.
Assembly Ways and Means Chairwoman Maggie Carlton (D-Las Vegas) has said that nonprofits often approach the Legislature seeking allocations that they can leverage into further donations, and AB355 is a vehicle for such allocations.
— Michelle Rindels
The Nevada Independent is raising $200,000 by Dec. 31 to support coverage of the 2024 election.
Tax-deductible donations from readers like you fund this critical work.
If you give today,your donation will be matched dollar-for-dollar.
Give + Get Matched
Featured Videos