Gaming and labor leaders reach a compromise on 'Right to Return' legislation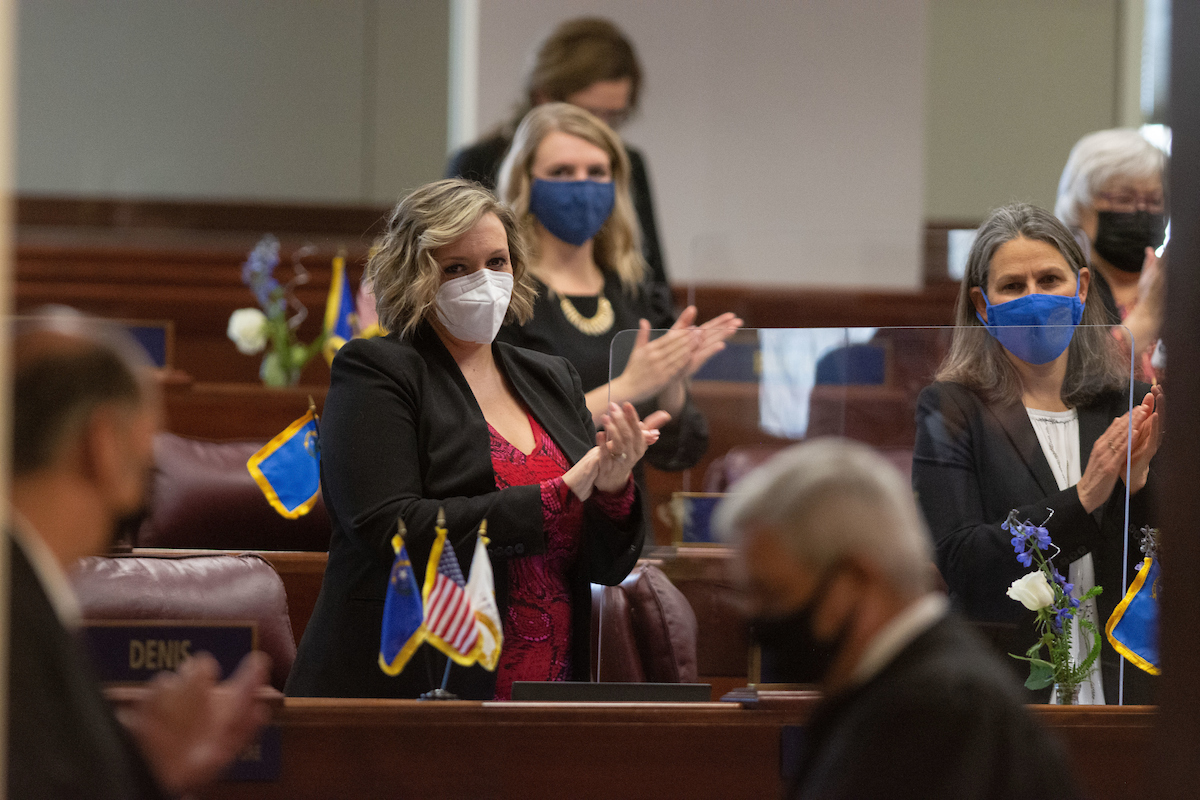 Gaming and Culinary Union negotiators have tentatively agreed to revisions in legislation that would guarantee the rights of laid-off gaming and tourism industry workers to return to their jobs.
A deal on SB386 – referred to as "Right to Return" legislation – was reached with less than a week left before the end of the state's 120-day legislative session. Lawmakers wasted little time processing the bill — several hours after the initial publication of this story on Tuesday afternoon, members of the Senate Commerce and Labor Committee moved quickly to pass the amended bill out of committee on a split vote.
In an interview prior to the committee vote, bill sponsor and Senate Majority Leader Nicole Cannizzaro (D-Las Vegas) credited the Culinary Union, Nevada Resort Association and the governor's office for working together to arrive at a consensus on the high-profile legislation.
"I think you're really seeing what is a recognition of the greater good and how do we get started to work together to get everything back to where we need it to be," she said.
As part of the agreement, revisions will be made to SB4, a bill from the 2020 special session last summer that includes government-imposed health and safety standards meant to prevent the spread of COVID-19, as well as expanded liability protections for major casino resorts. The amendment relaxes requirements on cleaning, such as cleaning minibars, headboards and decorative items on beds, and changes directives to clean throughout the day to instead call for cleaning daily.
Critics of the legislation had raised concerns that the bill in its original form would make it too easy for former employees to sue. The bill now offers recourse through the Labor Commissioner or through the courts, but only after the employee notifies their employer of the alleged violation and gives them at least 15 days to fix the issue.
"I think we've heard a lot of those concerns. We've tried to make sure that the bill still allows for enforcement while not opening up the doors of litigation," Cannizzaro said.
In its original form, the bill required employers who declined to call back a former employee because that former worker lacked qualifications — and instead hired someone else for the job — to provide the person they passed over with a written notice and reasoning for the decision within 30 days of making it. The amendment limits the callback requirement, covering employees only if they accept or decline the job offer within 24 hours (revised down from 10 days in the initial bill) and are available within five days of receiving an offer.
Employers are also cleared of their obligations to re-hire someone if their job offers are turned down three times over a period of at least six weeks, or if mail or email is returned as undeliverable or a phone line is out of service.
The amendment specifies that managers and stage performers are also excluded from the provisions, and its provisions would not supersede or preempt any collective bargaining agreement already in place.
The amendment also covers areas of a resort casino that are leased to another operator, such as retail shops, restaurants, bars, and parking facilities.
Also, the amendment exempted restricted gaming operators which have 15 or fewer slot machines, such as bars, taverns, convenience stores, and grocery chains.
Bob Ostrovsky, a lobbyist representing the Nevada Resort Association, said the amended version of the bill would leave the association as officially "neutral" — promising not to support or oppose the bill as an association.
He estimated that the industry was currently down about 66,000 casino resort employees from its pre-pandemic high, but estimated that only about 70 percent of the casino's pre-pandemic workforce would end up returning to their previous positions, based on turnover history.
"We certainly have to think in terms of the masses of employees and the masses of paperwork that are required here, but I got to tell you, our members care," he said. "Experienced and dedicated employees are what make these operations work. It's one thing to build a billion-dollar building. To operate it, you really need a well-honed team."
Cannizzaro added in an interview prior to the committee vote that she hopes the bill will get bipartisan support because it "has a lot of buy-in," although it does not need a two-thirds majority to move forward.
Still, several Republican senators on the committee questioned portions of the bill. Sen. James Settelmeyer (R-Minden) asked why the measure did not have a small business exemption, and Sen. Keith Pickard (R-Henderson) said he was concerned about the proposed remedies for civil action.
"I think in many respects, this is better than some of the [collective bargaining agreements] I've reviewed in the past, and this is applying to nonunion shops that don't ordinarily have to deal with these," Pickard said. "I think it's going to be a significant burden."
Union leader softens testimony
Union and gaming negotiators had spent months trying to hammer out a compromise on SB386. The bill has a waiver that exempts it from legislative deadlines. Gaming sources have said there are stark disagreements between union and business interests over the bill's language.
Earlier Tuesday, UNITE HERE President D. Taylor was prepared to tell a U.S. Senate subcommittee about the labor group's support for SB386, but he departed from his prepared remarks that were posted to the subcommittee's website that accused certain employers – including the Nevada casino resort industry – of using the pandemic to "reduce" jobs and leaving workers out of an economic comeback.
In April, Taylor testified in the only public hearing for SB386. The Culinary Union has hosted rallies and engaged in door hanging campaigns aimed at pressuring lawmakers to pass the legislation.
Taylor, who spent 26 years in leadership for Culinary Workers Local 226 before being appointed UNITE HERE president in 2012, told the panel that is chaired by Sen. Jacky Rosen (D-NV) that the state's hospitality workers play a frontline role in providing resort industry guests a safe and secure environment.
"The idea is not to view workers as a cost item but viewed as a service product that brings back (consumer) loyalty," Taylor told the Senate Commerce Subcommittee on Tourism, Trade, and Export Promotion in response to a question from Rosen.
SB386 would allow workers in the gaming and travel sectors a right to return to their jobs. The bill covers those workers laid off after March 12, 2020 and who were employed for at least six months in the year prior to the governor's first COVID-19 emergency declaration.
The legislation is similar to at least a half-dozen other bills backed by the labor organization in other states. California Gov. Gavin Newsom, a Democrat, signed legislation last month that requires hospitality and service industry employers to offer new positions to laid off workers.
Taylor, in testifying Tuesday, softened his message in some areas, but stuck to the script in others.
He said employment is "lagging" in destination markets, such as Las Vegas, where 50 percent of union members in gaming have returned to work. In New Orleans, just 32 percent of the labor organization's membership is back on the job.
Regional gaming markets, Taylor said, have had better success at bringing back employees, including Atlantic City, Ohio, Detroit and Mississippi. Those communities have returned 65 percent to 75 percent of UNITE HERE workers to their jobs.
In the prepared remarks, Taylor said opposition to SB368 by Station Casinos, the operating subsidiary of Red Rock Resorts, denies casino, hospitality, stadium and travel-related workers in Nevada their recall rights.
"In most cases, unless you have a union contract, there's nothing that requires your employer to bring you back when the business returns," Taylor wrote. "Workers who are terminated and replaced rather than 'recalled' make on average 11.8 percent less in wages when they get a new job," Taylor said. "Of older workers who are laid off involuntarily, only one in 10 will ever earn as much again."
At the outset of the pandemic, Station Casinos was one of just three casino operators, along with Wynn Resorts and Las Vegas Sands, that committed to pay employees through shutdown.
During his appearance, Taylor named Wynn Resorts, along with Disney in Florida, as companies that have stepped up to support their workforces.
In an interview following Taylor's testimony, Culinary Union Secretary-Treasurer Geoconda Argüello-Kline said SB386 is needed to ensure the labor organization's members are able to return to their previous jobs.
Las Vegas casino operators have held nearly a dozen different job fairs in efforts to restaff hotel-casinos that were closed for 78 days a year ago and were hampered throughout the year by capacity restrictions and other COVID-19 operating procedures. Most casinos in Nevada are expected to return to 100 percent occupancy levels on June 1.
The $4.3 billion Resorts World Las Vegas is facing challenges filling out its planned 5,000-person workforce.
Scott Sibella, president of the 3,506-room Strip property that opens June 24, told the Nevada Gaming Commission last week some 120,000 potential workers applied for jobs during the pandemic.
"We feel comfortable and made offers, but we're concerned about people changing their minds," Sibella said. He added that Resorts World has contingency plans in place for bringing on workers.
Sibella, a former president of MGM Grand Las Vegas, told the commissioners the resort is competing with other Las Vegas resorts in filling jobs.
"The Venetian is holding a job fair. They haven't done a job fair in 20 years," Sibella said.
Updated at 8:44 p.m. to add additional details on the amendment and reflect that the committee passed the bill.
The Nevada Independent is raising $200,000 by Dec. 31 to support coverage of the 2024 election.
Tax-deductible donations from readers like you fund this critical work.
If you give today,your donation will be matched dollar-for-dollar.
Give + Get Matched
Featured Videos