Lawmakers praise gaming chief in wake of secret taping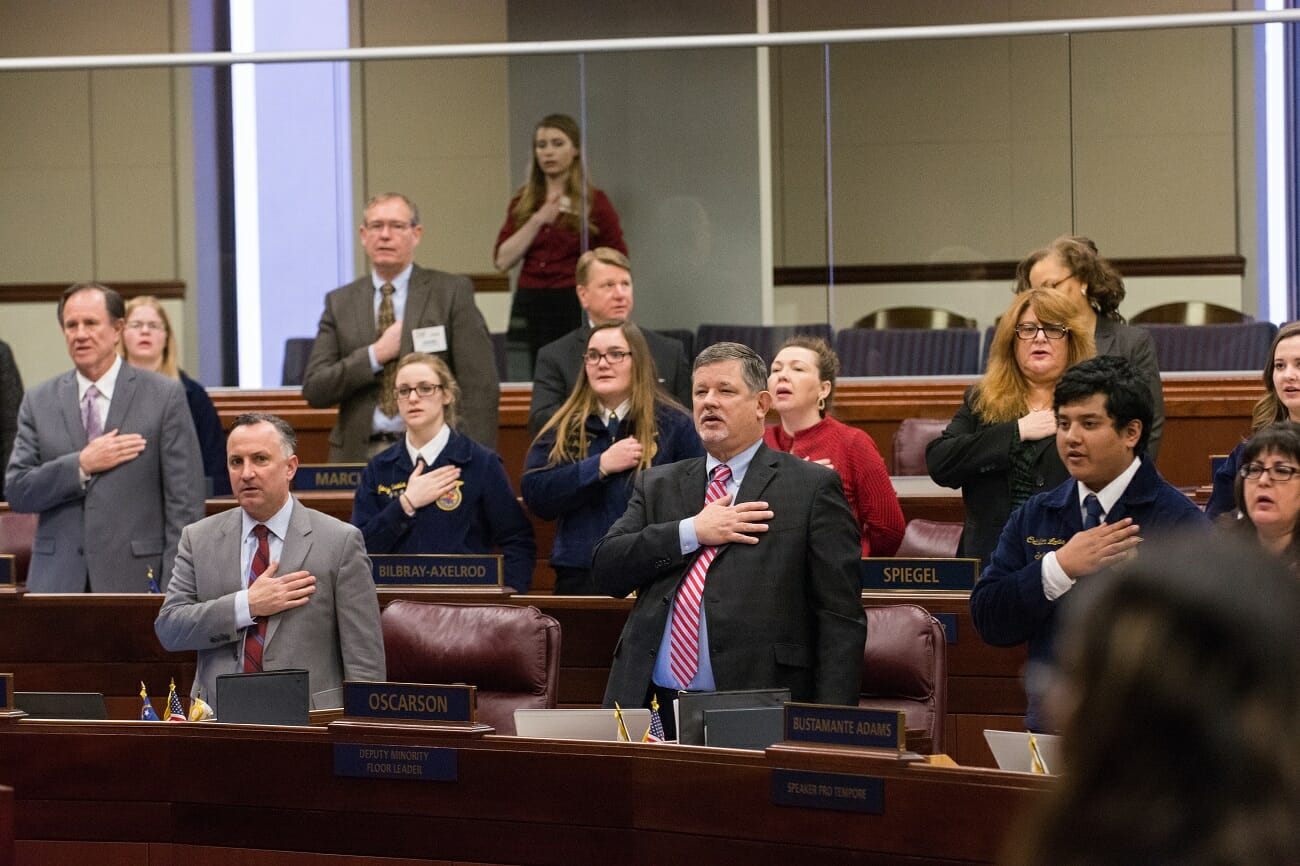 Legislative leaders from both parties are mostly taking a wait-and-see approach after a Nevada Independent story revealed that the state's top gaming regulator secretly recorded a conversation with Republican Attorney General Adam Laxalt about a lawsuit involving wealthy casino magnate Sheldon Adelson.
A.G. Burnett, chairman of the state's Gaming Control Board, recorded Laxalt after he approached Burnett about the state keeping private select government documents in a contentious lawsuit involving Adelson, Laxalt's biggest campaign donor and the richest person in Nevada.
Burnett turned the tape over to the FBI, which determined Laxalt did not violate any laws. The recording hasn't yet been publicly released, though The Nevada Independent has made a public records request for it.
Democratic Senator Tick Segerblom said the Senate Judiciary Committee, which he chairs, "certainly has jurisdiction" to call people in and ask what happened, though he said it's "too early to tell" whether there is an appetite for that among lawmakers.
The seven-member Judiciary Committee has jurisdiction over measures and provisions of the Nevada Administrative Procedure Act, including most legal and confidentiality matters, as well as gaming issues.
Segerblom pointed to the abundance of caution Burnett took in recording his meeting with Laxalt to protect the integrity of the Gaming Control Board and the state as an example of the strength of the gaming regulatory system in Nevada. He said he wanted to "sing A.G.'s praises" and hoped Burnett wouldn't face any negative repercussions from his decision to take action.
"It sounds like he felt like he was being unduly pressured, but he resisted it," Segerblom said.
Other lawmakers said they felt further information is needed.
"I think it would be appropriate to have an explanation for the public as to what's appropriate, what's not, what they feel is appropriate and what's not," Republican Assembly Leader Paul Anderson said. "But I don't have the whole story, so I don't think I can be judge and jury on it."
Democratic Assembly Speaker Jason Frierson downplayed the news, calling it just "one story" and saying he was more focused on legislative priorities unveiled in the Nevada Blueprint 2.0 during a press conference on Thursday.
"I think that we're above getting in rhetorical debates back and forth about stuff that's not before us here," he said. "I'm looking forward to the attorney general, like every other constitutional officer, coming before the Legislature, and with that, he will need to address the state of his office and any current affairs, any questions that committee members have."
Senate Democratic Leader Aaron Ford declined to comment, as did a spokesman for Republican Senate Leader Michael Roberson. A spokeswoman for Gov. Brian Sandoval also declined to comment.
Nevada Gaming Commissioner Deborah Fuetsch was reached by phone Thursday morning, but declined to comment.
Gaming Commissioner Philip Pro declined to comment. Calls to three other commissioners — Tony Alamo, John Moran, Jr. and Randolph Townsend — and Gaming Control Board members Terry Johnson and Shawn Reid were not immediately returned Thursday. 
Laxalt's office released the following statement to The Nevada Independent on Wednesday.
"The Attorney General's Office was approached by the Sands Corporation asking us to file an amicus brief about NRS 463 — a statute that protects the confidentiality of documents submitted to the Gaming Control Board. I've made it a practice to personally advise and meet with my clients on a regular basis. As a Nevada statewide elected official, I also meet with constituents all the time on issues that are important to the State and our clients. These important matters are often time-sensitive. This matter was handled just like other issues I encounter on a daily basis, and, as is often the case, this matter was resolved according to client preferences."
Individual lawmakers had a variety of responses, with many saying they were concerned with the developments and the appearance of ethical conflicts.
"I think we're very fortunate to have gaming regulators who follow the law and are clearly bound to honoring the responsibility that they have. I think it's very troublesome that our chief legal officer was in that situation and felt compelled to even have that kind of a conversation," said Democratic state Sen. Yvanna Cancela.
"But I don't think it's an issue with the system. I think it's an issue with the person in that office and it merits a real investigation into what the motives were and what made him feel that was the right course of action."
Democratic Assemblywoman Maggie Carlton called Burnett "exemplary" and said she trusted his judgment in the situation based on their previous work together.
"I have the utmost respect for him. Of all the people in the state, he's at the top of the list," she said. "He does everything for the good of the state."
Adelson separately met with Burnett in Northern Nevada to persuade the state to deem certain documents shared between federal and state authorities confidential in his lawsuit with former employee Steven Jacobs.
Segerblom said that a "gaming licensee would feel they have the power to make that happen is scary."
Republican Assemblyman Ira Hansen said he's noticed Democrats' eagerness to criticize Laxalt and his office and predicts an ongoing effort to try to discredit Laxalt, who's considered a likely front runner in the 2018 race for governor. But he acknowledged the situation is embarrassing.
"Obviously, it doesn't look good for Adam to go down and intervene on behalf of Adelson. Adam will have to do some explaining," Hansen said. "I don't think it's that big of a deal unless he was asking him to do something that was flat illegal. I didn't see any accusations of that."
Hansen said he thinks it's another sign of the "excessive influence" the casino industry has on the legislative process.
"In a perfect world they wouldn't, but when you have someone as dominant as Sheldon Adelson who donates hundreds of thousands if not millions of dollars to political parties, campaigns and such, he is going to have a lot of influence," Hansen said. "Does that mean he should get VIP treatment when it comes to the law though? He shouldn't."
Though Democratic leadership refrained from politicizing the issue ahead of Laxalt's expected 2018 gubernatorial bid, Nevada State Democratic Party Chair Roberta Lange seized on the revelations Wednesday night, calling Laxalt the "most shamelessly partisan Attorney General in Nevada's history."
Nevada Commission on Ethics Executive Director Yvonne Nevarez-Goodson said she was statutorily prohibited from confirming or denying that a complaint had been filed. She noted that the scope and high positions of the individuals involved in The Nevada Independent story wasn't typical fare for the commission.
"I haven't really had any experience with that type of circumstance," she said.
League of Women Voters President Sondra Cosgrove said even the appearance of quid pro quo among elected officials made it difficult to get people involved in the political process because stories like this make the entire system appear "rigged."
"If technically he hasn't broken any laws or rules, that's fine, but then we have to ask ourselves, why (aren't) there laws and rules that should have been broken here?" she asked of Laxalt's actions. "Because it doesn't pass the smell test, that's for sure."
The Nevada Independent is raising $200,000 by Dec. 31 to support coverage of the 2024 election.
Tax-deductible donations from readers like you fund this critical work.
If you give today,your donation will be matched dollar-for-dollar.
Give + Get Matched
Featured Videos