Possible gun law changes on horizon for first legislative session after October 1 shooting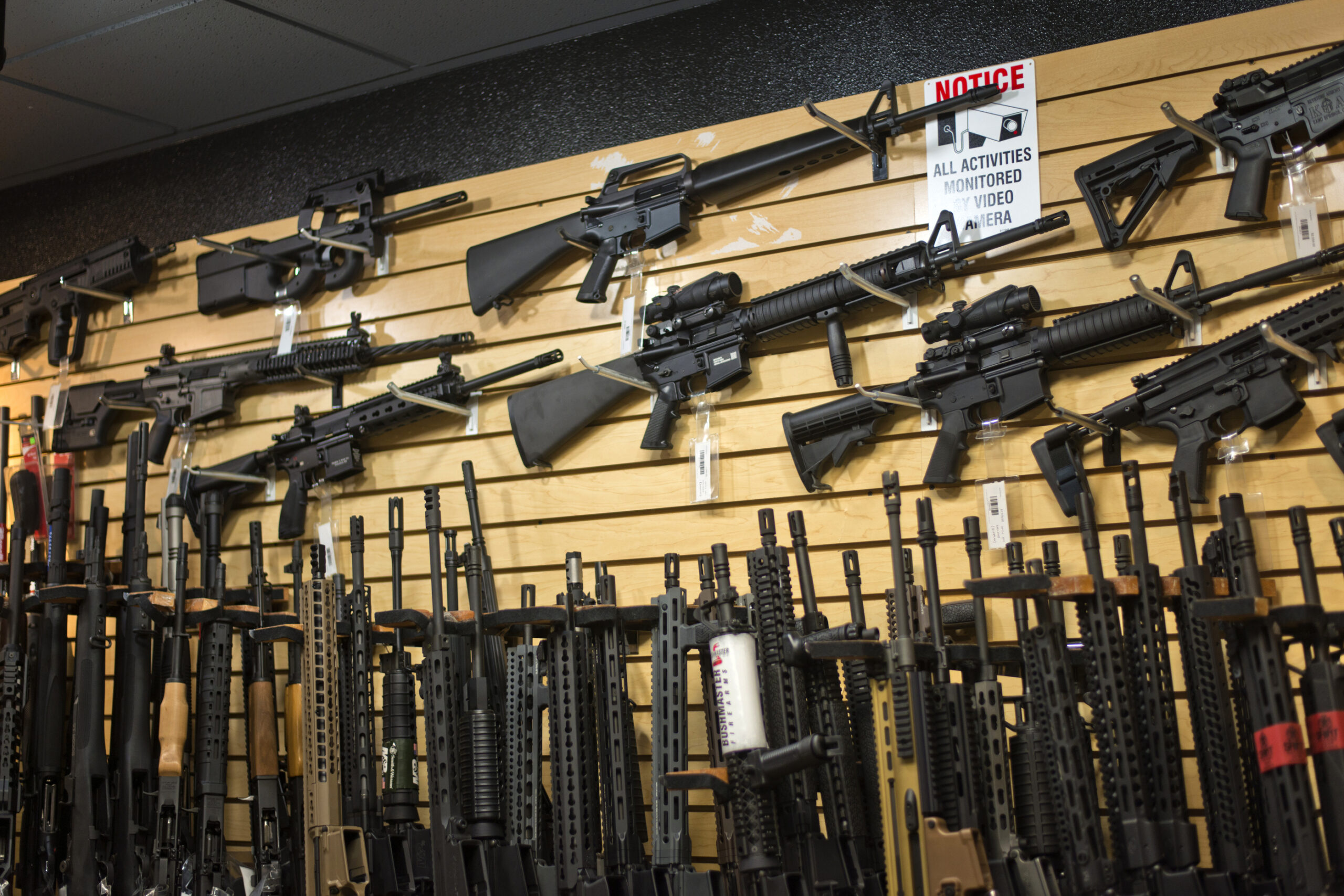 Initially, Sandra Jauregui didn't want to talk about it.
The Democratic assemblywoman was one of the roughly 22,000 concert-goers at the Route 91 Harvest festival on October 1, 2017, where shooter Stephen Paddock opened fire and killed 58 people and injured more than 850 from gunfire and the resulting panic.
Jauregui wasn't physically injured, but said the shock and pain left her unwilling to publicly discuss her experience — until news broke of another mass shooting at Stoneman Douglas High School in Florida that left 17 people dead just five months later.
"I couldn't bear the thought that there were students and people younger than me having to face something so horrific," she said. "It just hit home -- I have to stop feeling sorry for myself and turn that into action."
Now, Jauregui says she plans to introduce a "comprehensive" gun control bill in the 2019 Legislature, one of many potential proposals on the regulation and sale of firearms that lawmakers may tackle during the 120-day session next year.
Gun bills are nothing new to Carson City denizens — at least nine were introduced during the 2017 Legislature, and already six bill draft requests dealing with firearms have been submitted by lawmakers for the 2019 session. And the likelihood of any restrictions on gun sales or control will depend heavily on the victor in the state's closely fought gubernatorial race and whether Democrats are able to capture veto-proof majorities in the Assembly and Senate.
But already, ideas are flowing — Democrats and Republicans alike are proposing a wide variety of gun-related measures including changes to concealed weapons, gun storage, so-called "red flag" laws, bans on specific firearms or accessories and fixes to the state's stalled 2016 initiative requiring background checks on private party gun sales and transfers.
Although any bill affecting firearms creates a pitched battle with little partisan agreement, gun control advocates including Jauregui say that memories of the shooting present the best opportunity to push for large-scale changes in Nevada gun law.
"If there's any possibility of passing any major gun safety bill, it's going to be this year," she said.
Here's a look at what potential changes to firearms laws and policies could come up with the Nevada Legislature beginning in February 2019.
Assault weapon ban
Although Democratic gubernatorial candidate Steve Sisolak promised to ban assault rifles and silencers in an April campaign ad, Assembly Speaker Jason Frierson said it was unlikely that those policies would get much movement in the 2019 Legislature.
Frierson said that the primary gun-related goal for the next session was to fix the state's stalled initiative requiring background checks on private party gun sales and transfers, and that he would want to see hard evidence and input from law enforcement before moving to ban specific firearm accessories such as silencers or high-capacity magazines.
"I don't know that I've seen an issue with respect to silencers," he said. "I have not seen a problem that I'd be solving by limiting access for those type of things. It's certainly not high on my flag to carry forward."
He also said that odds were slim that Nevada could become the eighth state to ban assault weapons, but didn't rule it out completely.
"I don't know that I see there being a chance," he said of the chances of such a policy passing. "But I'm just one person."
In a  message sent on Monday, Frierson clarified that he  was "open" to both a ban on silencers and assault weapons
"The notion of an assault weapons ban is part of a larger discussion involving the legislature and community partners and that I'm just one person in that conversation," he said. "I grew up in a cross-fire plagued inner city where I never felt like anyone cared. I feel like having had stray bullets come through my family's front door as a teen, I can relate to the feeling that we have to do more."
Bump stocks
It took fewer than four days after the mass shooting for Nevada legislative leaders to introduce a bill draft request that would ban the sale, manufacturing or possession of bump stock devices — a replacement stock that allows semiautomatic weapons to fire more rapidly through the use of recoil and which were found attached to 12 firearms in Paddock's hotel room.
But because the Legislature only meets in odd-numbered years for a 120-day session, that proposed law sat on the shelf while at least 10 other states have moved to ban the firearm accessory over the last year. Although the federal government found in 2010 that the devices couldn't be regulated absent a change in law, the U.S. Bureau of Alcohol, Tobacco, Firearms and Explosives in the spring of 2018 began taking comments on potentially reclassifying the devices.
The Las Vegas Review-Journal reported on Friday that a federal regulation banning the devices had been submitted to the Office of Management and Budget for final review, the last step before the regulation can go into effect.
Sisolak has vowed in campaign ads and on the trail to ban bump stocks statewide. Republican gubernatorial candidate Adam Laxalt said in a statement to the Reno Gazette-Journal in May that he had petitioned the federal government with other attorneys general and that it would be dealt with on a federal level.
Red Flag laws
Democratic Sen. Julia Ratti has said she plans to reintroduce a "red flag" law next legislative session that allows for law enforcement or family members to petition a court to temporarily seize firearms from people who present a "serious or immediate threat of violence to themselves or others."
Ratti said in 2017 that the bill was designed to address a "narrow niche" that existed between people with domestic violence protection orders (who are prohibited from firearm ownership) and the temporary involuntary admission of individuals with apparent mental health issues. But Republicans and the National Rifle Association staunchly opposed the bill and held that constitutional rights such as gun ownership shouldn't be restricted based on third-party allegations. The bill passed on a party-line vote in the Senate and failed to advance out of the Assembly.
If the measure passes in 2019, it may find a welcoming reception in the governor's mansion no matter the occupant. A spokeswoman for Sisolak said in July he would support a "red flag" law and Laxalt — who once derided such policies as comparative to "pre-crime" in the 2002 film Minority Report — included study and possible adoption of a similar provision in a June school safety report commissioned by the attorney general's office.
State supremacy
Multiple towns and local governments have moved to ban bump stock devices since the Las Vegas shooting, but no such ban has been implemented in any Nevada municipality.
That's because of a provision in a wide-ranging firearms bill approved in the 2015 Legislature, SB175, which also expanded justifiable homicides to include occupied vehicles, limited the ability of people targeted with restraining orders related to domestic violence from owning firearms and deleted a requirement that Clark County handgun owners register their weapons.
But the law also contains a provision reserving the rights to create regulations and policies related to "firearms, firearm accessories and ammunition" to the Legislature — frustrating local government officials who were stymied in their effort to implement a bump stock ban after the shooting.
Democratic Sen. Yvanna Cancela said in a brief interview Monday that she plans to introduce legislation that would undo that "supremacy" clause approved by lawmakers in 2015, but would leave the rest of the three-year-old law intact.
Background checks
The stalled 2016 voter-approved initiative to require background checks on almost all private-party gun sales or transfers has provided fodder for many a political candidate, but the 2019 Legislature may present opportunities to turn rhetoric into action.
After voters narrowly approved the Michael Bloomberg-backed Question 1 in the 2016 election, Attorney General Adam Laxalt's office issued an opinion in December 2016 that the measure was essentially unenforceable because of a provision requiring the FBI to process the background checks and the federal agency's refusal to do so, despite prodding by the state.
Despite a lawsuit filed by supporters (which was dismissed by a Clark County judge in August), the initiative remains unenforced nearly two years later. But because statutory ballot initiatives such as Question 1 cannot be tinkered with until three years after passage, the 2019 Legislature will take the first crack at any potential changes or fixes to the initiative.
Democratic Sen. Aaron Ford, who is running for attorney general, is pushing for a way to implement the private-party background checks, but didn't say whether or not he would push for the checks to be done under the state's current background check repository for sales from licensed firearms dealers.
"As Nevada Attorney General, I will work with the governor and the state legislature to ensure the will of the voters is implemented and prevent criminals from accessing guns in our state," he said in a statement.
Republican Assemblyman Jim Marchant has also introduced a bill draft request modifying the requirement that the FBI conduct the background checks for certain firearm purchases.
Disclosure: Steve Sisolak has donated to The Indy. You can view a full list of donors here. 
Updated at 12:11 p.m. to include an additonal quote from Assemblyman Jason Frierson.
IndyFest is proudly sponsored by:
Comment Policy (updated 4/20/2021): Please keep your comments civil. We reserve the right to delete comments or ban users who engage in personal attacks, use an excess of profanity, make verifiably false statements or are otherwise nasty. Comments that contain links must be approved by admin.